NCAA Tournament 2013: Cinderella Rankings for March Madness Hopefuls at Week 17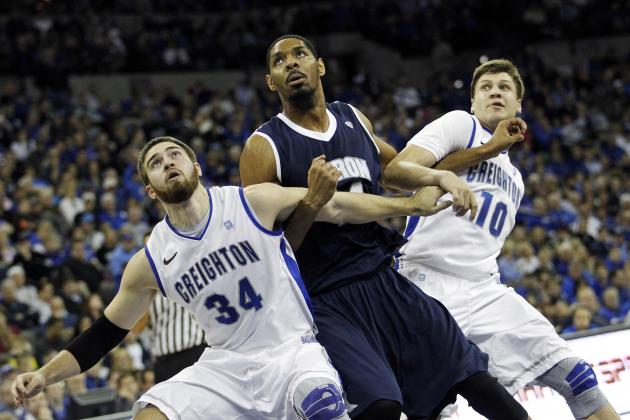 Matt Ryerson-USA TODAY Sports

After months of slaving away in anonymity, Cinderella is ready for the Big Dance.
With BracketBusters now in our rear-view mirror, which mid-major teams are most prepared to actually bust the brackets?
We first need to establish the criteria used to identify the proper candidates. Telling you to watch out for Gonzaga or Butler would be pointless, because you're already well aware of their tournament abilities.
1) Cannot be from a BCS conference or the Atlantic 10.
2) Cannot have won a tournament game in the past four seasons.
3) Cannot be better than a No. 10 seed in the latest projected bracket.
Without further ado, here are the teams most likely to fit into this year's glass slipper, starting with some honorable mentions and building up to a couple of mid-majors that could make a deep tournament run.
Begin Slideshow

»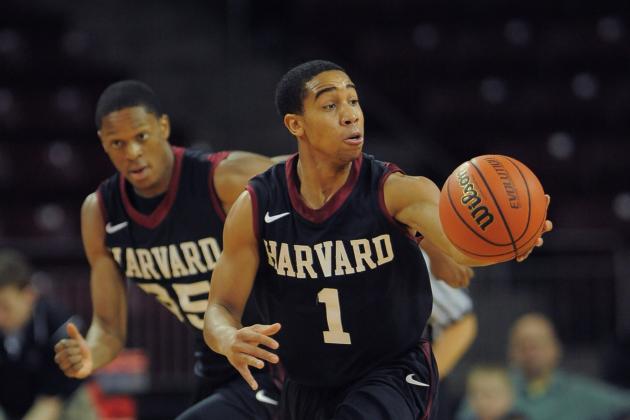 USA TODAY Sports

Harvard
If the Crimson can take care of Princeton on Friday night and lock up the Ivy League title, they'll get back into the top 10. They have a road win over Cal, and very nearly added road wins over Connecticut, Memphis and Saint Mary's. They'll be a formidable foe if they get into the tournament.
Long Beach State
The 49ers were hot before losing a BracketBusters game to Stephen F Austin. That home loss served as a reminder that—though they've mostly rolled through the Big West conference season—they lost their six games against the BCS conference teams by an average of 23.2 PPG.
Robert Morris
If this is finally the year that a No. 16 seed upsets a No. 1 seed, the Colonials are most likely to make that history happen. They disappointed early and often, starting the season 8-7 before winning 13 of their last 15 games.
South Dakota State
The Jackrabbits destroyed Nebraska-Omaha in their season finale, locking up the No. 1 seed in the Summit conference tournament. However, they lost three of the five games prior to that game, and don't appear to be carrying any momentum into the postseason.
Stony Brook
The Seawolves have been one of the best defensive rebounding teams in the nation for most of the season. It's kept them from getting blown out of any games, but it hasn't led to any marquee wins—not that they've had many chances at them.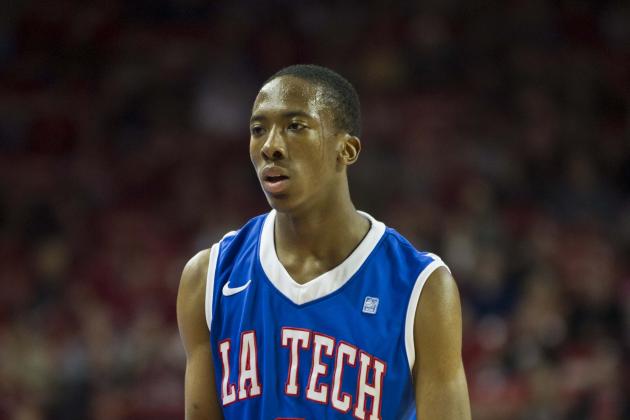 USA TODAY Sports

Last Tournament Win: 1989
RPI Top 100 Wins: Southern Miss, Denver, New Mexico State
Previous Cinderella Rank: No. 9
Current Projected Seed: No. 13
In their last three games, the Bulldogs eked out a win over 10-16 Idaho, beat an NAIA school by 70 points and drubbed Utah State by 23 points.
However, they dropped a spot in the Cinderella rankings because they snuck into the AP Top 25, and you can't become more of a Cinderella while simultaneously becoming more nationally recognized in February.
On a related note, how does Louisiana Tech get 54 votes, Akron gets 43 votes, but Middle Tennessee and Belmont get two votes and one vote, respectively? Just the latest example of how groupthink destroys any credibility that a national sports poll could otherwise have.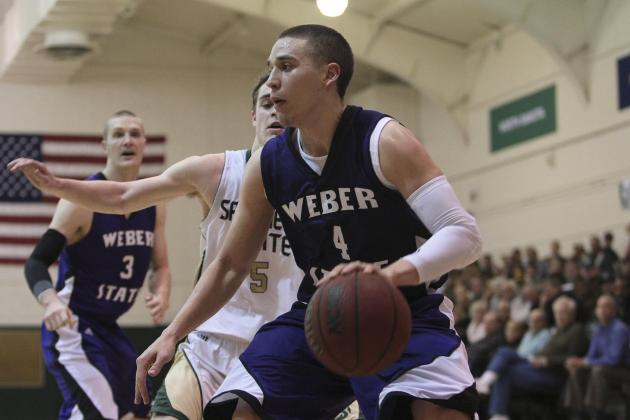 Kelley L Cox-USA TODAY Sports

Last Tournament Win: 1999
RPI Top 100 Wins: None
Previous Cinderella Rank: Unranked
Current Projected Seed: Not in field
Damian Lillard is probably going to win the NBA Rookie of the Year award.
Weber State is doing just fine without him.
You certainly can't argue that the Wildcats have been battle-tested—they've played just one game against the RPI Top 100 and lost that home game to BYU by 10 points. However, since opening the season with two straight losses, they have won 19 of their last 22 games, including a BracketBusters win at Oral Roberts on Saturday.
Winning a bunch of games against the 297th-ranked strength of schedule isn't going to impress anyone. But, the reason they could be a dangerous team in March is that they lead the nation in both field-goal percentage (51.4) and three-point field-goal percentage (42.8).
Certainly any team is susceptible to stretches of both hot and cold shooting—but if you're going to pick a long shot to pull off an early upset, go with the one that makes the highest percentage of its shots.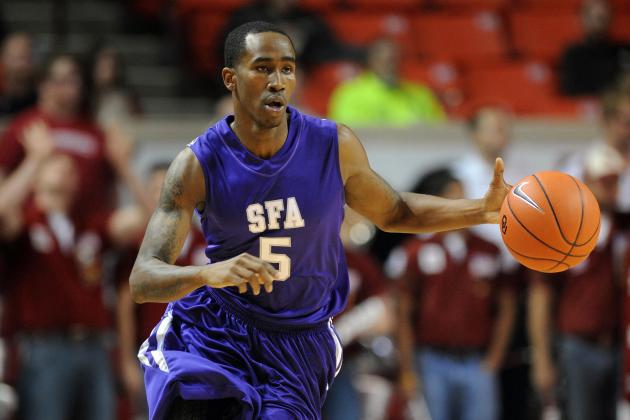 USA TODAY Sports

Last Tournament Win: Never
RPI Top 100 Wins: Oklahoma
Previous Cinderella Rank: No. 10
Current Projected Seed: No. 14
Since the previous update, the Lumberjacks added their second best win of the season over Long Beach State, and also picked up their worst loss of the season to Southeastern Louisiana.
They were never going to be an at-large team, so even though it was a bit unsettling, the bad loss doesn't mean as much as the big win they proceeded to obtain. Going on the road to pick up a win over a team that had won 12 of its 13 previous games is no small feat.
Their style of play will be frustrating for their first-round opponent—unless it's Wisconsin or Virginia. The Lumberjacks have yet to score 80 points in a D1 game this season, and they have not allowed any opponent to reach 70 points against them.
The best way for a small school to upset Scholarship University is by slowing down the game and limiting opportunities for the opponent to open up a big lead. That's something Stephen F Austin has been practicing all season.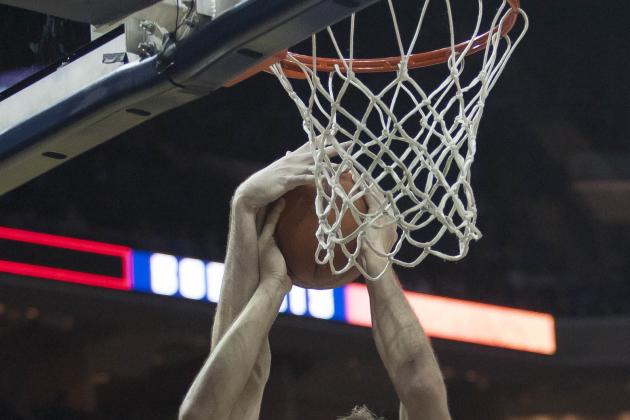 USA TODAY Sports

Last Tournament Win: 2008
RPI Top 100 Wins: Richmond
Previous Cinderella Rank: Unranked
Current Projected Seed: No. 14
It's a shame I used up the former-star-turned-NBA-star gimmick on Weber State, seeing as how Stephen Curry just had the best game of the NBA season on Wednesday night.
Davidson has won 13 consecutive games and holds a three-game lead over the rest of the Southern Conference. How the Wildcats once suffered losses to Georgia Southern, Drexel and Milwaukee is a mystery, but they are on fire right now.
One of the keys to their recent success has been the inspired play of senior Jake Cohen. Cohen has averaged 18.1 PPG over the past 10 games, adding his first two double-doubles of the season.
Another key has been ball control. The Wildcats have turned the ball over just 9.2 times per game in their past 10 contests. If sustained for the entire season, that would be the lowest turnover rate in the nation. Still, they're tied for 15th at 11.0 turnovers per game.
It's hard to see this team losing in its conference tournament, and even more difficult to imagine Davidson rolling over in the NCAA tournament. It's only been five years since it nearly made it to the Final Four.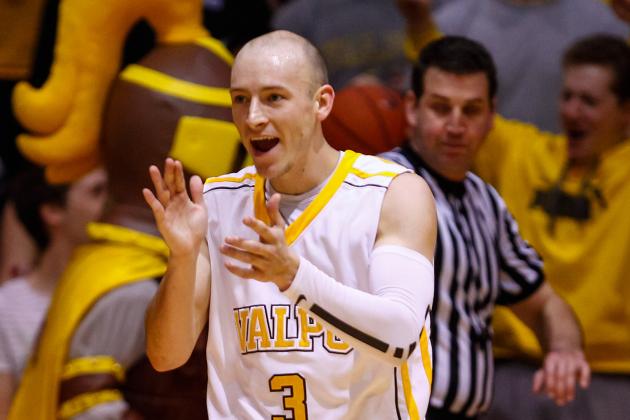 Michael Hickey/Getty Images

Last Tournament Win: 1998
RPI Top 100 Wins: Detroit, Murray State, Eastern Kentucky
Previous Cinderella Rank: No. 8
Current Projected Seed: No. 13
In the past few weeks, the Crusaders have lost a home game to the second-best team in their conference (Detroit) and have annihilated the second-best team from Belmont's conference (Eastern Kentucky).
Of particular note from the loss to Detroit, a certain trend continued. In each of Valparaiso's seven losses this season, either Ryan Broekhoff or Kevin Van Wijk—who average a combined 29 PPG—has failed to score more than 10 points. In the loss to Detroit, they both scored exactly 10 points.
Maybe you don't think it's rocket science to point out that a team tends to lose when its best scorers don't score, but it usually doesn't have an effect quite this direct.
Picking a different seven-loss team at random, La Salle is led by Ramon Galloway and Tyreek Duren, who average a combined 32 PPG. In five of the Explorers' seven losses, Galloway and Duren have scored at least 26 points.
Adding one more for good measure, Deshaun Thomas and Lenzell Smith, Jr. average 29.6 PPG for the Ohio State Buckeyes, and have scored 28.3 PPG in their seven losses. This makes more sense than assuming a large scoring decrease, because when you're trailing, you tend to rely even more heavily on your primary scorers.
However, Valparaiso seems to just give up hope of having its best scorers bring them back into a game, and instead relies on guys like LaVonte Dority and Will Bogan—who don't have anywhere near the shooting percentage of Broekhoff and Van Wijk.
At any rate, the duo has played well in the three games that Valparaiso has won since that loss to Detroit. In fact, both big men registered a double-double in the win over Youngstown State on Tuesday.
The key to beating Valparaiso is stopping Broekhoff and Van Wijk. Anyone can identify it, but who can execute it in March?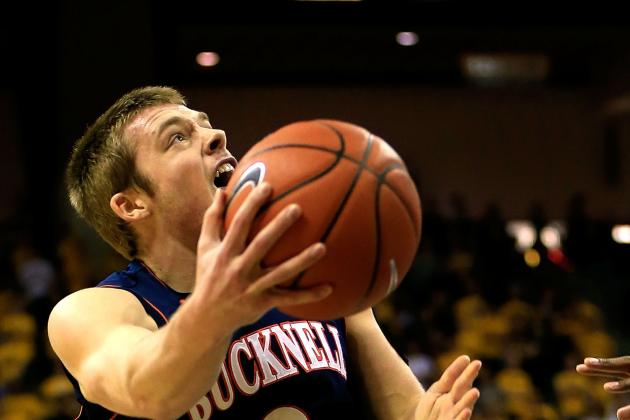 Jamie Squire/Getty Images

Last Tournament Win: 2006
RPI Top 100 Wins: La Salle, Loyola (MD), New Mexico State
Previous Cinderella Rank: No. 4
Current Projected Seed: No. 12
On February 16, Mike Muscala and Cameron Ayers combined for 49 points by making 20 of their 32 field-goals attempts in leading the Bison to a loss against 13-14 Lafayette. The rest of the team made just three of its 26 field-goal attempts.
Two nights later at Lehigh, Muscala and Ayers scored just 20 points, but the rest of the roster shot 43 percent in a victorious effort.
Which Bucknell is going to show up in March?
Save for a few outliers against Niagara and Princeton, Bucknell has scored between 57-76 points in every game while holding each opponent to 66 or fewer points. The team output has been fairly consistent, even though the parts being summed have not.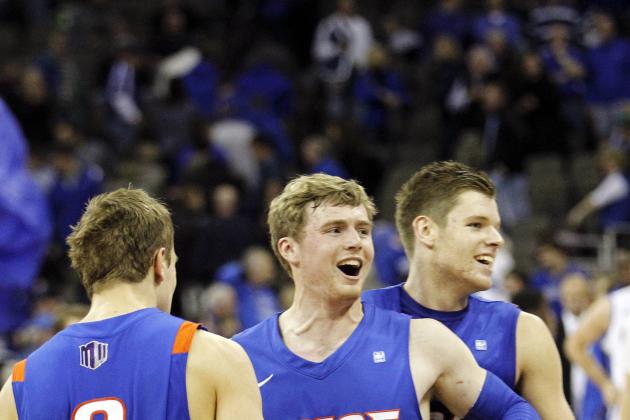 Matt Ryerson-USA TODAY Sports

Last Tournament Win: Never
RPI Top 100 Wins: Creighton, UNLV, Air Force, LSU, Wyoming (x2)
Previous Cinderella Rank: No. 6
Current Projected Seed: No. 13
Though separated from Bucknell by just one spot in these rankings, hopefully you can appreciate the continental divide you just crossed to get to Boise State.
For you see, the havoc that Valparaiso or Bucknell could potentially wreak in the tournament must be viewed through the very important lens of "assuming they win their conference tournament." With Boise State, we've crept not so subtly into the hierarchy of teams that could conceivably get an at-large bid, if necessary.
The Broncos haven't done anything particularly noteworthy in the past two weeks, but no news is good news when you're playing three straight games that you were supposed to win. By avoiding a loss to the likes of Fresno State and Nevada, the Broncos remain very much in the bubble discussion.
That could change drastically in the next 10 days, with a trio of games against Colorado State, UNLV and San Diego State.
There are three possible outcomes from those games. The Broncos could lose them all and need to win the MWC tournament to make the NCAA tournament. Alternatively, two or three wins would make them a virtual lock for an at-large bid. If they want to stay on the bubble as long as possible, going 1-2 in those three games would keep them there.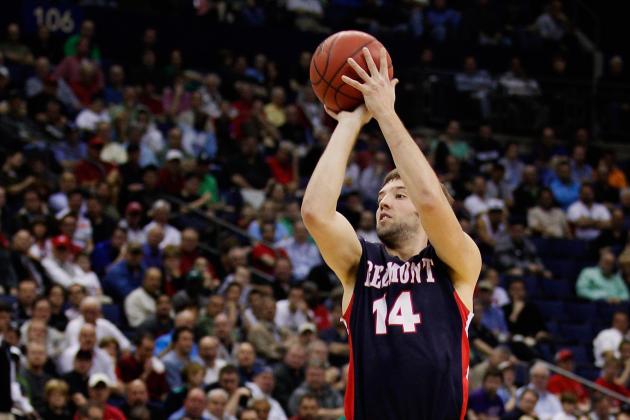 Rob Carr/Getty Images

Last Tournament Win: Never
RPI Top 100 Wins: Middle Tennessee, Stanford, South Dakota State, Eastern Kentucky (x2)
Previous Cinderella Rank: No. 3
Current Projected Seed: No. 10
Since suffering a Valentine's Day loss to Tennessee State, the Bruins have responded by winning their last three games by an average of 26.7 PPG—the closest of which was the 19-point shellacking they handed Ohio in the BracketBusters game.
Surprisingly, recent games against Eastern Illinois (RPI 270) and SIU-Edwardsville (RPI 303) haven't had a detrimental effect on Belmont's RPI (26). A good RPI is a strong step towards the at-large discussion, but as much as we focus on RPI in March, it isn't the be-all and end-all for tournament criteria.
That isn't to say that the Bruins don't meet the other tournament criteria. They certainly pass the eye test, routinely destroying the teams that they should, and only once looking like a typical mid-major team by getting blown out by Kansas back in mid-December.
Of course, an ugly loss in the OVC tourney could rapidly undo the Bruins' case, both in the computers and in the eyes of the selection committee.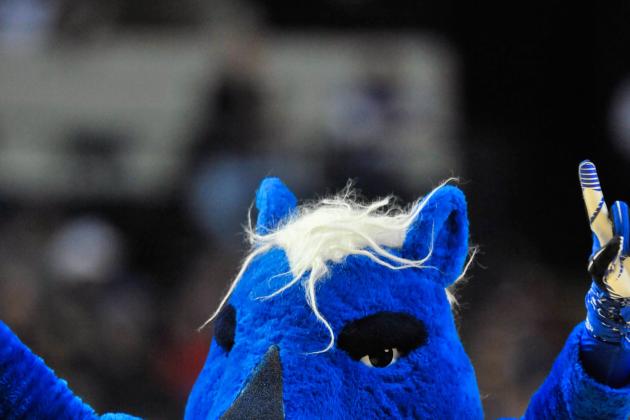 Jim Brown-USA TODAY Sports

Last Tournament Win: 1989
RPI Top 100 Wins: Ole Miss
Previous Cinderella Rank: No. 1
Current Projected Seed: No. 9
Quick note about the Blue Raiders still qualifying for these rankings despite receiving a No. 9 seed in Monday's bracket—they were going to be a No. 10 seed until Villanova lost to Seton Hall and screwed up everything.
Of the other No. 10 seeds that could have moved up to replace Villanova, Cal and Colorado weren't eligible because they would have been matched up against UCLA, and Kentucky didn't deserve it. It was easier to slide around mid-majors, so Villanova dropped to a No. 11, Belmont moved up to a No. 10 and MTSU became a No. 9 seed.
Now that we've cleared that up, the Blue Raiders have kept the status quo by winning 15 consecutive games. With an early-season win over Ole Miss and hard-fought losses against Akron, Belmont and Florida, it's been clear for a while that this is one of the 68 best teams in the country.
They weren't going to win anyone over to their cause by losing a few games throughout the Sun Belt conference season. However, with an 18-1 conference record, an RPI of 23 and a bubble that's softer than ever, there's a reasonable chance that they could make the tournament without winning the Sun Belt tourney.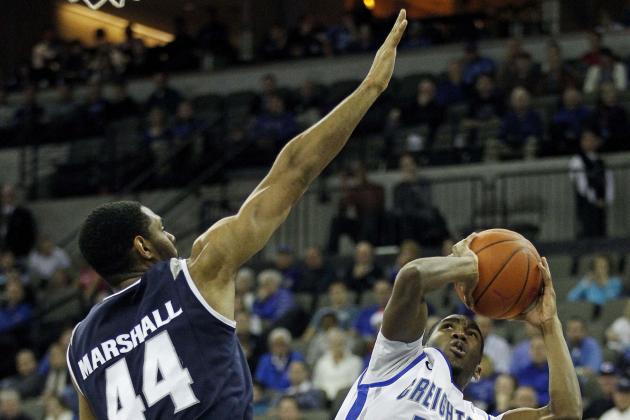 Matt Ryerson-USA TODAY Sports

Last Tournament Win: Never
RPI Top 100 Wins: Middle Tennessee, North Dakota State, Ohio (x2)
Previous Cinderella Rank: No. 2
Current Projected Seed: No. 12
Akron needed overtime to win at Ohio on Wednesday night, but was able to get the job done. With Memphis losing to Xavier the night prior, the Zips are now in sole possession of the longest winning streak in the nation, having won 19 consecutive games.
Just three games stand between them and a perfect conference record, and they come against teams that are under .500 in MAC play. Things are shaping up nicely for a potential at-large bid if the Zips should lose in the MAC tournament.
Most teams from non-major conferences are content with just competing in the NCAA tournament. It's fantastic if they win one game, but certainly not expected.
Getting to the tournament is only half of Akron's battle. As highlighted earlier this week, Akron has the talent to make a deep run in the tournament.