NCAA Bracket Predictions 2013: Projecting the March Madness Field at Week 17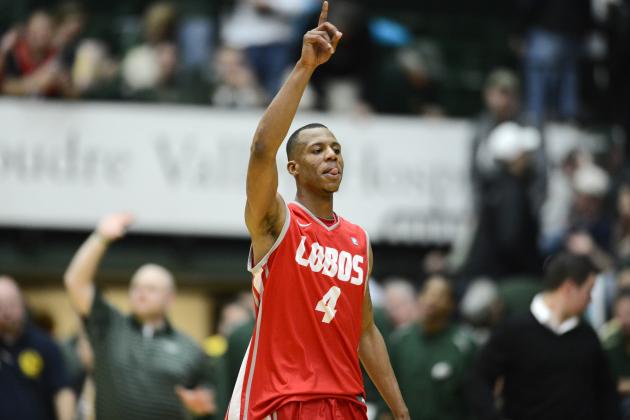 USA TODAY Sports

It's a tear-jerking, exhilarating time of year for college basketball players and fans alike.
More importantly, it's the time of year when projected brackets actually start to resemble the final product. For a good laugh, go back and look at the projected field from one month ago, when Syracuse was a No. 1 seed and Wyoming was in better shape than Georgetown or Oklahoma State.
Through the end of games on Feb. 25, here's how the tournament field is shaking out, starting with the ten teams most perilously perched on the bubble and culminating with the justification for New Mexico as a No. 1 seed.
Begin Slideshow

»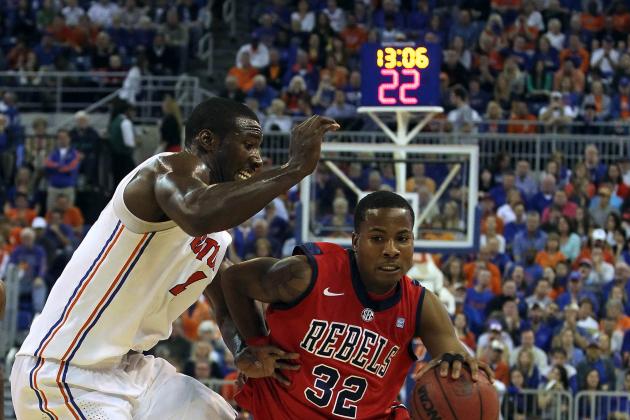 Kim Klement-USA TODAY Sports

First team out: Ole Miss (20-7, RPI: 57)
Let the record show that Ole Miss is the only team that was difficult to exclude at this point in time.
The Rebels have lost five of their past eight games. The losses at Missouri and Florida were none too surprising, but a tournament team should have been able to win at least two out of three from the collection of vs. Kentucky, at Texas A&M and at South Carolina.
Without knowing how the other nine teams around the bubble will finish out their respective seasons, it's impossible to say that Ole Miss must win its next four games, but let's at least say it would greatly behoove them to not lose again—especially considering none of the Rebels' remaining opponents are in the tournament field.
Second team out: Arizona State (20-8, RPI: 85)
The good: A season sweep of Colorado and a win in the only game against Cal.
The bad: Swept by Washington and lost a game at Utah.
The ugly: A nonconference SOS of 289 and a 17-point home loss to DePaul. (For what it's worth, DePaul is 7-79 against the Big East since the beginning of the 2008 season.)
The Sun Devils will need to win two of their remaining three games—all on the road—to have any shot at getting back into the field.
Third team out: Charlotte (18-8, RPI: 58)
After getting just one win in a stretch of five games against the RPI Top 50, Charlotte will need to win its final four games and say some prayers to the bubble gods. A 10-6 record in the A-10 with a poor nonconference SOS (237) doesn't sound like much of a tournament resume.
Fourth team out: Southern Miss (19-7, RPI: 36)
Don't be fooled by a record and RPI that are very similar to La Salle's: The Golden Eagles are 0-6 against the RPI Top 75. Unless they win the Conference USA tournament, we will continue to find any excuse to rank other teams ahead of them.
Fifth team out: Tennessee (16-10, RPI: 55)
The Volunteers are the new bubble du jour. Past recipients of this honor are Virginia, Alabama, California and Iowa, and those four teams are all over the bubble map today.
After five consecutive wins, Tennessee hosts Florida on Tuesday night. With none of the other nine bubble teams in action, if Tennessee pulls off the upset, it could go to sleep on Tuesday night as the fourth-to-last team in the field. A loss to Florida doesn't end the at-large dream, but it makes it a much more challenging one.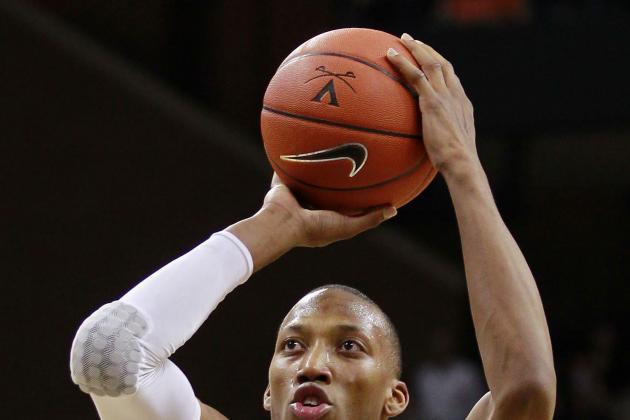 Geoff Burke-USA TODAY Sports

Last team in: Virginia (19-8, RPI: 68)
A win over Duke on Thursday would erase any doubts about Virginia. No matter how poor of a year the ACC is having, you don't win home games over Duke, UNC and N.C. State and miss the NCAA tournament.
If the Cavaliers lose to Duke, however, they should still be able to get in by winning their last three games—at Boston College, at Florida State and vs. Maryland—and getting to 12-6 in conference play.
The nonconference resume is quite atrocious, but winning 11 of your last 15 games is the best way to make your critics overlook what you did in November and December.
Second-to-last in: Boise State (16-8, RPI: 47)
Assuming the Broncos avenge a loss to Nevada on Wednesday, they'll still need to win two of their last three games to stay in the field—and none of those opponents will be easy to beat.
Third-to-last in: La Salle (19-7, RPI: 37)
The Explorers just need to avoid disaster down the stretch. A loss at Saint Louis in the season finale could be overlooked as long as they don't lose home games to Duquesne or George Washington before then.
That would get them to 11-5 in the A-10, which would likely result in a fifth-place finish and a conference tournament first-round game against St. Bonaventure. Again, avoid disaster, and they'll be fine.
Fourth-to-last in: Cincinnati (19-9, RPI: 50)
Maybe the Bearcats shouldn't be this low, but if your favorite bracketologist hasn't dropped them to at least a double-digit seed, it's about time you found a new favorite bracketologist.
In the nonconference, they played just five teams in the RPI Top 150, picking up wins over Iowa State, Oregon, Alabama and Xavier while losing a heartbreaker to New Mexico. That's two nice-not-great wins, two "Well I would hope they could win that game" wins and a home loss to one of the best teams in the nation.
In conference play, the Bearcats are 7-8, with just three of those wins—Pitt, Marquette, and Villanova—coming against the RPI Top 100. They've lost five of their last six games and were absolutely blown out by Notre Dame on Sunday.
What exactly is there to like about Cincinnati's resume?
Fifth-to-last in: Creighton (22-7, RPI: 45)
Since beating Northern Iowa and improving to 17-1, the Bluejays are 1-6 against the RPI Top 160.
Ranked No. 12 in the nation just six weeks ago, a loss to Wichita State this coming Saturday could mean they need to win the Missouri Valley Conference tournament to avoid going to the NIT.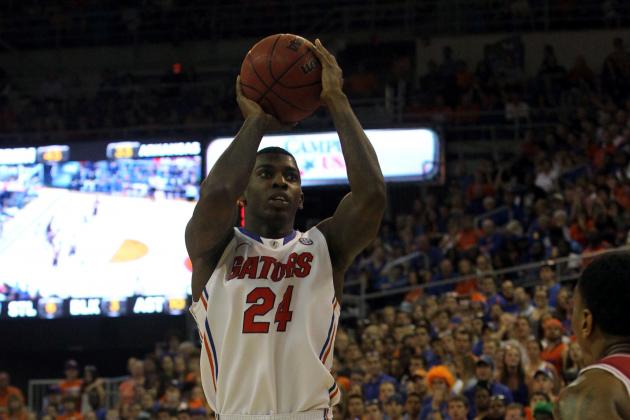 Kim Klement-USA TODAY Sports

No. 1 Duke (24-3, RPI: 1) vs. No. 16 Southern (SWAC auto bid) / Mercer (Atlantic Sun auto bid)
Please see the final slide for a more in-depth analysis of the No. 1 seeds.
No. 8 Illinois (19-9, RPI: 32) vs. No. 9 Missouri (19-8, RPI: 39)
Despite a sub-.500 record in the Big Ten, Illinois has won five of its last six and is just a win or two away from locking up a tournament bid. A home loss to Nebraska on Saturday could be catastrophic.
Missouri is undefeated at home but winless in true road games against the RPI Top 150. The season finale against Tennessee is its last chance to pick up such a win. The winner of that game will make the NCAA tournament, while the loser will need to do some work in the SEC tournament to feel safe.
No. 5 Oklahoma State (20-6, RPI: 29) vs. No. 12 Bucknell (22-5, RPI: 52)
If you haven't been taking Oklahoma State seriously as a contender for the national title, there's no time like the present. The Cowboys came up just short (multiple times) of finishing off a season sweep of Kansas. Despite the loss, they've won eight of their last nine.
No. 4 Marquette (20-7, RPI: 14) vs. No. 13 Boise State / La Salle (Last Five In)
Since the last update, the Golden Eagles lost to Villanova and beat Seton Hall and Syracuse. However, their seed remains unchanged. They're 15-0 at home this season with just one game against Notre Dame standing between them and a perfect home record.
No. 6 Butler (21-6, RPI: 30) vs. No. 11 Saint Mary's (23-5, RPI: 44)
Saint Louis is very good, but what is going on with Butler? The Bulldogs have now lost four of their last 10 games since the emotional win over Gonzaga. They aren't in danger of missing the tournament, but they are playing a very convincing game of possum right now.
After home wins over BYU and Creighton, the Gaels are more comfortably in the field. A loss to either Pepperdine or Santa Clara could cause some problems, but as long as they don't lose either of those two games, they're a lock for the tournament.
No. 3 Michigan State (21-6, RPI: 9) vs. No. 14 Davidson (Southern auto bid)
It's hard to fault a team for losing to Indiana and Ohio State, but it does give the Spartans six losses on the season. You can argue that they have seven wins against the RPI Top 50, but the accompanying six losses against those teams indicates that they're about the 10th-best team in the country.
No. 7 Pitt (21-7, RPI: 38) vs. No. 10 Colorado (18-8, RPI: 27)
The Panthers close the season with three very winnable games, and they always do well in the Big East tournament. They should eventually play their way back to a No. 5 seed.
It's danger time for Colorado, with road games against Stanford and Cal before a battle at home with Oregon. It doesn't take much imagination at all to see the Buffaloes losing two of those games and dropping very perilously onto the bubble.
No. 2 Florida (22-4, RPI: 5) vs. No. 15 Loyola (Md.) (MAAC auto bid)
The Gators are 1-4 in road/neutral games against the RPI Top 80. Upcoming trips to Tennessee and Kentucky could help determine whether that's a trend to keep in mind when filling out your bracket.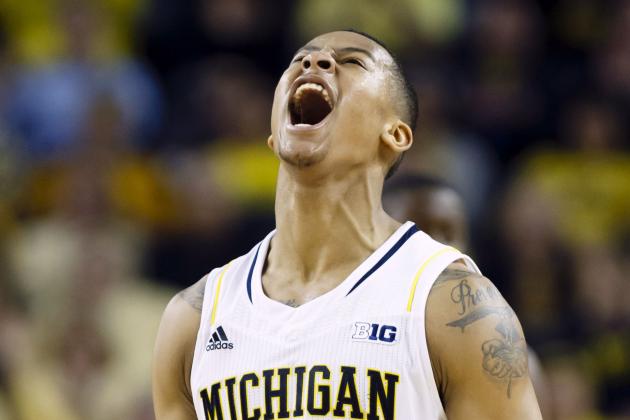 Rick Osentoski-USA TODAY Sports

No. 1 Kansas (24-4, RPI: 4) vs. No. 16 Charleston Southern (Big South auto bid) / Norfolk State (MEAC auto bid)
Please see the final slide for a more in-depth analysis of the No. 1 seeds.
No. 8 VCU (22-6, RPI: 34) vs. No. 9 North Carolina State (19-8, RPI: 25)
Early in the second half against Xavier, VCU trailed 43-26. Six minutes and 22 seconds later, the game was tied at 48. No, the loss to Saint Louis is not a sign that VCU is struggling.
The Wolfpack, meanwhile, are 5-6 since the home win over Duke, and only two of those victories are against the RPI Top 125. They're one more loss away from seriously slipping onto the bubble.
No. 5 Wisconsin (19-8, RPI: 24) vs. No. 12 Temple (19-8, RPI: 41)
Losing at home to Ohio State or on the road to Northwestern wouldn't have been too detrimental, but winning those two games by a combined 50 points was quite astounding. Wisconsin could be the runner-up for the Big Ten regular-season title.
The Owls have won three consecutive crucial games against the RPI Top 100. As long as they can win the next three games on their schedule, the season finale against VCU should be inconsequential to whether they make the tournament.
No. 4 Memphis (24-3, RPI: 18) vs. No. 13 Cincinnati / Virginia (Last Five In)
There are teams who have been hot, and then there's Memphis. The Tigers have won 18 consecutive games. On January 31, their assist-to-turnover ratio for the season was 1.01. In the month of February, their assist-to-turnover ratio is 1.56.
No. 6 UNLV (20-7, RPI: 15) vs. No. 11 Iowa State (19-9, RPI: 53)
UNLV has won three straight challenging games and now finishes the season with three straight easy ones. Provided the Rebels can get to 11-5 in MWC play, it's hard to imagine them doing any worse than a No. 6 seed.
Despite suffering their second painful overtime loss to Kansas on Monday, the Cyclones' road win over Baylor last Wednesday was of more importance than the home loss to a No. 1 seed. They might lose at Oklahoma on Saturday, but as long as they win the last two games (vs. Oklahoma State, at WVU), the Cyclones should be in.
No. 3 Georgetown (21-4, RPI: 13) vs. No. 14 Stephen F. Austin (Southland auto bid)
Out of seemingly nowhere, Georgetown is in sole possession of first place in the Big East with four winnable games remaining. ESPN ran an article yesterday making the case for the Hoyas as a No. 1 seed. Not yet, but it's possible to see them getting there.
No. 7 Wichita State (24-5, RPI: 30) vs. No. 10 Kentucky (19-8, RPI: 46)
After winning five straight, the only way Wichita State could miss the tournament at this point would be by losing the next three, which would include a loss in its first game in the Missouri Valley tournament.
When perennial powerhouses slip onto the bubble, it instantly becomes the most polarizing and publicized debate in college basketball. After Saturday's win over Missouri, the debate over Kentucky's bid is just about finished, barring some sort of awful loss to Mississippi State or Georgia down the stretch.
No. 2 Michigan (22-4, RPI: 6) vs. No. 15 Stony Brook (America East auto bid)
Sunday's rematch with Michigan State should determine whether the Wolverines can reclaim their No. 1 seed. There are 11 teams with a legitimate argument for a spot on the top line, but if it can win three of its final four games, one of those spots should belong to Michigan.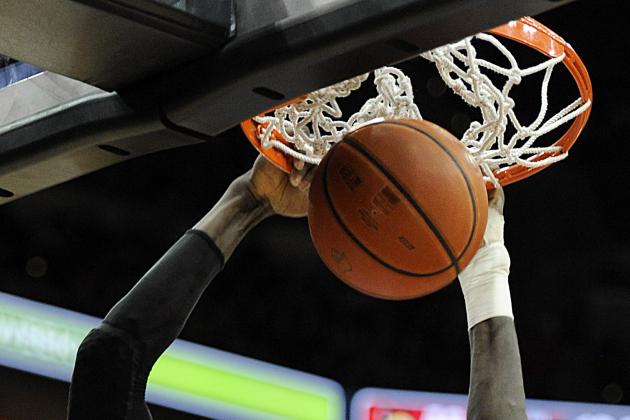 Jamie Rhodes-USA TODAY Sports

No. 1 Indiana (24-3, RPI: 7) vs. No. 16 Robert Morris (Northeast auto bid)
Please see the final slide for a more in-depth analysis of the No. 1 seeds.
No. 8 Oregon (22-6, RPI: 48) vs. No. 9 San Diego State (18-7, RPI: 33)
It's sounding like Dominic Artis might finally return this week. The Ty Lawson corollary is officially in play, which is the theory that when forced to play a stretch of games near the end of the season without its primary ball-handler, a team ends up playing even better when he returns than they played before his injury.
If that doesn't make sense now, it will when the Ducks fly through the Pac-12 tournament with relative ease.
The Aztecs have struggled on the road and still have trips to New Mexico and Boise State to go. They'll more than likely finish the season in fourth place in the Mountain West conference—good enough for a bid, but not a great one.
No. 5 Syracuse (22-6, RPI: 12) vs. No. 12 Akron (21-4, RPI: 49)
The Orange have lost five of their last nine games, and they have Louisville and Georgetown in two of the next three. It's been three years since they won more than one game in the Big East tournament, and a 24-9 record could drop them as low as a No. 7 seed.
If the Zips beat Ohio on Wednesday, they should eventually get to 16-0 in MAC play. At that point, we need to start considering the contingency plan if they come up short in the MAC tournament, because this is a legitimate NCAA tournament team.
No. 4 Kansas State (22-5, RPI: 21) vs. No. 13 Valparaiso (Horizon auto bid)
Kansas State has won eight of its last nine and could finish the regular season in first place in the Big 12. The Wildcats have quietly been a very solid team all season.
No. 6 Colorado State (19-6, RPI: 16) vs. No. 11 Villanova (17-11, RPI: 54)
The Rams have lost two straight, but they should rebound heading into the tournament by closing their season with four games against the bottom five of the Mountain West.
With Indiana State slipping out of the picture, Villanova has taken the reins as the most frustrating team on the bubble. How do you beat Marquette and then lose to Seton Hall? Despicable. Barring a win over Pitt or Georgetown, the Wildcats will fall out of the field before the Big East tournament.
No. 3 Miami (22-4, RPI: 2) vs. No. 14 Harvard (Ivy auto bid)
Perhaps the loss to Wake Forest was exactly what Miami needed.
Since beating up North Carolina two weeks ago, the Hurricanes have looked like a team playing not to lose, as though they were feeling the pressure of trying to put together a perfect ACC season. We'll see if they're back to normal against Virginia Tech on Wednesday.
No. 7 Saint Louis (21-5, RPI: 35) vs. No. 10 Cal (18-9, RPI: 43)
I've been singing the Billikens' praises for the past five weeks, and I'll continue doing so until they lose another game, which honestly might not be until April.
Cal has now won five straight games and closes the season with three straight winnable contests at home. Who would have guessed when the Bears were 3-4 in Pac-12 play that they would have a shot at winning the conference's regular-season title?
No. 2 Louisville (22-5, RPI: 8) vs. No. 15 Montana (Big Sky auto bid)
Thus far in February, the Cardinals have either been blowing teams out or losing to them in five overtimes. It's been quite a while since we were wondering if their season was falling apart at the seams.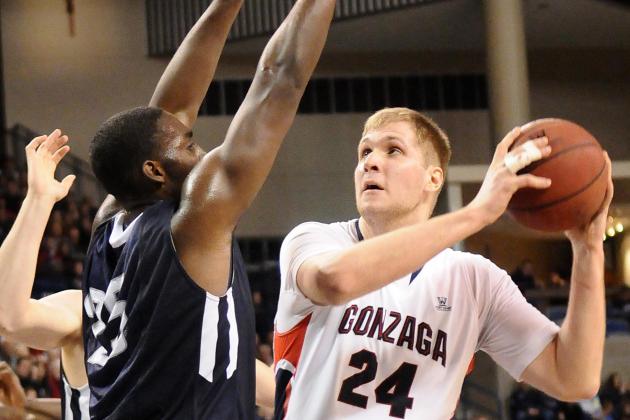 James Snook-USA TODAY Sports

No. 1 New Mexico (23-4, RPI: 3) vs. No. 16 Northeastern (Colonial auto bid)
Please see the final slide for a more in-depth analysis of the No. 1 seeds.
No. 8 UCLA (20-7, RPI: 42) vs. No. 9 Middle Tennessee (25-4, RPI: 26)
The Bruins have four challenging games remaining. They could still wind up anywhere between a No. 4 seed and the NIT.
Middle Tennessee is revolutionizing college basketball in a way that would only fly at a mid-major school. In the Blue Raiders' current 14-game winning streak, only twice has a player scored more than 17 points in a game. They will be the freshest team in March and a matchup nightmare for the unlucky soul that draws their number.
No. 5 Oklahoma (18-8, RPI: 22) vs. No. 12 Creighton (Last Five In)
The Sooners had dominant wins over Texas Tech and Baylor last week to get to 9-5 in Big 12 play. Outside of a winnable home game against Iowa State, the most difficult thing left on their schedule before the conference tournament is a trip to Texas, which isn't saying much. A 13-5 record is still a very real possibility.
No. 4 Ohio State (20-7, RPI: 19) vs. No. 13 Louisiana Tech (WAC auto bid)
Ohio State picked up two of its three biggest wins of the season in the past week to climb back up two seed lines. With just a road trip to Northwestern before the next update, the Buckeyes shouldn't move much in the next seven days.
No. 6 Notre Dame (22-6, RPI: 40) vs. No. 11 Minnesota (18-9, RPI: 17)
The Irish have rediscovered their footing after a 17-point road loss to Providence. Chalk that up to fatigue from having played six overtimes in their previous two games. Saturday's trip to Marquette may be the deciding factor for which team gets the dreaded (and coveted) double bye in the Big East tournament.
Minnesota doesn't even appear to be trying anymore, losing back-to-back games by 20-plus points. No one in their right mind would pick the Gophers to upset the Hoosiers on Tuesday night, but as long as they win their final three against Penn State, Nebraska and Purdue, they should still get into the tournament.
No. 3 Arizona (23-4, RPI: 11) vs. No. 14 South Dakota State (Summit auto bid)
With no bad losses and a share of first place in the Pac-12, the Wildcats could conceivably play their way back up to a No. 2 seed.
No. 7 North Carolina (18-8, RPI: 20) vs. No. 10 Belmont (20-6, RPI: 23)
The Tar Heels are 9-3 in their last 12—with home wins over N.C. State, Virginia and Maryland and road losses to N.C. State, Duke and Miami. In other words, no shocking wins nor surprising losses. Wins over Clemson and Florida State in the upcoming week should seal their bid.
Belmont annihilated Ohio over BracketBusters weekend and finishes out the season this week with a pair of home games that shouldn't be any challenge for a team that has won its 11 home games this season by an average margin of 24.2 points per game. If it came down to it, the Bruins have a better at-large profile than La Salle or Virginia.
No. 2 Gonzaga (26-2, RPI: 10) vs. No. 15 Long Beach State (Big West auto bid)
If you truly believe Gonzaga is the second-best team in the country, I hope you're in my March Madness pool. The Bulldogs' strength of schedule (79) will eventually keep them from getting a No. 1 seed, so why even bother putting them there now?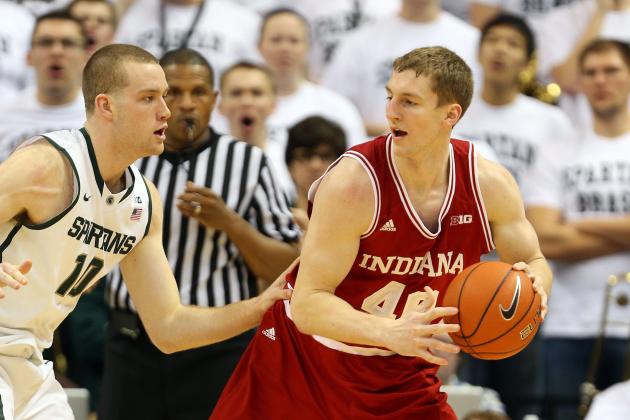 Mike Carter-USA TODAY Sports

No. 4 New Mexico (23-4, RPI: 3, SOS: 4)
Before you lose your mind in the comments section, hear me out.
New Mexico is 14-4 against the RPI Top 100. Yes, seven of those 14 wins have come against a Mountain West conference that is perhaps unfairly inflated in the computer rankings by virtue of its high percentage of quality teams.
However, that leaves seven nonconference RPI Top 100 wins. That's more than Florida (six), Kansas (six), Miami (six), Gonzaga (five), Louisville (four), Michigan (four), Indiana (three) or Michigan State (two) can claim.
Even if you hate RPI with every fiber of your being, you have to admit that's pretty impressive.
After Saturday's road win over Colorado State—in which Kendall Williams was NBA Jam on fire—and losses throughout the week by Florida, Miami and Michigan State, there was simply no way the Lobos could remain a No. 3 seed for a sixth consecutive week.
Aside from one awful game at San Diego State a month ago, New Mexico has been one of the four best teams in the country. It's about time the Lobos received some recognition.
No. 3 Kansas (24-4, RPI: 4, SOS: 14)
The Jayhawks are 9-3 against the RPI Top 50, and they just put an end to Iowa State's perfect home record.
The loss at TCU doesn't make sense (it never will), but it seems like just about every team in the tournament field has gone through a three-game losing streak at some point this season. They've bounced back from it with three blowout home wins and a pair of overtime road wins against two of the best teams in the Big 12.
If the Jayhawks win remaining games against Baylor, Texas Tech and West Virginia, their case for a No. 1 seed will be as good as that of any other team heading into the major conference tournaments.
No. 2 Duke (24-3, RPI: 1, SOS: 2)
No. 1 Indiana (24-3, RPI: 7, SOS: 27)
Both Duke and Indiana have three very difficult games remaining. If neither team loses again before Selection Sunday, there's little doubt that Indiana would be the No. 1 overall seed and the favorite to win the tournament, regardless of its draw.