Early College Basketball 2012-13 Preview: The Nation's Top 10 Small Forwards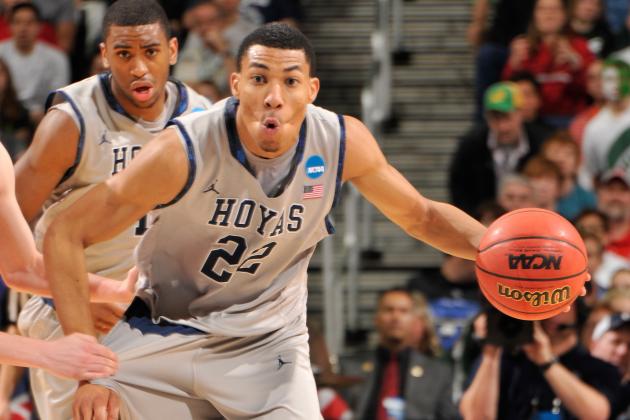 Jamie Sabau/Getty Images
Otto Porter with America's best O-face.
The small forward position doesn't look quite as loaded as others for the 2012-13 season. The defections of talents like Moe Harkless, Quincy Miller and Michael Kidd-Gilchrist to the NBA draft have left the ranks somewhat depleted.
While the 10 players in this slideshow may not be prime-time national names, there is talent at the three. At times, we may just have to wander off the beaten path to find it.
Begin Slideshow

»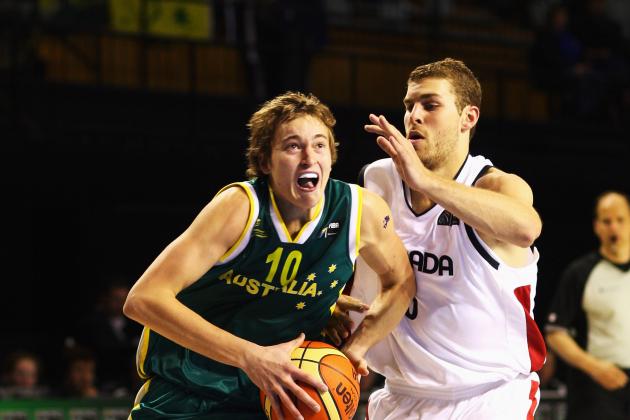 Phil Walter/Getty Images
Broekhoff drives to the hole at the 2009 FIBA U19 World Championships.
Yes, that picture is three years old and was taken at an international competition staged in New Zealand. Shows you how often Getty Images sends photographers to Valparaiso games, doesn't it?
Australian international Ryan Broekhoff isn't a household name. It's hard to be one in the Horizon League unless you play for Butler. Nevertheless, Broekhoff is one of the most efficient players returning to college basketball this season.
Broekhoff has ranked in the top 45 nationally in true shooting percentage the past two seasons, and some of his best work has been done against his best competition.
In Valpo's opener, Broekhoff went for 18 points and nine rebounds against Arizona. He torched eventual conference tournament champion Detroit for 26 points on 8-of-9 shooting, including drilling all six of his threes.
Twelve double-doubles remind fans that the Aussie can scrap for rebounds, too. He ripped 11 boards against Ohio State, often in direct battle with All-American Jared Sullinger.
In June, Broekhoff will compete for a place on the Australian Olympic team. Perhaps if he gets a chance to succeed for his country in London, the limelight might follow him to northwest Indiana. Maybe Getty will even show up to get him on camera once in a while.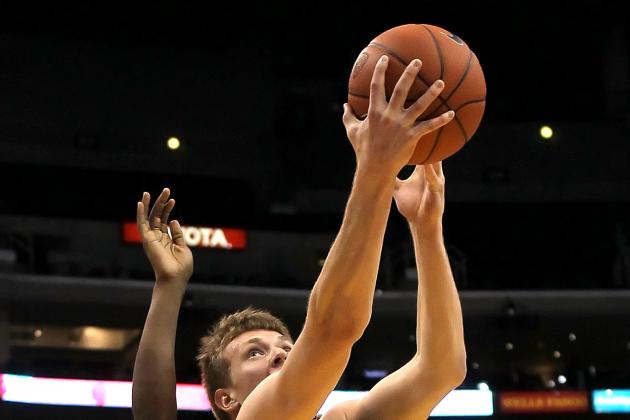 Stephen Dunn/Getty Images
E.J. "Don't Call Me Kyle" Singler drives on Washington.
Oregon is losing a large amount of this past season's scoring—60 percent, to be exact. Two of the departed, Garrett Sim and Devoe Joseph, ranked in the Pac-12's top seven in true shooting percentage.
In fifth place on that list, however, is forward E.J. Singler, who will be the Ducks' most proven scoring option next season by far.
Singler's shooting percentages of .467/.368/.909 were highly respectable, and he was only held to single-digit scoring six times on the season.
When the Ducks reached the NIT, Singler stepped to the forefront, scoring 44 points with 15 rebounds and eight assists in a shootout win over Iowa and a narrow loss to Washington. In the Iowa game, Singler helped hold Hawkeye star Matt Gatens to 3-of-10 shooting, ending Gatens' career in defeat.
With ESPNU 100 point guard Dominic Artis joining the Ducks next season and possibly bringing his prep teammate Anthony Bennett with him, coach Dana Altman will have to blend a large freshman class with a small, yet, experienced group of returnees.
Look for Singler to captain the team next season, and expect him to be a preseason All-Pac-12 selection.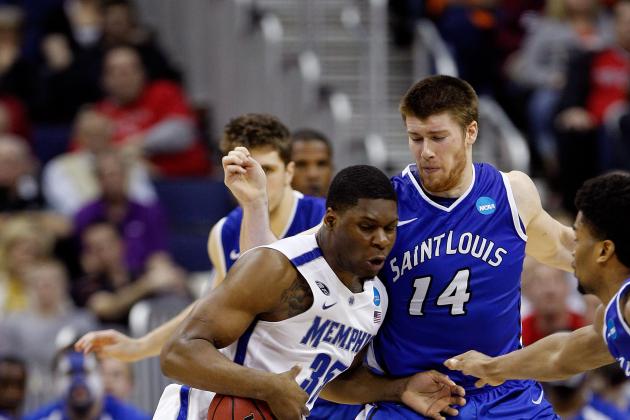 Rob Carr/Getty Images
Thomas tries to shake off the rust against Saint Louis.
So far in the early preview slideshows, proven production has been emphasized over potential. So why is Adonis Thomas listed here?
There were certainly moments in Thomas' freshman season to hint at him living up to his McDonald's All-American status. In the Tigers' double-overtime win over Tennessee, it was Thomas and the Barton brothers who dragged Memphis to the next round of the Maui Invitational. The three were the only double-figure scorers and 50-percent shooters for Memphis on the day.
Against UAB, Thomas scored 15 points on 7-of-8 shooting, but it was a stuff of 6'10" Cameron Moore with 16 seconds left that helped seal a three-point win.
The following week, Thomas was sidelined by an ankle injury that kept him out until the Conference USA tournament. The layoff deferred Thomas' chance at being an NBA lottery pick, but that may have been difficult in a draft as strong as the 2012 edition.
With Will Barton headed into the draft, the primary hurdle between Thomas and a full-time starting role has been removed. Playing time may be the only thing that stands between Thomas and that lottery position in what currently looks like a thinner 2013 draft. That's motivation enough for him to play the strongest ball of his life in 2012-13.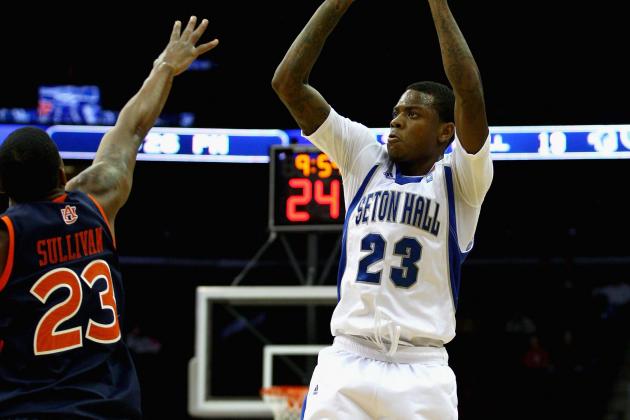 Chris Chambers/Getty Images
Edwin will need to do more of this for the Pirates next season.
Fuquan Edwin emerged as Seton Hall's third offensive option during his sophomore year, but no one stood out more on defense.
Edwin averaged three steals per game, tying for the national lead and setting a school record in the process. Next season, his offense will have to catch up to his defense, as team leaders Herb Pope and Jordan Theodore graduate and leave him as the most experienced Pirate.
Of course, his offense wasn't exactly chopped liver last year, either. Edwin dropped a combined 52 points in back-to-back January games, making nine of 13 threes in the process. He also ripped nearly nine rebounds per game in a six-game span in January 18 coming in those two big scoring games.
Edwin led the Pirates with 21 points in their NIT loss to UMass, shooting 8-of-14 on a night when Theodore and Pope combined for 7-of-21.
He should get able help from Georgia Tech transfer Brian Oliver and Southern Illinois transfer Gene Teague, but for better or worse, it's Edwin's team this year.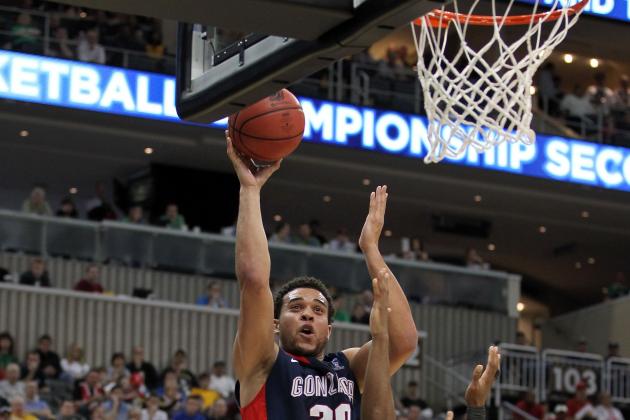 Gregory Shamus/Getty Images
Harris shoots as Lenzelle Smith runs for cover.
In 2009-10, Elias Harris had a freshman season that seemed to herald a dominant—and short—college career. Now, he enters his senior season as a player who has left many observers scratching their heads.
Last season, Gonzaga's balanced offense occasionally ran through Harris, but just as often worked through Kevin Pangos or Robert Sacre. Sacre is the only Zags regular to exhaust his eligibility, and that may leave Harris as the most likely player on this list to underachieve in 2012-13.
Seven times last season, Harris ended a game with six or fewer field goal attempts. Still, for every five-point night against Portland, there was a 25-point game against Arizona. To counter the 2-of-11 night against Michigan State, there was a 10-of-14, 22-point, 13-rebound effort against St. Mary's.
Harris' shooting percentages have declined during his career, but he's become a more powerful presence on the glass, averaging 8.5 per game last season.
So, is Harris an All-American or simply a solid All-West Coast Conference performer? The answer may depend on what night you find him, but the potential for dazzling performances is always there.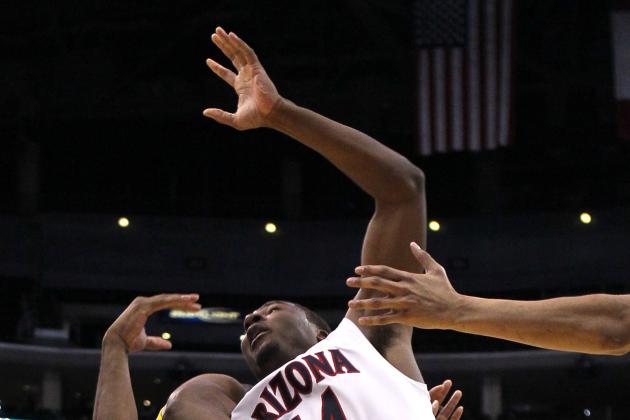 Stephen Dunn/Getty Images
Illegal armbars were the only way UCLA could stop Hill.
As a sophomore, Solomon Hill was a supporting actor in Arizona's games, which often became the Derrick Williams Show. With Williams gone to the NBA and Lamont "Momo" Jones transferring to Iona, several members of the supporting cast were thrust into the spotlight.
While the Cats didn't make it back to the NCAA tournament, Hill joined with Jesse Perry and Kyle Fogg to adopt the leadership mantle. With Perry and Fogg gone next season and a loaded freshman class coming in, Hill could either emerge as the leader of a revitalized program or step back into his previous caddy role.
Hill is believed to be Arizona's best passer and ball handler, which speaks as much to a collection of subpar point guard prospects as it does to Hill's abilities. Still, coach Sean Miller could have an interesting lineup on his hands if he allows the 6'6" Hill some playmaking responsibility.
There may not be another 12 double-figure rebounding games in Hill's future, but could he be an effective floor general?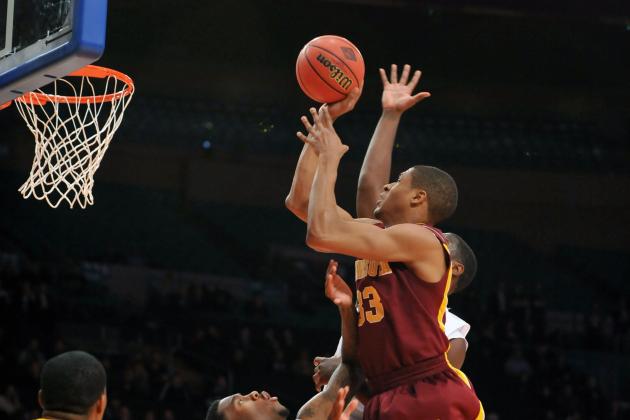 Jason Szenes/Getty Images
Williams gives Tony Wroten a preview of NBA vertical.
When a team loses its best player, the remaining members can either go into the tank or rise to a previously unseen level of excellence. Trevor Mbakwe's injury might have denied the Gophers a chance at the NCAA tournament, but it accelerated the development of his frontcourt mate Rodney Williams.
Williams' elite athleticism had NBA draft analysts gushing after only three college games back in 2009. Tubby Smith then chained him to the bench for much of the remaining season.
Williams' productivity was inconsistent as a sophomore, and then Mbakwe got hurt against Dayton early this past season.
Williams was only averaging 7.6 points per game before Mbakwe's injury, with five single-digit scoring games in the first seven. After the injury, Williams was held below 10 points only seven times the rest of the season.
His productivity ramped up as the season went on, peaking during the Gophers' run to the NIT championship game. Over the season's final six games, Williams averaged 19.3 points and 5.7 rebounds per game, scoring 18 or more in all but the final loss to Stanford.
For the season, Williams finished in the Big Ten's Top 10 in rebounds, steals, blocks, field goal percentage, effective FG percentage and true shooting percentage. For those efforts, he didn't even get an honorable mention in the All-Big Ten selections. If he maintains last season's effectiveness with Mbakwe back in the lineup, the Gophers might return to the Big Dance.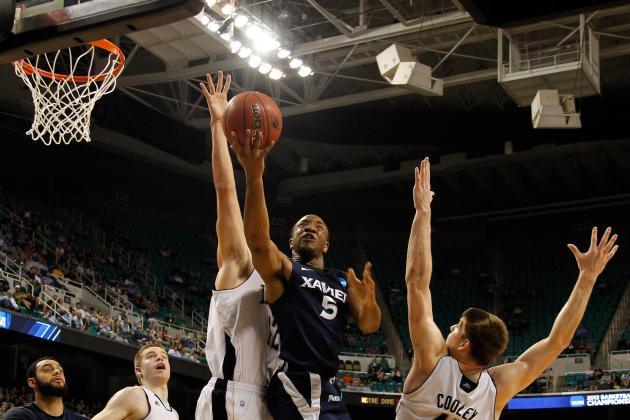 Mike Ehrmann/Getty Images
Wells splits the Irish like a hot knife through boiled cabbage.
Four of Xavier's five starters are gone. Tu Holloway, Kenny Frease, Andre Walker and Arizona Wildcat-to-be Mark Lyons represent approximately 48 points per game, or nearly 70 percent of the team's scoring from last season.
In a climate like that, it stands to reason that the remaining starter has lots of opportunity in front of him if he's capable of taking advantage. Dezmine Wells is certainly capable.
While he never broke 20 points in any game last season, Wells did have his moments. He recorded a double-double against Saint Louis and another in the NCAA tournament opener against Notre Dame.
Wells scored in double figures in 16 of his 32 games, not bad for a guy who was often the fourth option. He shot better than 50 percent from the floor and 37 percent from three-point range. He'll need a lot of help from an inexperienced backcourt if he's going to see those kinds of openings in 2012-13.
After all, it's not every night that a player gets a chance to make a play like this. Still, the dunk behind that link—from his very first game, no less—gives a stark indication of Wells' athleticism and suggests that he may be capable of making his own openings.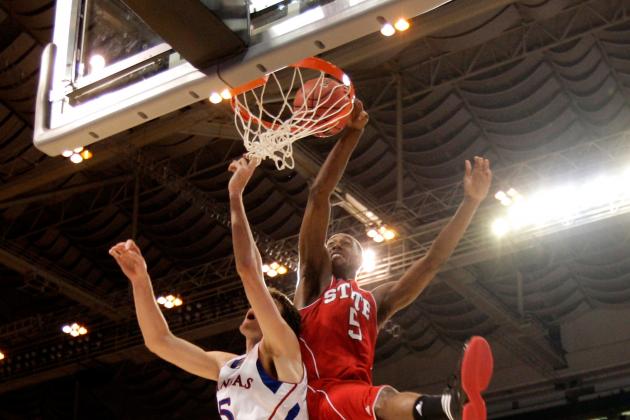 Andy Lyons/Getty Images
Leslie's ups on full display as he dunks on Jeff Withey.
While Dez Wells and E.J. Singler have to adapt to lots of lost options around them, C.J. Leslie isn't sweating any such problem.
Four of NC State's five starters return, and the Wolfpack are also adding three ESPNU top 50 recruits. Still, Leslie is the alpha male for the Pack.
While State was up and down near the end of the regular season, Leslie kept rising. Over the last 11 games, including ACC and NCAA tournaments, Leslie averaged more than 18 points and nine rebounds, shooting nearly 58 percent from the floor.
Leslie still needs to improve his ballhandling, as an average of 2.3 turnovers per game is rough for a non-point guard. Also, his free throw shooting will need to improve markedly from last season's 59.6 percent. Leslie ranked fourth in the conference in free throw attempts, and if his scoring chances increase, so will the fouls that he draws.
Despite any of those warts, Leslie's return to Raleigh has Pack fans thinking about the school's first ACC championship since the Jim Valvano era. It would be a surprise if he's not in the All-ACC conversation, and it would not be a surprise if he garners some All-American consideration.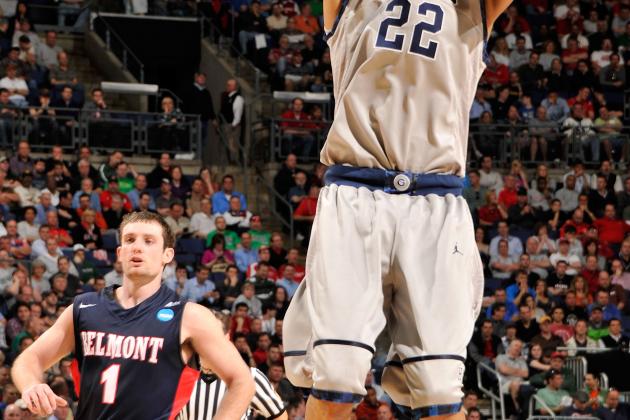 Jamie Sabau/Getty Images
Porter's not known for his scoring, but he'll soon need to be.
It's a good thing for Georgetown fans that many of their young players saw substantial time last season. After all, the team's only three veterans are gone. The 2012-13 Hoyas will be led instead by a sophomore who played like a veteran during his freshman year.
Otto Porter only averaged 9.7 points per game in his freshman season, which is to be expected from a player who took more than 10 shots in only seven games all year. He started only eight games, and by the time he did take the floor for the tipoff, he was still deferring to Jason Clark, Hollis Thompson and Henry Sims.
While the Hoyas are essentially Porter's team now, coach John Thompson III has reason to be calm about that fact. During a January game with Rutgers in which Georgetown shot a disturbing 29 percent from the floor, Porter scored the game's final six points to salvage a two-point win out of what would have been an embarrassing loss.
Like so many on this list, Porter ended the season in strong fashion, perhaps preparing for this coming season's leadership role. He averaged more than 14 points and seven rebounds over the season's final seven games, making 62 percent of his shots.
Porter's defense and mid-range game are beyond those of most players his age, but his perimeter game will need improvement. If he makes improvement on his outside shot, look for an All-Big East season.
Not bad for a guy who skipped the AAU assembly line and actually learned how to play basketball.
Check out the other 2012-13 Top 10 positional previews: