Early College Basketball 2012-13 Preview: The Nation's Top 10 Point Guards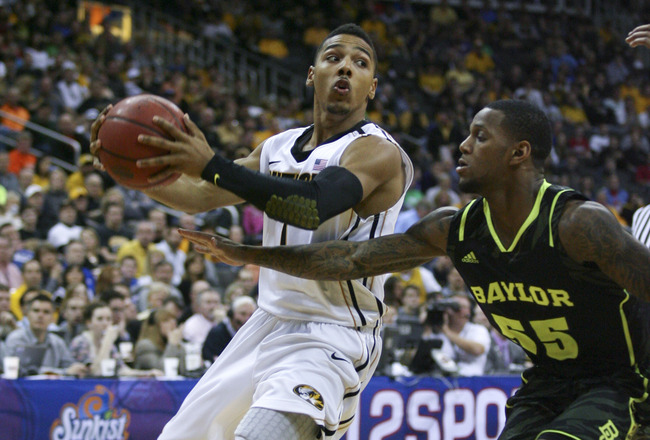 Missouri's Phil Pressey and Baylor's Pierre Jackson, two of the nation's top floor generals.
Ed Zurga/Getty Images
In May, most college basketball stories fall into two categories: looking back through history and looking ahead to the future.
Looking into the crystal ball, next season will be a treat for fans of strong point guard play. The 10 players profiled in this slideshow are merely the top of a talented class.
Incoming talents like UCLA blue-chipper Kyle Anderson could easily make a huge impact this fall. Still, we're trafficking in proven production here, so no freshmen.
Others, like Isaiah Canaan of Murray State and South Dakota State's Nate Wolters, play more like shooting guards than classic distributors.
These 10 players are among the best in the nation at making teammates better and driving opponents crazy—some can even scorch the net if needed.
10. Anthony Collins, South Florida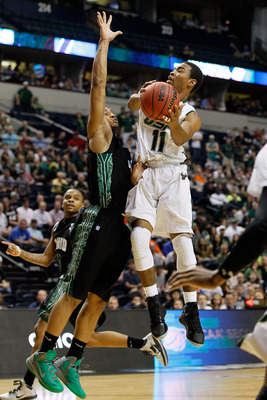 Collins takes it to the hole against Ohio. Dig the green shoes.
Kevin C. Cox/Getty Images
Watching South Florida's offense putter through its possessions can be like getting stuck behind a blue-haired old lady who can't drive any faster than 45 on the highway. The Bulls ranked 343rd in adjusted tempo, according to Ken Pomeroy. That's third from the bottom, folks.
Still, if USF accomplished anything offensively last season, it ran through freshman Anthony Collins. The definition of a pass-first point guard, Collins averaged 5.2 assists per game last season, but only 6.4 field-goal attempts.
To Collins' credit, he took shots he knew he could make, shooting better than 50 percent from the floor and attempting only 24 three-point shots all season.
That assist average was good for sixth in the Big East, but imagine what Collins and the Bulls could have accomplished if leading scorers Augustus Gilchrist and Victor Rudd had shot better than 38 percent combined.
Collins dominated the ball for USF, so his 3.4 turnovers per game can be somewhat understood. Still, to make his greatest impact, he'll need to cut that number down, perhaps in half.
If he cuts down the turnovers and improves his outside shooting, we're likely looking at next season's first-team All-Big East point guard.
9. Peyton Siva, Louisville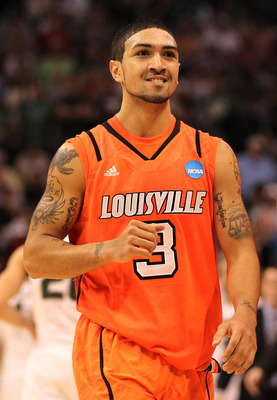 Peyton Siva is happy. Coming off a Final Four season, wouldn't you be?
Jamie Squire/Getty Images
Peyton Siva still isn't a tremendous scorer, but he didn't have to be on last season's balanced Louisville team. When his team needed him most, however, he showed the ability to take over.
Siva averaged 13.8 points, 6.3 rebounds, 5.8 assists and 3.8 steals as the Cardinals surged to the Big East tournament championship. He followed that by averaging better than six assists per game in the NCAA tournament.
For the season, Siva finished in the Big East's top 10 in both assists and steals, but his true value to the Cardinals may be seen in how they played without him on the court.
Siva's plus/minus total for the season stood at 236, meaning the Cards outscored opponents by 236 points when he was on the court.
When Siva was out of the game, the Cardinals were minus-19 on the season.
8. Matthew Dellavedova, St. Mary's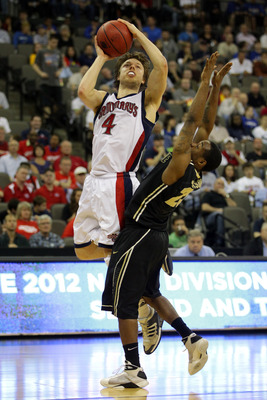 Dellavedova puts up a shot over Purdue's Lewis Jackson.
Doug Pensinger/Getty Images
Australian international Matthew Dellavedova has played at least 35 minutes per game each season since he came to St. Mary's.
While he's been a prolific shooter since day one, he was also part of a skilled two-point guard backcourt with Mickey McConnell. With McConnell no longer part of last year's team, Dellavedova took over.
His shooting percentage has steadily improved, as he gets to the basket more and relies slightly less on the three-pointer. Of course, he still attempted 5.1 long bombs per game last season, so put big emphasis on "slightly."
Dellavedova's turnovers increased last season, another side effect of McConnell's absence. Even so, Dellavedova is among the West Coast Conference's most dangerous passers and shooters, ending enough possessions with positive outcomes that they outweigh the occasional error.
7. Lorenzo Brown, NC State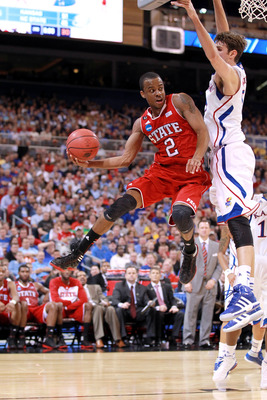 Lorenzo Brown vs. Kansas: "Hey, I can see my house from here."
Andy Lyons/Getty Images
The North Carolina State Wolfpack had tuned out coach Sidney Lowe by the end of the 2010-11 season, which led to Lowe's dismissal. Mark Gottfried arrived and led most of the same talent to the NCAA tournament.
Sophomore point guard Lorenzo Brown's marked improvement had to have something to do with the turnaround, though.
Brown was inconsistent as a freshman, at first sharing the backcourt with classmate Ryan Harrow, then moving to the point and pushing Harrow to the bench. Harrow would later be pushed all the way to Lexington, Kentucky.
Brown's first year resulted in only five double-figure scoring games against ACC competition. Last season, that switched to only five single-digit games in conference play—those being his first five.
In the ACC and NCAA tournaments, Brown averaged 13.7 points, 6.7 assists and 2.5 steals.
With North Carolina's Kendall Marshall declaring for the NBA draft, Brown is the ACC's returning leader in assists and steals. With three fellow starters returning, NC State is expected to challenge for the ACC title.
If they do so, the nation will get to know Lorenzo Brown.
6. Aaron Craft, Ohio State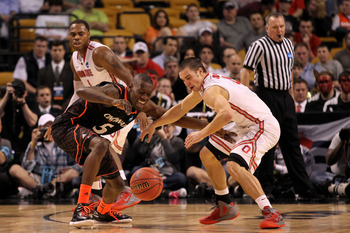 Aaron Craft chases one ball while Cincinnati's Justin Jackson appears to be chasing another.
Jim Rogash/Getty Images
Aaron Craft routinely garners praise for his defensive prowess. He's led the Big Ten in steals each of the past two seasons, helping lead Ohio State to a pair of regular-season championships and a conference tournament title.
What he'll need to do to justify this ranking will be to step up his offense. A 50 percent field-goal shooter as a sophomore, Craft has been selective with his shots. Without scoring threats Jared Sullinger and William Buford, however, the entire Buckeye offense will be a work in progress next season.
Craft's assists dipped slightly with the loss of Jon Diebler and David Lighty, and may do the same without Sullinger and Buford. If he can make up for that with increases in scoring, the Buckeyes should threaten for another conference title.
Games like last November's meeting with Duke (17 points, eight assists) and the NCAA tournament game against Gonzaga (17 and 10) show that Craft can score when he needs to.
Next season, the Buckeyes need production like that more often.
5. Trey Burke, Michigan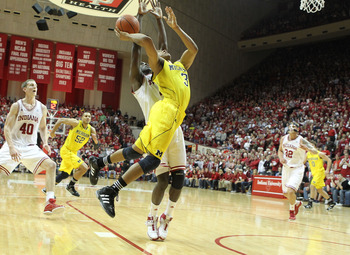 Burke will bend over backwards to win another Big Ten title.
Andy Lyons/Getty Images
Trey Burke's return to Ann Arbor is a surprising one, but it has Michigan fans thinking Final Four next April.
Burke and backcourt mate Tim Hardaway Jr. helped lead the Wolverines to a share of the Big Ten regular season title, but couldn't get past Ohio in the NCAA tournament.
While the losses of veterans Stu Douglass and Zack Novak, as well as sophomore Evan Smotrycz, will hurt more than most observers know, reinforcements are coming. Freshmen Mitch McGary and Glenn Robinson III will be more than happy to take some of the scoring load off of Burke, who finished 11th in the Big Ten in points per game.
The freshmen should at least draw some defensive attention and allow Burke more openings, which he'll need.
Michigan was 5-6 last season in conference and postseason play when Burke shot less than 40 percent from the floor. Of those five wins, one was over Penn State, two over a Northwestern team allergic to pressure, and one over an Illinois team that was in full mutiny against coach Bruce Weber.
If McGary and Robinson deliver as expected, Burke could threaten to take next season's Big Ten assist crown along with his customary 15 points per night.
4. Tim Frazier, Penn State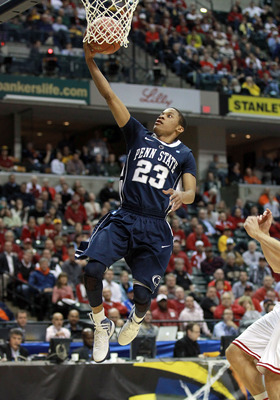 Pictured: Penn State's only dangerous player.
Andy Lyons/Getty Images
Tim Frazier somehow led the Big Ten in assists last season on a team that shot a combined 39 percent from the floor.
Often, when Frazier wanted something done offensively, he needed to do it himself. He finished second in the Big Ten in scoring at almost 19 points per game.
Oh, and he also led his team in rebounding and finished second in the conference in steals.
If he were on a remotely decent team, he could have rubbed elbows with Kendall Marshall and Scott Machado among the nation's assist leaders, even if the rest of his numbers would suffer.
Frazier is a threat to finish his career with 1000 points, 500 rebounds, 500 assists and 200 steals. Even PSU icon Talor Battle didn't finish with 200 steals, although he did break 2000 points.
Penn State's lost season cost Frazier first-team All-Big Ten honors in 2011-12, but an encore should make him undeniable.
3. Chaz Williams, UMass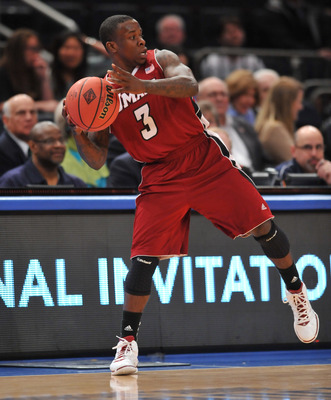 Chaz Williams: proof that NIT doesn't stand for No Involved Talent.
Jason Szenes/Getty Images
Listed at a generous 5'9", Massachusetts point guard Chaz Williams is a short man with a long highlight reel.
He burst into the Atlantic 10 as a transfer from Hofstra, giving the Minutemen the kind of point guard play they hadn't had in almost a decade, since head coach Derek Kellogg was calling signals on the court himself.
Williams led the A-10 in assists at 6.2 per game while also finishing fourth in steals and seventh in scoring. During UMass's run to the NIT semifinals, Williams averaged 21.8 points, 5.3 rebounds and 4.8 assists, taking a more dominant role in the offense.
The Minutemen return everyone in the rotation except forward Sean Carter, who led the team in rebounding. Rising sophomore forward Cady Lalanne could fill in that void, however.
A-10 rivals like Xavier and St. Bonaventure are losing their stars, which could leave an opening for UMass to stake their claim to next season's title. A trip to the NCAA tournament could make Williams the nation's next favorite mighty mite, in the tradition of Tyus Edney or Earl Boykins.
2. Phil Pressey, Missouri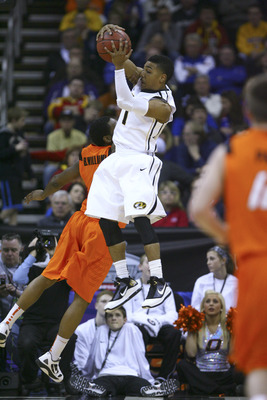 Phil Pressey: capable of leaping sitting cheerleaders in a single bound.
Ed Zurga/Getty Images
Under first-year coach Frank Haith, Missouri took its points wherever it could get them. Five players averaged double-figure scoring for the Tigers last season, including a player who didn't start a single game.
Driving the Columbia bullet train was sophomore Phil Pressey, who led the Big 12 in assists and steals, but still only earned a third-team All-Conference selection.
Pressey wasn't as assertive with his shot as players like Tyshawn Taylor or Pierre Jackson, but he was also more careful with the ball. Taylor and Jackson placed second and third in the conference in turnovers per game, both finishing with more than 3.5 per game. Pressey finished 10th, averaging 2.4.
With players like Ricardo Ratliffe, Marcus Denmon and Kim English graduating, Pressey will need to get used to a host of transfers and freshmen. If everyone delivers as expected, though, Pressey should equal his assist figures from last season and perhaps add a few points for himself.
1. Pierre Jackson, Baylor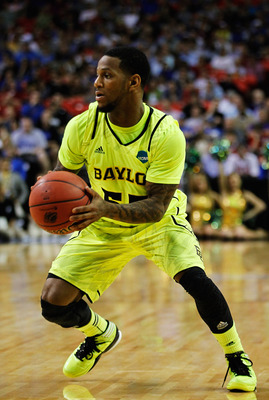 Jackson's back, but what about the highlighter unis?
Streeter Lecka/Getty Images
Nobody expected Pierre Jackson to step in and lead the Baylor Bears in scoring last season. On a team with likely NBA first-rounders Perry Jones and Quincy Miller, he shouldn't have needed to.
Like Phil Pressey, Jackson led a balanced offense in which five players dropped in double-figure averages. Also like Pressey, Jackson will have to adapt to life without three of those scorers next season.
Unlike Missouri, Baylor will be working in freshmen instead of D-I transfers, with ESPNU 100 big men Ricardo Gathers and Isaiah Austin expected to contribute immediately.
While the Bears do have options, at least early on, Jackson may need to shoulder more scoring responsibilities. The NCAA tournament served as a dress rehearsal for that load. Jackson averaged 18.5 points per game in the Bears' Elite Eight run, adding 6.8 assists and 2.8 steals.
Never mind second-team All-Big 12, which Jackson attained this season. If he continues production like that and trims his unsightly 3.5 turnovers per game, Jackson could be in the mix for second- or first-team All-American selection.
Check out the other 2012-13 Top 10 positional previews:
Keep Reading