Clemson Men's Basketball: Tigers Do Their Part for ACC/Big Ten Challenge
November 30, 2011
Mike Ehrmann/Getty Images
Fortunately for Iowa fans, Clemson turned the ball over every other trip down the court in the first half of the game. Unfortunately for Iowa fans, their team did nothing about it.
Clemson's 71-55 win tonight against the Hawkeyes was more a product of Iowa's inability to find the bottom of the basket than with anything Clemson did particularly well, but for a fanbase that is aching to have one of their athletic teams succeed, this is a big win.
Iowa started out the year by destroying three teams nobody has ever heard of, but then lost momentum against a very solid Creighton team. They proceeded to lose the subsequent game to the Campbell Fighting Camels, dragging a bruised record into the ACC/Big Ten Challenge.
Clemson on the other hand, has looked characteristically strong on defense but cannot seem to put points on the board. They brought their own blemished record into the game looking for a catalyst to get them past the "we're a young team" excuse they have been using for the last two years.
Maybe they just got past it.
Andre Young was everywhere with 19 points to lead the Tigers and Tanner Smith was his usual solid self with seven points, eight assists and 14 rebounds.
Milton Jennings had three turnovers several seconds into the game and Devin Booker was on the bench far too much in foul trouble.
Besides that though, some younger players are beginning to emerge which should give Clemson fans some hope.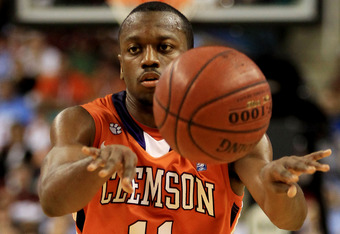 Streeter Lecka/Getty Images
T.J Sapp scored 13 points off the bench and Rod Hall has shown some aggressiveness that will be a huge help to the Tigers in the future.
Iowa used a full court press for much of the second half which caused Clemson a few fits, but one of the prettiest plays all night was a one-man press-break by Rod Hall that went the length of the floor and ended in a nonchalant finger roll at the other end with two men draped all over him. 
These two back-up guards are going to be good.
While I am not ready to call Clemson a championship team just yet, I am seeing marked progress. If they can limit turnovers and keep their glue guys on the court, they will make a run that nobody sees coming.