Kevin Parrom Shooting Incident Latest in Arizona's Rollercoaster Offseason
September 26, 2011
Stephen Dunn/Getty Images
Kevin Parrom, a returning junior and crucial member of Arizona's run to the Elite Eight in 2011, was shot in the right knee during a dispute over a girl in his native New York City, according to Adam Zagoria of zagsblog.com.
Count this as the latest episode in a wild offseason for the Arizona Wildcats, a basketball program that re-emerged as a national power last March.
Zagoria quoted an anonymous NYPD police spokesperson with the following description of the early Saturday morning incident:
"He was with a woman and two people came to that location and knocked on the door. They followed him into a bedroom and shot him with a 22-caliber handgun. No one else was in the apartment when he was shot."
And a second anonymous source via Zagoria added the following:
"[Parrom] had a girl visiting him. The girl's jealous boyfriend or ex-boyfriend shows up at Kevin's house. He brings a dude with him. The dude that's with him has a gun.

"Somehow the guys get in the house, words are exchanged. One of the guys pulls out a gun. Kevin grabs the gun, they wrestle for the gun. The guy pulls the trigger, which grazes [Parrom] in the hand. The shooter pulls back and the shot grazes [Parrom] in the leg."
The Arizona Daily Star's Bruce Pascoe spoke with Parrom's former club hoops coach, Gary Charles, who said he spoke with the Arizona starter post-shooting and that he seems to be doing fine. "He said, "Don't worry. I'm OK. I can walk. I'm good,'" Charles said. "That was good enough for me."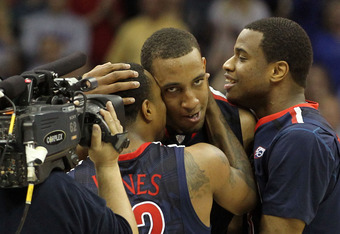 Ronald Martinez/Getty Images
No one has been arrested in connection with the case yet, according to ESPN.com's Diamond Leung, who also wrote that Parrom was in New York to be with his hospitalized mother.
A thick-framed 6'6" forward, Parrom was one of Arizona's enforcers, a physical and aggressive forward who showed off strong slashing ability to go along with a deft touch from outside at times last year (41.8-percent three-point shooter), averaging 7.6 points and 3.4 boards.
Parrom is expected to be a go-to option for Arizona in 2011-12.
While he did have an off-court issue in high school in N.Y., Parrom has had no issues away from the hardwood in the desert, this appearing to be an isolated incident in which he was not the aggressor, according to the details reported so far.
A litany of highs, lows and a huge sigh of relief have followed the program's dramatic tear into the Elite Eight, which was led by the dominant play of Derrick Williams and was replete with a pounding of then-defending champ Duke. 
On the expected high-points side, Williams, a sophomore sensation who transformed into the best player on the West Coast, if not the country, was taken with the No. 2 pick of the NBA draft by the Minnesota Timberwolves.
Just under two months before that, however, came The Tension in Tucson, a weekend-long nightmare that saw Sean Miller entertain the Maryland vacancy (a strong program in the heart of his East Coast roots) with UM athletic director Kevin Anderson in Las Vegas.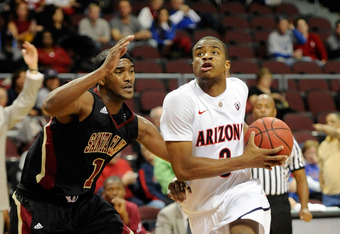 Ethan Miller/Getty Images
But after assembling one of the nation's best foursomes of recruits at one of the West Coast's historic powers, following a deep tourney run in just his second season, Miller decided things were just too sweet in Tucson to depart.
Miller quickly turned down the Terps during that meeting with Anderson, then immediately went back to being one of the best recruiters in the game, compiling the No. 1-ranked recruiting class in the country for 2012, according to ESPN.com.
Next year's trio of Gabe York, Grant Jerrett and Brandon Ashley will bring a richness of depth to Arizona, and there could be more added to that crew.
Less then 10 days after Miller announced he was staying, news broke that MoMo Jones, the gutsy sophomore point guard, was going to transfer out of Arizona to be closer to his grandmother in N.Y., eventually ending up at Iona.
While Jones will be missed, there are two options on the roster that might have stolen his starting role: smooth sophomore Jordin Mayes and projected NBA first-rounder Josiah Turner.
The program also saw Archie Miller, Sean's younger brother and one of the program's lead assistants, leave to become the head coach at Dayton. 
After all that, the program seems to be on the steadiest ground since the early 2000s, a sign of the coaching staff's ability to overcome a wide range of issues yet still advance. And Parrom's health will be paramount to Arizona continuing its re-ascent onto the national scene.