Arizona's 2012 Recruiting Class: How Kaleb Tarczewski Makes Arizona Contenders
September 15, 2011
Arizona has the No. 1, No. 2 or No. 3 ranked recruiting class coming in next year, depending on who you ask. The class is definitely heading in the right direction and that is a sign of good things to come from head coach Sean Miller. It is headlined by smooth forward Brandon Ashley.
Even with all these high-level recruits coming in, Miller still has one scholarship available and could potentially use it on 5-star big man Kaleb Tarczewski, if he winds up committing to the Wildcats. Tarczewski, who is regarded as the No. 2-ranked center in the class of 2012, would not only make the Wildcats instant contenders, but a clear cut choice to win the whole thing in 2012-13.
According to scout.com (h/t Arizona Daily Star), Tarczewski has visits set up with Kansas as well as an official visit to Tucson scheduled for the week of the 24th. The visit to Tucson to see Coach Miller and the team, as well as check out the school with a more in-depth look, suggests that Arizona has in fact gained some momentum on Kansas, which was assumed to be the frontrunner in his recruiting. As of now, Arizona and Kansas are the only two schools left in the race, according to ESPN Boston.
His AAU coach, John Carroll, has stated that the seven-footer will be "digging deep" to get some information on where he wants to go and will not rush to make his decision.
"He said he doesn't want coaches to come in and waste their money and their time," Carroll said, according to Bruce Pascoe of the Arizona Daily Star. "He already knows what he needs to know. I think he's already got a pretty good feel for what's going on."
With visits looming in the next few weeks, Carroll said that it will be on Tarczewski to make the appropriate decision himself and be satisfied with it.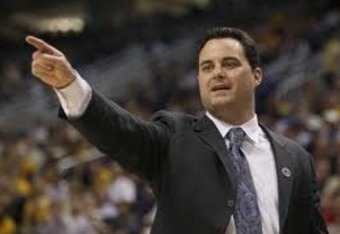 "But now, it's kind of going deep inside himself more than (outside) pressure. I think this month he's had at home was a chance to get away from basketball but in the last week or two, he's been more focused on making a decision."
If in fact the Wildcats are able to land the seven-footer from New England, there's no doubt that it would catapult Arizona to the No. 1 recruiting class of 2012. Rivals national recruiting analyst Jerry Meyer weighed in on Tarczewski and gave some insight to what he would bring to an already loaded Arizona recruiting class.
"Like they say, you can't teach size and Tarczewski has a lot of it," Meyer said. 
"He does a good job controlling space and utilizing his length.  And perhaps his best attribute is his ability to run the floor.  He puts a lot of pressure on opposing big men with his hustle up and down the court. As a low post scorer, he has a reliable jump hook which will carry him to the next level and make him an instant threat wherever he commits to."
Sean Miller already has a stellar class coming in that will be one of the top classes in the nation when its all said and done. If the Wildcats can add Tarczewski, then there's no doubt the class of 2012 will be the best recruiting class in the country.
David Bagga is a Contributor for Bleacher Report. Unless otherwise noted, all quotes were obtained first-hand.