College Basketball: Are One-and-Done Players a Necessary Evil?
July 30, 2011
Mike Stobe/Getty Images
One-and-done. It's a new term that has caught on in college basketball. It's as prevalent as the pick-and-roll these days. One-and-done players are ones that go pro after their freshman season.
What's wrong with that? Well, several things in my opinion are wrong with it.
First, the bogus reasoning behind this rule that both the NBA and NCAA give lip service to. They say that the rule is to make sure that players coming out of high school at least get one year of college in before going pro in case their pro career doesn't pan out.
At least they will have a year of college and can then pick up where they left off. Bull! That has absolutely nothing to do with why players cannot turn pro right out of high school. The real reason is money.
CBS, and now TNT and other cable networks, pay a lot of money to televise the NCAA Tournament. They want to make sure the next generation of LeBron Jameses and Kobe Bryants play in at least one of them. That is the only reason this rule exists. Period.
But let's think back shall we? Was the NCAA Tournament really all that terrible without Kobe, LeBron, Dwight, etc.? It seems to me the Big Dance did just fine.
Did Kevin Durant make the NCAA Tournament that much better? Did John Wall?
So far no team dominated by one-and-done players has won the tournament. Kentucky did make it to the Final Four this past season. They had Brandon Knight playing a leading role before going pro after his freshman year.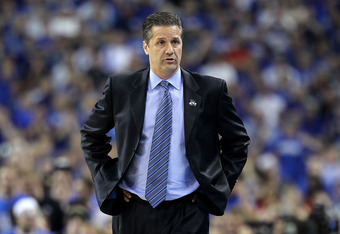 Andy Lyons/Getty Images
Does having a team of one-and-done players hurt make a deep run hurt the tournament? That could be debatable.
One may argue that the Kentuckys of the world are like a team of ringers. It's like your company hiring some former minor league ball players just to put on the company softball team.
They don't have to actually do any work, just show up and be eligible to play. It's a dirty way to win. It's not fair to the actual employees or to the other teams who play by the rules.
College basketball players are supposed to be college students as well. When a guy only has to take six hours of classes to be eligible to play for one year, that hardly qualifies.
If they were required to take at least 24 credit hours, I would feel a lot better about it. But since grades don't come out for the second semester until the season is already over, these guys don't even have to go to class in that semester. That is just wrong.
This rule needs to be changed. Let guys who want to go pro out of high school try it. If they choose college, then make them stay three years. It works for baseball.
Quit using the tired old excuse about kids that turned pro out of high school and failed. Hey, that same thing can happen to a one-and-done guy too. So he has six credits? Big deal!
Holding John Wall, Kevin Durant and Brandon Knight hostage for a year so you can make money off them smacks of exploitation. Some could argue it is close to slavery. You literally have players who could be getting paid millions, playing for free.
In any other business, this would be illegal. How is it OK in basketball?
Is the one-and-done rule a necessary evil? It sure is one out of two. I don't know about it being necessary.