2011 College Basketball Stock Report: Which Direction Are Top 50 Teams Headed?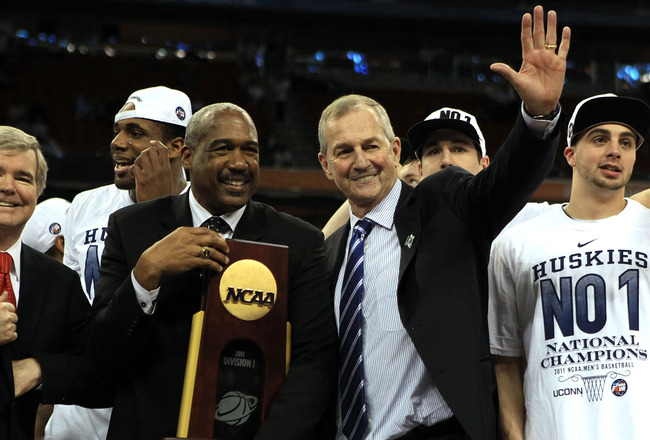 Streeter Lecka/Getty Images
Every year, teams dream of cutting down the nets in April the way Connecticut did this past season. There's a ton of luck involved, but it's rare to see teams that come out of nowhere to win it all. The previous three champions, Connecticut, Duke, and North Carolina are all viewed as basketball powerhouses.
In order for even the powerhouses to still be playing in April, effective planning, the right coaching tactics, and of course, talent, is needed on a consistent basis.
I will be looking at what I believe are the top 50 teams, focusing mostly on the recent years, but still addressing the historically great programs (i.e. Indiana) and how they're looking for the 2011-12 season along with the longer term future if any information has come available.
I tried to include a good number of mid-major teams, because as we've all realized these past couple years, it's becoming more and more possible for these teams to make it deep in the NCAA tournament.
Temple Owls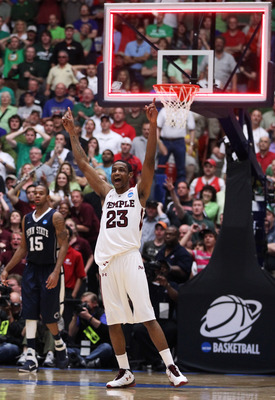 Christian Petersen/Getty Images
Under legendary coach John Chaney, Temple was arguably the best mid-major in the country. Now, the Owls are back as a consistent NCAA tournament team, having made it to the Dance in each of the last four years, with albeit an exit in the first weekend each time.
The Owls return a lot of their talent next year and should be another Atlantic 10 championship contender.
Stock: Staying the same
Xavier Musketeers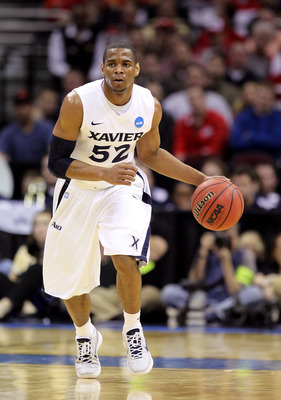 Andy Lyons/Getty Images
The return of Tu Holloway, a prime candidate to have a Jimmer-like season in 2011-12, makes the Musketeers the favorites to win the A-10 and continue their consistent appearance in the NCAA tournament.
Bringing in highly regarded recruit Dezmine Wells will help them recover from losing two starters.
With Holloway, these guys could be special next season.
Stock: Rising
Duke Blue Devils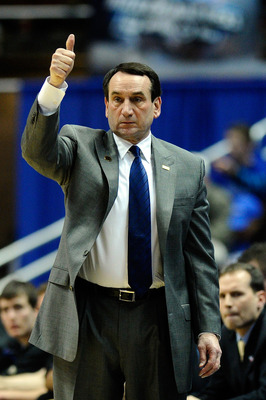 Kevork Djansezian/Getty Images
One would think after losing stars Nolan Smith, Kyle Singler, and Kyrie Irving to graduation and the NBA that the Dukies would take a huge step back. That would be true, except Coach K is bringing in one of the top recruiting classes in the country, led by Austin Rivers, who will pick up the scoring load left by the trio of scorers.
Watch out for breakout seasons from Andre Dawkins and/or Seth Curry.
Stock: Slightly decreasing but not nearly as bad as people think
Florida State Seminoles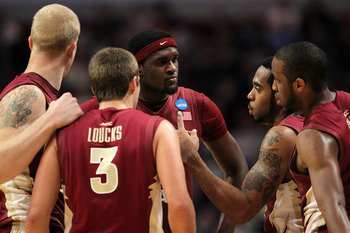 Jamie Squire/Getty Images
Losing NBA lottery pick Chris Singleton will hurt, but the Seminoles should be a better team offensively with a solid recruiting class and some talented youth such as Michael Snaer and Ian Miller expected to shoulder the scoring load. Still, another Sweet 16 appearance is unlikely, but an NCAA tournament appearance is not.
Stock: Slightly decreasing
Maryland Terrapins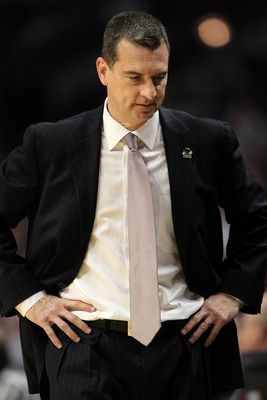 Jamie Squire/Getty Images
Losing one of the greatest coaches in ACC history in Gary Williams to a much-deserved retirement is going to hurt. The question is how much and for how long. Replacement Mark Turgeon had success at Texas A&M, but I'm not sold.
Losing big man Jordan Williams to the NBA along with a couple recruits because of the coaching change will set this team back a couple years.
Stock: Plummeting at first, but it will take some time to see if Turgeon was the right hire.
North Carolina Tar Heels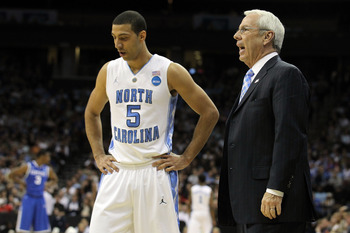 Nick Laham/Getty Images
Ladies and Gentlemen, meet the favorites to win it all in 2011-12. The Tar Heels are absolutely loaded with talent and experience with the returns of future NBA first-rounders Tyler Zeller, John Henson and Harrison Barnes. Still not convinced? How about that they're two McDonald's All-American's coming in next year, James McAdoo and P.J. Hairston, won't be starting and may not be the first off the bench.
Their frontcourt will be the best in the country while the backcourt will be led by up-and-comer Kendall Marshall. If Marshall is able to play as well as he did at the end of last season, these guys will be tough to beat...at all.
Stock: Skyrocketing, talent-wise, they're the best team in the country and it isn't that close.
North Carolina State Wolfpack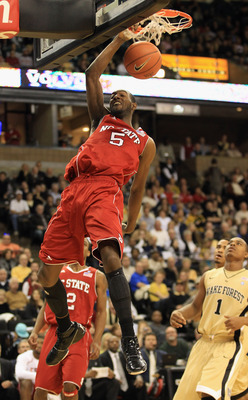 Streeter Lecka/Getty Images
Coming off a much-needed coaching change with the dismissal of Sidney Lowe and the hiring of Mark Gottfried, the Wolfpack are looking to re-establish themselves as an annual NCAA tournament team.
Gottfried's ability to convince the talented, but somewhat disappointing, C.J. Leslie to return will keep the new coach from having to completely start over. It may take a year or two, but the Wolfpack are on the right track.
Stock: Rising
Virginia Tech Hokies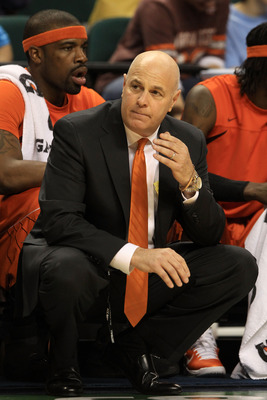 Streeter Lecka/Getty Images
It's become an annual event to watch Virginia Tech play their way in, then out, then back in, and finally back out of the NCAA tournament. There wasn't much excuse last year with senior stars Malcolm Delaney and Jeff Allen, but the Hokies still couldn't get it done.
Coach Seth Greenberg is once again bringing in a solid recruiting class, led by Dorian Finney-Smith, but it's gotten to the point where if Greenberg can't get a talented crew to the Dance with his past teams, then there's no guarantee he'll be able to change the outcome in the future.
Stock: Staying the same
Baylor Bears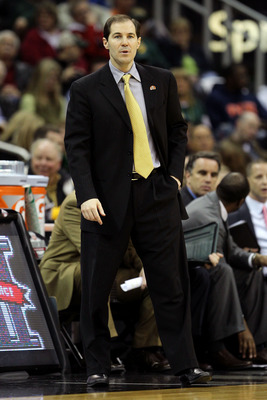 Jamie Squire/Getty Images
Incredibly talented Perry Jones' decision to return to school was one of the bigger surprises of the offseason. It was an assumption Jones would be a one-and-done player when coach Scott Drew recruited him. Now, with Jones back, and the just as talented Quincy Miller arriving, the Bears have one of the more talented frontcourts in the country.
Look for JUCO transfer Pierre Jackson to fill the gaping hole at point guard which prevented the Bears from making the NCAA tournament last season.
Stock: Rising rapidly, this team could definitely win the Big 12 (or 10)
Kansas Jayhawks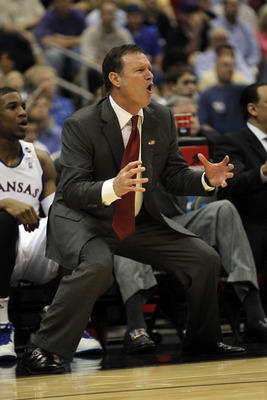 Ronald Martinez/Getty Images
Losing six of the team's top eight scorers is something few teams can recover from. While the Jayhawks are a storied program, the NBA defection from the Morris twins and Josh Selby was something coach Bill Self wasn't counting on.
Self managed to secure a few late commitments from some high-level talent (specifically Ben McLemore), but it won't be enough.
Watch out for Thomas Robinson, a guy who was the best NBA prospect on the team last season and who will be the top option down low next season.
Stock: Decreasing but not for long.
Kansas State Wildcats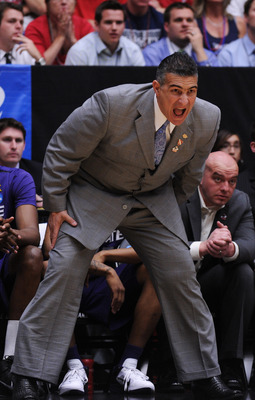 Harry How/Getty Images
Last year was supposed to be the Wildcats' year to overtake Kansas and Texas for the Big 12 crown. Didn't happen. Losing star guard Jacob Pullen to graduation will hurt the Wildcats more than it would other powerhouse teams.
K-State failed to bring in a big name to replace Pullen or big man Curtis Kelly, but in a down Big 12, they won't fall as far as people may expect.
Stock: Decreasing
Missouri Tigers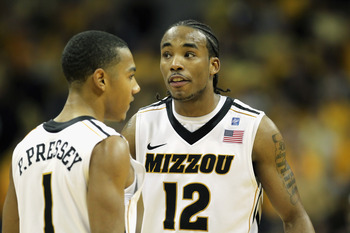 Jamie Squire/Getty Images
Losing only one player, bench player Justin Safford, from a 23-win team means the Tigers should be able to take advantage of the temporary decline of Kansas State, Kansas and Texas.
The wild card will be new coach Frank Haith, a guy who failed to produce much success during his stint at Miami (FL). I'm not sure Haith was the right hire, but he should have a fantastic season in 2011-12. This team should be the Big 12 favorites.
Stock: Rising for now, and after next year, it will be dependent on how well Haith takes advantage of his immediate success.
Texas Longhorns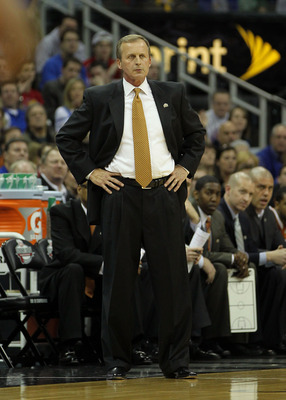 Jamie Squire/Getty Images
The Longhorns were spurned by a lying Tristan Thompson, who said he would return but ended up declaring for the NBA draft after one season because of the lack of depth in the current draft class. Fellow freshman Cory Joseph, along with four other seniors will leave Texas with only one player who played consistently in J'Covan Brown.
The shining light is a six-player, top 10 recruiting class led by the No. 2 point guard in the class, Myck Kabongo. These guys will be depended on early but don't expect them to fully replace the amount of talent that departed.
Stock: Decreasing significantly but not for long.
Texas A&M Aggies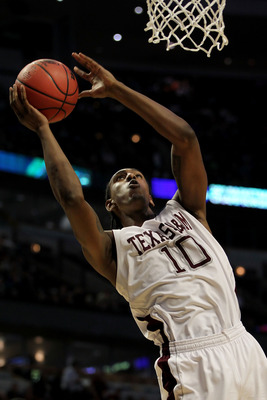 Jamie Squire/Getty Images
The Aggies return their top two scorers from a 24-win ball club. Their coach, Mark Turgeon, has left for Maryland, and in comes Billy Kennedy, the former coach at Murray State. Kennedy inherits plenty of talent and was able to keep their highly regarded recruit, point guard Jamal Brown, an Aggie.
They still lose five seniors, and a new coach is always a suspect, despite Kennedy's previous success.
Stock: Slightly rising, but it's unknown if it'll be for five years or just one.
Cincinnati Bearcats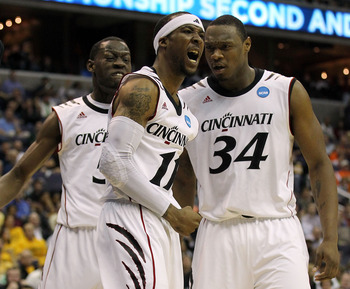 Nick Laham/Getty Images
The Bearcats had a terrific season, winning 26 games. Despite losing six seniors, their top four scorers return next season. Coach Mick Cronin also recruited well, bringing in six players to replace the seniors. While the new arrivals won't be able to fully cover the hole left, the returnees will be better.
Stock: Staying the same
Connecticut Huskies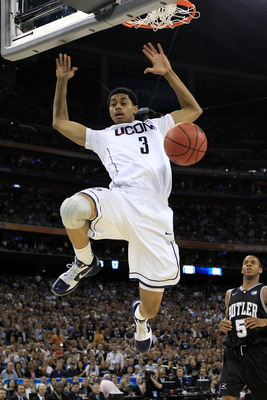 Streeter Lecka/Getty Images
It's pretty impossible to win a second straight national championship. The last to do it, Florida, returned all their stars. Such is not the case for UConn, who lost Kemba Walker, arguably the best player in college basketball last season.
Coach Calhoun has recruited his replacement in Ryan Boatright, along with the recent verbal of DeAndre Daniels.
Jeremy Lamb showed flashes of stardom, and it will be his success that will determine how good the Huskies are next season.
Stock: Decreasing but maybe not as much as people think
Georgetown Hoyas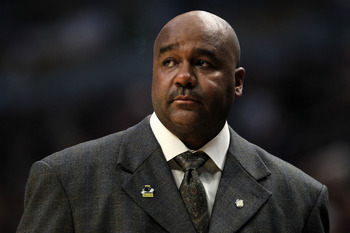 Jamie Squire/Getty Images
Chris Wright's injury late in the season doomed the Hoyas' chances for an NCAA tournament run, and fell to Cinderella team VCU in the opening round. Gone are Wright and fellow seniors Austin Freeman and Julian Vaughn.
Coach John Thompson does have a top 20 recruiting class coming in to help fill the void, but unless you're Kentucky, relying solely on freshman typically doesn't produce great results. Still, an NCAA tournament appearance is likely.
Stock: Slightly decreasing
Louisville Cardinals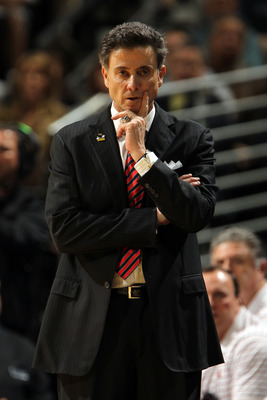 Doug Pensinger/Getty Images
How coach Rick Pitino got his team to win 25 games with a team without that much talent was quite the accomplishment. Losing to Morehead State in the first round was a bit surprising (not to me, because I picked it, one of my few right choices), but it didn't change the fact that the Cardinals overachieved.
Now, Pitino is bringing in a top 10 recruiting class loaded with talent, led by McDonald's All-American Wayne Blackshear. Losing just one player, Preston Knowles, makes this team one of the favorites to win the Big East next season.
Stock: Rising
Notre Dame Fighting Irish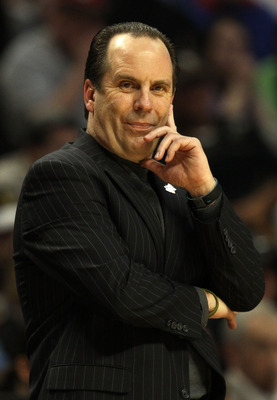 Jonathan Daniel/Getty Images
The Irish, led by Ben Hansbrough, were one of the bigger surprises in the country last season as they were actually better without Notre Dame star Luke Harangody. Now, the Irish lose Hansbrough, along with their four other top scorers, to graduation. This leaves the cupboard pretty bare.
With not a whole lot of help coming in, it may be a couple years before the Irish sniff the Dance.
Stock: Plummeting
Pittsburgh Panthers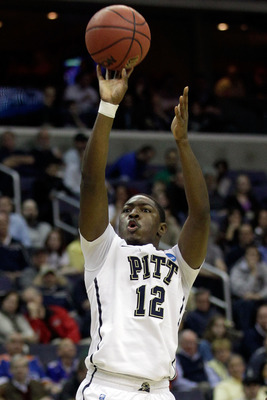 Rob Carr/Getty Images
The return of Ashton Gibbs from his temporary leave to the NBA draft process was expected, and helps the Panthers stay in the top tier of the Big East.
Losing starters Gilbert Brown, Gary McGhee and Brad Wanamaker will hurt, but coach Jamie Dixon got great news when highly touted center Khem Birch re-classified to the 2011 class from the 2012 class and will be on campus in the fall.
He and Dante Taylor will man the paint, and with Gibbs as well as Travon Woodall in the backcourt, this will be yet another balanced Pitt team.
Stock: Staying the same
St. John's Red Storm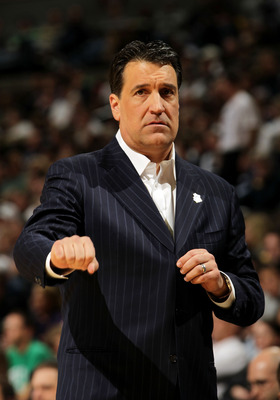 Doug Pensinger/Getty Images
Talk about a complete renovation project. The Storm lose a whopping nine seniors, including their top five scorers. They return just two players who saw consistent action last season.
The scary thing is, the Johnnie's might be just as good next season.
The reason? A nine-man recruiting class, with six of them ranked in the ESPNU Top 100. They're a top three class, and four of them will probably start from day one. Having so many freshmen play so soon could be problematic at first, but if they stay for a few years, then these guys will be scary.
Stock: Decreasing temporarily and then increasing dramatically in the next year or two
Syracuse Orange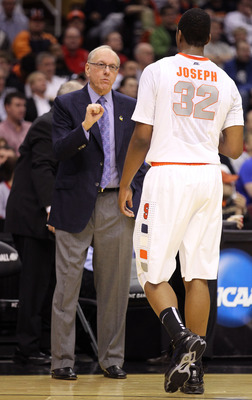 Andy Lyons/Getty Images
The Orange lose just one player, senior center Rick Jackson, from a team that won 27 games. Yes, Jackson was a good player, but the Orange have his replacement in frosh Rakeem Christmasone of the best centers in the 2011 class.
Christmas will fill Jackson's spot in the 2-3 zone, and I doubt 'Cuse will lose anything defensively.
Kris Joseph is expected to be the star of the team, and the rest of the roster is pretty talented.
Stock: Rising significantly
Villanova Wildcats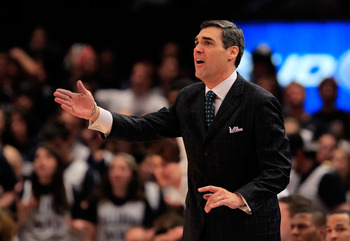 Chris Trotman/Getty Images
The Wildcats collapsed to end the season, and it was a surprise to some that they even made the NCAA tournament. Typically, Jay Wright has more success.
The Wildcats lose plenty of talent to graduation in Corey Fisher, Antonio Pena and Corey Stokes but still return some quality guys like Maalik Wayns. Their incoming class is decent—but not great.
Their 2012 class, however, is viewed to be one of the best in the country at this stage.
Stock: Decreasing but temporarily
West Virginia Mountaineers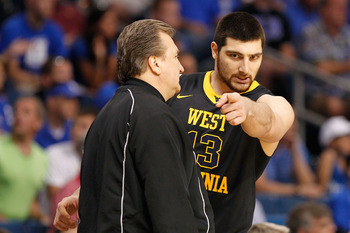 J. Meric/Getty Images
The Mountaineers really didn't wow anyone last season, but were a solid team nonetheless. With 21 wins for a team that was expected to be okay at best, it was a good coaching job by Bob Huggins.
The Mountaineers are bringing in seven new players to help replace the four departing seniors. None of the newcomers are too highly touted, but Huggins has had plenty of success with those types of players. I wouldn't be shocked if the team falters a bit simply because of such a large number of new guys showing up.
Stock: Slightly decreasing
Illinois Fighting Illini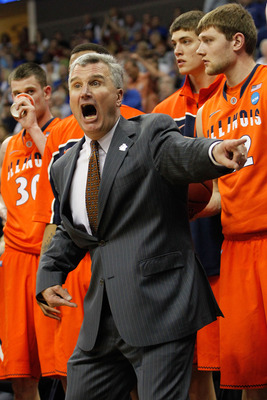 Tom Pennington/Getty Images
Bruce Weber received a shocker when freshman Jereme Richmond elected to leave for the NBA draft. Richmond's play was inconsistent at best while playing for the Illini.
The team's frontcourt is now gone, but the backcourt returns a couple experienced players in Brandon Paul and D.J. Richardson. Both guys will have to increase their output if they expect to make it back to the NCAA tournament.
The recruiting class is very highly regarded, with four of the six recruits ranked in the ESPNU Top 100. They'll be counted on to provide production immediately.
Stock: Decreasing
Indiana Hoosiers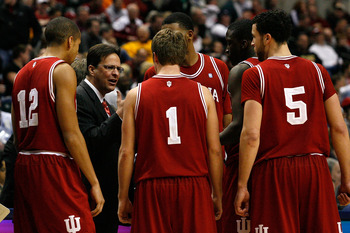 Chris Chambers/Getty Images
Let's be honest, the Hoosiers haven't been relevant since the scandal that surrounded then-coach Kelvin Sampson. Now, the former powerhouse is getting ready to come back to relevance.
Indiana loses just one senior, Jeremiah Rivers, and bring in their best recruit under Tom Crean in McDonald's All-American Cody Zeller (younger brother of UNC's Tyler Zeller). He, along with Christian Watford, will finally give Crean a nucleus that's comparable to other Big Ten teams.
If they're able to get to .500 (reasonable) and Crean keeps his job, then the Hoosiers have a monster class on their way in 2012 that rivals Villanova's. Word is they might not even be done yet, either.
Stock: Rising, with a good chance of it skyrocketing in two years
Michigan Wolverines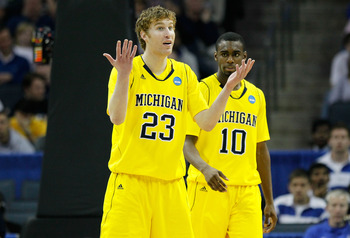 Kevin C. Cox/Getty Images
Losing Darius Morris to the NBA draft was unfortunate as Michigan probably would've been a top 10 team next year with him. Still, the Wolverines are building on their success.
Morris is their only departure, and budding star Tim Hardaway Jr. is a guy to watch out for.
The recruiting class is solid, with Trey Burke expected to compete for the vacant point guard position left by Morris.
Stock: Slightly rising
Michigan State Spartans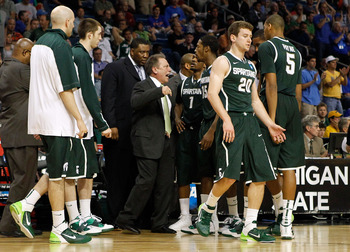 J. Meric/Getty Images
Meet the biggest disappointment of the 2010-11 season. The Spartans were incredibly inconsistent throughout the year and were knocked out of the NCAA tournament in the first weekend.
With a coach as great as Tom Izzo, it's hard to believe this will become a trend. MSU loses do-it-all point guard Kalin Lucas and Durrell Summers but bring in a solid class led by McDonald's All-American wing Branden Dawson.
The Spartans won't be back to dominance in the Big Ten, but I refuse to believe they'll be as inconsistent as they were last season.
Stock: Slightly rising
Ohio State Buckeyes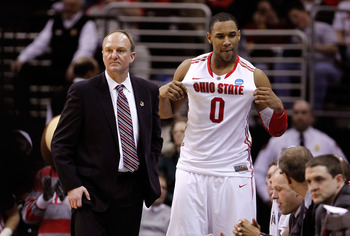 Gregory Shamus/Getty Images
Unlike Tristan Thompson, Jared Sullinger actually kept his word and returned to Ohio State despite an All-American type season. He, along with returning starter William Buford, the lone upperclassmen on the roster, will form one of the better duos in the country.
The Buckeyes lose the other three starters in banger Dallas Lauderdale, sharpshooter Jon Diebler and versatile David Lighty. Remember that this team was the perceived favorite to win it all when the NCAA brackets were released.
Coming in to replace those starters is a top 10 recruiting class led by two McDonald's All-Americans in point guard Shannon Scott and center Amir Williams. It's scary, but the Buckeyes may be just as good next year.
Stock: Staying the same
Purdue Boilermakers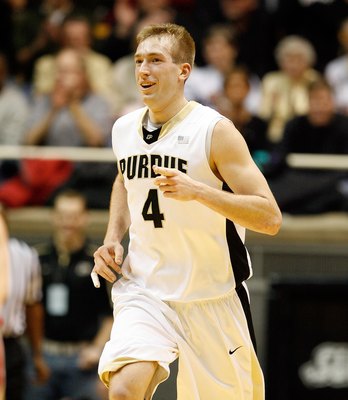 Andy Lyons/Getty Images
Imagine how big a hole the Boilermakers would have to fill if Robbie Hummel wasn't coming back? His return helps Purdue maintain its spot in the top tier of the Big Ten. They won't be nearly as talented because of JaJuan Johnson and E'Twaun Moore's departures, but they'll still be good enough to expect an NCAA tournament bid.
Stock: Decreasing
Wisconsin Badgers
Harry How/Getty Images
How it is that coach Bo Ryan is able to stomach his style of play I'll never know, but it definitely works. Probably the best guard in the Big Ten last year, Jordan Taylor, returns to the Badgers, making them an immediate contender for the Big Ten championship. Losing Jon Leuer will hurt, but it seems that there are always big guys with skills on the Badgers roster.
Coming in are five freshmen to replace Leuer and five other graduating seniors.
Stock: Staying the same
George Mason Patriots
Andy Lyons/Getty Images
Believe it or not, but the Patriots have quietly become one of the better mid-major teams each year ever since their improbable run in 2006. George Mason lost its coach, Jim Larranaga, to Miami (FL), but return four players who averaged over 20 minutes per contest.
That, coupled with the arrival of late signee Erik Copes, the most highly regarded recruit in school history, makes them the prime candidate to unseat the next team from the top of the Colonial.
Stock: Rising
Virginia Commonwealth Rams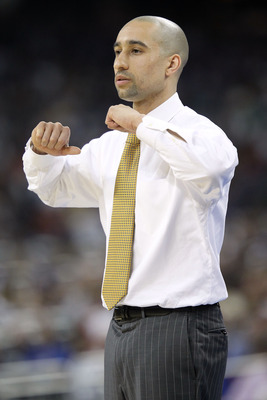 Andy Lyons/Getty Images
The postseason couldn't have been kinder to the Rams, who were a surprising inclusion in the NCAA tournament and then proceeded to make an improbable run to the Final Four. Duplicating a similar feat seems impossible. The Rams lose four of their top five scorers.
I love Shaka Smart, but it could be difficult making it back to the NCAA tournament next year with such a depleted roster. I wouldn't put it past him, though.
Stock: Dramatic decrease, but I fear I may be wrong
Memphis Tigers
Ronald Martinez/Getty Images
Youth, youth, and more youth. That's what made up the Tigers last year on their way to a Conference USA crown and first weekend exit in the NCAA tournament. Memphis loses only one player, Will Coleman, and return their top six scorers.
Joining these young Tigers is one of the best players in the country in Memphis-native Adonis Thomas.
Coach Josh Pastner has picked up where former coach John Calipari left off on the recruiting trail, continuing to bring in top talent.
Stock: Rising and fast
Butler Bulldogs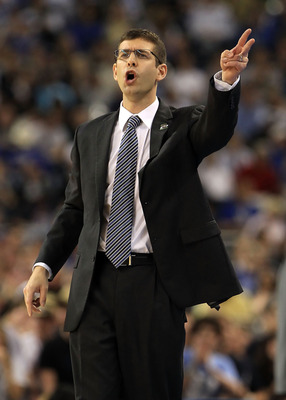 Streeter Lecka/Getty Images
If anyone had said two years ago that Butler would make back-to-back national championship games, they would've been thrown into a mental institution. The Bulldogs have now become the premier mid-major team.
Next season, with the loss of Matt Howard to graduation and Shelvin Mack to the NBA, coach Brad Stevens will have one heck of a job on his hands to keep their dominance amongst the mid-majors.
I don't think he can do it, but I also didn't think Butler would get back to the NCAA final game last year, so what do I know...
Stock: Decreasing
BYU Cougars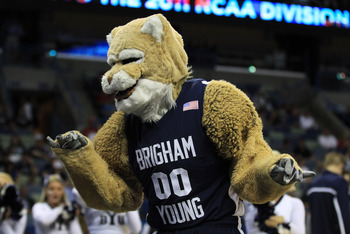 Streeter Lecka/Getty Images
Let's be honest, the Cougars aren't going to replace Jimmer Fredette. It isn't happening just like how Davidson wasn't going to replace Stephen Curry. Davidson has since fallen off, but I'm not sure the Cougars will suffer the same fate.
If Brandon Davies is allowed back on the team, they should be in decent shape in the Mountain West Conference.
Stock: Big decrease but will still be a good team
San Diego State Aztecs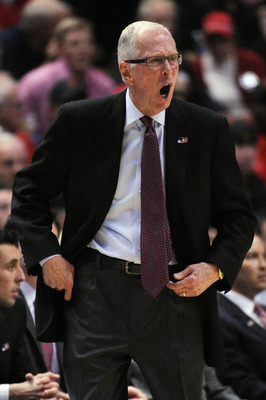 Harry How/Getty Images
The Aztecs lost just about as much as anyone will have coming into next season. They lose their top four scorers, top three rebounders, top three assist leaders and the four guys who played the most minutes.
There's just no way for a mid-major team to even attempt to replace that. It was a fun team to watch, but it may be awhile before we see the Aztecs in the NCAA tournament.
Stock: Plummeting
UNLV Runnin' Rebels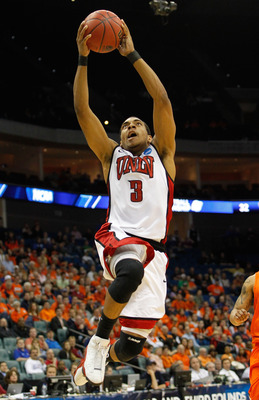 Tom Pennington/Getty Images
A team that was awesome in the early 90s which has become a solid mid-major squad, the Runnin' Rebels were that other team in the Mountain West not named BYU or San Diego State that was good last season.
This year, they may be the best in the conference. UNLV loses four seniors but return more than both BYU or SDSU with it's second through fifth-leading scorers coming back.
Stock: Rising
Arizona Wildcats
Ronald Martinez/Getty Images
It's not often when a team loses a future top three NBA pick and is projected to be better, but that's the case with Arizona. Despite losing Derrick Williams, the Wildcats return the vast majority of a team that advanced to the Elite Eight.
Also, they're bringing in a top 10 recruiting class, led by point guard Josiah Turner. Turner is expected to fill the void as floor general, something that was lacking last season.
This team will definitely be the class of a slowly improving Pac-10 (or 12).
Stock: Rising
UCLA Bruins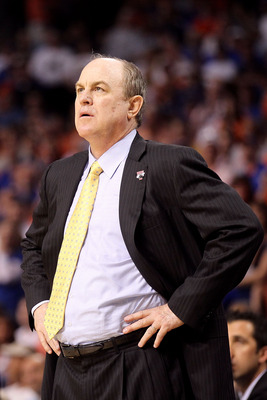 Mike Ehrmann/Getty Images
UCLA took a major hit when two underclassmen, Tyler Honeycutt and Malcolm Lee, elected to enter the NBA draft. Just when the Bruins were getting ready to come back to being a powerhouse on the west coast.
Still, they do return leading scorer and rebounder Reeves Nelson, so they'll still have the talent to be an NCAA tournament team.
Stock: Decreasing
Washington Huskies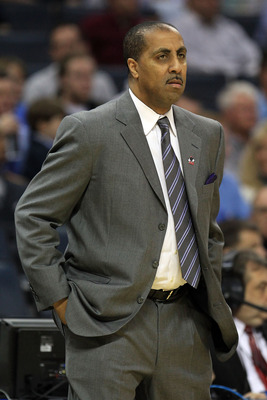 Streeter Lecka/Getty Images
Isaiah Thomas' decision to enter the NBA draft was questionable at best. Luckily, the Huskies are bringing in yet another top notch guard in Tony Wroten Jr. Abdul Gaddy will be back from injury, so the backcourt should be fine.
Still, the Huskies lose their top three scorers, so both players will need to produce at a high level.
Keep an eye on rising sophomore Terrence Ross, who showed potential to be a star at times last season. He'll need to be if they hope to keep up with the likes of Arizona.
Stock: Decreasing
Arkansas Razorbacks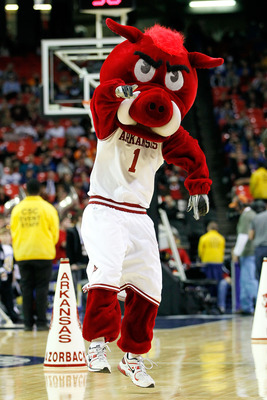 Kevin C. Cox/Getty Images
Back in the mid 90s, the Razorbacks were a powerhouse under coach Nolan Richardson. Now, the Razorbacks are getting back to being relevant.
Arkansas loses three seniors, only one of which was a starter, and bring in a top 10 recruiting class led by guard B.J. Young.
The talent level will be at its highest in years with top two scorers Rotnei Clarke and Marshawn Powell coming back as well.
Stock: Rising significantly
Florida Gators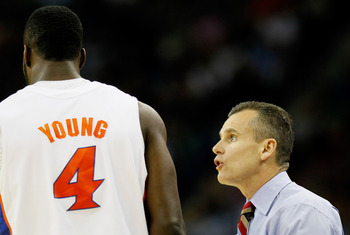 Kevin C. Cox/Getty Images
Billy Donovan just continues to recruit at a high level with the signing of top five recruit Bradley Beal. Beal, along with returnees Erving Walker and Kenny Boynton, will form arguably the best backcourt in the country.
The frontcourt will be a problem, but if Patric Young is able to live up to his huge potential, the Gators will give the next team a run for their money atop the SEC.
Stock: Staying the same
Kentucky Wildcats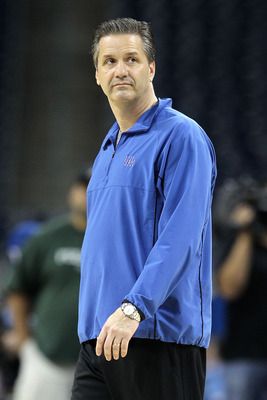 Andy Lyons/Getty Images
Unlike last year, John Calipari actually has some players returning for their sophomore season. Two years at college, crazy, I know, but freshmen Terrence Jones and Doron Lamb decided to risk it.
The insane thing is, Calipari didn't need them for the Kentucky to be a top 10 team.
Coming in is what looks to be his best class ever. Four players, all in the top 20 overall, three players at the top of their position. If you've never heard of Anthony Davis, Michael Gilchrist or Marquis Teague, you will soon.
Stock: Rising rapidly
LSU Tigers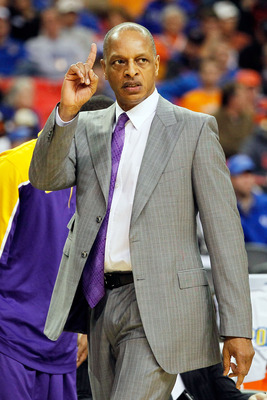 Kevin C. Cox/Getty Images
It sure has been a struggle at LSU the past couple seasons. They won 22 games...combined. Luckily, things are looking brighter, partially because they couldn't get much worse.
The Tigers had zero seniors on their roster, meaning everyone should be returning. Also coming in is McDonald's All-American big man Johnny O'Bryant, a guy who should be the first option down low.
Coach Trent Johnson will probably need a solid season to keep his job, and it's possible for the Tigers to reach their win total from the last two seasons combined.
Stock: Rising rapidly
Tennessee Volunteers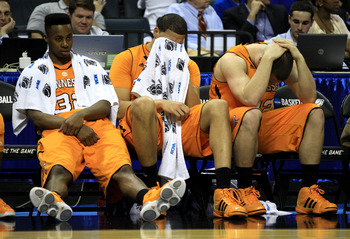 Streeter Lecka/Getty Images
These players pretty much sum up the feeling at Tennessee. Cuonzo Martin replaces rule-breaking coach Bruce Pearl. He inherits a depleted roster with only one of the top six scorers returning.
It's going to be difficult for Martin to revamp this roster in a short amount of time, especially with the SEC getting better and better simultaneously.
Stock: Plummeting
Vanderbilt Commodores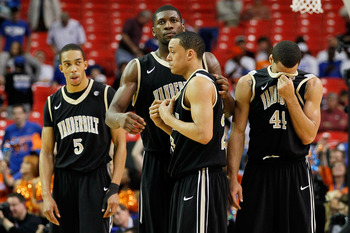 Kevin C. Cox/Getty Images
If Vandy were to ever make a deep run in the NCAA tournament, 2011-12 will be the year. The Commodores only lose two players who hardly played and return the trio of John Jenkins, Jeffery Taylor and Festus Ezeli, which should be one of the best in the country.
On top of that, Vandy brings in two guards ranked in the ESPNU Top 100.
Coach Kevin Stallings has yet to really break through to the top of the SEC inhabited by Florida and Kentucky. This could be the year he does just that.
Stock: Rising
Gonzaga Bulldogs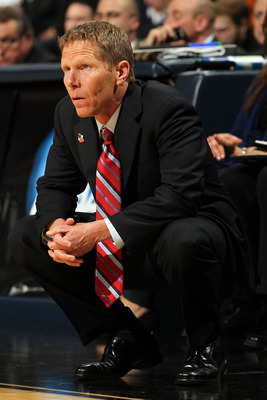 Doug Pensinger/Getty Images
The mid-major team that isn't regarded as a mid-major simply because they're a more consistent NCAA tournament team than most BCS conference teams. Gonzaga has never really broken through to become a powerhouse, but it's found a niche as one of the better teams on the west coast. It's what they are, and coach Mark Few appears just fine with it.
These Bulldogs only lose Steven Gray and bring in a solid recruiting class. They should be better, but I'd be surprised if they make a deep run in the NCAA tournament.
Stock: Slightly rising
Nevada Wolfpack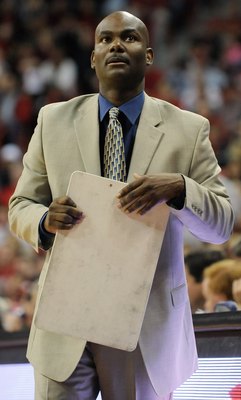 Ethan Miller/Getty Images
Shockingly, Nevada's been one of the better mid-major teams of the past decade thanks to elite players such as Luke Babbitt and Nick Fazekas.
Yes, they only won 13 games last season, but they had only one senior, who hardly played. They should definitely be better next season and it wouldn't be shocking to see them back in the Dance.
Stock: Rising
Utah State Aggies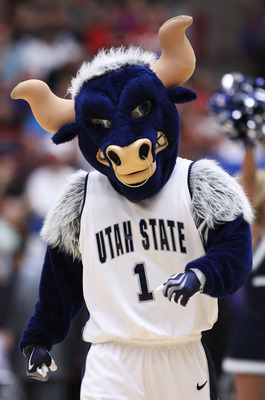 Christian Petersen/Getty Images
Another one of the best mid-major teams people may not recognize, the Aggies have won at least 23 games in each of the last 10 seasons. Pretty impressive.
That may change, because Utah State will be losing six seniors, three of which were among the top five on the team in scoring.
Still, it's hard to doubt a team with that kind of consistency. They may not make the NCAA tournament, but I won't count them out for at least 20 wins.
Stock: Decreasing
Keep Reading