UCLA Basketball: A Look Back at the UCLA "Fab Five" Class of 2008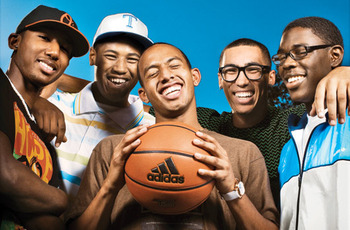 ….and then there was one.
Earlier last week, against the pleas of UCLA students for one more season, junior guard Malcolm Lee elected to declare for the NBA Draft and hired an agent, making the move permanent.
Lee has certainly posted a respectable career during his time playing at UCLA, averaging roughly 12.5 points and 34 minutes over his past two seasons while becoming one of the top on-the-ball defenders in the country.
As solid as his career has been in Westwood, it is nowhere near what we expected back in 2008 when he came in as the fourth-ranked point guard in the entire country.
Back in 2008, Lee was one of five highly-touted players that helped make UCLA the top recruiting class in the country. Alongside guards Jrue Holiday and Jerime Anderson and bigs Drew Gordon and J'mison "Bobo" Morgan, the class was considered by many to be the greatest quintet of freshmen assembled since the University of Michigan's "Fab Five."
With Lee's departure, just one of the five remains at UCLA. While all looked to have NBA potential coming out of high school, only Holiday has made the leap.
To call this class a disappointment would be quite the understatement.
Here's a look at the five who were once considered "UCLA's Fab Five".
Then: Jrue Holiday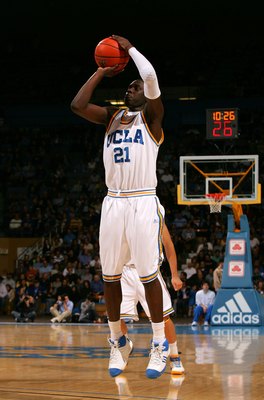 Victor Decolongon/Getty Images
2008: #2 PG, #4 overall
Favorite line from ESPN Scouting: "This Dwayne Wade clone continues to demonstrate why he is the most complete player in the West and probably the entire country".
Holiday was hyped as a Freshman Player of the Year candidate coming out Campbell High in North Hollywood back in 2008.
For most of his freshman (and only) campaign with the Bruins, Holiday was forced to play a two-guard as future NBA guard Darren Collison manned the point. It was clear the court vision and intangibles were there, but Holiday struggled to fall into a comfort zone his entire stay at UCLA.
At times, he did flash the NBA-potential to be a solid distributor and above-average defender, but besides possessing an NBA-ready body, he clearly was a project that could've used another year or even two under Ben Howland.
After a very quiet season in Westwood, Holiday declared for the draft but chose not to hire an agent until hearing confirmation that it would be worth it.
After watching him in person for a year, I was thinking late first round, early second-round draft slot. About a month later, some draft boards had Holiday going as early as fourth overall to the Sacramento Kings, and it was clear that he was good as gone.
Now: Jrue Holiday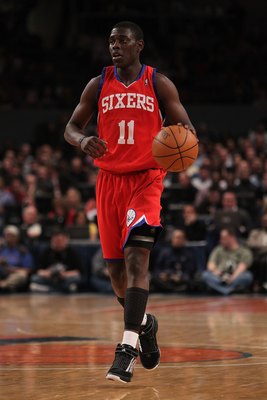 Nick Laham/Getty Images
Holiday's name never comes into conversation as one of the top young point guards in the NBA, but he certainly has established himself as a competent starter for the Philadelphia 76ers. He's had a modest NBA career so far and comes off of a season where he averaged 14 points per game, 6.5 assists per game and 1.5 steals per game.
Regardless, his time at UCLA was highly unimpressive.
I still, to this day, think Russell Westbrook's surprising success in the NBA opened many front office's eyes to how well UCLA's system hides its talent, which gave Holiday a nice little 10-15 pick boost.
Then: Drew Gordon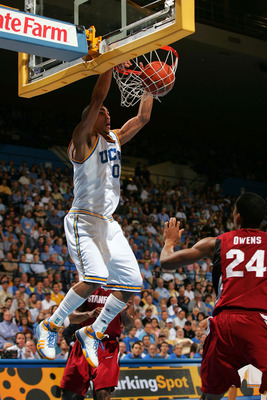 Victor Decolongon/Getty Images
2008: #9 PF, #24 overall
Favorite line: "Gordon is one of the most impressive post prospects in the class of 2008…[he] portrays that of a poor man's Amare Stoudemire."
After Kevin Love's one-and-done season in 2008, the 6'8" Gordon was expected to be the next big thing on campus. Despite playing just 11 minutes per game his freshman year, he was a valuable big man off the bench. He threw down some electric dunks, crashed the boards hard and played with emotion, something the students loved...
...but it inevitably cost him.
Coming into his sophomore campaign, expectations were high for Gordon: he had just been invited to the U-19 USA Basketball trials and a starting role looked to be his back in Westwood.
He was dominant at times during the preseason, and Howland even called him the focal point of the team's offense, but two inexcusable losses to Cal State Fullerton and Long Beach State in Dec. 2009, brought out the emotion and frustration that tipped the scale. He became a team cancer, constantly butted heads with Howland and, after earning a 2-day suspension from practice, chose to transfer on Dec. 1, a month before the Pac-10 season was set to begin.
Now: Drew Gordon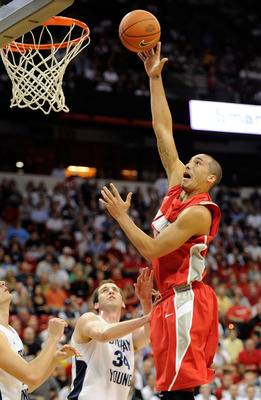 Ethan Miller/Getty Images
As frustrating as his departure was for Bruin fans, moving from UCLA's defense-first, slow-tempo offense to one that allowed him to utilize his raw, athletic ability at New Mexico was certainly the right decision.
After sitting out the 2009-10 season, Gordon was a huge impact addition for the Lobos this past year. He teamed with senior guard Dairese Gray to form one of the Mountain West's top inside-outside tandems and earned second team all-conference honors. He posted a streak of 13 double-doubles in 17 games, including a run of seven straight.
Next season, Gordon will return as a legitimate MWC Player of the Year contender and an NBA Draft prospect.
Then: J'Mison "Bobo" Morgan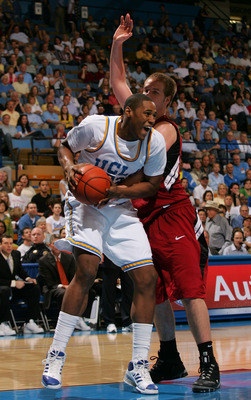 Victor Decolongon/Getty Images
2008: #4 C, #26 overall
Favorite line: "Morgan has all the physical tools to be an impact center at the high major level…and should have a very productive college career."
Coming out of Dallas, Texas, J'Mison "Bobo" Morgan was destined for an NBA career.
After Kevin Love's remarkable freshman campaign, Morgan looked ready to pick up right where his predecessor left off, showing immense size (6'11", 275 pounds), an ability to block shots and a knack for scoring close to the basket.
Unable to secure a starting role over Alfred Aboya as a freshman, Morgan averaged just five minutes per game despite playing even bigger than his body at times, showing the strength and size scouts hyped.
With positions opened up during his sophomore campaign, Morgan was expected to be a tremendous impact either as a starter or first big man off the bench. After Drew Gordon transferred, even more pressure fell onto Morgan to contribute.
To put it simply, he never showed the motivation to improve, seemed to have a lack of focus and disappointed miserably.
In March 2010, Howland dismissed Morgan from the team permanently. He chose to transfer to Baylor University, filling the role left by NBA lottery pick Ekpe Udoh.
Now: J'Mison "Bobo" Morgan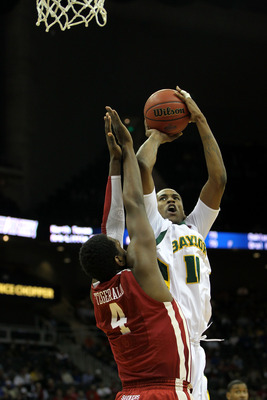 Jamie Squire/Getty Images
Unlike Gordon's departure, watching Bobo leave was not painful at all.
While he was a major disappointment, Bobo's athletic ability (or lack thereof) simply did not fit in the UCLA system.
A staple of the UCLA defense is hedging (slowing down the ballhandler when the primary defender hits a screen, and then peeling off), something Bobo simply could not do.
In the Baylor defensive scheme, Morgan sits in the middle of the key in a 2-3 zone and can focus on blocking shots and grabbing boards, two things he excels at.
In Morgan's "fresh start" this season at Baylor, he posted a very similar stat line: 3 points per game, 2.4 rebounds per game and 1.1 blocks per game while averaging 12.5 minutes.
Overall, Morgan may be one of the greatest disappointments of 2008's high school class.
Then: Malcolm Lee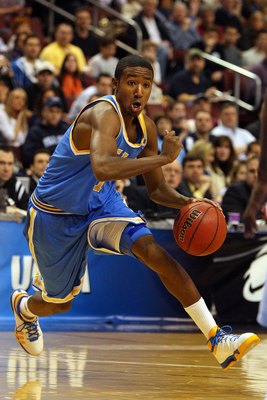 Jim McIsaac/Getty Images
2008: #4 PG, #31 overall
Favorite line: "His overall talent for playing the game is not to be denied. He can score at will due to his extremely quick first step and unlimited range on his jump shot."
Coming out of high school, the 6'5" guard from Riverside, Calif., was known for exceptional defense and a great NBA-ready body and looked poised to be another impact guard in the UCLA system.
*Spoiler Alert: Three seasons later, Lee is still only known for his defense and size.
After earning just 10 minutes per game his freshman year, Lee took over a leading role with the team his sophomore and junior seasons, averaging 35 and 33 minutes per game. Over his two seasons playing shooting guard next to a committee of point guards, Lee consistently scored double figures but really never developed his game as many expected him to.
With the departures of Collison and Holiday, Lee was expected to be the guy who stepped up and became the team's leader. In both seasons as a full-time starter, not once did we see a glimpse of it.
Now: Malcolm Lee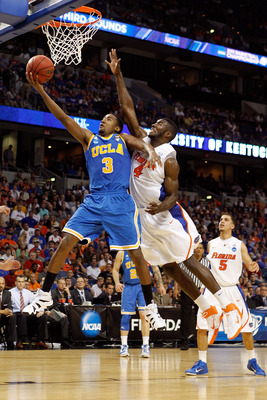 J. Meric/Getty Images
What Lee lacks in strength, he more than makes up for in length, size and quickness.
He is an elite defender that has only improved even more under the tutelage of Howland.
On the offensive side, he's extremely fast (sidebar: rumor has it that Malcolm raced the UCLA Men's Track 100-Meter Relay team and beat two of the runners) and possesses a quick first step, but his shot selection throughout college has been rather poor and his mid-range game is nothing special.
Nonetheless, he's got a very good head on his shoulders and could make an impact at the next level.
While many Bruin fans are bummed/upset/surprised by the news that Lee is leaving, I view it as the right time to go considering the overall weakness of this draft. Sure, I do believe Lee could have elevated his stock with a solid season in Westwood, but in a draft where there are two or three studs, a dozen upside picks and the rest role players, it's the right time to go. ESPN NBA Draft analysts have him as a late second-round pick.
Then: Jerime Anderson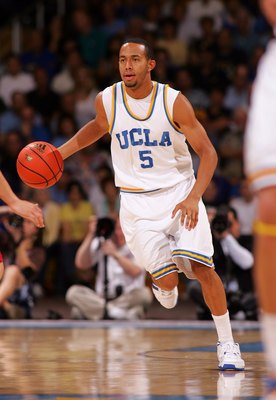 Victor Decolongon/Getty Images
2008: #5 PG, #49 overall
Favorite line: "Anderson is emerging as the No. 1 point guard prospect out west in the class of 2008. Some may be quicker with the ball (Larry Drew) and have a more refined jump shot (Malcolm Lee) than Anderson, but when you combine all the attributes (skill and savvy) needed to be an elite D-1 point guard, Anderson has the most upside."
Even with the signings of PGs Lee and Holiday out of high school, many scouts and analysts pegged Jerime Anderson as the future point guard for the Bruins. Anderson came out of high school as one of the most well-rounded guards in the nation, possessing an elite handle, the ability to score at a high clip and a strong defensive-minded attitude.
He was perfect for Ben Howland to develop.
As expected, Anderson played few minutes his freshman year, backing up the durable Collison.
However, in sitting behind one of the greatest floor leaders in UCLA history, UCLA expected Anderson to take over full-time duties in 2009-10 with point guard up for grabs.
Instead, an unfocused offseason left the team without a floor general. The team went on to miss the NCAA tournament for the first time since 2004.
In 24 minutes per game, Anderson posted just under six points and four assists while turning the ball over 2.2 times per game. He looked unfocused and lazy on the floor and fell out of favor with Howland.
Worst of all, his lackadaisical turnover while bringing the ball up against USC put the game out of reach and symbolized our 2009-10 season.
Now: Jerime Anderson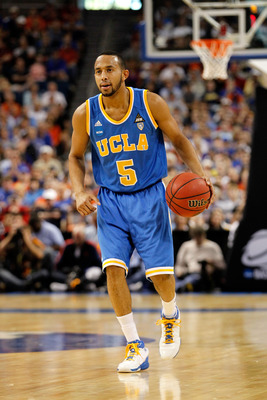 J. Meric/Getty Images
This past season, Anderson was mostly slotted behind JuCo transfer Lazeric Jones at the point. He actually seemed to thrive in that role late in the season and had a couple big games down the stretch, including a four three-point performance off the bench against Washington.
Next season, Anderson will again team with Jones to form their two-point guard offensive set and will be relied on even more for scoring with the loss of Lee and Tyler Honeycutt.
Keep Reading

UCLA Basketball: Like this team?