2011 NBA Draft: 10 Prospects Every Scout Will Closely Watch During March Madness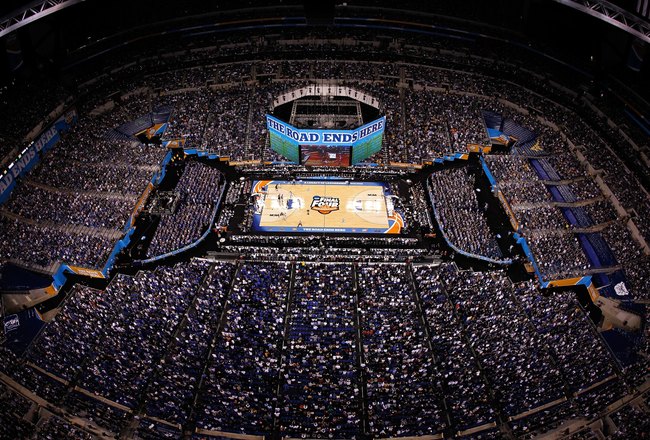 Kevin C. Cox/Getty Images
With March Madness right around the corner, every NBA scout is getting their pen and paper ready. Scouts will be watching closely during the madness in hope of finding the next stars.
March Madness is something else. For three weeks eyes are glued to televisions across the country.
In a time long ago, the NCAA tournament was the breeding ground for the NBA's next big stars.
However, it isn't the same anymore. With the new one-and-done rule, all the exciting players leave after just one year of college.
Unfortunately, this is a year of parity among mediocre teams and players, leaving us with only a few top prospects to watch during the madness.
For the sake of this list, I will rate the top 10 prospects to watch for, along with a honorable mention list.
Honorable Mentions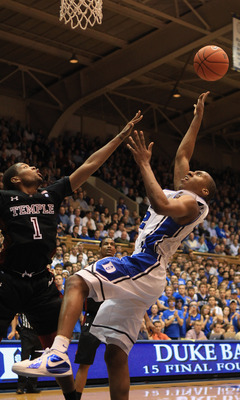 Streeter Lecka/Getty Images
Some of these players were left off the list mostly because they have all been to the tournament before and scouts already have a good feel for these older guys.
Perry Jones was left off the top 10 list due to the fact that Baylor most likely won't make the tournament this season.
Duke's Kyrie Irving was left off the list entirely because it's very unlikely he will play at all in the tournament.
Honorable Mentions:
Jordan Hamilton SG/SF Texas
Trey Thompkins PF Georgia
Kenneth Faried PF Morehead State
Markieff Morris PF Kansas
Kemba Walker PG UCONN
Chris Singleton SF/PF Florida State
Kyle Singler SF Duke
Nolan Smith PG/SG Duke
JaJuan Johnson PF Purdue
Perry Jones SF Baylor
Tyler Honeycutt SG/SF UCLA
Alec Burks PG/SG Colorado
E'twaun Moore PG/SG Purdue
10. Derrick Williams SF/PF Arizona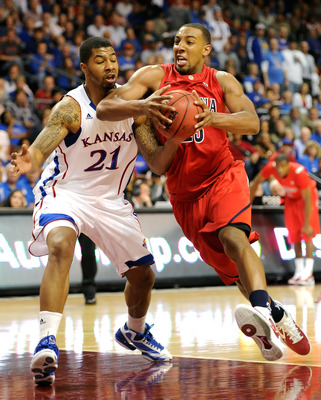 Ethan Miller/Getty Images
Height: 6'8"
Weight: 241 pounds
Derrick Williams is one of the best offensive threats in the country. The sad part is that some of you might be wondering just who this Williams character is, due to playing in the very weak Pac-10.
This season, he has increased his scoring by five points per game, averaging 19.1. That's over 25 percent of Arizona's points per game.
His scoring has gone up due to his ability to stretch the floor—shooting 62 percent beyond the arc, an increase of 38 percent from last year.
Along with being an offensive threat, he is a solid rebounder, averaging 8.1 boards a game.
Just wait until you get the opportunity to watch this young man, because his presence on the court is unbelievable.
9. Brandon Knight PG Kentucky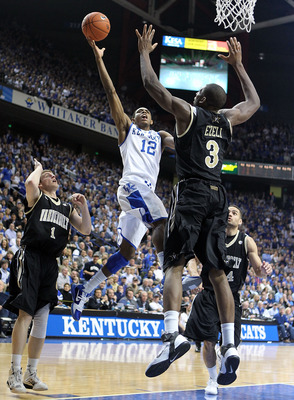 Andy Lyons/Getty Images
Height: 6'3"
Weight: 185 pounds
Brandon Knight is a tall, long and quick point guard with great scoring ability. He can distribute the rock, averaging 4.1 assists per game, but he needs to work on his knack for turnovers.
Scouts will be closely looking at how he handles himself in pressure situations come tournament time.
One thing is for sure: He is a very effective jump shooter, averaging 45 percent on the season. Along with that, he is dangerous from deep-range, shooting 40 percent on the year.
Knight reminds me of the Boston Celtic's Rajon Rondo with his length and the Dallas Maverick's Jason Terry with his shooting ability.
8. Terrence Jones SF Kentucky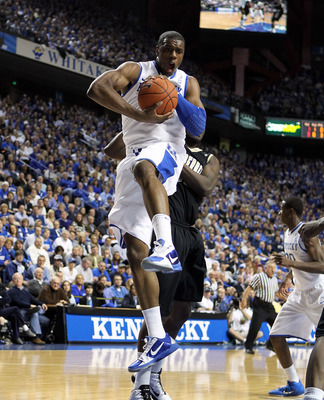 Andy Lyons/Getty Images
Height: 6' 8"
Weight: 244 pounds
Terrence Jones looks like a man among boys on the hardwood. He can credit this to the fact he grew up playing point guard. In return he has ridiculous handles for his size.
However, at times he can find himself a bit trigger-happy, forcing shots that are not there.
On the other hand, Jones is an excellent finisher around the rim and an enforcer in the paint, averaging 9.1 boards a game and 1.9 blocks.
With his 17.2 points per game, scouts will be anxious to watch this diaper dandy come tournament time.
7. Jared Sullinger PF Ohio State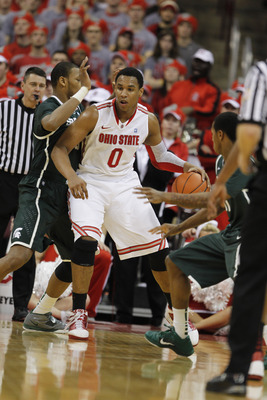 Gregory Shamus/Getty Images
Height: 6'9"
Weight: 280 pounds
Jared Sullinger swooped the nation off its feet in the beginning of the season and rightfully so. Before conference play even began, he recorded six double-doubles.
The big fella's biggest asset is his size and strength. He gets position at will on the blocks, creating his own shots. He is also an excellent passer out of the post. Along with scoring and passing, his frame makes him a space eater, as he averages 9.8 rebounds per game.
With his ability to score at will, he has managed to average 17.1 points per game this season and he could possibly lead Ohio State to a one seed.
6. Marcus Morris SF/PF Kansas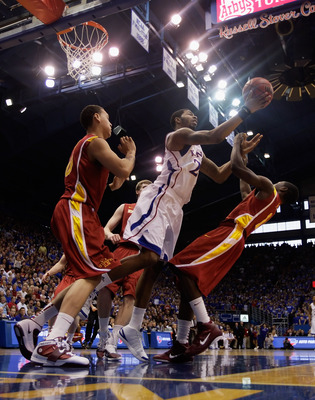 Jamie Squire/Getty Images
Height: 6'9"
Weight: 235 pounds
Marcus Morris has improved every season during his tenure at Kansas. This year, he has emerged as one of the nation's best players, averaging 17.1 points per game and shooting 60 percent from the field.
His shooting percentage is so high due to his ability to get to the basket or create his own shot off the dribble. On the perimeter he is very tough to handle defensively, as he is extremely athletic for his size.
Known to play with a high IQ, he doesn't force bad shots, two things that will instantly draw attention from scouts.
On the flip side, scouts will be also be evaluating his defensive presence in the paint, which is an area that at times he can struggle with.
5. Harrison Barnes SF UNC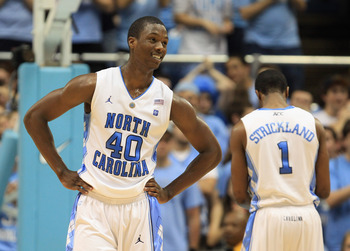 Streeter Lecka/Getty Images
Height: 6'8"
Weight: 215 pounds
Harrison Barnes is a very athletic swing-man with long arms and the will to thrive under pressure.
Yes, he has struggled at times this year. However, it should be noted that, at times, he is their only offensive threat. These expectations can be tough for a teenager to handle, especially when you're playing at UNC.
After a rough start to the season—due to the lack of point guard play—Barnes seems to be getting more and more comfortable. The past 10 games he has averaged 17.9 points per game, along with an array of clutch shots.
Scouts probably would like to see more rebounding from a player of his size, as he averages just 5.6 boards a game.
Other than that, his athleticism is unquestionable and he should become a solid NBA player.
4. Kawhi Leonard SF San Diego State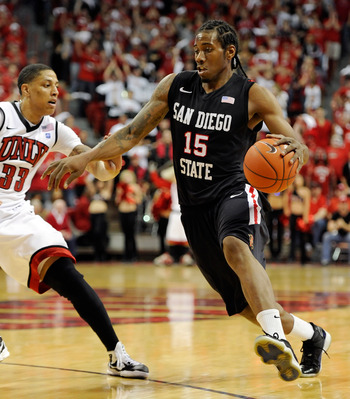 Ethan Miller/Getty Images
Height: 6'7"
Weight: 225 pounds
Kawhi Leonard is a special prospect, since he didn't even began to play high school ball or AAU till the 10th grade.
It is rare to say this in basketball, but this freak of an athlete plays with an extremely high motor and he doesn't wear down over the course of a game.
He is constantly around the basket and rebounds at will, averaging 10.8 boards a game.
Along with his length, his quickness makes him a threat in the transition game. When not in transition, he has an extremely fast first step that allows him to blow by his defender.
Come tournament time scouts will be looking at his perimeter play on offense, an area that has been shaky at times.
3. Tristan Thompson PF Texas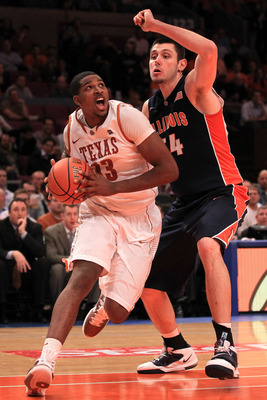 Chris McGrath/Getty Images
Height: 6'8"
Weight: 225 pounds
Tristan Thompson is one hell of an athlete. With his frame, he is a force to be reckoned with in the paint.
He plays very physical inside, averaging 2.2 blocks a game, along with 7.6 rebounds. There is no question that he is ready for the next level on the defensive end.
However, his field-goal percentage is only 53 percent. That is a good number, but he has room to improve for a guy who constantly plays on the block.
On the other hand, he has a knack for getting to the charity stripe, averaging 7.8 attempts per game. The only issue is he is just a 48-percent free-throw shooter, an area he must improve upon.
Some would say Texas is a favorite this year and Thompson should get some credit for that notion.
2. Tobias Harris SF Tennessee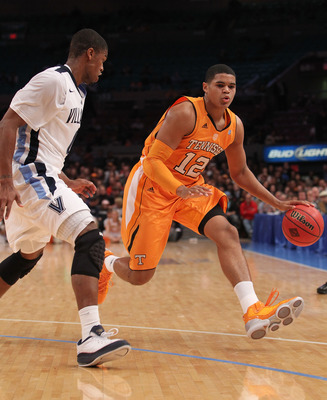 Nick Laham/Getty Images
Height: 6'8"
Weight: 226 pounds
Tobias Harris is a good, but not great athlete. His game reminds me a bit of the San Antonio Spurs own Richard Jefferson.
With the range to hit from almost anywhere on the court (averaging 43 percent on the year), he is very effective as he rarely takes dumb shots.
Currently on the season, he is averaging 14.3 points per game, ranking second on the team.
However, his ability to get to the free-throw line remains a question— as he's averaging just 4.6 attempts per game. There is no question he is a solid free-throw shooter at 73 percent, but he just needs to look to attack the basket more.
As long as Tennessee makes the tournament, Harris will have the opportunity to show the nation why he should be a first-round pick.
1. Jimmer Fredette PG Brigham Young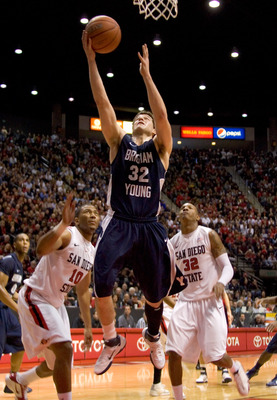 Kent Horner/Getty Images
Height: 6'2"
Weight: 195 pounds
Jimmer Fredette first sprang onto the college basketball scene last season when he dropped 49 points on the road at Arizona. Since then he has exploded as one of the nation's elite scoring point guards.
This season he has taken college basketball by storm, scoring at least 30 points in 10 games. He is currently the country's leading scorer, averaging 27.5 points per game.
He has a knack for shooting the ball, converting 40 percent of his treys. He is very effective at taking what the defense gives him, rarely forcing a shot he can't make. Along with his shooting ability, he is lethal from the charity stripe, shooting 89 percent.
At times he can appear to be sloppy with the ball, however, usually he will make up for it down the road.
The biggest issue scouts will be looking for come tournament time is his defense. Will he be able to keep up with just as athletic guards from the power conferences?
Keep Reading