College Basketball Power Rankings: The Big 12's Most Underrated Players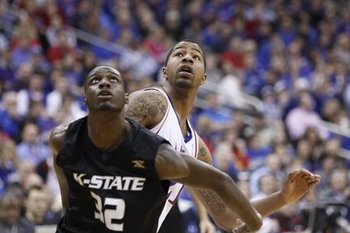 The Big 12 again looks to be one of the strongest power conferences as the 2010-11 college basketball season tips off. While the Heartland's league certainly lacks no star power, there are many players on some of the country's best teams that have gone unappreciated in past years and preseason prognostications.
Stars like Jacob Pullen, Marcus Morris, LaceDarius Dunn and Alec Burks are garnering consideration for numerous nationwide awards. While those guys may get the most attention, other lesser-known players will be just as influential to their team's success.
They may not make an all-conference team. They may score less than 10 points per game. They may even come off the bench. But true fans, analysts and coaches understand the value these players have for their respective squads.
Following is a list of the Big XII's most underrated players of the 2010-11 season.
No. 10: Keiton Page, Oklahoma State G, Jr.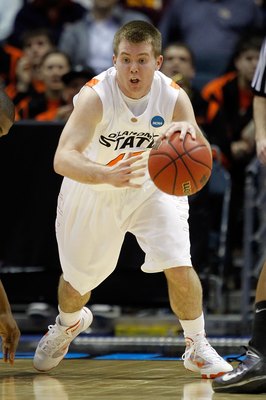 Jonathan Daniel/Getty Images
One of the country's deadliest long-range shooters, Page looks more like your little brother than an impact player at a BCS school.
Page has played heavy minutes for the Cowboys since his freshman season. Over the last two years, he's thrived off playing with guys like Byron Eaton, James Anderson and Obi Muonelo, whose penetration frequently allowed Page to get open looks for an automatic jumper.
In what looks to be a rebuilding year for coach Travis Ford, Page will take on a much bigger role. A better ballhandler and playmaker than given credit for, there will be some games where he puts up big numbers shooting the basketball.
While OSU looks like a longshot to make the NCAA tournament this season, don't be surprised if they knock off one of the country's best teams behind the hot hand of Page.
No. 9: B.J. Holmes, Texas A&M G, Sr.
Otto Greule Jr/Getty Images
Holmes, a senior, will lead a young Aggies squad in 2010-11.
In years past, he has taken a backseat to players like the departed Donald Sloan, Josh Carter and Bryan Davis. With the graduation of Sloan, Holmes takes over the reigns as primary playmaker for Texas A&M.
He's proven to be a good three-point shooter over the years and has always been known as one of the league's best perimeter defenders. With offensive forces like wing Khris Middleton and F David Loubeau surrounding him, Holmes will have ample opportunity to make plays for himself and others.
If Texas A&M surprises by finishing in league's top third, Holmes will be the unheralded reason why.
No. 8: Tyrel Reed, Kansas G, Sr.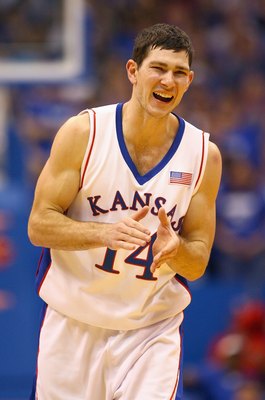 Jamie Squire/Getty Images
A senior and native of Burlington, Kansas, Reed has developed into one of the Jayhawks' most dependable performers.
Though KU is ranked seventh in the country, some believe this will be a rebuilding year for Bill Self and company. With the departure of Sherron Collins, Cole Aldrich and Xavier Henry, the Jayhawks certainly lost a lot of star power. They are led this year by F Marcus Morris and G Tyshawn Taylor (and freshman star Josh Selby, if eligible).
Many question the shooting ability of KU this year, which is why Reed is such a vital piece of the puzzle. He's the Jayhawks' lone consistent long range sniper, capable of ripping off three or four bombs in succession. Additionally, he has a frequent tendency to hit shots in clutch situations. A pesky and active defender, he needs to develop as an offensive player inside the three-point line to become most effective.
If KU is to reach its true potential and win a seventh consecutive Big 12 title, there's no doubt the play of Reed will be a major reason why.
No. 7: Anthony Jones, Baylor F, Jr.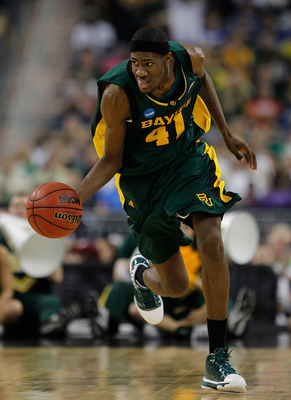 Jonathan Daniel/Getty Images
An incredibly fluid athlete for his size, Jones will be overshadowed by the Bears' considerable amount of star power.
In addition to the return of stars LaceDarius Dunn and Quincy Acy, Scott Drew added ballyhooed freshman F Perry Jones (no relation), a future lottery pick. Regardless, Anthony Jones will receive plenty of minutes for Baylor, as his influence on both ends of the floor is larger than the box score indicates.
The linchpin of Baylor's zone defense, Jones' combination of length and agility at 6'11'' make him a terror to pass through or over the top of. He can defend multiple positions and is an active player on offense. To reach his true potential, Jones needs to develop an arsenal to complement Dunn and Acy.
Despite the loss of Ekpe Udoh, Baylor has aspirations of another deep run in the NCAA tournament. While Jones won't put up big numbers this season, his influence—especially defensively—is sure to be a reason for the Bears' success this season.
No. 6: Rodney McGruder, Kansas State G, Soph.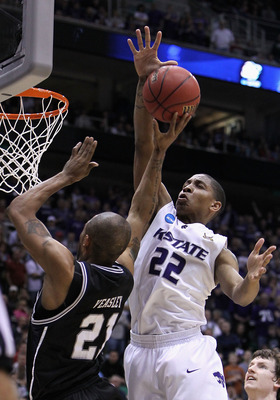 Christian Petersen/Getty Images
McGruder will be asked to take on a much larger role in 2010-11, his second season with the Wildcats.
Kansas State is led by preseason All-American Jacob Pullen and a deep and talented frontcourt. With the loss of G Denis Clemente to graduation, McGruder will be asked to pick up the scoring and playmaking slack.
A very active player, McGruder is a good athlete at 6'4'', 205 lbs. He is relentless attacking the glass and is one of the Wildcats' better perimeter defenders.
Offensively, in a limited role last season, McGruder flashed range on his jumper and the ability to finish through contact in the paint. If he can develop as a ballhandler, he's a potential all-league candidate in the future.
Kansas State will need another consistent threat to develop on the perimeter next to Pullen if their aspirations of a long-overdue Final Four are to come true. McGruder has all of the natural tools to do so, and be an unheralded force of energy and athleticism on each end of the court.
No. 5: Gary Johnson, Texas F, Sr.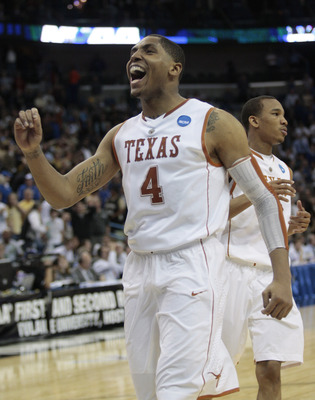 Dave Martin/Getty Images
A four-year rotation player for the Longhorns, Gary Johnson provides a veteran, physical presence in the Texas frontcourt.
UT looks to rebound this season after an embarrassing 2009-10 that saw them lose seven of their last 17 games. They'll be led by a group of youngsters centered around Jordan Hamilton, Tristan Thompson, Cory Joseph and J'Covan Brown.
Clearly, Texas has a lot of young talent. Harnessing it into a cohesive unit is the daunting task of coach Rick Barnes. Enter Johnson.
Undersized for the 4, Johnson makes up for it with great strength, solid athleticism and sound fundamentals. He makes his presence felt mostly through energy and activity, consistently getting offensive rebounds, taking charges and converting tough finishes around the basket.
Don't be fooled, though—Johnson is also skilled, capable of scoring with his back to the basket or facing up for a mid-range jumper.
When all is said and done, Johnson may lead Texas in both scoring and rebounding this season. However, he's being all but ignored by some in the preseason in favor of the talented Longhorns' sophomores and freshmen.
If UT is to reclaim their rightful place among the Big XII's best, Johnson will be the main reason why.
No. 4: Marcus Relphorde, Colorado F, Sr.
Jamie Squire/Getty Images
A transfer from St. Louis who just became eligible last season, Relphorde quickly established himself as one of the most versatile players in the Big 12.
Colorado is led in 2010-211 by the talented perimeter duo of sophomore Alec Burks and senior Cory Higgins. While they've garnered most of the preseason recognition, the success of the Buffaloes may be tied to Relphorde more than any other player on the roster.
Possessing great size and strength at 6'7'', 220 lbs., Relphorde will defend both wings and posts for new coach Tad Boyle. He has the strength to be effective down low but the foot speed to wreak havoc on the perimeter. Offensively, Relphorde can attack the basket as well as hit open jumpers.
Colorado has their most talented team in years, and could surprise and finish among the league's top half. For this to happen, there may not be a more influential player for the Buffaloes than Relphorde, a perfect third wheel.
No. 3: Justin Safford, Missouri F, Sr.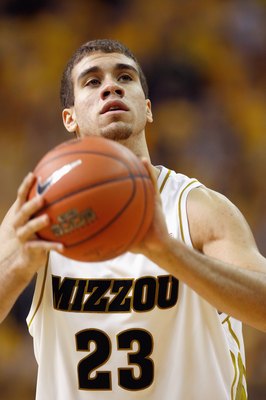 Jamie Squire/Getty Images
As Big 12 play wound down last season, Safford was playing the best basketball of his career. Unfortunately, his season was cut short by a torn ACL.
This year, he looks to deliver on the considerable promise he showed offensively against league opponents in 2009-10.
Mizzou is highly praised this season, ranked 15th in the polls and picked by some to win the conference title. They are led by G Kim English, F Laurence Bowers and a host of talented newcomers.
Still, no player may be more important to the Tigers reaching their potential than Safford.
A gifted offensive player, Safford has the size of a big man but the skill of a perimeter player. He is a consistent three-point threat, and often puts the ball on the floor to get in the paint and finish with touch at the rim. Quite simply, there's not much he can't do offensively.
On the other end of the floor is where he needs to improve, as coach Mike Anderson demands defense from his players.
Safford will likely be the Tigers' first big man off the bench this season, a role that perfectly fits his game. If he can come in and provide the consistent offensive punch that some of his frontcourt mates lack, Mizzou will challenge for the Big 12 title.
No. 2: Jamar Samuels, Kansas State F, Jr.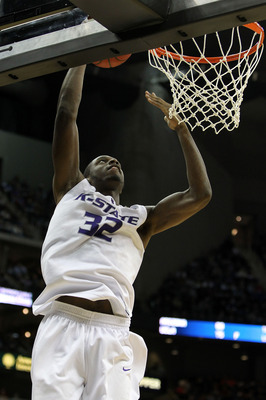 Jamie Squire/Getty Images
Kansas State will need Samuels to be a consistent third option if they are to live up to their lofty preseason expectations in 2010-11.
Samuels is considered the one of the Wildcats' best behind Pullen and F Curtis Kelly, a preseason all-league selection. He clearly has the ability to develop into a devastating performer as the Wildcats' third scorer, feeding off opportunities created by the defense's attention to KSU's stars.
Samuels is a classic 'tweener at forward, equally adept at scoring in the paint or on the perimeter. He can fill it up quickly, as evidenced by his 27 point game against Oklahome State in the Big 12 Tournament last year.
He needs to get tougher on the glass and more physical in the paint, but he has the skills of a leading player.
If Pullen or Kelly weren't on KSU's roster, Samuels would more than likely be considered one of the conference's best overall players. There aren't many players in the country with his ability on the offensive end of the floor. He'll be hugely influential to KSU's fortunes this season, and is one of the most underrated players in the country.
No. 1: Markieff Morris, Kansas F, Jr.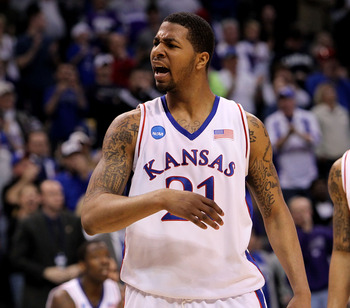 Ronald Martinez/Getty Images
KU's "other" twin, Markieff Morris looks poised to become one of the best big men in the country in 2010-11.
Often considered the Jayhawks' third best in their stellar 2012 class behind brother Marcus and Tyshawn Taylor, Markieff is a potential all-league performer this season.
He has great size inside at 6'9'', 232 lbs., and a tough demeanor that suits him well on either side of the floor.
Markieff has a soft touch finishing inside but is also a devastating long-range shooter, capable of hitting multiple threes per game.
Defensively, he has the foot speed to aggressively hedge pick-and-rolls and his hands make a huge impact on the glass. Markieff needs to get better in one-on-one post defense, an area that is easily fixable.
Markieff Morris got his season off to a rousing start with a 13-point, 14-rebound performance in only 17 minutes in a win over Valparaiso.
Don't be surprised if he maintains a similar pace all season, and emerges—along with his brother—as a first team all-league member by season's end.
Keep Reading

Kansas Jayhawks Basketball: Like this team?