The Virginia Cavaliers won their first ACC tournament championship since 1976, defeating the Duke Blue Devils 72-63 in an epic battle Sunday afternoon.
Virginia wins ACC tournament title for 1st time since 1976, defeats Duke, 72-63; Malcolm Brogdon 23 pts http://t.co/kda1BzeKUS

— SportsCenter Alerts (@ESPNSCalerts) March 16, 2014
The Wahoos capped off an amazing 2013-14 campaign that included a regular-season ACC title and added a rare ACC tournament championship to their resume ahead of the upcoming NCAA tournament.
Duke Basketball tweeted a photo of Virginia's celebration after the victory:
The scene postgame at the Greensboro Coliseum pic.twitter.com/dhTfGqyR22

— Duke Basketball (@dukebasketball) March 16, 2014
Virginia played its usual tough defense, holding the Blue Devils to just 38.1 percent field-goal shooting in the contest. The team led the nation in scoring defense by allowing just 55.1 points per game going into this contest.
The Cavaliers also stayed out of foul trouble, allowing Duke to get to the line just 11 times. In stark contrast, Virginia lived at the charity stripe and got easy looks at the basket throughout the afternoon. It knocked down 25 of 38 free throws, connected on 44.7 percent of its field-goal attempts and went 5-of-12 on three-point shots.
The game was heated at times, with Duke head coach Mike Krzyzewski earning an uncharacteristic technical foul in the first half. Duke Basketball noted that it was only his second of the season:
Coach K just got T'd up. This is the second time this year K has drawn a technical foul.

— Duke Basketball (@dukebasketball) March 16, 2014
Patrick Stevens of D1scourse.com pointed out that it was also a rarity for a technical foul to be called at all in the ACC championship:
K's technical foul in the first half was the first technical foul in an ACC final since Louis Hinnant and Greg Paulus each got one in 2006.

— Patrick Stevens (@D1scourse) March 16, 2014
The crowd was certainly into this contest, with Ryan Fagan of Sporting News noting that there were equal numbers of UVA and Duke fans in attendance at the Greensboro Coliseum in North Carolina:
There are loud cheers and loud boos on pretty much every single play. Tons of UVa fans, just as many Duke fans. Great atmosphere.

— Ryan Fagan (@ryanfagan) March 16, 2014
They were in for a treat, especially in the waning moments.
There were a number of thrilling events during this back-and-forth affair, including a three-and-a-half-minute stretch where there were four ties and four lead changes (h/t Cavs Journal):
Over the past 3.5 mins there have been 4 lead changes and 4 ties. Yep. Good game. #UVa up 57-53.

— Cavs Journal (@CavsJournal) March 16, 2014
Virginia clamped down in the final minutes, keeping Duke off the scoreboard and going on a small run to put the game out of reach.
Cavaliers sophomore guard Justin Anderson talked about his team's chemistry ahead of this contest, telling The Associated Press, via ESPN.com:
There's no better feeling, of course, but we'll celebrate later. We're to a point where we have a chance to make a run, not just in the ACC but the NCAA tournament, and we have to continue to be humble. This team cherishes that and this team understands that and we'll be fine.
The 'Hoos clearly have what it takes to make a deep foray into the upcoming tourney, and they showed why throughout the ACC tournament, culminating in Sunday's performance.
Let's take a look at grades for the key players in this contest and highlight what is next for both programs.
Game Grades
Malcolm Brogdon, G, Virginia: A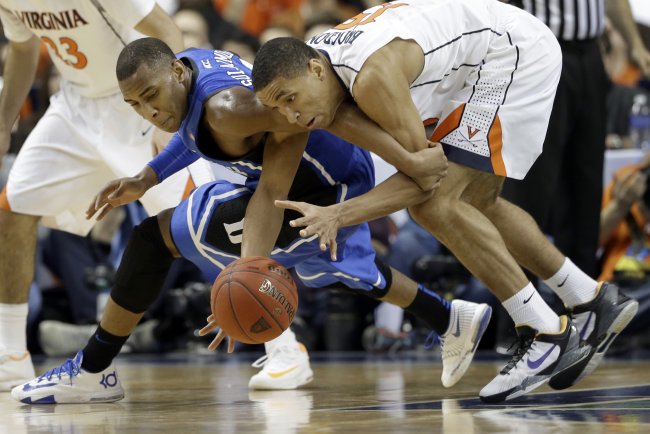 Gerry Broome/Associated Press
Brogdon was the leading scorer for the Cavaliers in the ACC title matchup, tying a game high and reaching a career high with 23 points. He added three rebounds and an assist in the contest.
Justin Ferber of Rivals noted the career high and heaped praise upon the 6'5" star:
Malcolm Brogdon has 23 points, a career high. He showed up when it mattered most.

— Justin Ferber (@Justin_Ferber) March 16, 2014
The sophomore guard has been a major catalyst for Virginia's success in 2013-14 and continued to show why the team leans on him for scoring when needed.
If Virginia is going to make a Final Four run during the Big Dance, it will need Brogdon to continue performing like this on the offensive end of the court.
Jabari Parker, F, Duke: B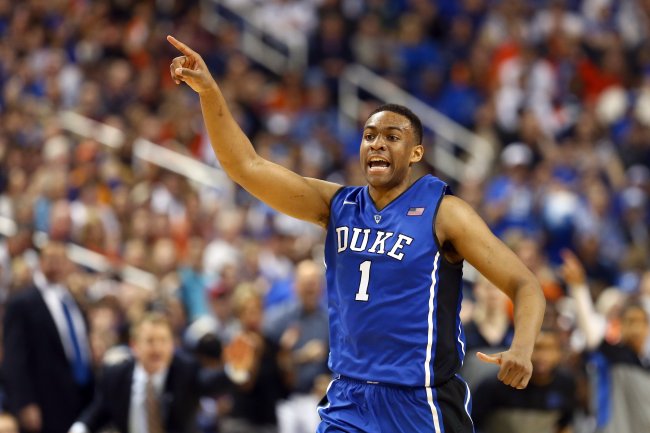 Streeter Lecka/Getty Images
Parker played one of his better games but ultimately came up short and was not able to help lead the Blue Devils to an ACC championship during his freshman season.
The forward scored 23 points, grabbed eight boards, recorded two steals, dished an assist and blocked a shot during his time on the court but couldn't do enough to get the job done.
Parker did put on a show for the fans. At one point, he stole the ball on one end of the court and raced down to the other, slamming it down ferociously to give Duke two big points.
Blue Devil Nation tweeted about the dunk:
You saw it. A Jabari Parker sweeping one handed flush. Give it to him and clear out.

— Blue Devil Nation (@BlueDevilNation) March 16, 2014
Bleacher Report captured the play, courtesy of ESPN programming:
You will definitely be seeing more of this superstar during March Madness.
Anthony Gill, F, Virginia: B+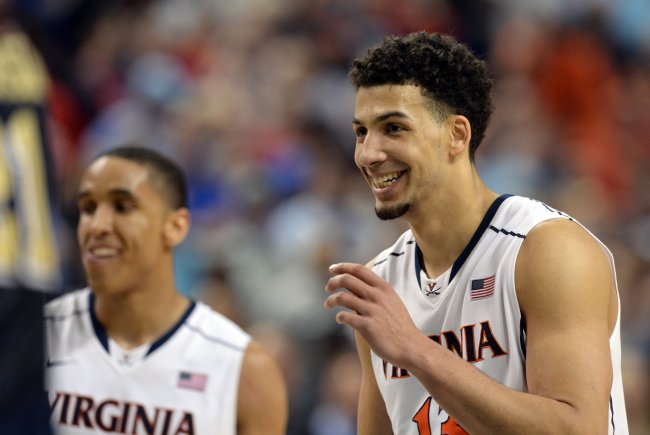 John David Mercer-USA TODAY Spor
Gill played the role of super sub for the champions, coming off the bench to provide Virginia with 12 points, seven rebounds and a steal.
The sophomore forward was practically unstoppable once he received the rock, drawing a number of fouls and getting to the line for 17 free-throw attempts, sinking 10 of them. It helped make up for his poor shooting performance, as he went just 1-of-6 from the field.
Gill was also a superb contributor on defense, helping to lock down the paint and keep Duke from establishing any sort of rhythm in this one, as Cavs Journal noted during the contest:
Where would this team be w/o Anthony Gill? Just 1-6 from the field and 8-15 from FT line, but seems to be all over the place. #UVa up 57-53.

— Cavs Journal (@CavsJournal) March 16, 2014
Gill is definitely one of the most underrated contributors on this team, and he showed why he is instrumental Sunday.
What's Next?
Both the Blue Devils and Cavaliers will have to wait until later Sunday evening to figure out where they will be seeded in the upcoming NCAA tournament.
While both squads were undoubtedly already in the 68-team field, their tournament runs and Sunday's matchup are likely to have a rather significant impact on the selection committee's decision.
Will Virginia earn a No. 1 seed in the NCAA tournament?
The win all-but guarantees Virginia no lower than a No. 2 seed. It's certainly not easy to make it to the ACC tourney finals, let alone defeat the No. 7 team in the nation once there.
There is a decent chance the Cavaliers could nab one of the coveted No. 1 overall seeds in the tourney, likely starting their road to the Final Four at the top of the bracket's South Region.
The committee will announce its decision during the Selection Sunday Show, which can be seen live on CBS at 6 p.m. ET. Make sure you tune in to see which seeds and regions Duke and Virginia, plus the 66 other teams involved, end up getting.