Virginia clinched the ACC regular-season title with a 75-56 win over No. 4 Syracuse on Saturday.
This games was a huge opportunity for the Cavaliers to prove themselves in front of a national audience, as Dana O'Neil of ESPN pointed out:
Yes, college basketball, Virginia is legit

— Dana O'Neil (@ESPNDanaOneil) March 1, 2014
Malcolm Brogdon led the way with 19 points for Virginia to go with five rebounds and five assists. Joe Harris—the Cavaliers' leading scorer last season—only had seven points on senior night, but four of his teammates scored in double figures to pick up the slack.
Syracuse got 13 points out of both Tyler Ennis and C.J. Fair, but they were outrebounded 39-29 and only went 5 of 22 from beyond the arc.
Tom Haudricourt of the Milwaukee Journal-Sentinel noted the significance of the win:
Virginia is back! First ACC regular season title in 33 years. Congrats to Tony Bennett and his team.

— Tom (@Haudricourt) March 1, 2014
These two teams were expected to face off in a defensive battle coming in, and that is exactly what broke out in the early going. While each team employs a different type of defense, they are both dominant on that side of the ball, and it made it hard for either team to score in the first half.
Some big shots late helped the Orange take a narrow 28-27 lead into halftime.
However, things opened up in the second half as both sides started making shots at a much better rate. ESPN captured a flurry that took place as the teams traded punches:
Trevor Cooney gets buckets... UVA gets dunks. #BackAndForth #CUSEvsUVA

— ESPN College BBall (@ESPNCBB) March 1, 2014
At one point, there were four-straight three-pointers made between the two teams.
One of the biggest moments of the game came about halfway through the second half as Ennis picked up his fourth foul on a charge. Seth Davis of CBS Sports agreed with the call:
Rut roh. Ennis picks up his fourth on a charge. Say it with me everyone: Good. Call.

— Seth Davis (@SethDavisHoops) March 1, 2014
This was at the end of a 7-0 run for Virginia, and the home team just kept piling on en route to the 19-point victory.
Syracuse coach Jim Boeheim had a lot of nice things to say about the Cavaliers coming into the game, telling reporters, "Virginia has played, by far, the best of anybody in our league consistently the whole year. . . . They don't have any weaknesses at all," via Mark Giannotto of The Washington Post.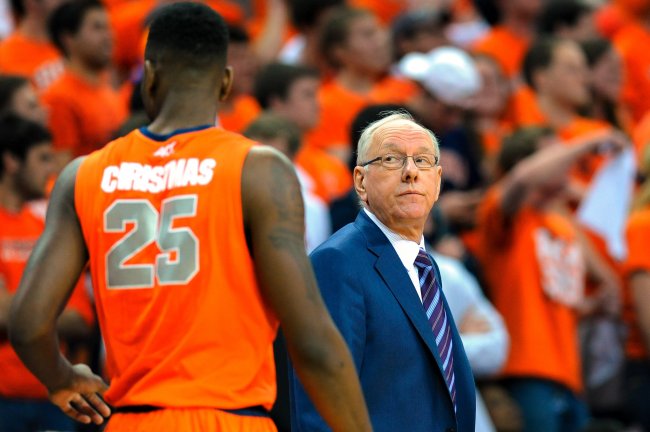 Rich Barnes/Getty Images
He got to witness it first hand on Saturday as his team suffered its third loss in four games after starting the year 25-0. Not only has the squad now missed out on a conference title, it now has serious question marks heading into the NCAA tournament.
The group that was once a favorite for the title might no longer be a No. 1 seed, making the road to the Final Four that much tougher.
On the other end, Virginia should get the respect it deserves with its 13th win in a row, improving to 25-5 on the year. Despite some bad non-conference losses earlier in the season, this is clearly one of the best teams in the country and should be able to make a deep run in the tournament.
Even without a high-scoring offense, this squad's ability to play defense will take it a long way.
Grades
Tyler Ennis, Syracuse: B-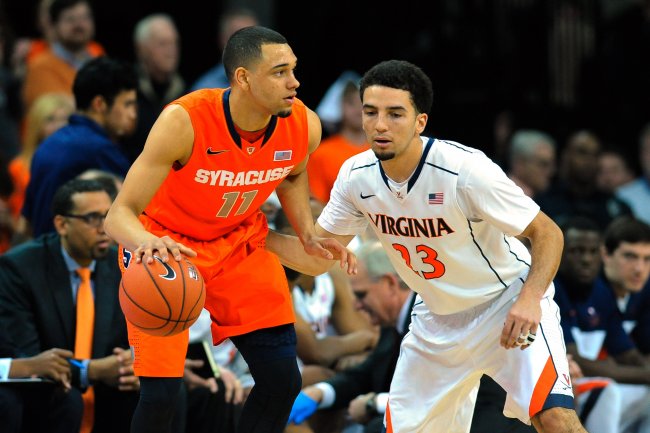 Rich Barnes/Getty Images
When on the court, Ennis is one of the best players in the country. Unfortunately, he could not stay in the game as he dealt with foul trouble all day long.
He picked up his third early in the second half on a poor decision trying to stop a fast break, and then he got his fourth on a charge with about 10 minutes left, sending him to the bench.
By the numbers, Ennis' final line of 13 points and four assists is not too bad compared to his season statistics. However, he was unavailable to come through when he was needed the most.
C.J. Fair, Syracuse: B
Until guard Trevor Cooney started to hit some shots in the second half, Mike Waters of the Post Standard pointed out that options were limited for Syracuse:
Syracuse has become a 2-man team on offense. It's Ennis and Fair and that's about it. MW

— Syracuse Basketball (@syrbasketball) March 1, 2014
In some games, that is a good thing as the duo lights up the scoreboard. However, Fair could not pick up the slack when his partner in crime was out of the game.
Fair finished with just 13 points while going 4-of-13 from the floor.
Akil Mitchell, Virginia: A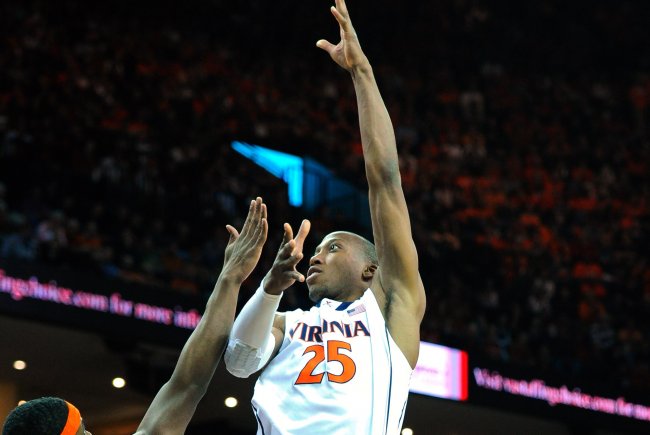 Rich Barnes/Getty Images
The points were big, but Mitchell's biggest contribution in this matchup was his skill on the boards. He finished with nine rebounds in the game, including five on the offensive end. Offensive rebounding is one of the best ways to beat a tough 2-3 zone, and the big man came to play in this one.
Along with Justin Anderson and Mike Tobey, Mitchell came up big against a tough frontcourt from Syracuse.
Joe Harris, Virginia: C+
Heading into the season, the perception was that Harris was the only quality offensive player on the roster. This game proved that this is not the case as the guard was limited to just seven points in a winning effort.
After starting 0-of-7 from the floor, Harris did not make his first field goal until 4:45 was remaining in the game. He finished with seven points, but he is lucky that teammates like Brogdon were able to pick up the slack in this one.
What's Next?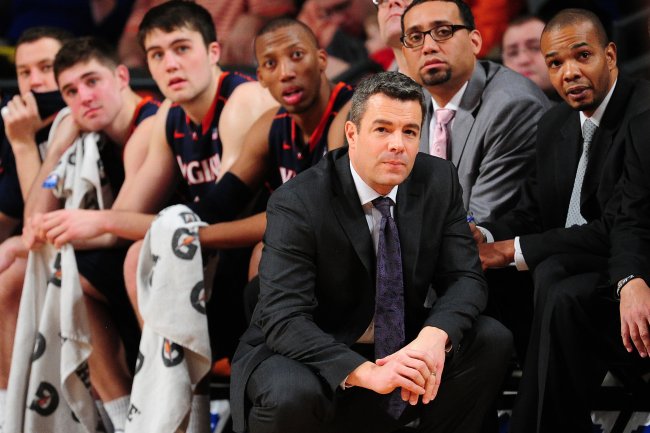 Scott Cunningham/Getty Images
Virginia only has one game left in the year, a road game against rival Maryland on Mar. 9. This will be the Terrapins last regular-season game in the ACC, and the Cavaliers will hope to send them packing with a loss.
Meanwhile, Syracuse has a favorable end to the season with a home game against Georgia Tech on Tuesday before traveling to Florida State on Mar. 9. After this rough stretch of games, the Orange will try to get some momentum going heading into the postseason.
Follow Rob Goldberg on Twitter for the latest breaking news and analysis.