The Clemson Tigers utilized their advantage in rebounding to drive a 72-59 upset victory over the AP No. 16 Duke Blue Devils in an ACC clash on Saturday, Jan. 11, at Littlejohn Coliseum.
An extended field-goal drought toward the end of the game thwarted any hope of a Blue Devils comeback, and ESPN Stats & Info documented the extent of the damage done down the stretch:
Duke's final 11 possessions at Clemson: 0-11 FG, 2 points

— ESPN Stats & Info (@ESPNStatsInfo) January 11, 2014
Duke lost their second game in a week after falling at Notre Dame, 79-77 on Jan. 4.
Tigers star K.J. McDaniels poured in a game-high 24, and also pulled down 10 rebounds and blocked three shots. McDaniels' monster putback dunk in the final minute put an exclamation point on his performance and on his squad's landmark victory.
The students in attendance took their exuberance to the hardwood when the final buzzer sounded, and the scene was captured by Clemson basketball's official Twitter account:
Amazing scene at Littlejohn Coliseum as Tigers beat Duke, 72-59! THANK YOU to everyone in attendance: pic.twitter.com/NH1N0HE8vf

— Clemson Basketball (@ClemsonMBB) January 11, 2014
CBSSports.com's Matt Norlander highlighted how long it had been since the Tigers (11-4) managed a win over their powerhouse conference rival:
Clemson's last win over Duke came on Feb. 4, 2009.

— Matt Norlander (@MattNorlander) January 11, 2014
Jaron Blossomgame and Landry Nnoko ripped down 27 boards combined for Clemson, as the Blue Devils had no answer for the size and physicality the Tigers brought to the table.
Duke (12-4) has thrived by attempting lots of three-pointer for years, but Saturday's outcome showcased the downside of such a strategy. The Blue Devils shot a meager 34 percent for the game—their lowest total of the season—and made only eight of 25 shots from beyond the arc.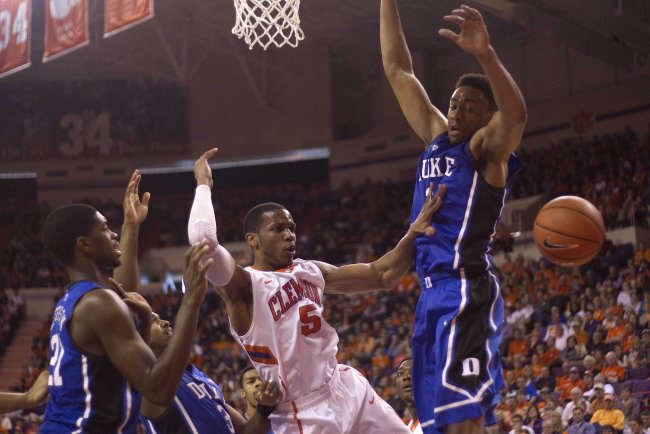 Joshua S. Kelly-USA TODAY Sports
Rodney Hood led the way for the Dukies with 20 points. Freshman phenom Jabari Parker had an inefficient outing, sinking five of 13 shots for 15 points of his own. He is shooting 25-of-68 (37 percent) from the field over the last five games.
It wasn't as if the Blue Devils had much of a choice when they fell behind beyond chucking it up from downtown, though.
Sports Illustrated's Seth Davis noted the low number of free throws Duke attempted despite having plenty of capable perimeter players able to crash the lane:
Clemson doing a great job of defending Duke without fouling. Devils have only attempted 11 free throws and have been driving all day.

— Seth Davis (@SethDavisHoops) January 11, 2014
Duke wound up attempting 15 free throws, but nevertheless, the point is still valid. The low figure is a testament to the defensive effort put forth on the interior, led by Nnoko's four blocks and a relentlessness on the glass.
This marked the second loss in three games for the Blue Devils—both on the road—and head coach Mike Krzyzewski's team will have to figure out a way to match up better with bigger opponents.
After the game, Krzyzewski admitted to his squad's shortcomings in terms of rebounding and expressed that his program's reputation lends to opponents getting up for every single game, per the Charleston Post & Courier's Aaron Brenner:
Coach K: "Their determination wore on us."

— Aaron Brenner (@Aaron_Brenner) January 11, 2014
Coach K: "We're not a very good rebounding team right now. We're a small team. We're not a powerhouse."

— Aaron Brenner (@Aaron_Brenner) January 11, 2014
Coach K acknowledging Duke always gets the opponent's best effort, especially on the road. Truth. Just like the Yankees, Miami Heat.

— Aaron Brenner (@Aaron_Brenner) January 11, 2014
It's a rather quick turnaround for Duke, but the good news is it will host the Virginia Cavaliers on Jan. 13. ESPN's Jay Bilas feels that the Cavaliers will be a substantial test for the Blue Devils after this effort:
Duke scored only 22 in 2nd half, was doubled up in FTA and outrebounded by 18 for the game. Big Monday v. UVa should be intense.

— Jay Bilas (@JayBilas) January 11, 2014
Meanwhile, the Tigers will seek to use this momentum as they take to the road in a Jan. 15 conference tangle with Virginia Tech.