Sales Pitches for Each School 5-Star Recruit Tyus Jones Is Visiting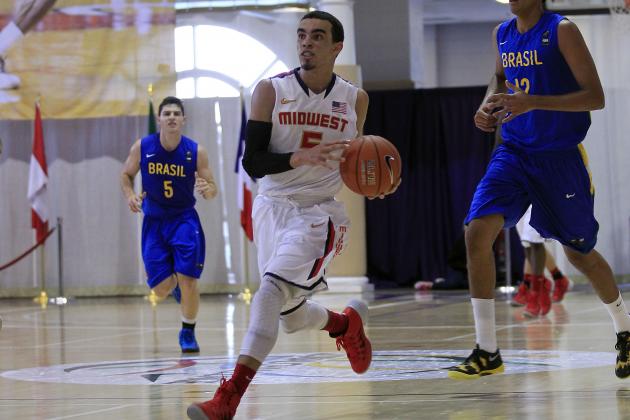 Geoff Burke-USA TODAY Sports

Tyus Jones announced on Tuesday over Twitter when and where he will be making his visits this fall. When the top point guard in the 2014 class tweets, it's news. So alert the masses.
Jones was visiting Minnesota on Tuesday on an unofficial visit, then he said he'll make official visits to Baylor (Aug. 30-Sept. 1), Kentucky (Sept. 27-29), Kansas (Oct. 18-20) and Duke (Oct. 25-27).
Jones is visiting Baylor, Kansas and Duke with Jahlil Okafor, the top big man in the class. They are both making visits to Kentucky but not together. Both players have said they would like to play together and it's assumed that Duke is the leader for the duo, although Okafor's father told ESPN.com no one really knows.
Here's the only assumption you should make in recruiting: If a school is getting a visit, that school has a chance, and all of these programs have something to offer Jones.
Begin Slideshow

»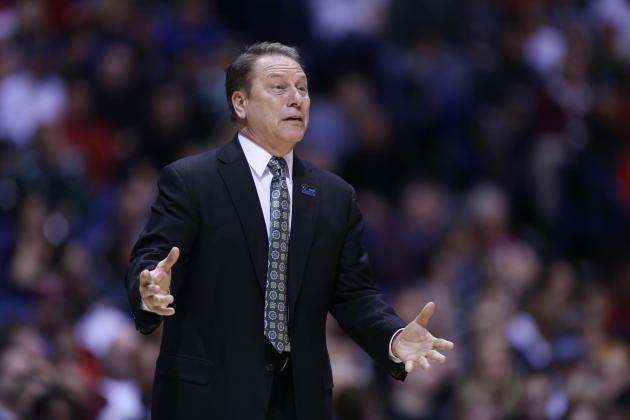 Brian Spurlock-USA TODAY Sports
Michigan State coach Tom Izzo needs a point guard in the 2014 class with Keith Appling graduating.
Michigan State and Ohio State are two schools that could be in the running for the final official visit.
Both graduate their starting point guards after this season; both are in Big Ten country where Jones grew up and both have had success getting their players to the pros.
Both could also be presumed to be bringing up the rear in the battle for Jones if you assume the fact that they were not listed in his list of visits means he's not seriously considering either school. However, in recruiting, you should take all news (and tweets) with a grain of salt.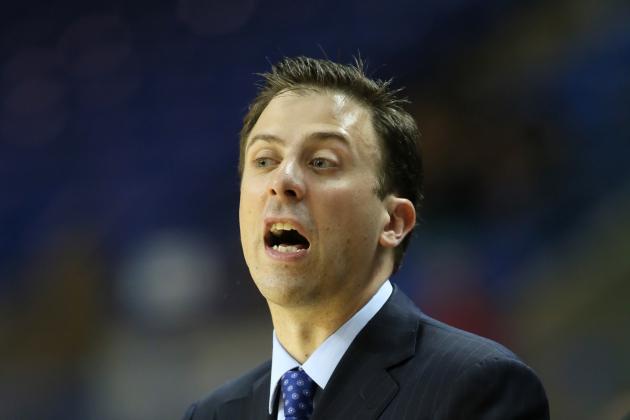 Nelson Chenault-USA TODAY Sports
Richard Pitino's approval rating with Minnesota fans would be extremely high if he were able to land local product Tyus Jones.
Minnesota is the only school on Jones' list that is not an established program right now. Richard Pitino is rebuilding, and his pitch to Jones is likely this: Become a Minnesota legend by helping make us a top-tier program.
Pitino can also sell his system. In his one year at Florida International, he made his team play fast. Jones would thrive in an up-tempo style. Because of location and because Pitino gets the first word during this run of visits, you could say the Gophers are the dark horse.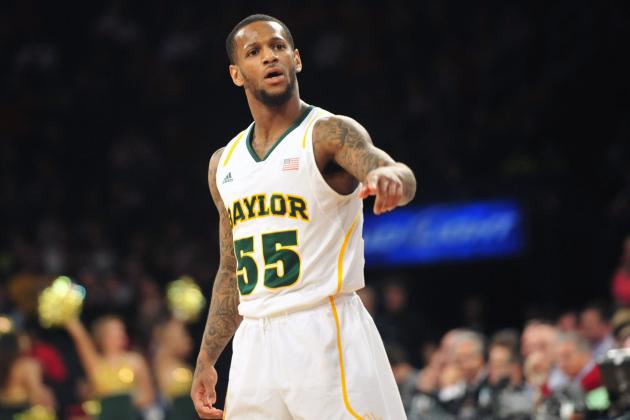 Joe Camporeale-USA TODAY Sports
Former Baylor point guard Pierre Jackson was one of the best players in the history of the program.
If Jones goes to Baylor, he knows he's going to be surrounded by talent. Head coach Scott Drew always has talent on his roster. Of course, you could say that about every program in consideration by Jones, other than Minnesota.
Drew also coaches a system that gives a lot of freedom to its guards. Pierre Jackson became the first player in a power-six conference since Arizona's Jason Terry in 1999 to lead his conference in both scoring and assists. Drew's pitch is likely to have something to do with the success of Jackson.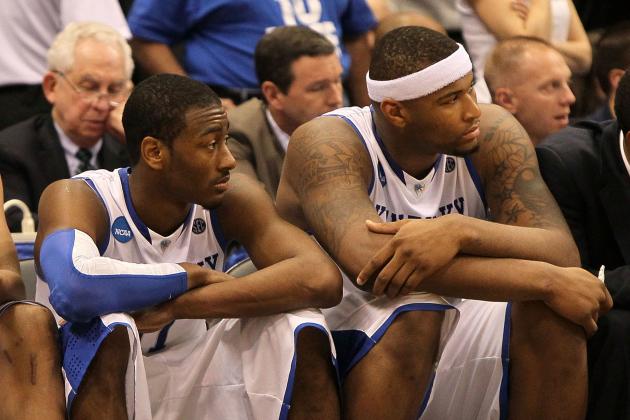 Jim McIsaac/Getty Images
John Wall (left) and DeMarcus Cousins (right) coexisted as stars in John Calipari's system.
Derrick Rose, Tyreke Evans, John Wall, Brandon Knight and Marquis Teague. Those are all one-and-done point guards produced by John Calipari's system at Memphis and Kentucky.
Everyone but Teague was a lottery pick.
If Jones wants to be a one-and-done point guard, Calipari has had a better success rate with those types than any coach in the country. (It does help that he usually has the top point guard prospect.)
Calipari also has a running system—the dribble-drive offense—that gives his point guards a lot of responsibility and opportunities to create.
Calipari should pop in some game tape for both Jones and Okafor of his first season at Kentucky when he had John Wall and DeMarcus Cousins. Both put up big numbers and were high draft picks. Jones and Okafor could be a similar duo at UK.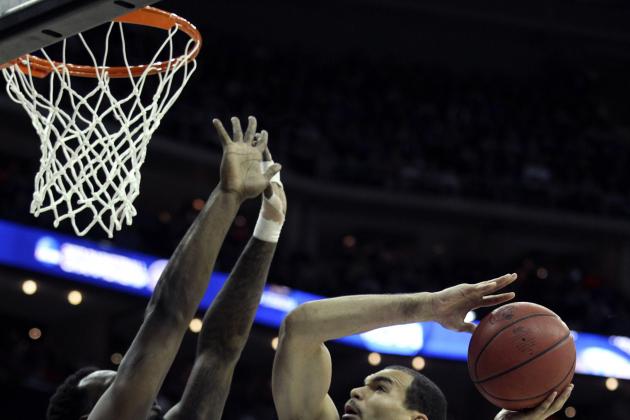 Ed Zurga/Getty Images
Perry Ellis as a junior could potentially be one of Tyus Jones' favorite targets if the star point guard picks Kansas.
The Jayhawks could potentially have the best talent to surround Jones and Okafor of any schools on their list. Head coach Bill Self will likely lose Andrew Wiggins, but he could return a core of Perry Ellis, Wayne Selden, Brannen Greene, Joel Embiid, Jamari Traylor and Conner Frankamp.
Self could tell Jones that an elite point guard is the missing piece for a team that would compete for a national championship. The Jayhawks would have Naadir Tharpe and Frank Mason returning at point, but if Jones is as good as the hype, he should be able to beat out both guys.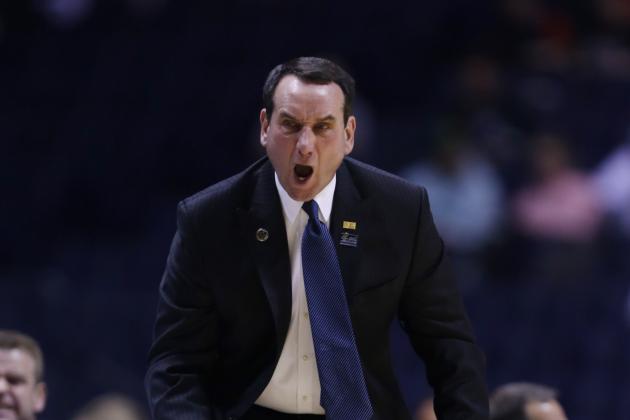 Brian Spurlock-USA TODAY Sports
Tyus Jones and Jahlil Okafor could be part of the best class Mike Krzyzewski has landed since the 1999 class that included Jay Williams, Carlos Boozer and Mike Dunleavy.
It's assumed that Jones and Okafor will be a package deal to Duke, and that would immediately make Duke a title contender in 2014-15.
Mike Krzyzewski's best teams have had a good point guard-big man combination—Bobby Hurley and Christian Laettner, William Avery and Elton Brand and Jay Williams and Carlos Boozer.
All three of those duos made at it to a national championship game and only Avery and Brand lost. All Coach K has to do is point to his record and his ability to develop players into great pros. If Jones and Okafor are in fact leaning Coach K's way, he's going to be a tough man to beat.