Stock Up, Stock Down for Every 5-Star Recruit After 2013 Nike Peach Jam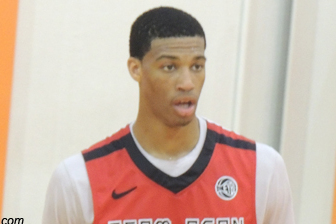 Image from Rivals.com
The 2013 Nike Peach Jam kicked off college basketball's July recruiting season in high-powered fashion with a slew of 5-star recruits showing off their talents. The South Carolina AAU tournament—the championship of Nike's Elite Youth Basketball League—gave several of the most celebrated prospects in high school hoops the chance to shine against top-tier competition.
One player who took that opportunity and ran with it was Syracuse commit Chris McCullough. Already renowned for his leaping ability and dedication to running the floor, the lanky forward showed unexpected rebounding prowess against some very physical opposition.
Herein, a closer look at McCullough's time in the spotlight, along with an assessment of all the rest of Scout.com's 5-star recruits and whether their prospects are rising or falling after the conclusion of this weekend's tourney.
Begin Slideshow

»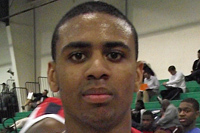 Image from Rivals.com
A point guard, more than any other position, has his individual success judged by how his team performs.
That being the case, Joel Berry—floor general for the Each 1 Teach 1 Elite squad that won the Peach Jam with a perfect 8-0 record—came up aces this weekend.
The North Carolina commit didn't do anything to change his reputation as a low-scoring distributor. He did, however, finish tied with the more celebrated Tyus Jones at 7.6 assists per game, good for fifth place in the tournament field.
Stock Up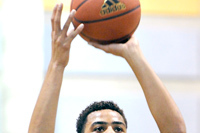 Image from Rivals.com
As a pure scorer, D'Angelo Russell did nothing to impress coaches at the Peach Jam.
The Ohio State commit had one 22-point outburst (including 4-for-6 long-range shooting) in the title game, but never came within shouting distance of the tournament's scoring leaders, despite the help of star PG Joel Berry.
However, Russell's other contributions to his team's undefeated championship run shouldn't be ignored. The 6'4" guard grabbed 5.8 rebounds a game, and even with Berry running the offense, Russell handed out 5.9 assists per contest in his own right.
Stock Up
Image from Rivals.com
Although Keita Bates-Diop didn't participate in the Peach Jam, the tournament's repercussions are sure to affect him anyway.
The Ohio State commit is one of the top shot-blockers in the recruiting class, and this weekend's results emphasized the scarcity of other impact defenders.
Despite the presence in South Carolina of Goliaths such as Jahlil Okafor, the blocked-shot leaderboards were dominated by underclassmen. As such, Bates-Diop's talents in that department are looking even more valuable.
Stock Up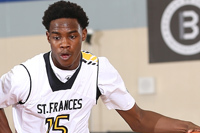 Image from Rivals.com
UNLV commit Dwayne Morgan may yet replicate the meteoric Rebels career of another speedy, smallish power forward, top NBA draft pick Anthony Bennett.
For now, though, the 6'7" Morgan has some climbing ahead if he's to reach the top of the PF pecking order for the class of 2014.
Absent from the Peach Jam, Morgan had no opportunity to showcase the competitive fire that's helped him stand out during his high school career.
Moreover, Chris McCullough's strong effort in South Carolina casts a long shadow on all the power forwards who weren't there to match his performance.
Stock Down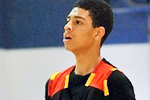 Image from Rivals.com
Much like Joel Berry, Josh Perkins is a classic point guard whose leadership ability is one of his major assets. Unlike Berry, Perkins didn't get a chance to showcase that ability in South Carolina.
With Berry shining on both the individual and team levels at the Peach Jam, plenty of other point guards suffered by comparison. Perkins, whose skill set has more in common with Berry's than most, took an especially big hit.
Stock Down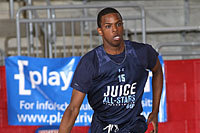 Image from Rivals.com
Few players benefited more from being absent this weekend than Isaiah Whitehead. Although the highly touted SG didn't play at the Peach Jam, he gained plenty of ground thanks to the generally unimpressive showing of the 2-guards who were there.
In particular, D'Angelo Russell's quiet scoring performance makes Whitehead—with his similar skill set—look that much more appealing.
On the flip side, the dominance of underclassmen in the three-point shooting department in South Carolina makes Whitehead's comparatively unremarkable long-range shot less of an issue.
Stock Up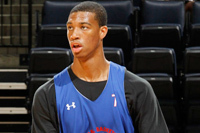 Image from Rivals.com
Chris McCullough, the top rising-senior talent on Team Scan at the Peach Jam, also proved to be his squad's most reliable scorer. On a wildly inconsistent offense, the Syracuse commit was the only player to score in double digits every game.
Even more noteworthy was the 205-pound forward's effort on the boards, as he ranked third in the field with 4.2 offensive rebounds per game. That showing against a bruising group of forwards is a major plus for McCullough heading into his senior season.
Stock Up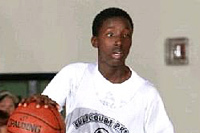 Image from Rivals.com
Daniel Hamilton is the kind of pure scorer who can really thrive at a tournament such as the Peach Jam. Sadly for the UConn commit, he wasn't around for the weekend's festivities, but the event was hardly a total loss.
With his 2014 SG rivals failing to stand out in the points column, Hamilton's scoring punch looks that much more valuable. He also avoided digging himself any deeper holes when it comes to the lingering questions about his shot selection.
Stock Up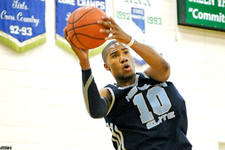 Image from Rivals.com
As a power forward facing questions about his length—and thus, ability to handle bigger opponents—6'7" Craig Victor could've benefited quite a bit from playing at the Peach Jam.
That being the case, his absence does put a dent in his prospects in a crowded PF class.
Victor's low-post game is better developed than many of his rivals, but getting to pit his skills against the superior size of Chris McCullough or Cliff Alexander could've been a great opportunity.
Instead, those big men got to show off the best parts of their repertoires, while Victor loses luster by comparison.
Stock Down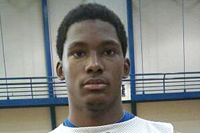 Image from Rivals.com
Touted as a rare 5-star glue guy, Justise Winslow's biggest question mark has been his ability to take over games as a scorer.
Although he didn't dominate on a stacked Houston Hoops squad, he did show encouraging signs when it comes to his jump-shooting ability.
Winslow tied for fourth in the tournament field by shooting .467 from three-point range on 15 attempts.
If he can maintain that kind of reliable long-range stroke, he'll be a much more attractive prospect to teams that need him to provide scoring in addition to his vaunted defense.
Stock Up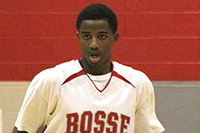 Image from Rivals.com
Another point guard who wasn't around at the Peach Jam, JaQuan Lyle has one edge—his 6'4" build—that can't be diminished by his rivals' performances.
However, Lyle also relies on his scoring ability, and though he's a respectable weapon for a lead guard, the phenomenal showing by Tyus Jones puts every other scoring point guard in the recruiting class to shame.
With Jones, not known as a scorer, racking up 20-plus points a game in South Carolina, Lyle's advantage drops. He's never been considered to be in Jones' league overall, and now the one area where he might have had an edge is disappearing fast.
Stock Down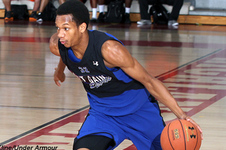 Image from Rivals.com
While fellow Minnesotans Tyus Jones and Reid Travis filled up stat sheets at the Peach Jam, Rashad Vaughn was notably absent.
The third member of the Twin Cities' basketball bumper crop is a 6'6" shooting guard whose future Findlay Prep teammates were solidly represented in South Carolina by sniper Kelly Oubre.
In the Peach Jam's fast-paced environment, Vaughn might not have had much chance to show any improvement in his off-the-ball offense (one of his biggest question marks).
He missed out by not getting to light up the scoreboards against a young group of 2-guards, but the damage wasn't nearly as bad as what some other absent players suffered.
Stock Down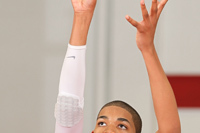 Image from Rivals.com
Although recruits from the class of 2014 did plenty of scoring at the Peach Jam, few distinguished themselves as long-range shooters.
That vacuum would've provided a nice opportunity for marksman extraordinaire Karl Towns Jr., but he didn't play in the tourney.
Towns' three-point touch belies his 7'1", 235-pound frame. He missed out on a great opportunity this weekend to show how he could handle big-time centers such as Jahlil Okafor, especially when it comes to controlling the glass.
Stock Down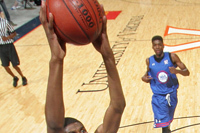 Image from Rivals.com
Kevon Looney has the slender build and impressive leaping ability common to so many power forwards in the class of 2014. Also like many of his rivals, he didn't play in the Peach Jam, where he might have been able to make a major statement.
Looney's offensive rebounding ability is one of his major assets, and it was on the offensive glass that Chris McCullough had such an eye-opening tourney.
If Looney had been in the field, maybe he would've benefited from the monster showing that instead will boost McCullough's profile.
Stock Down
Image from Rivals.com
Even with his Oakland Soldiers squad scuffling to a 3-2 finish, Stanley Johnson helped himself more than any player at the Peach Jam.
Known mostly for his rebounding and defense, Johnson led the tournament field with 25.6 points per game and 5.6 free throws (on a tourney-high 9.6 tries) per contest.
Of course, Johnson's usual assets were on full display as well, with his 10.2 rebounds and 2.0 steals per game ranking third and tying for fifth in the field, respectively.
He still hasn't fixed his erratic three-point shot, but he looked like a future All-American this weekend, regardless.
Stock Up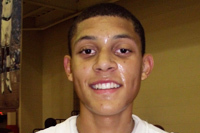 Image from Rivals.com
Justin Jackson didn't actually play badly at the Peach Jam, but he did fail to distinguish himself. Playing with two other elite SF prospects (Justise Winslow and Kelly Oubre) on his own team, the North Carolina commit did little to attract any notice.
While both of his celebrated teammates fired up treys, Jackson wound up in a two-point shooting role, tying for fourth in the tournament with seven field goals made per game.
His relatively modest offensive performance stood in stark contrast to stronger showings from his future Tar Heel teammates Joel Berry and Theo Pinson.
Stock Down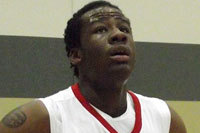 Image from Rivals.com
More than perhaps any player at the Peach Jam, Cliff Alexander needs to be graded on a curve.
On any other roster, he'd have had a good shot to lead the tourney in rebounding, but instead he and teammate Jahlil Okafor placed fifth and fourth, respectively.
The mobile Alexander also turned in his team's best shot-blocking effort, even if (like the other rising seniors in attendance) he couldn't out-reject the top underclassmen in the field.
He could've stood to be more consistent with his scoring—a problem that dogged the entire Mac Irvin Fire roster—but overall Alexander showed that he can play his game against elite competition.
Stock Up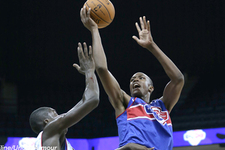 Image from Rivals.com
Myles Turner is the fastest-rising prospect in the class of 2014. The seven-foot Texan might be the best center in the country, but he missed a chance to take on the reigning title-holder in that department in South Carolina.
Jahlil Okafor's solid showing at the Peach Jam keeps him just ahead of the agile Turner on the national recruiting scene.
A head-to-head meeting would've been something to see, but until Okafor takes a significant drop, Turner's absence leaves the Chicagoan as the main man in the middle.
Stock Down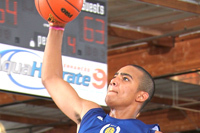 Image from Rivals.com
As impressive as the big men at the Peach Jam were, most of their damage came on the boards. Big-time interior offense wasn't the tournament's strongest suit, and big-time interior offense is what Trey Lyles provides.
The 6'8" PF is the most skilled low-post scorer in the class of 2014, and his absence from South Carolina made it obvious that nobody is ready to challenge him for that title.
He's not the biggest or the most athletic post player, but he's safely ahead of any of the interior point producers who showed up for the Peach Jam.
Stock Up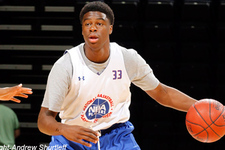 Image from Rivals.com
Emmanuel Mudiay and Tyus Jones are neck-and-neck in the race for top point guard honors in the class of 2014. Mudiay's biggest advantages in that battle have been his size (6'5") and his scoring punch.
Now, with Jones piling up points in South Carolina, Mudiay's edge in that department has narrowed appreciably. It's still a close race, but this weekend's results won't do Mudiay any favors.
Stock Down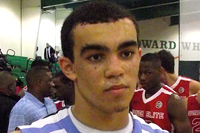 Image from Rivals.com
If Tyus Jones hadn't already been in the running for the top point guard ranking in the class of 2014, he would be now. Jones dominated the Peach Jam like no other backcourt player, reminding the country that he's not just a pass-first point guard.
Jones ranked sixth at the Jam with 21.6 points per game while still dishing out 7.6 assists per contest (good for fifth in the field, tied with Joel Berry).
The only thing that could have made the weekend more successful would have been an improvement on his team's iffy 3-2 record, but nobody can say Jones didn't contribute all he could to the squad's success.
Stock Up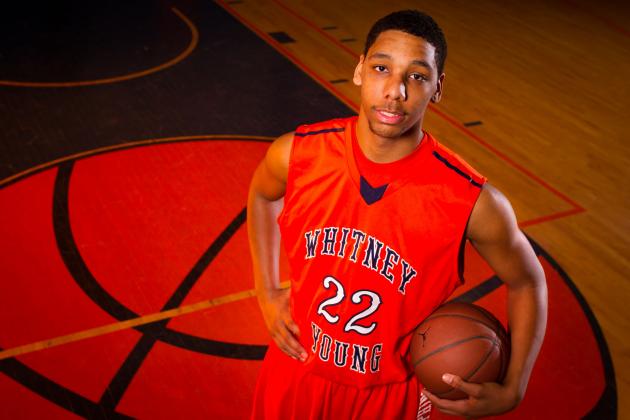 USA TODAY Sports

As the top-rated prospect in the country, Jahlil Okafor really has nowhere to go but down. He didn't dazzle at the Peach Jam like some recruiting classmates, but he didn't hurt his standing much, either.
The hulking 6'10" center made his biggest mark as a rebounder, placing fourth in the field (just ahead of teammate Cliff Alexander) with 10 boards per game.
When he was on his game offensively (26 points on 10-for-13 shooting from the field against Texas Titans) he was unbeatable, but the big man needed a few more of those performances to meet soaring expectations, and he didn't deliver them.
Stock Down