NCAA Tournament 2013: 10 Players Who Can Carry a Team in March Madness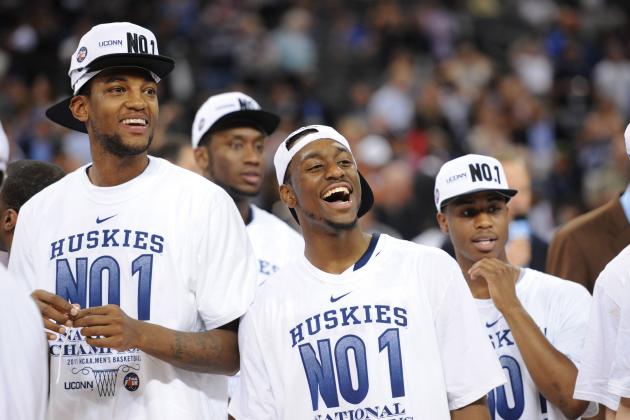 Bob Donnan-USA TODAY Sports

Two years ago Connecticut finished the regular season 21-9 and on the bubble.
Then Kemba Walker happened.
Walker went on a scoring spree that first led his team to the Big East tournament title and then an NCAA title.
Not only did Connecticut's run seem improbable, a one-man show like Walker carrying his team to the championship was a bit unusual. Walker became the first player on a title team since Carmelo Anthony in 2003 to hoist more than 30 percent of his team's shots when he was on the floor.
Balance is typically what wins in March, but every once in a while a scorer comes along who can defy the odds.
Here are 10 scorers who could carry their respective teams farther than expected.
Note: All advanced stats used in this piece come from KenPom.com.
Begin Slideshow

»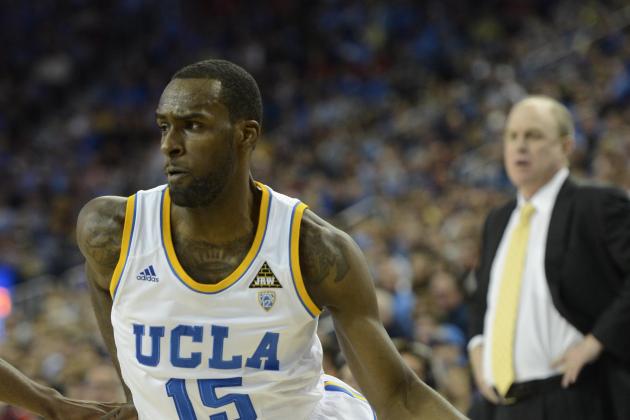 Richard Mackson-USA TODAY Sports

The Bruins are a tough team to figure out this year as one week they look good and another they lose at Washington State. (Cut to Ben Howland banging his head against the wall.)
Yet, fear not UCLA fans. There might be hope for you after all.
If there's a freshman in the tourney who could have a Carmelo Anthony-like impact, it's Shabazz Muhammad.
Like Anthony, Muhammad is a tough matchup for most college players and he has a pro game in that he can score in a variety of ways. He's not quite at Anthony's level, but his numbers this season are not far off from Anthony's lone season at Syracuse.
| | 2-pt % | 3-pt % | FT Rate | FT % | PPG |
| --- | --- | --- | --- | --- | --- |
| Muhammad | 46.0 | 41.5 | 39.9 | 71.7 | 18.1 |
| Anthony | 49.6 | 33.7 | 38.9 | 70.6 | 22.2 |
Syracuse was 24-5 going into the NCAA tournament as a No. 3 seed and had lost by 13 to Connecticut in the Big East tournament. In other words, no one really expected the Orange to do what they did.
No one is expecting much from the Bruins. Now they just need to find someone to play the Hakim Warrick role.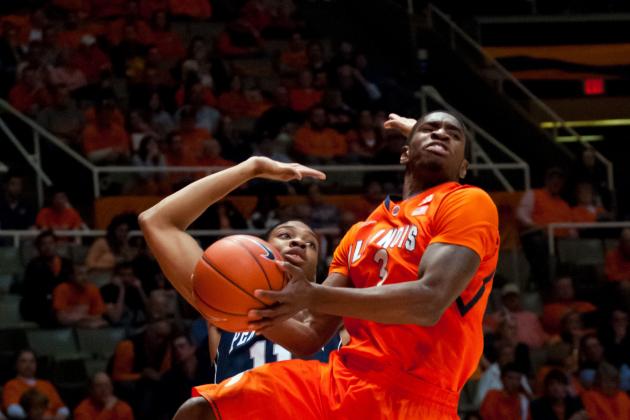 Bradley Leeb-USA TODAY Sports

Brandon Paul is one of the streakiest shooters on one of the streakiest teams in the country.
Remember when Illinois was 12-0?
Paul was averaging 18.8 points per game at that point, which included dropping 35 in a win on the road at Gonzaga.
The Illini followed the 12-0 start by losing eight of 11, then won five straight and have since lost two of three.
Assuming the Illini get in the tourney, this is a team that could lose in the first round or make the Final Four, and neither would be shocking.
Expect Paul to be on one end of the extreme whatever happens.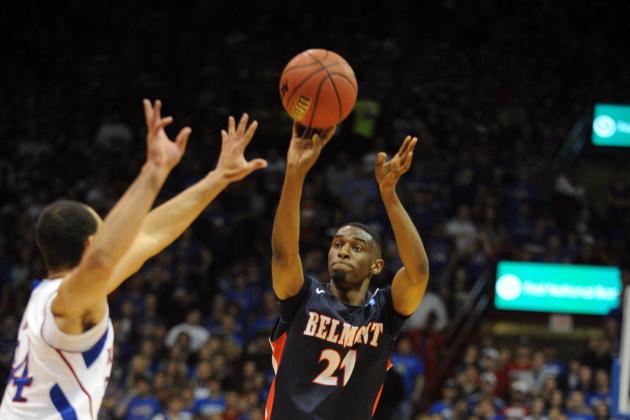 USA TODAY Sports

Clark has three 30-plus point games this season and is one of the best three-point shooters in the country at 46.2 percent.
Sometimes the best shot for a small school to navigate its way through the bracket is to ride a hot shooter and hope he doesn't cool off.
Exhibit A: Stephen Curry and Davidson.
Curry scored 32 points a game during Davidson's 2008 march to the Elite Eight and he made 52.8 percent of his threes in the first three games before going just 4-of-16 beyond the arc against eventual champion Kansas.
Clark is not a gunner on Curry's level—he takes 26.1 percent of his team's shots compared to 36 percent that year by Curry—yet both teams rely a lot on the deep ball.
So chuck away, Mr. Clark. And it also might help if your parents are ready to be shown on TV 37 times a game.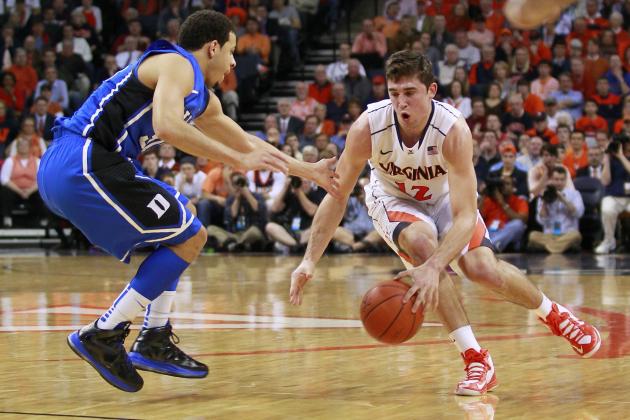 Geoff Burke-USA TODAY Sports

Virginia's Joe Harris has been good all season, but he took it to another level recently.
Over a nine-game stretch, Harris averaged 22.6 points, shot 45.2 percent from deep and got to the free-throw line often, making 45 of 54 attempts. He finished it off with 36 points to knock off Duke.
So what did this tell us?
The Wahoos are plenty capable of pulling off a big upset if Harris is doing his thing. Harris can also stay hot over a prolonged stretch. He's a tough matchup on the perimeter at 6'6" with the ability to shoot over most guards.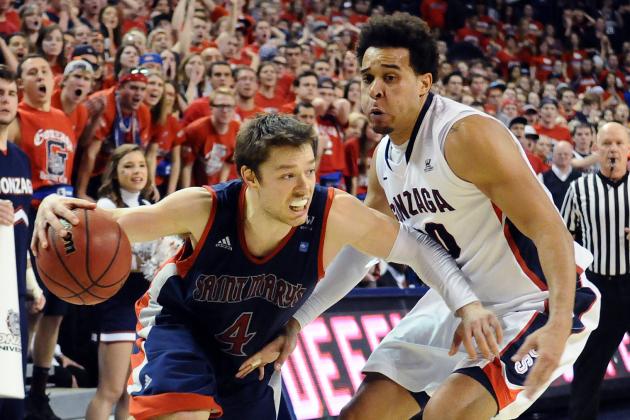 James Snook-USA TODAY Sports

College basketball coaches have fallen in love with the ball-screen offense, only exceeded by their love of excessive timeouts.
The search for who does what everyone loves to do best will take you to St. Mary's, and the reason is Matthew Dellavedova.
The Aussie point guard uses screens like an NBA vet, and not only does he get plenty of buckets off ball-screen action, he also always has his head up in search for an open looks at a three or layup for a teammate.
Dellavedova is the rare college basketball player who can dominate scoring or dominate with his passing—or a little of both at the same time. He has scored 20-plus points 11 times this season. He has seven or more assists in 14 games.
To witness Dellavedova at his best, go over to Watch ESPN and check out the first half of St. Mary's Valentine's Day loss to Gonzaga. The Zags are clearly the superior team, but they nearly got Dellavedova'd. He scored 19 of his team's 33 points in the first half and had the Gaels ahead 33-32 at half.
Dellavedova is so good that you better have spent plenty of time game-planning for what he does. In the NCAA tournament, that's not always possible and that's why the Gaels could go on a run.
James Snook-USA TODAY Sports

This is a Gonzaga player, so let's first get this out of the way.
Kelly Olynyk's unbelievably efficient numbers—he's making 69.5 percent of his twos—are not the result of weak competition. The Zags played eight games against teams that will likely make the NCAA tournament. In those eight games, Olynyk averaged 21 points (better than his season average of 17.7) and he made 62.7 percent of his twos.
So he becomes a really good finisher against good teams as opposed to an out-of-this-world finisher.
What Olynyk has is a great feel for how to score, use angles and his size. He can score over either shoulder. He can face up and shoot jumpers.
Sure, no one in the WCC could really guard Olynyk, but there are few players in the entire country who could guard Olynyk.
Olynyk is near the top of the list of reasons the Zags are good enough to reach the Final Four, and if he puts up 21 a game, they'll probably get there.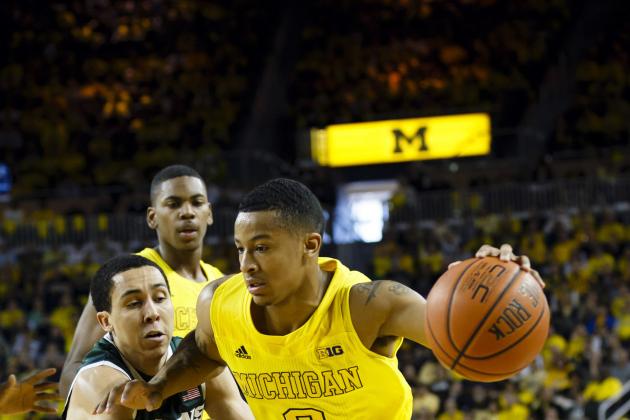 Rick Osentoski-USA TODAY Sports

The reason Trey Burke, who should be near the top of every Player of the Year ballot, isn't No. 1 on this list is because scoring isn't always the best thing he can do.
Burke is surrounded by some great shooters in Ann Arbor and the Wolverines are best served when he is involving his teammates and picking his spots to score.
When Michigan is in trouble, Burke can occasionally come down with a dose of hero syndrome. In early February losses to Indiana and Wisconsin, for instance, Burke got up 24 and 21 shots, respectively.
Burke is capable of making some unbelievably difficult shots, and one night if no one else is hitting, he could certainly carry the Wolverines.
He just needs to keep those shot attempts below 20.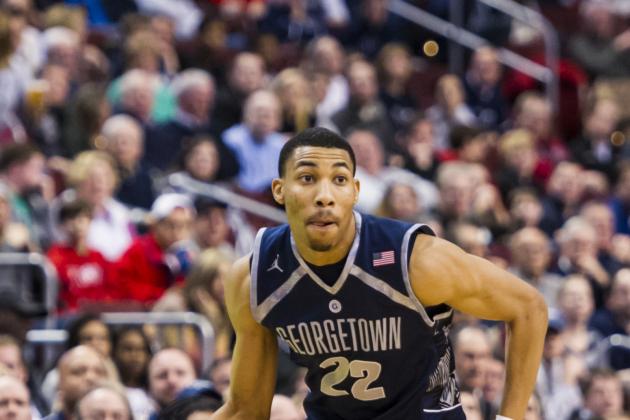 Howard Smith-USA TODAY Sports

The story of Georgetown in 2013: "When the Hoyas got rid of Greg Whittington and figured out Otto Porter was really good."
Porter has been unbelievably consistent since Whittington was ruled academically ineligible. He has scored 17 or more points in 12 of 15 games, which is impressive all alone. Consider that the Hoyas play slow and don't give their guys a lot of possessions to rack up the points and those numbers are unreal.
Porter is producing because of efficiency. Part of the reason Georgetown lost on Wednesday at Villanova was Porter finally cooled off, making only 2-of-9 threes. In the 13 games prior, Porter had shot 50.9 percent from distance and had only three games during that stretch where he was below 50 percent.
Then there's this: Is there a player that a coach can trust more than Porter down the stretch?
In half-court NCAA tourney games, picking the team with Porter will be a wise choice.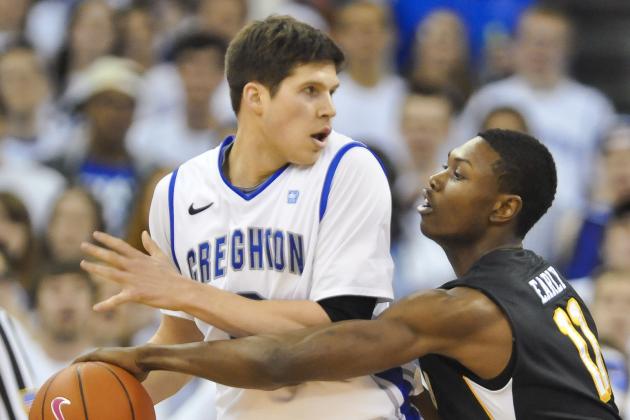 Dave Weaver-USA Today Sports

Each year there always seems to be a scorer that everyone wants to root on. We'll call him the Jimmer.
This year's Jimmer is Creighton's Doug McDermott.
McDermott was given the nickname "Dougie McBuckets" by the fellas over at College Basketball Talk, because frankly, he can get buckets. Everywhere. He shoots 48.1 percent from three and 59.4 percent inside the arc, which are ridiculous percentages for someone who the defense always keys in on.
McBuckets is averaging 23.4 points per game, which ranks second nationally, and he's the only one in the top 20 shooting better than 50 percent from the field.
Now, someone make McBuckets a song as good as Jimmer's.
Andy Lyons/Getty Images

Ohio State's win on Tuesday at Indiana reminded everyone that the Buckeyes are one of those teams who can win on any given night.
Yeah, that sounds kind of ridiculous to say in this season of "did that really just happen" upsets, but with a win Sunday against Illinois, the Buckeyes will have beat every team in the Big Ten at least once.
And this brings us to only the second man on this list (Doug McDermott is the other) who gets up more than 30 percent of his team's shots: Deshaun Thomas.
The concern for the Buckeyes has been that their offense is Thomas and not much else. That's still a concern, but hey, they have Thomas. Thomas and a bunch of role guys is better than most offenses in the country.
If you're looking for a team and player that could pull off what Kemba Walker and UConn did two years ago, this could be the team.
What is probably lost in all the points Walker put up—he averaged 24.6 in 11 straight postseason wins, by the way—is that he was surrounded by some pretty good athletes who could defend and started finding their way offensively in March.
That sounds a lot like Ohio State.