Shabazz Muhammad, Nerlens Noel Decision: Live Analysis and Twitter Reaction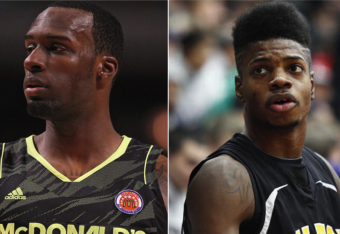 Today is D-Day in college basketball.
Forget the national championship—that was over a week ago. Tonight, Shabazz Muhammad and Nerlens Noel will make their decisions as to where they will play college basketball. The nation's No. 1 and No. 2 recruits, according to Rivals, can change the landscape of college basketball depending on where they go.
Muhammad, a 6'6" guard from Las Vegas and McDonald's All-American MVP, is as hard a worker as he is talented, which makes him a very dangerous player. He is choosing between Kentucky, UCLA and Duke.
Noel is a 6'10'' center, who recently reclassified from 2013 to 2012. Of the Anthony Davis mold, he is an athletic freak, an incredibly long shot-blocker and a raw offensive talent. To put it simply, he doesn't have a ceiling. Noel will be choosing between Syracuse, Kentucky and Georgetown.
Stay with me all day as I give you all the up-to-date news and live-blog their decisions being covered on ESPNU. Fair warning: I am a Kentucky fan. I apologize.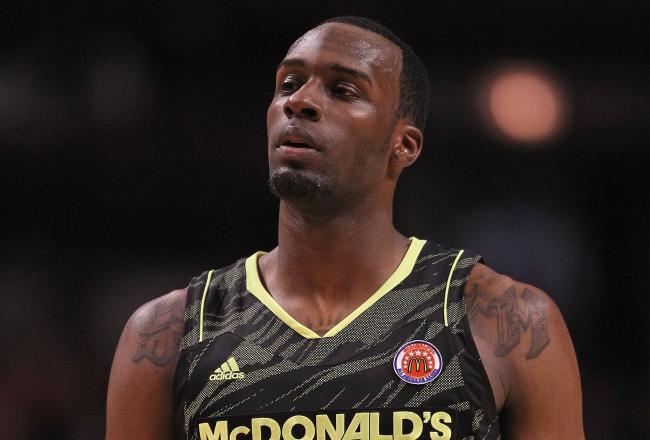 Well, I'm signing off to go celebrate. Shabazz to UCLA and Nerlens to Kentucky. I'll take one out of two. See you next year for No. 9 folks.
Weird, people already got jokes about Noel and his academics and projecting them onto Kentucky. Did you know Kentucky players don't go to class? Everybody knows it! It's a fact!
I can't be the only person that thinks Nermal when I hear Nerlens.
Oh, I am? Okay. Noted.
Alright, we had Bow to the Brow for Davis, what's going to be the phrase for Noel?
I'm coming up blank so far, but I have no doubt Big Blue Nation will have something soon.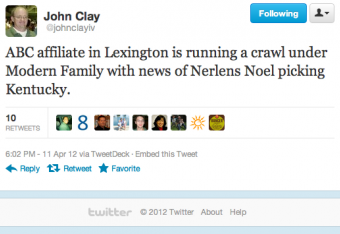 Do you think Kentucky is excited to have Noel?
Via @johnclayiv.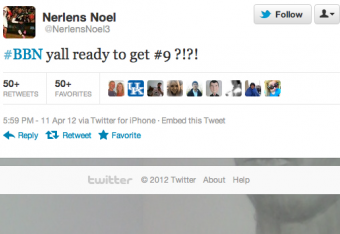 Nerlens makes it official on Twitter.
Video that Kentucky fans will be watching over and over for the next couple of days. Has the same kind of feel as when we got Davis.
I thought getting both Shabazz and Nerlens would be an embarrassment of riches, but honestly just seeing Noel, Poythress and Goodwin together, it still feels that way even without Muhammad.
What do you think? A repeat for Kentucky or was this year's team the exception?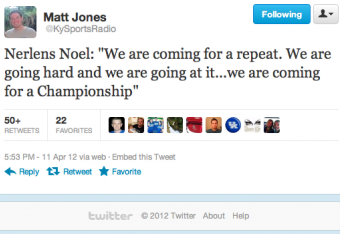 Like I said before, Noel is at Kentucky for a championship. I respect that.
Via @KySportsRadio.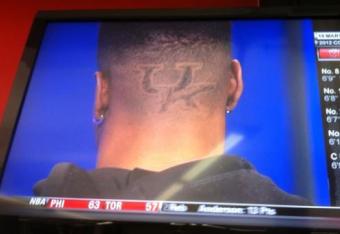 Here's a picture of the soon-to-be-famous back of Nerlens Noel's head.
Can you have a dynasty with new players every year? I say yes.
Here's a question: what does Kentucky reloading like this mean for guys like Lamb and Teague? Will they bail knowing that they once again won't get a chance to take center stage?
As much as everyone is drooling over Noel, Alex Poythress may be the most put-together player coming to Kentucky right now. He's a beast, Noel is still a bit of a project.
Don't start celebrating yet, Kentucky. Big questions as to his academic eligibility according to Jeff Goodman.
Let's hope this isn't another Derrick Rose situation. Actually, forget I said anything.
Somebody teach Dave Telep to use the touch screen please.
Another No. 1 class for Kentucky. The rich get richer.
He pulled out the "taking my talents" line, but stumbled all over himself. All is forgiven, don't worry Nerlens.
Noel is going to Kentucky!!!!
THE FLAT TOP IS THE NEW UNIBROW!
Finally. It's Nerlens time. Everyone hold on to your hats/flat tops.
On paper, Nerlens Noel is a better shot blocker than Anthony Davis coming into college. Try to process that for a second.
I respect Shaka Smart for staying at VCU. I hope he stays there until Calipari inevitably leaves down the road and Kentucky can stach him up.
If Noel wants to be the man, he'll go to Georgetown. If he wants a title, he'll come to Kentucky.
Yeah, he'll go to Georgetown. I've convinced myself.
If Isaiah Austin doesn't wear old-school, Horace Grant-like goggles next season, he will be a bust. I don't care how well he plays.
Why, I did win my office McDonalds All-American prediction pool. Thanks for asking!
Peanut butter and jelly or peanut butter and honey. Coming up next on Signing Day!
Seriously. Bring on Nerlens. I'm getting impatient.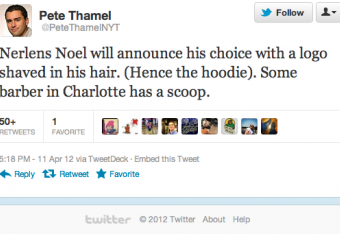 I think this news from Pete Thamel bodes well for Kentucky. You don't shock the world by going to UK. You DO however shock the world by getting them shaved into your hair. I just got more excited.
This article is
What is the duplicate article?
Why is this article offensive?
Where is this article plagiarized from?
Why is this article poorly edited?