Andrew Wiggins: Ranking Every Suitor's Chance to Land Top Basketball Recruit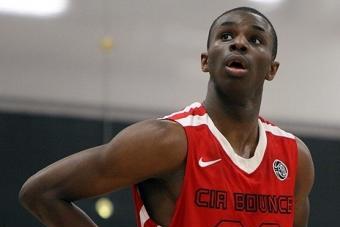 via 247 Sports
Andrew Wiggins is having himself a week.
Last Saturday, the number-one-rated recruit in the Class of 2013 celebrated his 18th birthday. On Monday morning, the Canadian sensation learned he'd been named the Naismith High School Player of the Year. Less than 24 hours later, internet video broke of him throwing down the dunk to end all dunks against a school in Gainesville, Florida.
Mercy.
So with the hype-train chugging along at full steam, we decided to revisit Wiggins' pared-down list of potential college destinations and determine which one is most likely to score his signature.
Begin Slideshow

»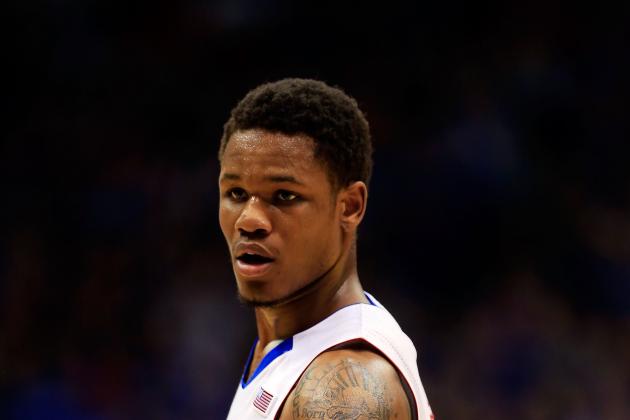 Jamie Squire/Getty Images

The Good: It's Kansas, for chrissake—Rock Chalk, Allen Fieldhouse, eight straight Big 12 titles. What more could a recruit want? Even among college basketball's elite, the Jayhawks are a model of stability.
The environment in Lawrence also seems well-suited to Wiggins' disposition. He's not a look-at-me guy, and while Kansas takes it's basketball plenty serious, Lawrence's small-town feel deflects some of the unwanted publicity.
The Bad: Good as Kansas has been, coach Bill Self doesn't have the best reputation when it comes to one-n'-done talent. Excepting Xavier Henry and Josh Selby—both of whom turned out to be fringe-NBA players—most of Kansas' future pros spent at least two years on campus. That includes current Jayhawk and future lottery pick Ben McLemore, who took a red-shirt year in 2011-2012 before breaking out this season.
Then there's the question of Wiggins' supporting cast. While Kansas deserves the benefit of the doubt here—after all, it's been 13 years since the Jayhawks finished outside the AP top 25—we should note that McLemore is almost certainly headed to the NBA while fellow starters Elijah Johnson, Jeff Withey, Travis Releford and Kevin Young are all seniors.
If you dig Kansas for the stability, why go there during the rare year when it's turning over its entire starting lineup?
The X-Factor: Wiggins has yet to visit Lawrence. Kansas fans could always hope some of the Allen Fieldhouse magic rubs off.
Chance He Ends up at Kansas: 5 percent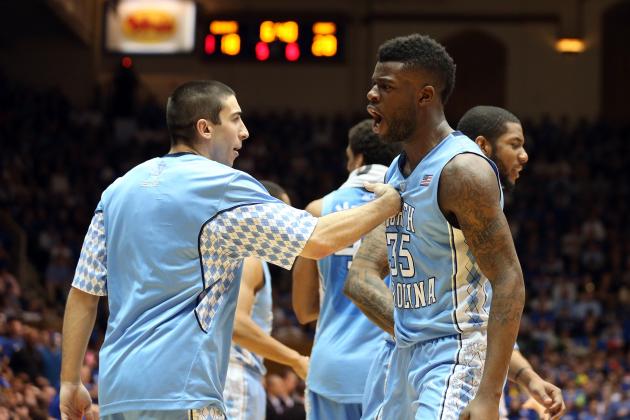 Streeter Lecka/Getty Images

The Good: Dexter Strickland is the only senior on North Carolina's roster. If forward James Michael McAdoo returns for his junior season, the Tar Heels should be well-positioned for a deep tournament run. Add Wiggins to the mix, and Roy Williams' team is probably the preseason ACC favorite.
You also can't discount Chapel Hill's charms. Beautiful campus? Check. Tradition? Check. Marquee rivalry? Double check.
Carolina blue is an iconic color in college basketball, and a powerful intoxicant for top recruits.
The Bad: Like Kansas, North Carolina has been oddly quiet on the one-n'-done front. Brandan Wright is the only Tar Heel I can find who made the jump in one year.*
I also think North Carolina's conference allegiance hurts its chances. Florida State is the sentimental favorite on Wiggins list (for reasons we'll get into later), and if he chooses to play ball elsewhere he may want to avoid direct confrontation with the Seminoles.
Finally, one wonders if UNC is a bit too veteran-heavy for Wiggins' liking. Both McAdoo and fellow sophomore P.J. Hairston rank among the ACC's top ten in percentage of shots taken (per KenPom.com). Would either of them cede control of the offense to a freshman? Would Wiggins get enough touches to prove himself on a veteran-laden team?
The X-Factor: Jabari Parker is the nation's second overall recruit, and used to reign supreme before Wiggins re-classified. Naturally, there's a bit of a rivalry between the two—Parker's father publicly questioned the rankings when Wiggins moved to number one—and part of me thinks Wiggins would relish the opportunity to face off against Parker, a Duke signee, twice a year in the nation's marquee college matchup. Or maybe that's just a fan's daydream.
Chances He Goes to UNC: 10 percent
*Thought I might have missed a UNC one-n'-doner, and it turns out I did. Marvin Williams also made the jump from Carolina to the pros after one season.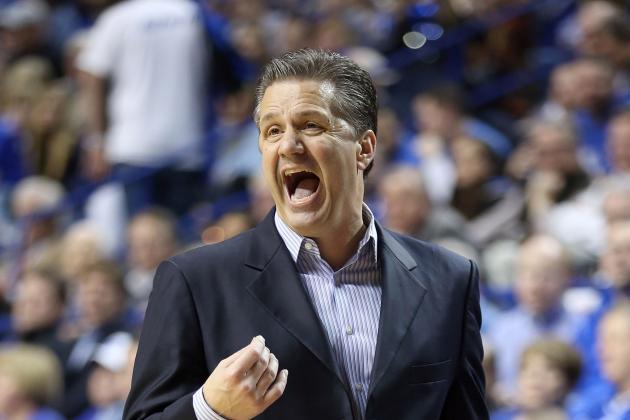 Andy Lyons/Getty Images

The Good: When it comes to Kentucky coach John Calipari and one-n'-done players, the names speak for themselves: John Wall, DeMarcus Cousins, Anthony Davis, Michael Kidd-Gilchrist, Eric Bledsoe, Brandon Knight.
No coach has been better at managing freshman talent during the one-n'-done era, both in terms of fostering immediate success at the college level and maximizing future potential. Just ask the guys on that list. Or better yet, ask their accountants.
The Bad: Sports Illustrated's Pete Thamel penned an article on Wiggins in early February, parsing both the recruit's game and his personality. Embedded was some interesting insight from Wiggins' high school coach, Rob Fulford:
The consensus from those around Wiggins is that he's unfailingly polite, humble and always willing to deflect attention to his teammates. He also gets paralyzed by discussions of his recruitment and is annoyed by the amount of coverage his college choice is getting. Huntington Prep Coach Rob Fulford said that Wiggins won't even discuss his recruitment with him and says that a strong sports information department will be necessary when Wiggins gets to college.

"He just hates it," Fulford said of the attention. "His PR people are going to have to be really good."

He added: "He's a different kid. He really is. When I say he doesn't like media attention, he doesn't like media attention."
Now let's talk about Lexington, Kentucky, a town of 300,000 that treats its college basketball players like deities-in-training...a place where ESPN cameras are tucked around every corner...the beating heart of a state that lives and dies with college basketball.
Now try to imagine the kid described above spending his 19th year in the place described above. Doesn't make much sense, does it? Fulford even obliquely addressed the prospect of Wiggins attending UK, and not in a tone that would excite Big Blue Nation:
"We played in North Carolina, we had seven or eight people in Carolina shirts," Fulford said, noting that North Carolina and Kansas are also suitors for Wiggins. "We're in Kentucky and we've sold out three 6,000 seat gyms. They're crazy. They're crazy in a good way. They show how much they want you. It's overwhelming. He just hates attention."
The X-Factor: If Wiggins goes to UK, he could be the headliner for perhaps the greatest freshman class ever. Big Blue has already signed five players rated in the ESPN 100 top 20, including three slotted in the top 10. That kind of talent that could make Wiggins' transition to college exceedingly smooth.
Chance He Goes to Kentucky: 25 percent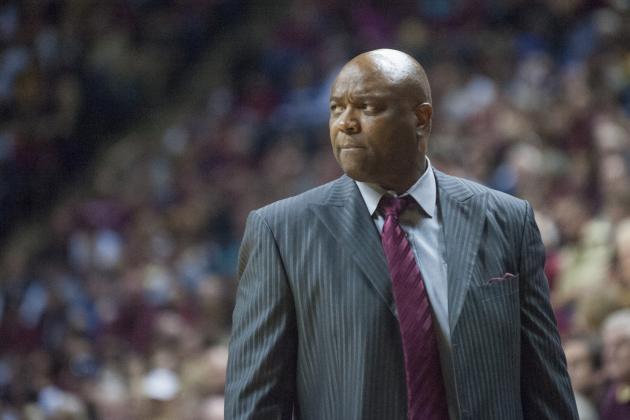 Jeff Gammons/Getty Images

The Good: Let's start with some links:
Here. Here. Here...and...Here.
The common link between all four? Each one was published within the last month and each one insinuates that Florida State is the frontrunner for Wiggins' signature. That may come as some surprise given the Seminoles lack of basketball pedigree, but the ties between Wiggins and FSU run deep.
His parents met in Tallahassee. Dad, a former NBA player, was a standout on the school's basketball team. Mom, a two-time Olympic silver medalist, ran track for the 'Noles. In seventh grade, Wiggins accompanied his older brother Nick on a recruiting trip to FSU and threw down his first ever dunk at the Tucker Center.
The basketball culture at Florida State also seems to mesh with Wiggins' reluctant-star persona. Highly touted as he is, the forward phenom would still be second-billing in Tallahassee behind Jimbo Fisher's football team.
There's also the sense that Wiggins' talent would shine brighter on a team with fewer competing interests. An NBA assistant coach told SI's Pete Thamel that Wiggins could have a "Durant-like impact" at Florida State, referring of course to the historic freshman campaign Kevin Durant had at the University of Texas. That means touches, minutes and instant impact.
If the consensus is that Wiggins will be the top pick in the 2014 NBA draft no matter where he plays college ball, why not go to a school where he can maintain some privacy, enjoy the college experience, follow in his dad's footsteps and get plenty of run?
The Bad: Florida State has struggled to stay above water in the ACC this year, and star shooting guard Michael Snaer is set to graduate. Beyond that, coach Leonard Hamilton has some talented pieces, but few guarantees.
So while Tallahassee offers Wiggins some cover off the court, the reverse would be true on it. Wiggins' game will be on full display at FSU, and if he can't drag this team past mediocrity, it could alter his draft stock.
The X-Factor: Florida State has already signed Xavier Rathan-Mayes, the 40th-rated recruit in the class of 2013 and Wiggins' high school teammate. The two also play travel ball together, and their fathers, both former FSU basketball players, raised the boys about 15 minutes apart in Canada. The way we commoditize these kids, it's easy to forget that they're 18 years old—and sometimes they just want to play ball with their friends.
Chance He Goes to Florida State: 60 percent