NCAA Basketball Tournament 2013: Top 25 Celebrity March Madness Fanatics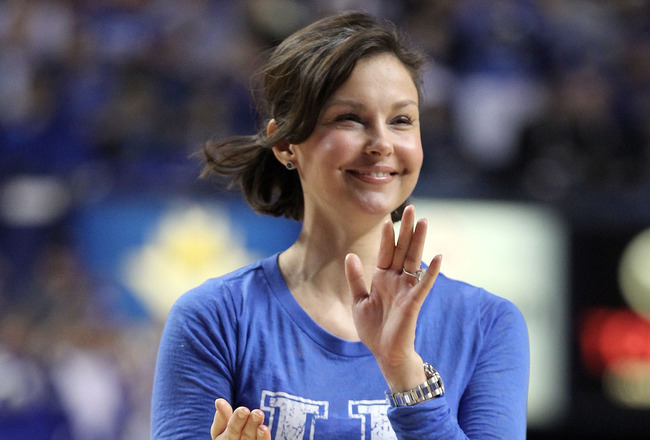 Andy Lyons/Getty Images
March Madness 2013 is here, and as always, celebrities will flock out in droves to support their favorite teams in anticipation of a deep run to the Final Four.
From the covert supporter to the sideline screamer, most of these 25 celebs will likely be on camera during March Madness—in the stands, that is. With major programs like Indiana, UCLA and Kansas all expected to make the big dance, there's a good chance a few celebrities we don't hear much about will come out to support their CBB team.
College football might be the collegiate sport that draws the most outside attention from high-profile fans, but March Madness is a chance for basketball fans to get up and yell at bad officiating, too—just like the rest of the country.
In the spirit of March Madness and the 2013 NCAA tournament, here's a showcase of the top 25 fans you should be on the lookout for (or appreciate for their activism) during every round this season.
25. Chris Farley
The Marquette grad and funny man met an untimely demise in 1997, but he made sure plenty of his work went to bettering the NCAA tournament before he left this Earth.
He makes this list posthumously because of his time at one of the better basketball programs in the 1980s and because of contributing funny videos like this one and the one to the side.
Farley wasn't a noted CBB fan, but he enjoyed sports and likely walked the halls at Marquette being reminded of his school's place in NCAA tournament history on a daily basis. From Al McGuire to the school's 1977 championship, Marquette was a cool place to go to school and love basketball.
As a tribute to two of the best March Madness commercials ever, we'll infer that he was a big-time college hoops fan at heart.
24. John Edwards
During his presidential campaign and subsequent popularity, the North Carolina senator was a mainstay at Tar Heel games. His decline from the public eye and not-guilty verdict in a criminal trial reduced his popularity drastically, but that likely didn't stop him from being a college basketball fan.
During his personal run and UNC's in the mid-2000s, Edwards was a fixture in the stands each time the Tar Heels prepared to contend for a national title. While he might not risk heckling or embarrassment to leave the house and catch a game anymore, he's still one of the most recognizable names on the college basketball list of celebrities who care.
23. Will Ferrell
Jayne Kamin-Oncea-USA TODAY Sports
Will Ferrell is a huge USC supporter.
He's also in L.A. for Laker games and isn't shy about coordinating with Staples Center about putting on a skit with Shaquille O'Neal or acting a fool with fellow actor John C. Reilly in front of the home crowd.
As a USC supporter, Ferrell is also not shy about pledging his supporter for the Trojans. He's a frequent sideline participant during football games and is a big booster after going to the school.
His involvement with the basketball team hasn't been as great, but he gets the nod over a very crowded field because of the level of support he would offer if the Trojans made a deep run in the tournament.
And maybe a little bit for his role in Semi-Pro.
22. Eric Stonestreet
The lovable character from ABC's Modern Family isn't just a sports fan on the hit sitcom.
He's also a big supporter of the Kansas State basketball team and had plenty to cheer about over the past few years with big names like Jacob Pullen and Michael Beasley helping the Wildcats to some memorable tournament games.
With Kansas grabbing most of the headlines for basketball in the state, it's nice to see a guy like Stonestreet step up and take the face of the Kansas State celebrity scene. The Wildcats have made major strides over the past few years and will likely pick up a few more celebs with a few more deep tournament runs.
21. Jay-Z
Anthony Gruppuso-USA TODAY Sports
Kentucky easily has the highest-profile set of celebrity fans in the college football world.
Jay-Z could accomplish that almost single-handedly, but the rest of the Wildcat supporters on this list will make sure that the school holds that designation on any list that includes college basketball supporters.
From going into the locker room with the team to hanging out with coach John Calipari, Jay-Z has some inside knowledge that makes him the perfect celebrity to first represent the Wildcats on this list. Since he now has more responsibility and an NBA team in the thick of a playoff race (the Brooklyn Nets), we likely won't see much of Jay-Z at UK games this year.
That's OK, because Calipari knows he has Jay-Z in his pocket if he ever needs a celeb to spice up a home game in Lexington (which likely won't be necessary, anyway).
20. Bill Clinton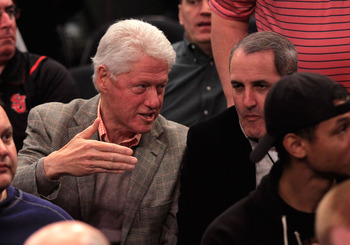 Chris Trotman/Getty Images
During the 1990s, Bill Clinton was Arkansas' biggest supporter.
The former president and politician came to fame as an Arkansas man and made sure his loyalties never wavered during his time in office in the upper Northeast.
That being said, he will also frequent Big East and tournament games from time to time—Clinton is a true fan of the game. He doesn't have the notoriety he once did (particularly Arkansas' run from 1994-95), but he'll still catch a game here and there, and his support of the tournament in the 1990s did wonders for the national audience.
Clinton was the first U.S. President to take an interest, and it's something Barack Obama has continued today.
19. Vince Gill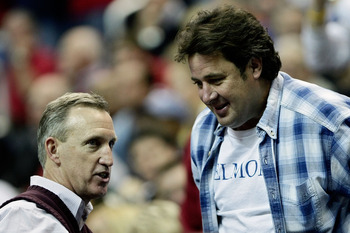 Win McNamee/Getty Images
The country music icon has an honorary doctorate from Belmont, and he has, in turn, pledged his full support for one of the best mid-major programs over the past five years.
He's friends with head coach Rick Byrd, and has been for quite some time, and finds himself attending nearly every Belmont Bruin home game. Hailing from Tennessee, Gill has plenty of chances to get to games, and he'll be a front-line supporter for any kind of tournament run the Bruins make over the next few years.
He doesn't make big fuss about it, but Gill is a solid supporter of the team and will be for years to come, it seems. That being said, he's an easy choice for a celeb who will get excited about March Madness.
18. Condoleeza Rice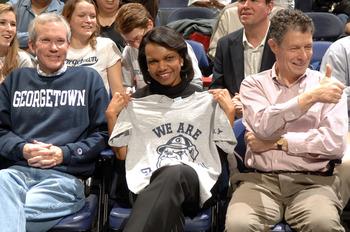 Mitchell Layton/Getty Images
Once one of the most powerful women in the United States, Rice was a frequent attendee of the Georgetown Hoyas' men's basketball team.
Now a faculty member at Stanford, Rice's love for sports is still well-documented.
Her expose on a love for the WNBA showed (via the Daily Beast) a picture of a woman who's passion for sports is only outweighed by her passion for political science. It's unclear if she's a big supporter of the Stanford teams (she, no doubt, would be a strong candidate), but she is a breath of fresh air for sports and politics co-existing in one's life.
No matter which teams are playing, Rice will be supporting the overall cause—an excitement for sports.
17. Tom Arnold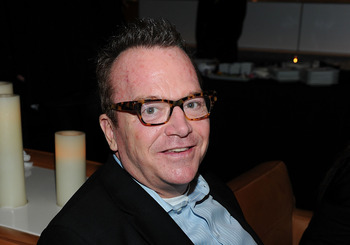 Alberto E. Rodriguez/Getty Images
To be Roseanne Barr's husband, you can't be shy about anything.
That's the case with Arnold and his love for the Iowa Hawkeyes. From football to basketball and everything in between, the actor's home and his favorite sports team are from the great state of Iowa. He is an active booster and supporter of the squad, but it doesn't look like he'll get a chance to support his Hawkeyes this season.
The Big Ten is the toughest conference in college basketball, and it looks like Arnold will have to wait at least another year to make an appearance at March Madness.
16. Drake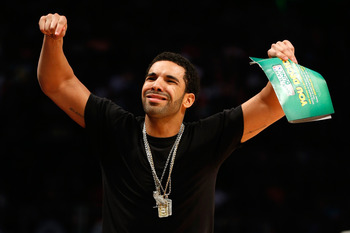 Scott Halleran/Getty Images
Drake didn't even play for the Kentucky Wildcats during their 2012 championship run, but that didn't stop him from picking up a championship ring (via Yahoo! Sports).
From sitting behind the bench to speaking to the team, Drake is heavily involved in Kentucky sports. His celebrity status opens up the program to the kind of publicity that is only gained by knowing a world-renowned recording artist.
With Kentucky struggling a little bit this season, Drake hasn't been as heavily publicized, but that doesn't mean he won't be front and center during every March Madness his Big Blue squad competes in going forward.
15. Ashton Kutcher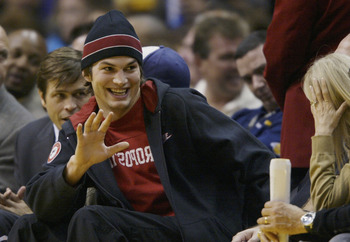 Doug Benc/Getty Images
Like Tom Arnold, Ashton Kutcher is a big-time supporter of the Iowa Hawkeyes. He makes his home in the state when he's on the big screen and has been seen at basketball and football games over the past few years since gaining big-time, on-screen status.
Kutcher is such a fanatic that he had the eyes of the NCAA upon him during a 2010 recruiting scandal that rocked the Midwest (via Yahoo! Sports). Like Arnold, he'll have to wait for another Iowa appearance in March Madness, but that won't take away their loyalty to the program.
14. Paul Rudd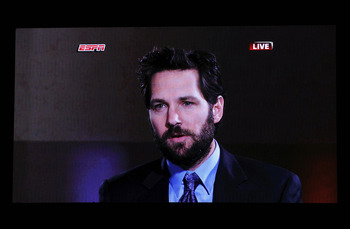 Kevin Winter/Getty Images
Kansas has more than one actor who supports the team, and Paul Rudd is the first one who appears on our top 25 list. Rudd wore a Kansas hat in the 1995 movie Clueless, something that you'd only know if you've seen the movie (which I have).
That, combined with his penchant for being seen at Jayhawks' games, makes Rudd an obvious choice for this list. He's a diehard Kansas fan, but one other KU man on this list has him beat—at least in the "fanatic" category.
13. Bill Murray
Ezra Shaw/Getty Images
When he's not chasing gophers or lacing it up to play basketball with Michael Jordan and the Toon Squad, Murray is an avid supporter of both Towson (where his son is an assistant coach) and the Illinois Fighting Illini.
However, those are not the only teams that Murray has cheered for during the tournament.
During George Mason's 2010 appearance, Murray was spotted cheering for the Patriots, and if you look at his career body of work outside of acting, there's a good chance other teams have had his support over the years, too.
No matter which teams make the tournament, there's a good chance Murray will pop up somewhere over the course of March.
12. Olivia Wilde and Jason Sudeikis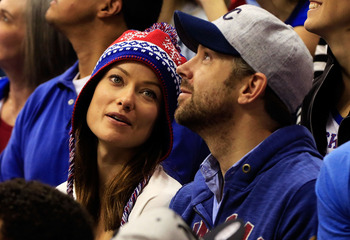 Jamie Squire/Getty Images
Sudeikis is the more recognizable Kansas fan of the newly engaged super couple, but we'll include Wilde here, too, because their marriage will likely lead to more pictures like the one to the left.
After growing up playing high school basketball in Kansas, Sudeikis would come to fame on Saturday Night Live before returning home to catch a few of his hometown Jayhawks games each season. With Bill Self putting his team in title contention almost every season, Sudeikis (and now Wilde, too) have plenty to cheer about going forward.
Although the Jayhawks have slipped a bit in the polls after rough losses this season, they are still a dark horse to make a deep tournament run. That should put this power couple in position for plenty of press coverage during March Madness.
11. Jaleel White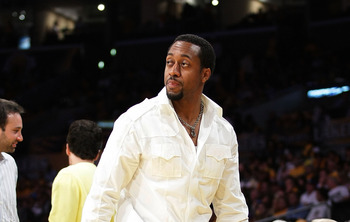 Noel Vasquez/Getty Images
Steve Urkel is a thing of the past, but the man who played the well-loved character on the 1990s sitcom Family Matters is a UCLA basketball junkie.
White can be seen frequenting games both for the Los Angeles Lakers and Bruins, but it appears his passion is with the college club. He has plenty to cheer for this year, as his Pac-12 partners look poised for at least a shot at the conference title.
With Shabazz Muhammad and Kyle Anderson sparking some serious interest in UCLA hoops yet again, there's a good chance White will follow the Bruins throughout the first few rounds of the NCAA tournament.
10. John Daly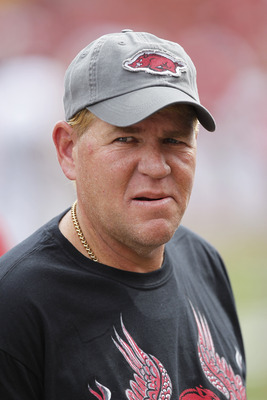 Joe Robbins/Getty Images
John "Wild Thing" Daly has never been shy about speaking his mind.
That's true with his favorite team, the Arkansas Razorbacks, and he shows it with a season-ticket package to both football and basketball games each year. He was active in recruiting Jon Gruden to the Razorbacks after Bobby Petrino was involved in last year's scandal (via USA Today) and he's passed former President Clinton on the Hog list of most frequent attendees.
Like Clinton, he's still waiting on the Arkansas successes that we saw in the mid-1990s. However, that hasn't stopped Daly from appearing at every event he can when he's not on the golf course.
9. John Mellencamp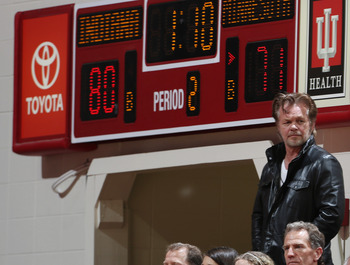 Brian Spurlock-USA TODAY Sports
Cougar is an Hoosier for life.
That's evident by his booster status at the school and the campus pavilion that holds his name. Mellencamp will also show up at games from time to time, as noted by his appearance in the photo to the left at Assembly Hall.
As the Hoosiers prepare for a potentially deep tournament run, there's little doubt he will be in the stands and he will likely travel to wherever Indiana ends up this season. Since Tom Crean has earned his team a high seed, and it's championship or bust for Indiana, Mellencamp will hopefully be doing a lot of cheering during this year's March Madness.
8. Justin Timberlake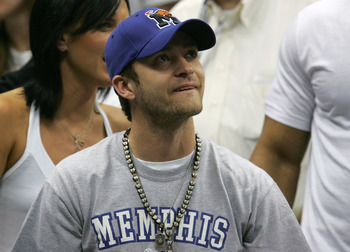 Ronald Martinez/Getty Images
During the height of John Calipari's Memphis teams that featured NBA prospects like Tyreke Evans and Derrick Rose, Timberlake was out in full force to support his hometown team. While his support has waned some since then, he's still an avid fan and was involved in a bid for the Memphis Grizzlies, too.
The pop star turned actor has a tag on his personal website about the Tigers, and if they ever make a deep run again, there's no doubt Timberlake will make it out to support Josh Pastner and the rest of the team once more.
He's one of the few celebrity supporters whom Memphis currently boasts, and it's nice to see that the hometown kid hasn't given up on a basketball team that he likely admired for years during his childhood.
7. Nick Lachey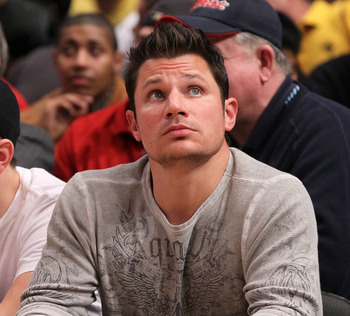 Jim McIsaac/Getty Images
From NFL to college basketball, Nick Lachey is going to live and die with his Cincinnati sports teams.
It's the case with the Bengals, and it's the case with the Bearcats, too.
Lachey has gone so far as to write a personal message to the university (via Cincinnati.com) after it got rid of Bob Huggins in 2005. Lachey is seen on the sidelines of games for his Bearcats and isn't shy about speaking his mind when it comes to coaching strategy, officiating or school decisions it seems.
That puts him in the top 10 of our list, and he'll likely be a staple at his favorite school's sporting events for many years to come.
6. Matthew McConaughey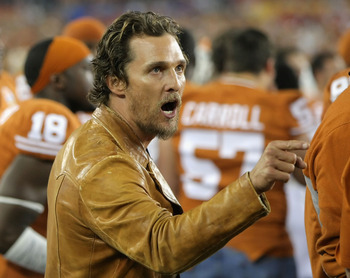 Doug Pensinger/Getty Images
Who can forget Matthew McConaughey and Will Ferrell's intro to the Rose Bowl between USC and Texas?
That kind of enthusiasm is present whenever the actor is in Texas, and he makes sure to check out both football and basketball games when he's in Austin and out of the acting game.
From sideline outbursts of support to interacting with the current students on the roster, McConaughey and the Longhorns have plenty of roots in each other's camp. It doesn't look like Texas has the talent it once did with Kevin Durant and T.J. Ford, but it's just a matter of time until Rick Barnes has this team back in the big dance.
And when he does, McConaughey will be front and center.
5. Bill Cosby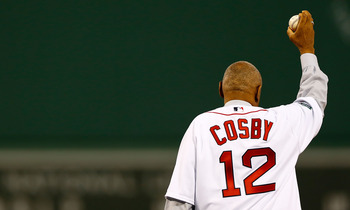 Jared Wickerham/Getty Images
Long before his stand-up comedy routine and his hit show in the 1980s, Bill Cosby was a running back at Temple University.
He has carried his alumni status throughout his personal life and his career, and continues to support both the Temple football and basketball teams any time he gets a chance to attend a game—which is pretty often.
As one of the most decorated comedians of all time, Cosby brings a certain flair and excitement to the program that hasn't been past the second round since 2001. Maybe this is the year Cosby will get a chance to watch his alma mater participate in a Final Four game.
No. 4: Snoop Dogg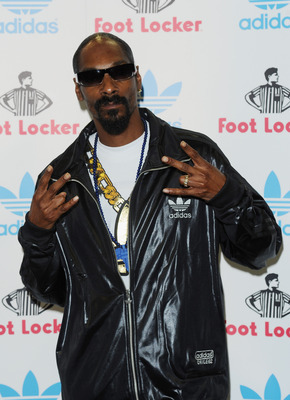 Ian Gavan/Getty Images
Like Will Ferrell, Snoop Dogg loves USC athletics.
Snoop did a guest spot for ESPN in 2011, when he helped give his picks for the upcoming tournament, and made sure to that his Trojans were well-represented in those selections.
Active for the football program, too, Snoop is still lamenting that DeAnthony Thomas went to Oregon instead of L.A. (via Yahoo! Sports), and he will bring that same intensity to the basketball program as soon as it gets back on track.
USC has had some high-profile athletes on the basketball team (O.J. Mayo, Taj Gibson, among others), but can't seem to put together a strong tournament run. When it does, Snoop will be the biggest celebrity supporter in attendance.
3. Flavor Flav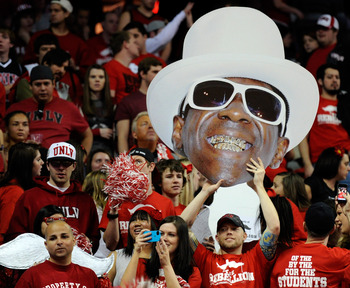 Ethan Miller/Getty Images
UNLV was the spot in the 1990s.
So was Public Enemy, and it makes total sense that the Flavor Flav has latched on to the program after years of cheering the team on from the sidelines. He appeared at UNLV's game against conference rival San Diego State last season and is still seen on the sidelines after his appearance was all over the news.
Making his home in Las Vegas, Flav is just a few minutes away from home games and has one of the most recognizable pieces of jewelry (his oversized clock) in the history of pop culture. That kind of exposure is great for UNLV and apparently works for Flav, too.
The Runnin' Rebels look poised to make some noise in the tournament behind superb freshman Anthony Bennett, and Flav will likely follow his favorite squad around in anticipation of something great.
2. Barack Obama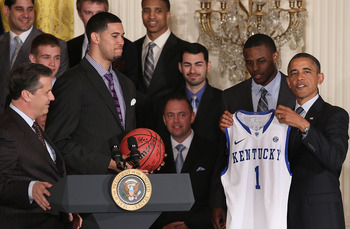 Mark Wilson/Getty Images
President Obama is the "Sports President" when it comes to his involvement in sports after taking office in 2009.
He has an annual spot on ESPN to pick his bracket for March Madness and will frequently take in games, when he's out on the road and has a few moments to take a breather from the most demanding job in politics.
His brother-in-law is the head coach at Oregon State (Craig Robinson), and that makes for a perfect vacation spot to catch up with family and take in a college basketball game. His wife Michelle is also a sports junkie, and she too enjoys March Madness.
No doubt we'll be seeing President Obama during this year's selection process and when the brackets are released. He will want to weigh in on the field and what his Final Four bracket looks like, and that makes him one of the highest-profile fans in college sports.
1. Ashley Judd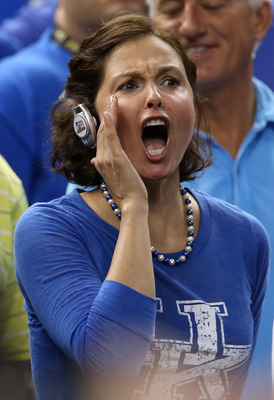 Ronald Martinez/Getty Images
Judd is, far and away, the craziest college basketball fan who also carries a celebrity status.
She wins the Kentucky title over Drake and Jay-Z and wins the overall title from a field of overly zealous fans of college basketball teams everywhere. From attending every home game she can to following last year's team to the Final Four, Judd is a true Wildcat at heart.
She also noted a strikingly accurate description of what her team needed to do to be successful, courtesy of a 2012 interview with Glamour magazine:
They've got amazing guards, and their length really stretches the defense. I think we've beaten them [North Carolina] once and we've gotten a lot better since we beat them in December.

So I think it's a blue chip matchup, and it's also a very good physical matchup. I think that if we play Syracuse, who is a great team...I could get so carried away with details on basketball!
With recent reports suggesting Judd will run for senator in Kentucky (via the Washington Post), her status as a famous Kentucky supporter might go through the roof in the next few years. It seems impossible to suggest she could vault higher than No. 1, but Judd could be the biggest celebrity March Madness supporter of all time, based on her next career move.
Whatever she decides to do, be assured, it will include visits to see the Wildcats play ball.
Keep Reading