NCAA Basketball Recruiting: Pros and Cons for Each Julius Randle Suitor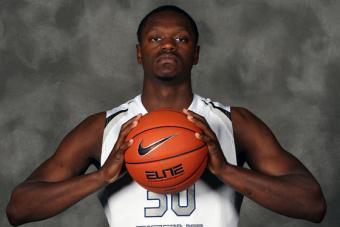 Courtesy of MaxPreps.com
ESPN describes 6'9" Dallas native Julius Randle as "Marvin Williams meets Caron Butler with a Kevin Garnett-ish motor."
In other words: Dude can play.
The only question left is where.
The power forward, ranked third overall in the ESPN 100, has narrowed his list of schools to six: Kentucky, Florida, North Carolina State, Kansas, Oklahoma and Texas. In the slides ahead, we'll try to see what he sees in each—the good, the bad and the Rick Barnes.
Begin Slideshow

»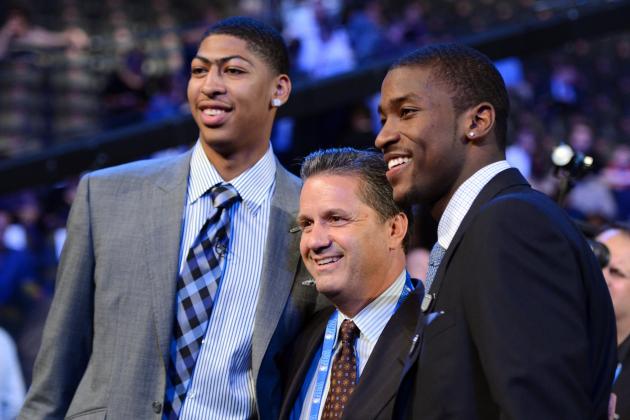 Jerry Lai-USA TODAY Sports

NBA Track Record
Since John Calipari took over in Lexington four seasons ago, Kentucky has produced 15 NBA draft picks. No school or coach has a better reputation when it comes to developing pro talent.
Coach Cal Plays and Wins with Freshmen
Top recruits have always gotten steady playing time under Calipari, or at the very least a chance to earn steady playing time. His teams have ranked in the bottom 20 nationally in average experience during each of his four seasons in Lexington. Better yet, Calipari has molded those young teams into winners, advancing to the Elite Eight three years in a row.
Chance to Be a Celebrity
College basketball is a year-round obsession in Lexington, Kentucky (pop. 300,000), and the 12 young men in Wildcat Blue are its chief fancies. I can think of no other full-fledged American city where college basketball stands so far above every other sporting interest. Play well for Big Blue, and the nation will fete you forever. Just ask Sam Bowie.
Chance to Play with Great Talent
Kentucky already has two five-star guards (Andrew and Aaron Harrison), a five-star small forward (James Young) and a five-star center (Dakari Johnson) signed up for next season. That kind of supporting cast can make a young player look pretty damn good.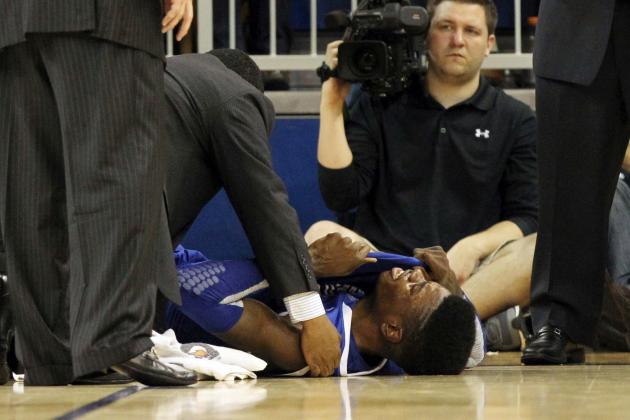 Kim Klement-USA TODAY Sports

What Happened this Year?
Even before star forward Nelens Noel went down with a season-ending knee injury, this year's Kentucky squad wasn't as dominant as teams of recent vintage. And as a result, presumed freshman one-and-done candidates like Archie Goodwin and Alex Poythress have seen their NBA draft stocks sag. The progression used to be clear: sign with Kentucky, dominate, enter the lottery. This year's woes at least inject some doubt into that equation.
Too Much Competition?
Playing alongside other blue-chip prospects can be great for a player's development, but only if said player actually gets to play. Kentucky already has an incoming five-star power forward in California's Marcus Lee. And there's the always the possibility that Poythress stays. Throw in the likely return of rising junior Kyle Wiltjer, and the Wildcat frontcourt looks crowded. Randle will have every chance to win a spot over those players, but at other schools he'd be a near-lock to play 25 minutes or more a night.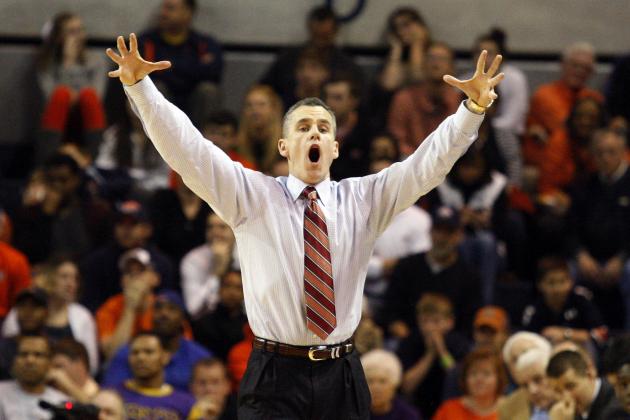 John Reed-USA TODAY Sports

Stable Program
Billy Donovan has been the head coach at Florida for 17 years now, five of which have resulted in Elite Eight appearances for his Gators. Over that time, Donovan has resisted multiple offers to defect, opting instead to build a lasting winner in Gainesville. In Donovan, recruits get a rare combination of youth, long-term vision, past success and future commitment.
Ability to Mesh Returning Players with Incoming Talent
Under Donovan, Florida hasn't embraced one-and-done rule talent quite as heartily as Kentucky's John Calipari, but the case of Bradley Beal proves that Donovan is still capable of developing elite college talent in a condensed time frame. Beal came to Donovan in 2011 as the fifth-rated recruit and left a year later as the NBA's third-overall draft pick. During the interim, Donovan matched the youngster with veteran backcourt mates like Kenny Boynton and Erving Walker in a way that contributed to team success while also furthering Beal's career. That's an encouraging precedent for Randle.
Florida is Top-Ten Team
No program on Randle's list is having a better 2012-13 season than the Florida Gators, a team that should both win the SEC and contend for a national title. That doesn't mean the Gators will necessarily be in the same position next year, but it indicates that the program is thriving.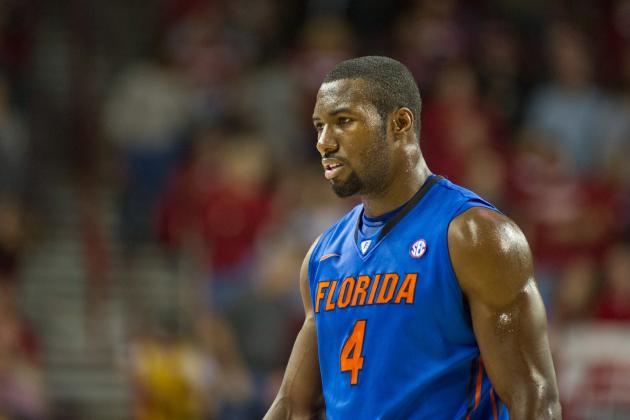 USA TODAY Sports

Too Much Frontcourt Depth?
Junior power forward Patric Young, one of Florida's best players, is a fringe first-round prospect and could return for his senior season next year. Five-star power forward Chris Walker (No. 14, ESPN) is already locked in for Billy Donovan. Throw Randle into the mix alongside talented reserves like Casey Prather and Will Yeguete, and the fight for playing team could be fierce.
Will Donovan Allow Him to Develop an Outside Shot?
One of the lingering questions about Randle's game is whether he can improve his perimeter shooting, and Donovan's recent track record with young bigs suggests he might not be the best coach to address that particular concern.
Sports Illustrated's Luke Winn made two keen observations on this point in his most recent power rankings. First he noted that Miami forward Kenny Kadji (6'11"), a Florida transfer, took almost no three-point shots while playing under Billy Donovan. Since moving to the U, he's become one of Jim Larranaga's better deep threats. Winn also pointed out that current Florida senior Erik Murphy (6'10"), one of the nation's best three-point shooters, shot very little from the outside during his freshman and sophomore years.
Taken together, it would seem Donovan likes to break his bigs in from post to perimeter. If Donovan took a similar tack with Randle, it could be damaging to the latter's draft stock.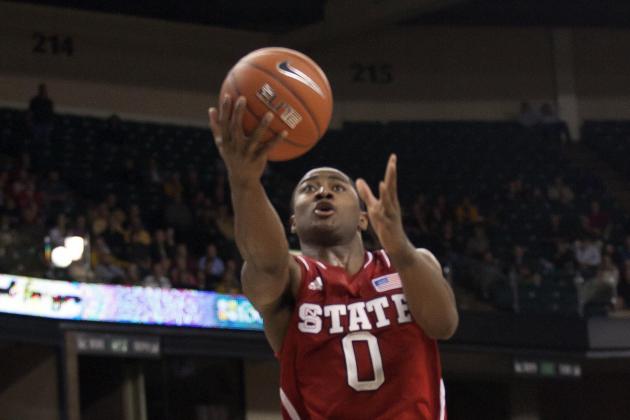 USA TODAY Sports

Program on the Rise
Since Mark Gottfried took over as head coach in 2011, North Carolina State has attracted six recruits from the ESPN 100. In the five recruiting classes prior, the Wolfpack had landed only five such prospects. With all the talent spilling into Raleigh, it seems only a matter of time before this program becomes a regular ACC title contender.
Rodney Purvis
When Randle visited Raleigh in late January, he called it his "best visit yet," and made specific mention of the fact that he enjoyed hanging out with Rodney Purvis, an NC State freshman and one of Randle's "best friends." In the buddy-buddy world of elite youth basketball, those types of connections matter, and Purvis, a promising young guard, can easily sell himself as a complementary figure to Randle should the latter choose NC State.
The System Fits
We've seen what athletic forwards like Randle can do in the NC State offense. Current junior C.J. Leslie is flourishing in an offense that allows him to run the fast break like a point or post up on the block. Senior Richard Howell and freshman standout T.J. Warren have also excelled in Mark Gottfried's scheme. With three frontcourt players averaging double figures for the Wolfpack this season, it's easy to see how Randle could make an instant impact.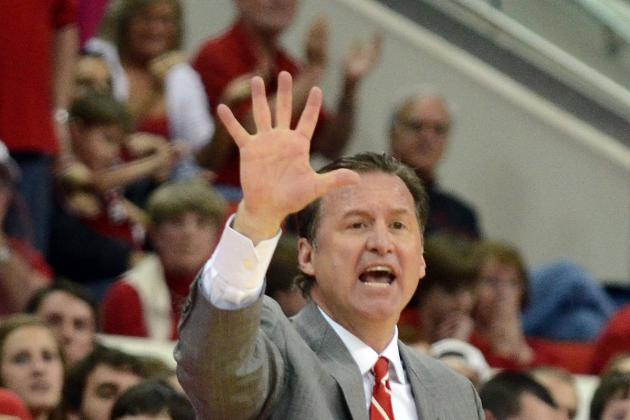 Rob Kinnan-USA TODAY Sports

But Can He Coach?
Mark Gottfried gets gold stars for his work on the recruiting trail, but the on-court results have lagged behind. NC State started the season ranked sixth overall, but now finds itself outside the top 25 and struggling for position in the ACC. Amid the struggles, some—including former players—have raised concerns about Gottfried's strategic aptitude.
Randle might prefer a program with an established track record of excellence to a talent-laden one with lingering leadership questions. Of all the schools on Randle's list, NC State has gone the longest since its last Elite Eight appearance ('85-86).
Forward Depth, Again
For the third time, we find Randle looking at a school that has already signed a sought-after power forward recruit. In NC State's case, forward Kyle Washington (No. 83, ESPN 100) and center BeeJay Anya (No. 69, ESPN 100) are already in the fold, as is rising sophomore T.J. Warren, a former top-30 recruit and a major contributor for this year's team. Randle has the talent to start over all of those guys, but his margin for error would be smaller than it might be at Texas or Oklahoma.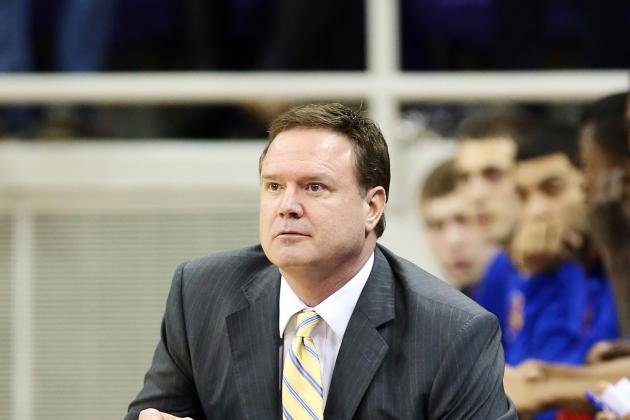 Kevin Jairaj-USA TODAY Sports

"I Know I'd Have a Legit Chance to Win a National Championship There"
Those are Randle's words after he visited Lawrence in late February, and a tidy synopsis of what makes Kansas such an attractive destination for recruits. The Jayhawks have won eight straight Big 12 titles, qualified for 23 consecutive NCAA tournaments and made the elite eight seven times since the 1999-00 season. A down year in Lawrence is a good year anywhere else, and there's little risk of a flop season that could otherwise damage a player's draft stock.
Fantastic Environment
Earlier I said that Lexington was the best college basketball city in America, and that still stands. But in a metropolis that size, the attention comes with a fair share of scrutiny. The lights might be a bit dimmer in Lawrence, Kansas, but they're infinitely friendlier. The crowd at Allen Fieldhouse is one of the best in college basketball, and the rah-rah environment is ideal for young players.
He's the Missing Piece
Kansas has incoming recruits at every position besides power forward. Wayne Selden (SF) and Joel Embiid (C) would be excellent frontcourt complements to Randle. Even better, Kansas' current starter at the four, Kevin Young, is a senior.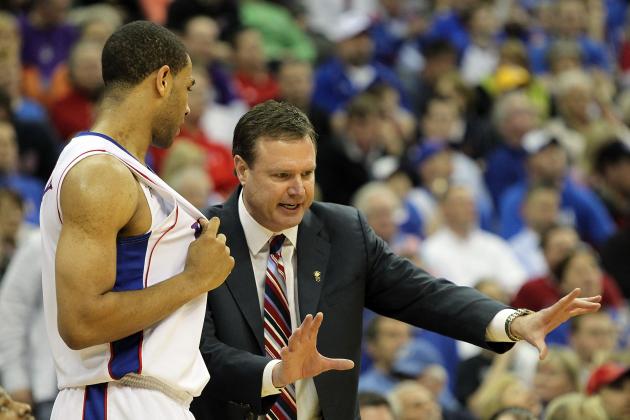 Jamie Squire/Getty Images

Good Future Investment?
Since Bill Self became the Kansas head coach in 2003, the Jayhawks have had 15 players taken in the NBA draft. And while that's an excellent figure, it's worth noting that only two of those 15, Xavier Henry and Josh Selby, were one-and-done players. What's more, neither Henry nor Selby was selected in the top 10 of the NBA draft and neither has found great success in the association.
If Randle views himself as a likely entrant in the 2014 NBA draft, Kansas might not be his best choice. Bill Self has developed solid pros, but his best work has been with players who stay two to three years.
Roster on the Wane?
Freshman sensation Ben McLemore is almost certainly headed to the pros, with senior Jeff Withey only a handful of picks behind. The incoming freshman class should be solid, but not nearly as talented as John Calipari's group at Kentucky. Kansas is a top-ten team now, but it's easy to see how this group could struggle next season.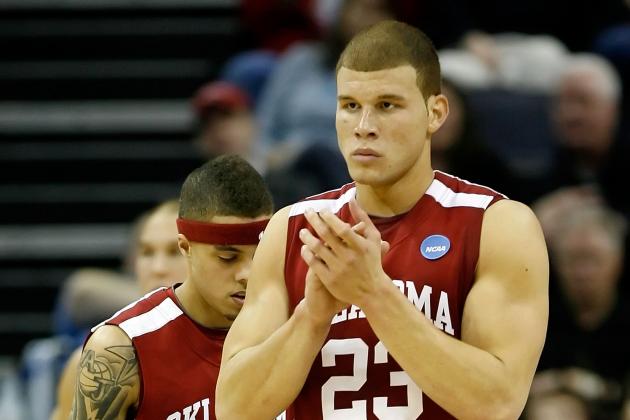 Joe Murphy/Getty Images

The Blake Griffin Effect
I'd submit that there few recruiting pitches more powerful than the, "I can see you becoming the next Player X," particularly when Player X is an NBA superstar who went to your school and played the same position as the desired recruit.
I'm not sure how similar Randle is to Oklahoma alum Blake Griffin, except to say that both are athletic forwards with great leaping ability. And, of course, Griffin didn't play at Oklahoma under current coach Lon Kruger. Nevertheless, I foresee the name Griffin coming up more than once on Randle's visit to Norman.
New Coach, New Era
After falling into a doldrums during the latter days of Jeff Capel's tenure, Oklahoma is looking up under new head coach Lon Kruger. The longtime coach has experience building winners at Kansas State, Florida, Illinois and UNLV, and this year he has the Sooners back in the NCAA tournament picture for the first time since 2008-09. No surprise then that Oklahoma is generally considered a program on the rise.
Lots of Shots
Even with recent gains, the rebuilding project in Norman is still young. It's been three years since Oklahoma landed an ESPN 100 recruit, and Randle would be the go-to offensive option for the Sooners as soon as he stepped foot on campus.
Like Renardo Sidney (Mississippi State), Anthony Bennett (UNLV) and other recent top-ten recruits that opted for non-blueblood schools, Randle should expect plenty of opportunities to showcase his talent if he chooses Oklahoma.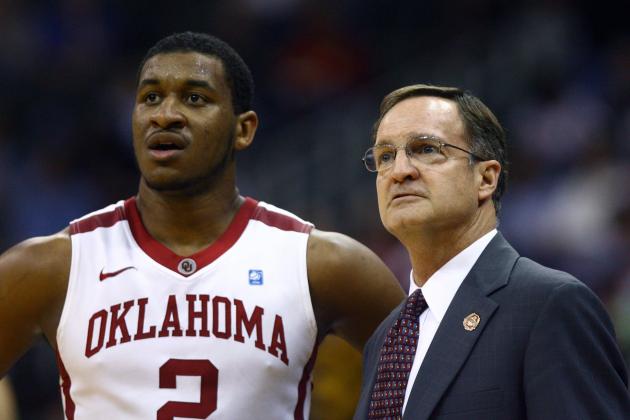 Ed Zurga/Getty Images

On an Island
Randle would get plenty of shots in a Sooner uniform, but would he have any help? Oklahoma's top two scorers—Romero Osby and Steven Pledger—are set to graduate, and the only signed player so far in Lon Kruger's incoming freshman class is three-star point guard Jordan Woodard. Even if Randle is as good as advertised, Oklahoma might be no better than a Sweet Sixteen team.
Low Pedigree
The college basketball culture in Norman isn't anywhere near as developed as it is in Lexington, Lawrence, Raleigh or even Gainesville, and for good reason. Oklahoma didn't qualify for a single NCAA tournament in 1950s or 1960s, and has yet to make its first appearance in the dance this decade. Norman is a football town, and even the best basketball talents have to settle for second billing.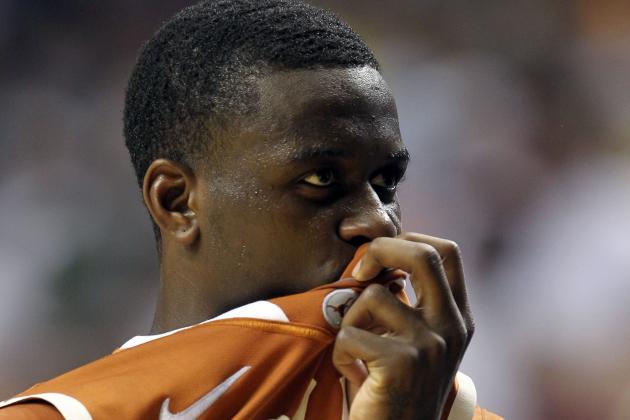 Jamie Squire/Getty Images

The Pieces Are There
It's been a nightmare season in Austin, but Texas has enough in-house talent to stir hopes of a quick turnaround. The current roster has eight players who were once ranked in the ESPN 100, including two former McDonald's All-Americans in sophomore Myck Kabongo and freshman Cameron Ridley. Kabongo missed most of 2012-13 serving an NCAA suspension and Ridley, a big-bodied center, has struggled to adjust to the college game, but both have All-Big-12 potential. Throw Randle into the mix, and this team could go from dud to stud in a few months' time.
Clear Path
Maybe the best thing about Texas' current struggles is that Randle would have every opportunity to earn a go-to role in the offense. It's not like any of the current Longhorns have earned coach Rick Barnes' trust. And with no incoming freshmen of note, the Dallas native shouldn't have any competition for minutes.
Play at Home
Dallas isn't exactly next-door to Austin, but there's always an incentive to stay in-state. Wear the local colors. Become a Longhorn legend. Free fried dough at the state fair, or whatever.
One-and-Done Success Stories
Rick Barnes has helped a number of talented freshmen transition directly to the NBA, including Tristan Thompson, Avery Bradley and, of course, Kevin Durant (not to mention sophomores LaMarcus Aldridge, D.J. Augustin and T.J. Ford). Randle would, no doubt, love to be the next in that particularly enticing line.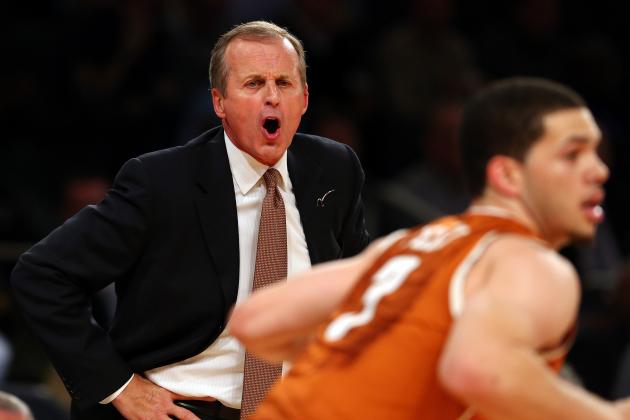 Elsa/Getty Images

Chronic Underachievers
It's hard to reconcile the wealth of NBA talent listed on the last slide with the fact that Texas hasn't been to the second weekend of the NCAA tournament since 2008. And it's not like the Longhorns are only underachieving in March. Rick Barnes' teams have lost ten or more games in four of the past five seasons. Randle might rather entrust his career to a more consistent coach like Bill Self or Billy Donovan.
Program in Trouble?
Enter "Rick Barnes" into Google and the second suggested auto fill-in is "Rick Barnes hot seat." That's not to say Barnes will be fired this offseason, but the distress signals are clearly there for a program that currently sits eighth in the Big 12 standings. Of all the schools on this list, Texas is the only one experiencing any sustained negative momentum, hence, the only one already eliminated from at-large contention.