The 10 NCAA Basketball Teams Who Should Be Worried About Their Slow Starts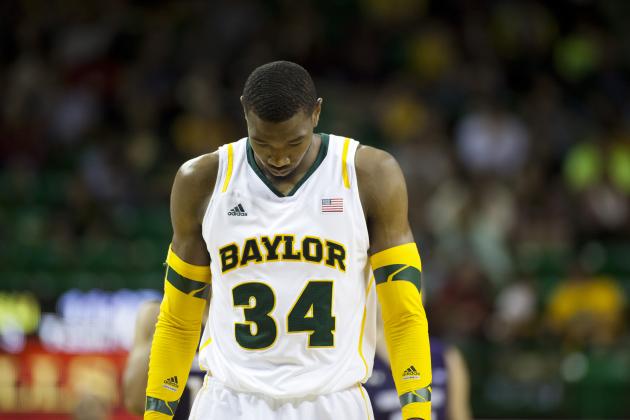 Cooper Neill/Getty Images

It happens every year: Teams struggle early in the face of higher expectations. Whether those expectations are a bit too high or perfectly reasonable, teams just don't always live up to them for one reason or another.
This year is no exception. We have seen some teams get off to slow starts. While it is a long season, in some cases these slow starts should create some concern among followers.
Who are 10 teams to feel a bit uneasy about at this point in the season? Read on to find out.
Note: Teams are given "Alert Levels" based on their current situation. Teams listed as "yellow" should proceed with caution; teams listed as "red" are on high alert and need to turn things around quickly.
All teams included on this list have at least two losses overall, and at least two losses that would be considered questionable, based on that team's prior play.
Begin Slideshow

»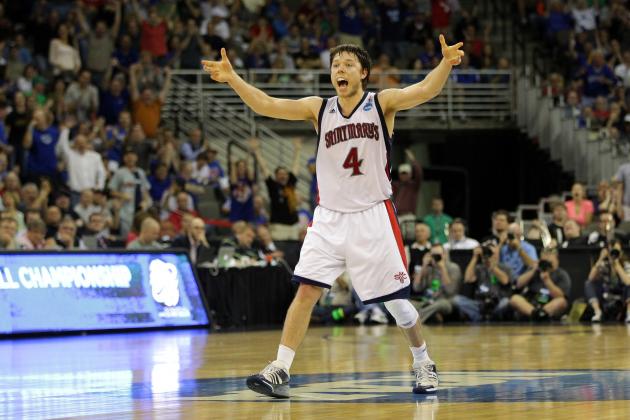 Doug Pensinger/Getty Images

Record: 6 – 2
Alert Level: Yellow
Point of Concern: Disappointing finish in DirecTV Classic
Early-season tournaments take on different levels of meaning for different teams.
For some, especially the power-conference teams, they provide a great opportunity to get newcomers some quality minutes against good competition, and for the more experienced players, a chance to fine-tune their games.
For others—including quality mid-majors like Saint Mary's—these tournaments take on more significance in the overall scope of the season. Wins here can mean the difference between making and missing the NCAA tournament altogether.
Saint Mary's may have missed out on an opportunity after a couple of disappointing losses in the DirecTV Classic a couple of weeks back. After an opening-round win over Drexel, the Gaels were basically dominated by an upstart Pacific team. The result—particularly the margin of victory—were rather unforeseen, despite the fact that Pacific beat Xavier the day before.
Losing to Pacific denied SMC the chance to take on a quality Pac-12 team, California, in the tournament-title game. Instead, the Gaels settled for a matchup with Georgia Tech but couldn't even salvage third place. The back-to-back losses in Anaheim turned what many thought was a tournament for the taking into a long trip to the northern part of the state.
Now, SMC will have to bounce back in upcoming games against Drake, Northern Iowa and—of all teams—Pacific. However, those games will only provide a minimal boost to the Gaels' nonconference profile.
Therefore, it's very possible Saint Mary's will have to win a third-straight WCC Tournament in order to ensure another trip to the NCAAs. Otherwise, their fate could match that of the 2009 team, when the Gaels were on the wrong side of the bubble.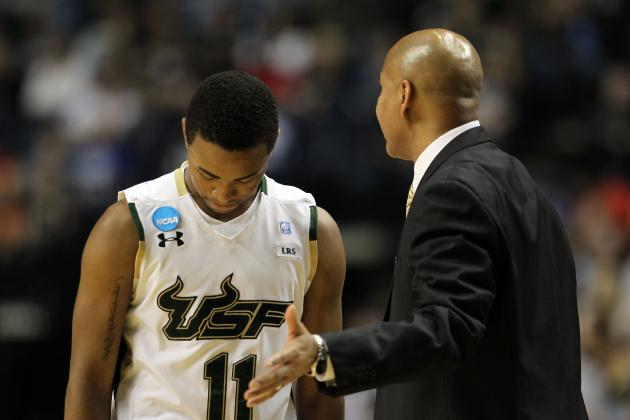 Jamie Squire/Getty Images

Alert Level: Yellow
Record: 5 – 3
Point of Concern: Home losses to UCF and Western Michigan
An NCAA Tournament bid and a couple of wins once they got there appeared to put South Florida on an upward slope heading into this year.
However, it appears that this year's team may be repeating the same kind of early struggles that nearly kept the Bulls out of the tourney a year ago.
Last year, despite going 12-6 in the Big East, USF very nearly missed the NCAA tournament due to a very poor nonconference performance. That included losses to Old Dominion, Penn State and Auburn. None of these teams came anywhere close to challenging for an NCAA bid.
This year, the Bulls have already lost a couple of questionable games on their home court. The first came to UCF and the second to Western Michigan. UCF is a decent team that may ultimately finish toward the top of Conference USA. Western Michigan was off to a respectable start before being blown out by Michigan on Tuesday.
Neither loss is reason to declare disaster in Tampa, but with more expected of this year's team, USF's so-so start should make some fans a little uneasy. After a loss at Oklahoma State Wednesday night, the Bulls have no more marquee nonconference games on the schedule.
It appears as though USF may once again need to do some serious damage against Big East competition if they wish to return to the Big Dance. The Bulls have proven they're capable of doing it, but that does not make the task any easier.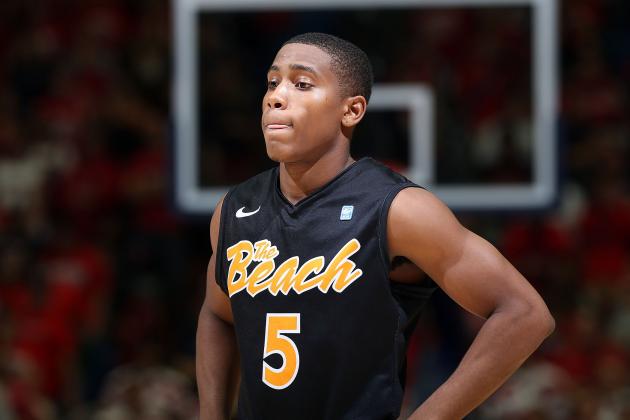 Christian Petersen/Getty Images

Record: 3 – 4
Alert Level: Yellow
Point of Concern: Losses to the non-power teams
Over the past few years, Long Beach State has become the mid-major poster child for aggressive scheduling. Last year, that schedule included North Carolina, Kansas, Louisville and Pittsburgh, among others. This year, the names are similar: UNC again, Arizona, Syracuse and Ohio State.
Nobody expects Long Beach to win many of these games. Even one win in either year's foursome—which it did manage last year—is a very notable achievement.
However, when you put together a schedule that monstrous, you better go out and win the other games on the schedule. Beating who you should is more crucial when you're willing to accumulate losses against the big boys.
Last year, Long Beach State was able to win those games. This year, it has struggled.
In addition to the anticipated losses to UNC and Arizona, by 15 and 22 points, respectively, the 49ers have also lost to USC and Fresno State. The 62-44 loss to the Trojans—who were 6-26 a year ago—was particularly rough. Losing to Fresno at home—after winning the first matchup between the two in Fresno—was also disappointing.
The loss of four starters was expected to take its toll on Long Beach. However, with a couple of key pieces returning and a couple of notable transfers coming in, the 49ers were still the favorite to repeat as Big West champions.
If it hopes to ultimately make good on that projection, Long Beach State will have to continue to progress and improve through playing the big-time teams. Then, the 49ers must apply those lessons to the games it's used to winning, but has yet to do consistently thus far.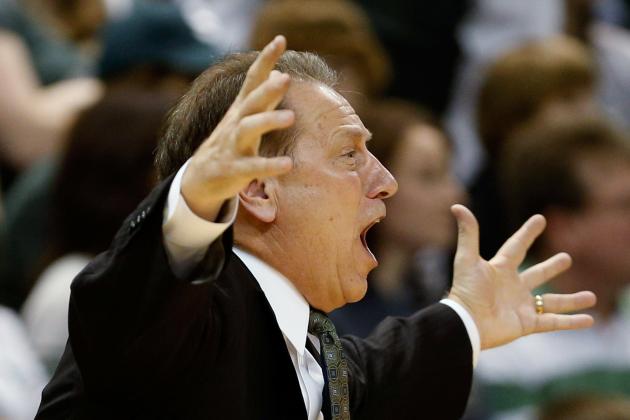 Gregory Shamus/Getty Images

Alert Level: Yellow
Record: 7 – 2
Points of Concern: Inconsistency, closer-than-expected results
For a team that lost one of the best all-around players of the Tom Izzo-era in Draymond Green, it was reasonable to expect Michigan State to take a little time to find their identity this season.
However, with a couple of mildly surprising losses—and a couple of dangerously close calls at home—Michigan State still appears to have some room to improve to get to where they were expected to be, which is contending for a Big Ten title.
It's been a bit of an up-and-down first month of the season for MSU. The Spartans lost a tight game to Connecticut in the Armed Forces Classic in Germany. They overcame that loss—and the long trip home—to beat No. 7 Kansas just four days later, in Atlanta.
At the time, it would have seemed like Michigan State was ready to go on a run, with arguably its two toughest non-conference games behind them. However, the inconsistencies in the Spartans' play have lingered into December.
A week after the Kansas victory, Michigan State beat Boise State by only four in East Lansing. That result now seems less unsettling given Boise's impressive win at Creighton a week ago. However, another tight win at home over a 3-5 Louisiana-Lafayette team provided some further cause for concern among Spartan faithful.
That concern grew still after a 67-59 loss at Miami in the ACC/Big Ten Challenge last week. The Hurricanes controlled the game in the second half, and the game wasn't really in doubt over the final five minutes. Miami is a pretty good team, but the result was still a bit surprising.
Granted, the two aforementioned home wins were without Gary Harris, MSU's explosive scoring freshman. Still, those squeakers, along with a couple of losses to unranked teams, is enough reason to be just a bit worried about where the Spartans will be heading into Big Ten play at the end of this month.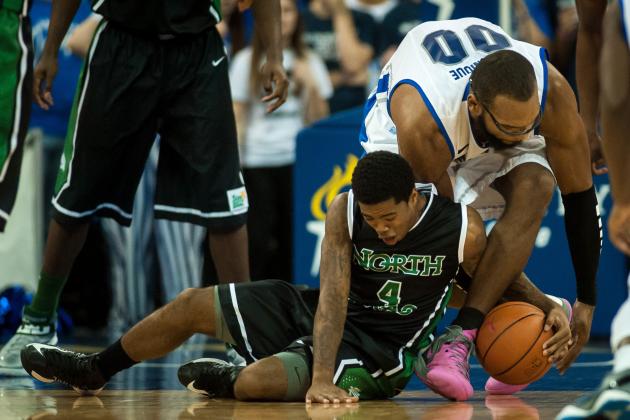 Eric Francis/Getty Images

Record: 3 – 6
Alert Level: Orange
Point of Concern: Two wins vs. Division I competition
After coming within a couple of possessions of reaching the NCAA tournament last March, the prospects this year seemed brighter still for North Texas.
With its outstanding forward Tony Mitchell returning, the Mean Green was picked to challenge Middle Tennessee for the Sun Belt title this year. However, the conference preseason POY hasn't been able to lift his team out of some difficult early-season woes.
After a season-opening loss at No. 12 Creighton, North Texas suffered an inexplicable setback in Manhattan, Kansas. In anticipation of a date with Kansas State, the Mean Green lost to a Division II afterthought, Alabama-Huntsville. They bounced back with a win over Lamar the next night, but the damage was already done, and its effects seem to still reverberate around this team.
North Texas is currently in the midst of a three-game losing streak, with the last two losses coming to UT-Arlington and Louisiana-Lafayette. Considering that the latter was the conference opener for the Mean Green, there is plenty of cause for concern in North Texas.
If there is any chance of the North Texas team reversing its course, Mitchell will have to probably play beyond his already-lofty expectations. His numbers thus far are solid (13.6 PPG, 8.3 RPG, 2.9 BPG), but down a bit from last year.
In order for Mitchell to eclipse those numbers, he will have to stay out of foul trouble, which has limited him in the last two losses. If he can't do so, the season could grow even longer for the Mean Green.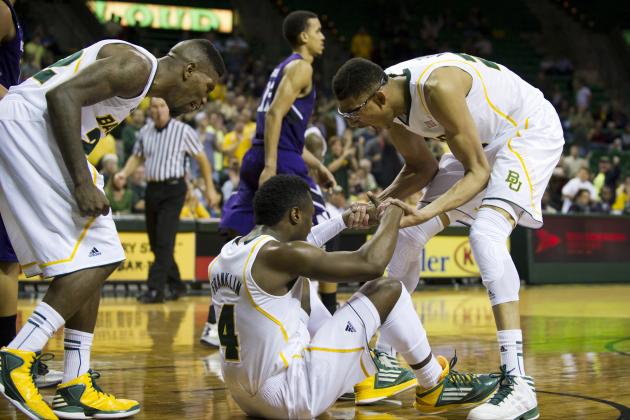 Cooper Neill/Getty Images

Record: 5 – 3
Alert Level: Orange
Points of Concern: Inconsistency, questionable home losses
Does anyone have a good handle on exactly how good this team is at the moment?
In just a few weeks, Baylor has shown enough evidence to support a wide range of opinions on the spectrum. Exhibit A: The Bears' last two games.
After a big win at Kentucky over the weekend, Baylor lost at home Tuesday to Northwestern. It was a game whose final was a lot closer than the double-digit lead the Wildcats held for much of the second half.
For Northwestern, it was a nice rebound from a surprising home loss to Illinois-Chicago over the weekend. At the same time, it made the loss tougher still for the Bears and their fans. Unfortunately, it is not their worst loss—or only home loss—of the season thus far.
Tuesday's defeat was Baylor's second suspect home loss of the young season. The other came to College of Charleston back on Nov. 24. By the way, C of C lost as well on Tuesday—by 42 points (granted, it was to Louisville, but still).
Prior to that, Baylor was looking pretty good. The Bears won their season-opener by 22 over Lehigh and then lit up St. John's in a 97-78 win in the Charleston Classic. While they lost to Colorado in that same tournament, it was a respectable defeat and not as alarming as the other two home losses.
The type of inconsistency we've seen from Baylor thus far can be expected of a young team. The problem is, the Bears are not entirely young, particularly in the backcourt, which is led by senior Pierre Jackson. Therefore, the maturation process isn't quite as certain as it might be for a team like Kentucky.
The next two weeks will give Baylor a bit of time to smooth things out before a home game with BYU—another game to be careful of. Another loss there could really raise some questions prior heading into Big 12 play.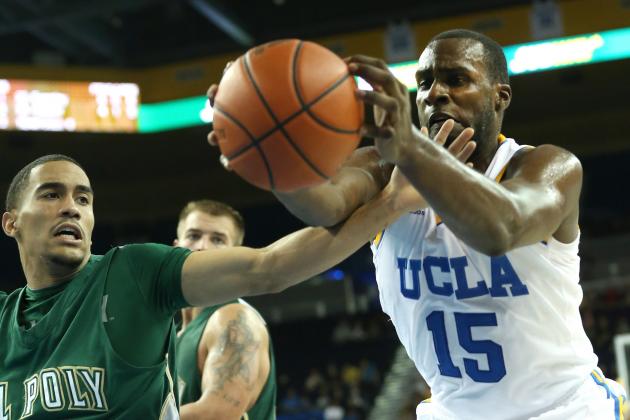 Stephen Dunn/Getty Images

Record: 5 – 3
Alert Level: Orange
Point of Concern: Struggles against in-state schools
It's still a bit early to say UCLA can't ultimately live up to its rather lofty expectations. However, if it wants to live up to the hype, it needs to erase the bad memories the first of month of play have created.
After a loss to in-state foe San Diego State over the weekend, the Bruins now sit at just 5-3, far from its initial No. 11 ranking and from the rankings altogether. A stunning loss at home to Cal Poly—a team picked to finish seventh in the Big West preseason poll—a week before was the real blow, however.
The loss to Cal Poly wasn't the only time UCLA struggled against a Big West foe. The Bruins were fortunate to get past UC-Irvine in their second game of the season. If not for two missed free throws by the Anteaters with just two seconds remaining, UCLA would be 4-4 and possibly the last team on this list.
Instead, the Bruins have only one really bad loss, but no real decent wins to speak of, either. After the loss to Georgetown in the Legends Classic in Brooklyn, they came back to beat Georgia by four. That is UCLA's best win to date. Unless you think Indiana State (at 4-2) is legit.
Since freshman sensation Shabazz Muhammad was cleared to play by the NCAA just before the Legends Classic, UCLA was 3-0. Since he became eligible, they are 2-3.
Obviously, the schedule before and after his debut are significantly different. However, the fact that he was yet to lift the team as a whole despite his strong play early on should be a reason for concern in Los Angeles.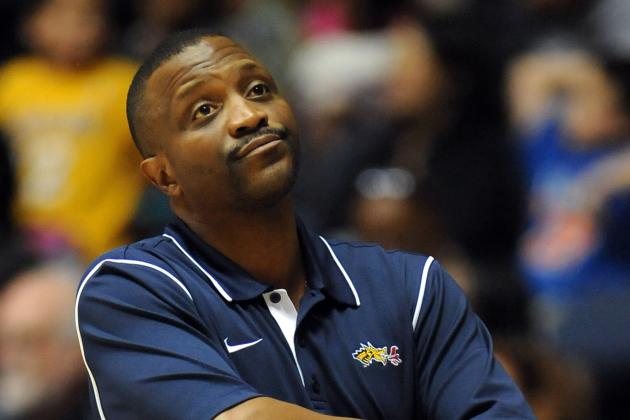 Jayne Kamin-Oncea-USA TODAY Sports

Record: 2 – 6
Alert Level: Red
Points of Concern: Injuries and losing to everyone
VCU was the only thing standing between Drexel and a date in last year's Big Dance. VCU and maybe a soft nonconference schedule as well.
In an effort to remedy part of what ailed the Dragons' NCAA Tournament resume last year, Drexel scheduled more aggressively this year. The beefed-up nonconference schedule included several games against quality mid-major competition such as Kent State, Illinois State and Saint Mary's.
However, Drexel—the preseason favorite to win the CAA—has come up short in all of those games thus far. To make things worse, the Dragons have started losing to teams they have no business losing to.
Drexel has begun the month of December with losses to Rider, last Saturday, and to Tennessee State, on Tuesday night. Those defeats further compounded the early losses to Kent State and Illinois State, both of which came in overtime.
The loss of guard Chris Fouch for the season is certainly a setback for Drexel. However, the Dragons did get fellow guard Damion Lee back after he missed two of the team's losses in the DirecTV Classic.
Since returning, Lee has averaged just over 20 a game. He has provided the offensive spark Drexel sorely lacked early on. That said, it also makes Drexel's more recent struggles all the tougher to swallow.
Not only will Lee have to continue to score, but Drexel's defense must improve if it wishes to have any chance of reversing the losing tide that could potentially bury this team.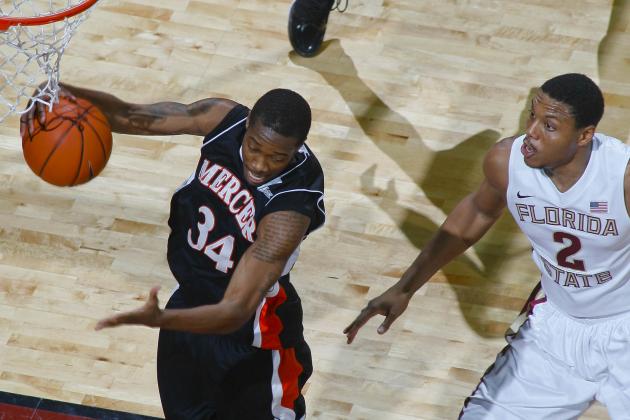 Phil Sears-USA TODAY Sports

Alert Level: Red
Record: 4 – 4
Point of Concern: Four home losses
Maybe Florida State needs to start playing its home games on someone else's home court. The one in Tallahassee sure hasn't worked to its favor over the last month.
After being steamrolled 72-47 by sixth-ranked Florida—at home, of course—on Wednesday, FSU sits at just 4-4 on the season. All four of the Seminoles' losses have come in the not-so-friendly confines of the Donald L. Tucker Center.
Losing to Florida—at home, in Gainesville or in Europe—is perfectly acceptable. The Gators have proven on the court that they will be the team to beat in the SEC this season. However, FSU's other three losses—two in particular—are of major concern.
The Seminoles entered the season ranked No. 25. After just one game—a 76-71 loss to South Alabama—they provided some proof that the ranking was a bit generous.
After an impressive showing in Brooklyn, where it defeated BYU and Saint Joseph's, FSU returned home to face further disappointment. A mildly surprising nine-point loss to Minnesota was followed by another serious letdown, at the hands of Mercer.
For FSU, the second loss to a low- to mid-major team in less than a month will cause plenty of uneasiness around Tallahassee. The defending ACC Tournament Champions are clearly not the same team they were last season, with veteran forward Bernard James providing a fierce defensive presence on the interior. However, the team still has some key components from last year's team, in Michael Snaer, Ian Miller and Okaro White.
As a team, Florida State is allowing about 70 points a game thus far. It has allowed 65 or more in all but one game. That trend probably can't continue if the Seminoles want to have any hopes of finishing in the upper third of the ACC this year.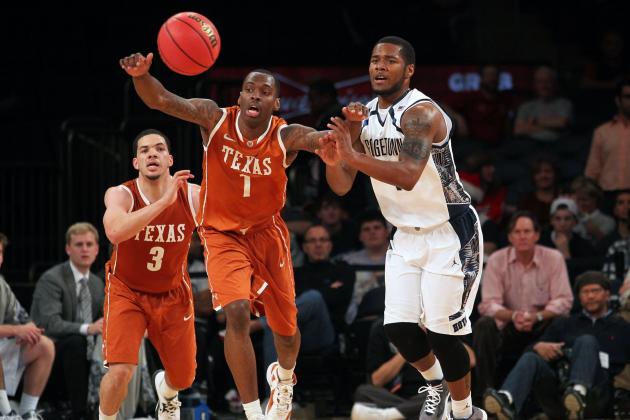 USA TODAY Sports

Record: 5 – 3
Alert level: Red
Points of Concern: Losing to a Division II team, not scoring
Texas scored its highest point total of the season to date in a loss. Furthermore, that loss came to a Division II team.
That should just about sum up how rough a start it has been for the Longhorns.
In the Maui Invitational, Texas was embarrassed in an 89-73 loss to Chaminade in its first game. The next day against USC, the Longhorns came nowhere near that 73 number, losing 59-53 in overtime. Yes, they needed an extra five minutes just to break 50.
Tuesday, things got uglier—at least on the scoreboard—for Texas. The Longhorns lost 64-41 to No. 15 Georgetown, again showing their offensive woes.
Through eight games (including Chaminade), Texas is averaging just 62 points a game, ranking 278th among all (347) Division I teams. Without the Division II loss, the Horns barely break 60 a game and would rank 296th.
To Texas' credit, it has defended reasonably well. The Longhorns won the three games prior to Georgetown by an average of 19 points a game while allowing 55 points or less in all three. The problem is the games were against less-than-stellar competition (Mississippi State, Sam Houston State and Texas-Arlington).
If Texas wants to compete, it has to keep defending, but show it can do so against better competition. That opportunity awaits, with upcoming games against UCLA, North Carolina and Michigan State.
More importantly, the Longhorns need to figure out a way to put points on the board, likely without point guard Myck Kabongo. Otherwise, it could be a very long season in Austin.