College Basketball Conference Power Rankings at Week 5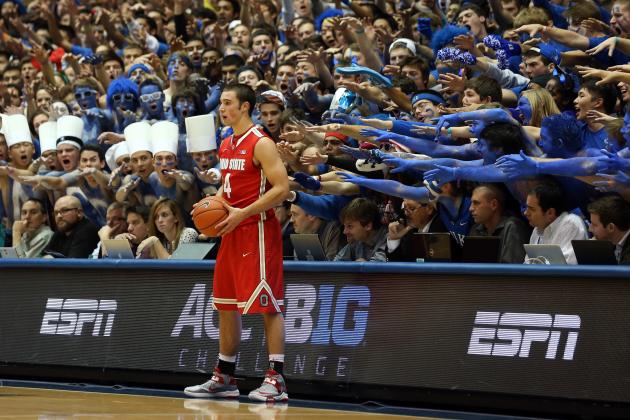 Streeter Lecka/Getty Images

To the Big Ten and ACC, all I have to ask is, Why?
Why did you have to go out and tie the ACC/Big Ten Challenge when you know I do these conference power rankings every week? Makes it a little more difficult to separate you guys, don't you think?
The Big East also played a less-publicized challenge against the SEC, but that wasn't even close. For the most part, the Big East dominated those games.
Thank you for making my life easier, Big East.
Read on to see where we stand in terms of conference power rankings heading into Week 5 after all these interleague battles.
Begin Slideshow

»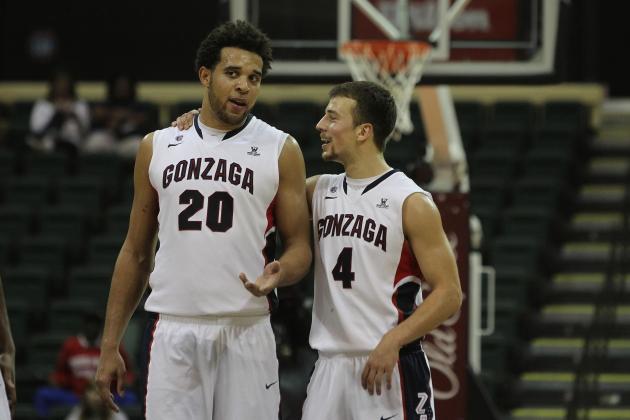 Kim Klement-USA TODAY Sports

If I was the WCC, I would get used to the No. 10 slot on these rankings.
Yes, Gonzaga is a legitimate contender to play deep into March, and the Zags looked great crushing an underrated Pacific squad, but there just isn't much there after them and Saint Mary's.
For a while it looked as if Santa Clara was going to make this a three-team race, but the Broncos lost both of their games this past week. Both games went to overtime, but that doesn't change the fact that the losses came against Utah State and UC Santa Barbara.
As for the team many expected to be that third wheel in the WCC race, the BYU Cougars lost by 21 points this week to Iowa State. BYU has played three quality opponents in Florida State, Notre Dame and Iowa State and lost by a combined 49 points.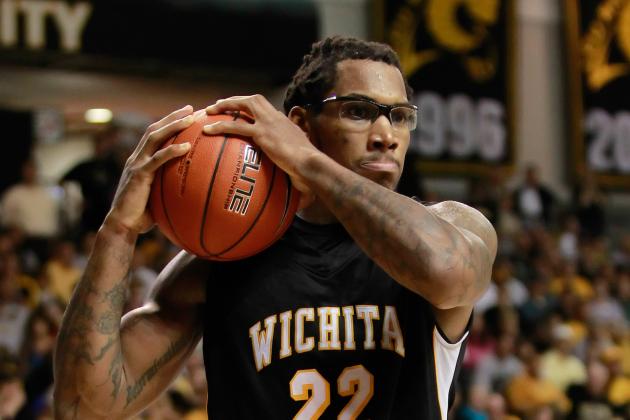 Geoff Burke-USA TODAY Sports

Creighton, the flag bearer for the Missouri Valley Conference, finally lost to Boise State this week, but there is still an undefeated squad sitting atop the league.
Wichita State, who has beaten Iowa, DePaul and VCU this year, is 8-0 right now and looks like a solid bet to make the NCAA tournament. Creighton may be better, and the Bluejays looked the part by crushing A-10 contender Saint Joseph's this week, but the Shockers could pose a challenge.
Elsewhere in the conference, Bradley hung with Michigan for all 40 minutes, and Illinois State blew a golden opportunity to upset Louisville in the Yum! Center. Even Indiana State gave the New Mexico Lobos all they can handle.
Close losses may not get other leagues that excited, but it's clear Missouri Valley teams shouldn't be taken lightly.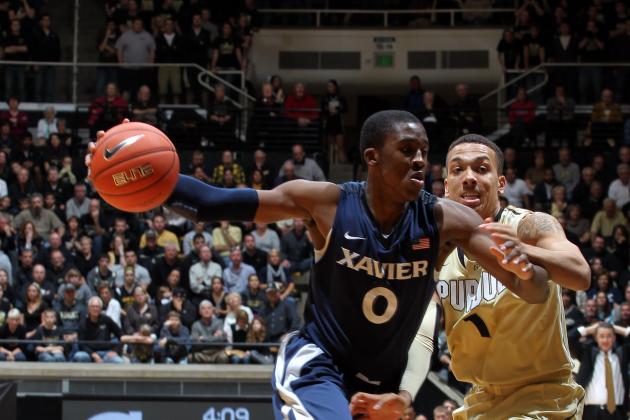 Brian Spurlock-USA TODAY Sports

I hate to tell all the newcomers and supposed Atlantic 10 championship contenders, but Xavier just won't quit.
The Musketeers have, along with Temple, dominated this conference for years, but many experts projected plenty of struggles from Chris Mack's squad this season. Nevertheless, the Muskies are 6-1 and pulled off an impressive road win at Purdue over the weekend.
In other conference news, Charlotte and Temple are still undefeated, Richmond got a win versus Wake Forest from the ACC and VCU, and Butler continues to bounce back from early-season losses.
It wasn't all good news for the A-10 this week though, because Saint Joseph's was destroyed by Creighton and Dayton lost a stunner to Weber State. Losing to Creighton isn't something to be ashamed of if you are the Hawks, but the manner in which they did so raises some red flags.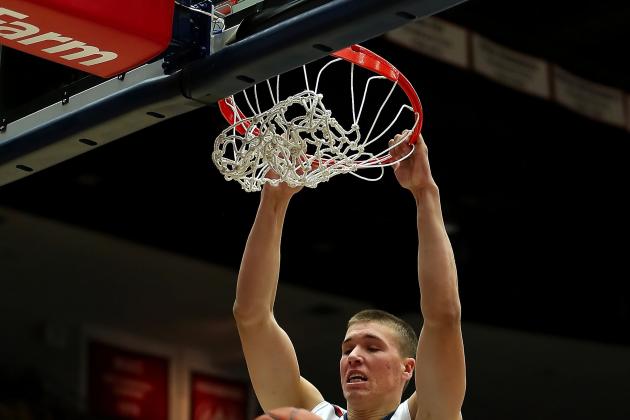 Christian Petersen/Getty Images

Call me a prisoner of the moment if you want (after all, this could change in a few days) but it wasn't exactly a banner week for the Pac-12.
Arizona is a Final Four threat, but what do we really have after the Wildcats?
UCLA has been one of the biggest disappointments of the early season, and the Bruins once again lost this week to San Diego State. Two teams that Pac-12 defenders continued to point to early also both lost in embarrassing manners—Colorado to Wyoming and California by 25 to a struggling Wisconsin squad.
Utah even lost to SMU this past Wednesday.
Perhaps the best non-Arizona news from the Pac-12 this week was Oregon State's ability to hang with Kansas in a game the Beavers eventually dropped by six points.
The silver lining in the early season is that Oregon looks like a NCAA tournament contender, so maybe the Pac-12 outlook won't be so poor by March.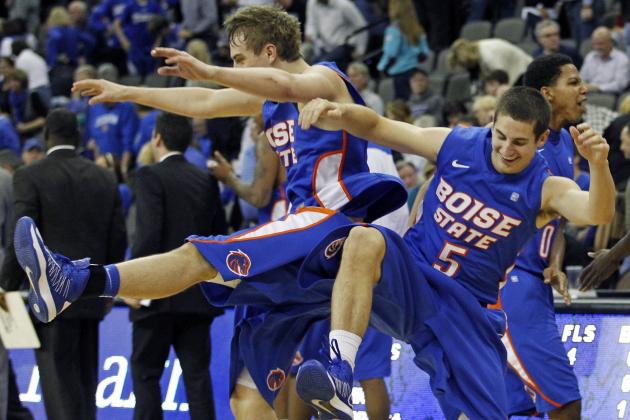 Matt Ryerson-USA TODAY Sports

What a week for the Mountain West.
New Mexico is still undefeated, Wyoming upset No. 19 Colorado, Colorado State is still unblemished, San Diego State defeated UCLA, Boise State knocked off unbeaten Creighton, and UNLV looks good again.
Even Air Force only lost by three points against an undefeated, NCAA tournament-caliber Wichita State team.
By March, the Mountain West will probably be a three-team race between New Mexico, San Diego State and UNLV. However, there may only be three or four leagues in the entire country with better teams in the top three slots in their respective power rankings.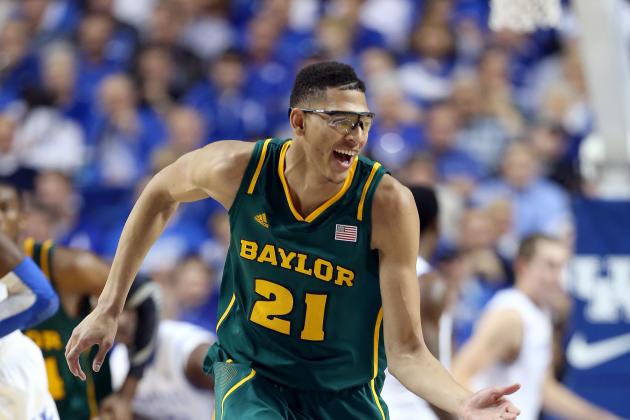 Andy Lyons/Getty Images

Oklahoma State's season so far is a solid metaphor for the entire Big 12 in 2012-13.
There is enough talent there to play with most teams in the country—as demonstrated by the Cowboys' blowout win over North Carolina State—but there are definitely problems that could ultimately rear their ugly head, as shown by Oklahoma State's loss to Virginia Tech and overtime game against Akron.
Of course, Baylor's impressive performance against Kentucky and horrible loss against the College of Charleston this week can serve as another example.
Kansas is great, but I'm not sure about most of the other teams. There aren't really many quality wins in the league that I haven't mentioned, and teams like Oklahoma, Texas Tech, Texas and Kansas State have decent records with no substance, thanks to a menu of cupcakes.
As I said last week, the Big 12 could end up anywhere from No. 4 to No. 8 on this list by March. We will just have to watch how the games play out.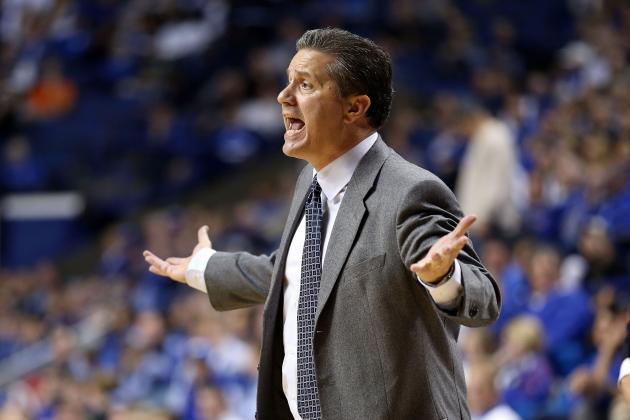 Andy Lyons/Getty Images

The SEC took it on the chin this week.
The good news in the SEC/Big East Challenge was that Florida destroyed Marquette, Ole Miss beat Rutgers and LSU beat Seton Hall.
The bad news was as follows: Alabama lost to Cincinnati, Tennessee scored 36 points and lost to Georgetown, South Carolina got crushed by St. John's, Kentucky lost by double digits to Notre Dame, Arkansas lost to Syracuse, Vanderbilt lost to Villanova, Auburn fell to DePaul, Georgia lost to South Florida, and Mississippi State lost to Providence.
The losses didn't stop at the Challenge for the SEC. Baylor snapped Kentucky's 55-game home-winning streak was snapped, and South Carolina fell to archrival Clemson.
Ultimately, the strength of Florida and Missouri is keeping this league in the No. 4 spot this week, but just know that the SEC is closer to No. 8 right now than it is No. 3.
And you wonder why the SEC only pays attention to football.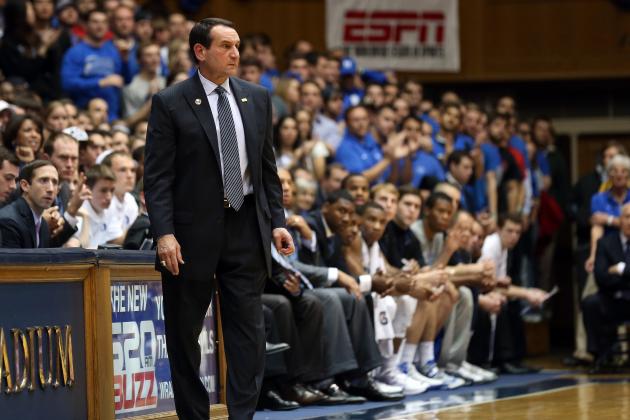 Streeter Lecka/Getty Images

You can make the case for the ACC to be higher than this, and I would be willing to listen, but I still think the Big East, on the heels of its SEC beatdown, and the Big Ten are better.
However, as the tie in the ACC/Big Ten Challenge showed, the difference isn't that big.
There is no team in the country, including Indiana, with a more impressive resume than Duke thus far, and the Blue Devils added another Top Five notch to their belt with Ohio State this week.
Furthermore, Virginia Tech looks like it can be a NCAA tournament contender. The Hokies really impressed with victories over Iowa and Oklahoma State.
Although hanging with Kentucky at the beginning of the season doesn't look quite as good now, Maryland has an impressive six-game winning streak after dispensing Northwestern in the Challenge.
But the most impressive wins for the ACC this week came from Miami, who beat Michigan State, and Virginia, who did what few teams have ever done: beat Bo Ryan's Wisconsin team in a non-conference home game.
The three teams holding the ACC back from a higher spot were all considered challengers for the ACC crown to start the year. North Carolina looked awful against Indiana, North Carolina State once again struggled against a quality opponent in Michigan, and Florida State was all kinds of bad in losses to Minnesota and Mercer (Mercer? Really?).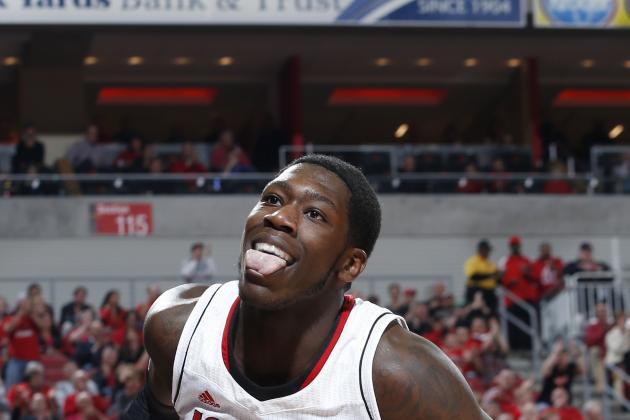 Joe Robbins/Getty Images

I already delved into the bloody details in the SEC slide, but the Big East/SEC Challenge was an absolute massacre. And that didn't even count Louisville's early-season victory over Missouri.
In perhaps the final season of basketball excellence in the conference, the league has started off with a bang.
Cincinnati and Syracuse are both undefeated with victories over the likes of Alabama, Oregon, San Diego State and Arkansas, while Notre Dame, Pittsburgh, Georgetown and even Connecticut have been much better than advertised.
And we haven't even mentioned the Cardinals, who survived a scare this week against a dangerous Illinois State squad.
Ultimately, the Big East has too much collateral damage from being such a large conference to be considered the best at this point. For as good as the league has been on the top, the result of a 16-team group is that there is bound to be a number of teams that just aren't very good.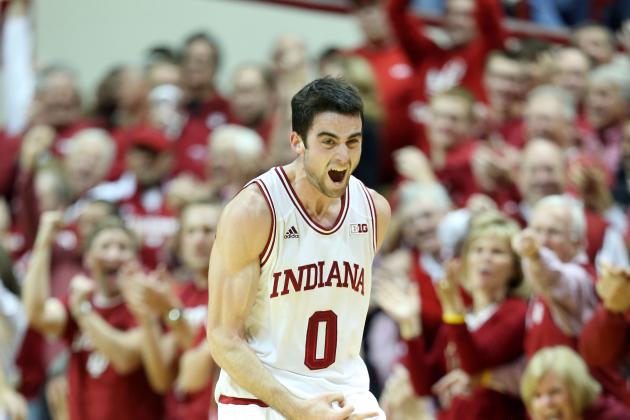 Andy Lyons/Getty Images

I was oh so very close to dropping the Big Ten after what can only be considered a disappointing tie in the ACC/Big Ten Challenge.
However, the emergence of Minnesota and Illinois as legitimate contenders for what appears to be high seeds in March changed my mind and solidified the top spot for at least another week.
Yes, we knew Indiana, Michigan and Ohio State were among the top 10 teams in the country heading into the season, but the Gophers and Illini give the league much needed depth. In fact, that depth is needed even more now considering how disappointing Wisconsin has been.
Not to play apologist, but some of the six losses in the challenge really weren't that bad. Michigan State lost on the road with a nowhere-near-100-percent Gary Harris, Penn State is still reeling from the loss of Tim Frazier, and Ohio State was the better team against Duke at Cameron Indoor for 35 minutes.
It's hard not to rank the league with six Top 25 teams and three Top 10 teams as the top conference at this point in the season.