Ranking the Top 20 Candidates for the Naismith Award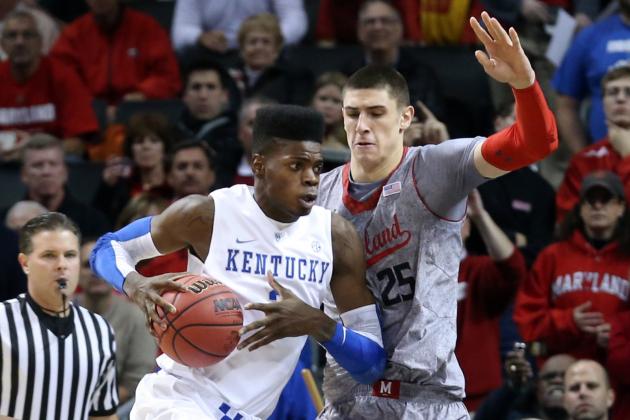 Anthony Gruppuso-US PRESSWIRE

College basketball's biggest stars get some official recognition with Tuesday's release of the early-season watch list for Naismith College Player of the Year honors. The 50-man "roster" features the leading contenders—as determined by the Atlanta Tipoff Club, which administers the honor—for the title of best player in all of college hoops.
Few of those contenders are facing as much pressure to challenge for national Player of the Year award as Kentucky freshman Nerlens Noel. The 6'10" center has the shot-blocking chops to be a worthy successor to 2011-12 winner Anthony Davis, and another Final Four-caliber season from the Wildcats will have the nation's top-rated recruit in the Naismith conversation all year long.
Read on for more on Noel and where he fits in among the 20 players with the best chances to hoist the Naismith hardware by season's end.
Begin Slideshow

»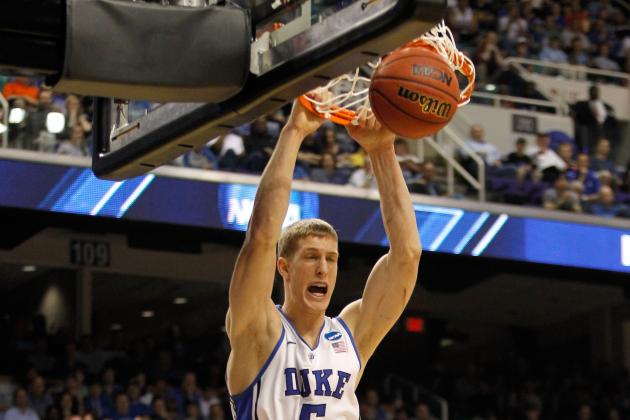 Streeter Lecka/Getty Images

Not everybody can make the cut for the top 20. Here's a look at the Naismith watch-list contenders who came up a little (or a lot) short:
Kyle Anderson, UCLA
Chane Behanan, Louisville
Lorenzo Brown, N.C. State
Rotnei Clarke, Butler
Jack Cooley, Notre Dame
D.J. Cooper, Ohio
Matthew Dellavedova, Saint Mary's
Gorgui Dieng, Louisville
Michael Dixon Jr., Missouri
Tim Frazier, Penn State
Archie Goodwin, Kentucky
Elias Harris, Gonzaga
Pierre Jackson, Baylor
Sean Kilpatrick, Cincinnati
Mark Lyons, Arizona
Trevor Mbakwe, Minnesota
Rodney McGruder, Kansas State
Tony Mitchell, North Texas
Kevin Pangos, Gonzaga
Mason Plumlee, Duke
Otto Porter, Georgetown
Alex Poythress, Kentucky
Marcus Smart, Oklahoma State
Michael Snaer, Florida State
Jarnell Stokes, Tennessee
Deshaun Thomas, Ohio State
Christian Watford, Indiana
Jeff Withey, Kansas
BJ Young, Arkansas
Patric Young, Florida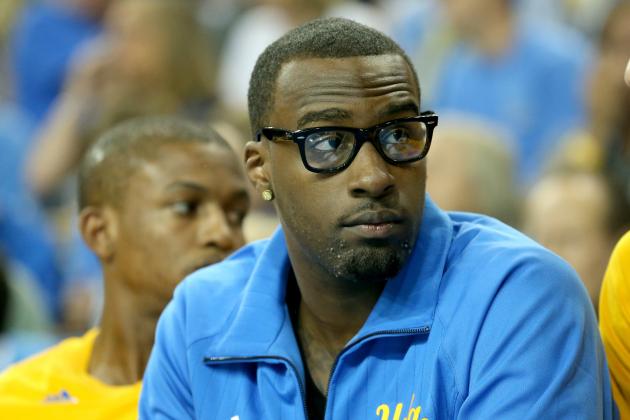 Stephen Dunn/Getty Images

If he weren't projected to lose as many as 10 games to the NCAA's eligibility police, Shabazz Muhammad would be in the top five on this list.
Even with the potential time on the shelf, the explosive UCLA freshman will have two-thirds of the season to show why he was ranked No. 2 in the nation in this year's recruiting class (h/t Scout.com).
Muhammad is a 6'6" swingman with unlimited scoring ability, whether it's launching three-pointers or launching himself over defenders at the rim.
A Pac-12 scoring title and a No. 1 seed for the Bruins are hardly out of reach for Muhammad, and that combination would make him tough to overlook in the Naismith balloting.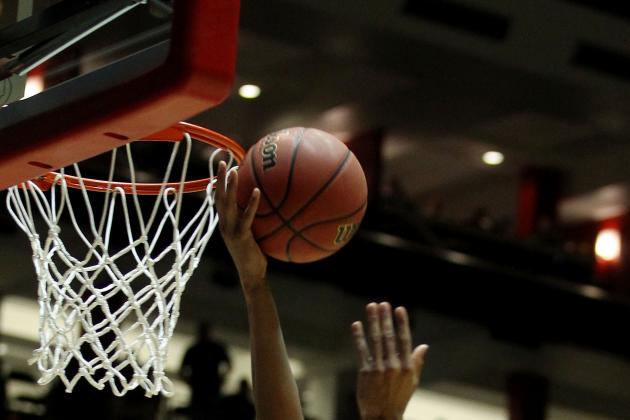 Christian Petersen/Getty Images

Andre Roberson is not going to win the Naismith Award if he scores 11.6 points per game again. If he can blossom into a big-time offensive weapon as a junior, though, he's already got everything else covered.
The 6'7" Roberson placed fifth in the country last season with 11.1 rebounds a night, and even with big Josh Scott having arrived to play center, he's a safe bet to get his share of boards again.
Roberson also helps his cause by playing first-class defense, having averaged 1.9 blocks and 1.3 steals a game in 2011-12.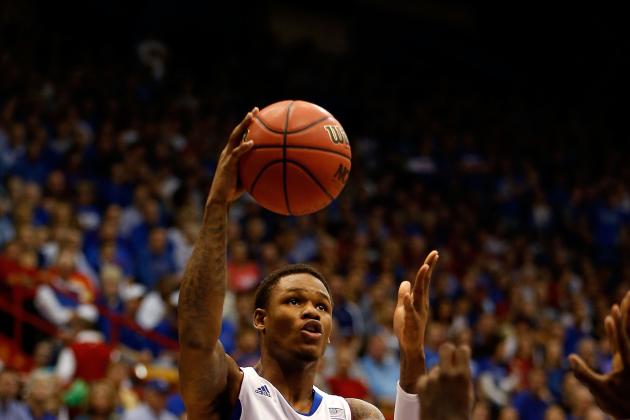 Jamie Squire/Getty Images

Shot-swatting teammate Jeff Withey will have more to say about Kansas' postseason hopes, but the Jayhawk with the best shot at a breakout season (and the hardware to go with it) is Ben McLemore.
Redshirted last year as he got his academics in order, McLemore looks more NBA-ready than any other player on Bill Self's roster.
A high-flying 6'5" combo guard, McLemore pulled in 12 rebounds (to go with nine points) in the Jayhawks' season-opening win over outmatched Southeast Missouri State.
Look for his scoring numbers to pick up when the Jayhawks face more competitive frontcourt defenses—like the Michigan State squad they'll take on at the Georgia Dome on Tuesday night.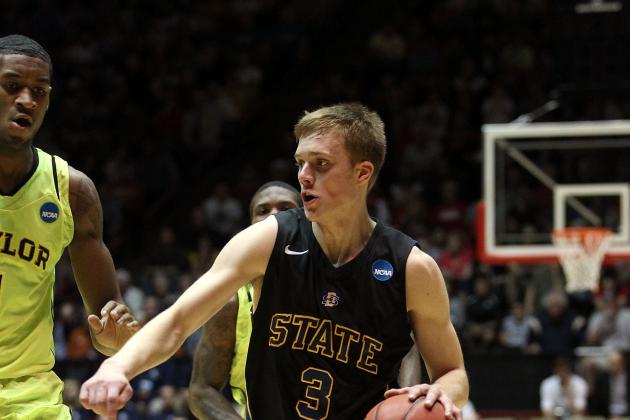 Christian Petersen/Getty Images

A year ago, Nate Wolters was the only player who ranked in the top 20 nationally in both scoring and assists. The scary thing is, there's every reason to believe his numbers are going to get better in his senior season.
Wolters' South Dakota State squad returns four starters from a group that won 27 games and gave Baylor a run for its money in the 2012 NCAA tournament.
If Wolters can lead this team to a couple of eye-catching upsets—and it nearly beat Alabama on the road before falling on a Trevor Lacey buzzer-beater—he'll have the individual stats to compete with any player in the nation come Naismith voting time.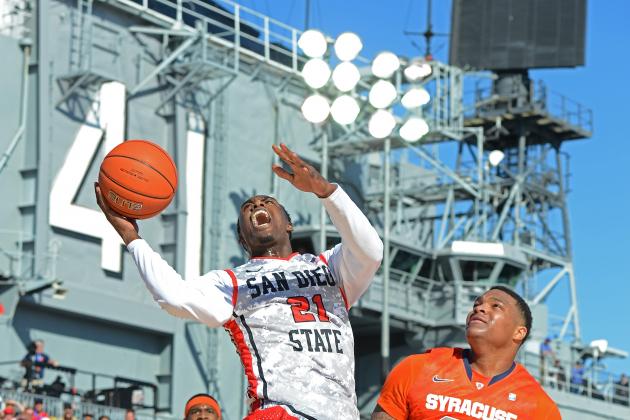 Harry How/Getty Images

Even on a rotten shooting night in San Diego State's opener, Jamaal Franklin tallied a team-high 11 points and eight rebounds against mighty Syracuse.
Now imagine what Franklin can do when he's playing well, and you have a pretty good idea of why San Diego State started the season ranked No. 20 in the nation.
Franklin, a 6'5" swingman, led last year's Aztecs with numbers more suited to a 6'8" forward: 17.4 points and 7.9 rebounds per contest.
He'll really help his cause in the Naismith race if he can improve on his pedestrian 32.5 percent long-range shooting from last season (though an 0-of-6 start against the Orange doesn't bode well).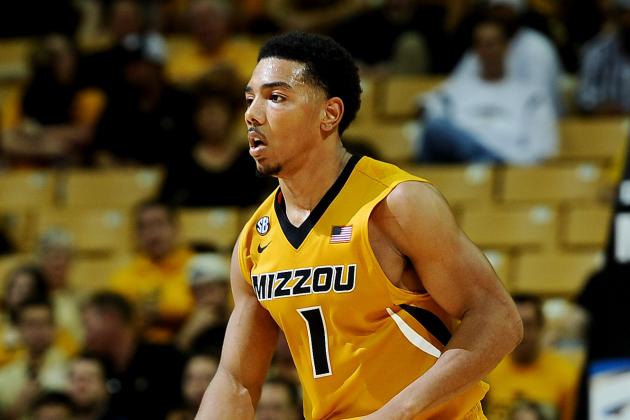 Dak Dillon-US PRESSWIRE

Tabbed as the preseason SEC Player of the Year, Phil Pressey sure looked the part in Missouri's opener against SIU-Edwardsville.
In addition to nine assists (no surprise from last year's Big 12 leader in that category), Pressey poured in 19 points as the top perimeter weapon for a red-hot Mizzou offense.
While transfers Keion Bell (Pepperdine) and Earnest Ross (Auburn) get their feet under them, Pressey will have to be a primary scoring option along with his passing chores.
He's also a safe bet to place among the SEC's top defenders after averaging 2.1 steals per game a season ago.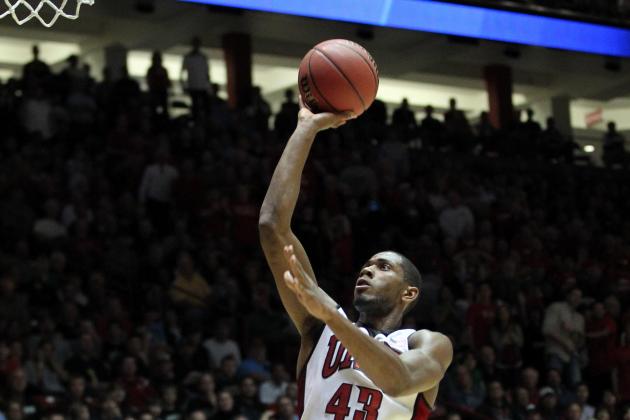 Nelson Chenault-US PRESSWIRE

UNLV's roster is stocked with talented newcomers, but the key man for the Rebels will still be their star acquisition from a season ago. 6'8" Mike Moser led the team with 14 points per game while placing 10th nationally with 10.6 rebounds a night.
Moser, more agile than bulky as a power forward, is also a terrific defender who grabbed 1.9 steals per contest in his UNLV debut.
With only a slight improvement as a junior, he'll be putting up the kinds of numbers that turned Thomas Robinson and Draymond Green into Naismith finalists a season ago.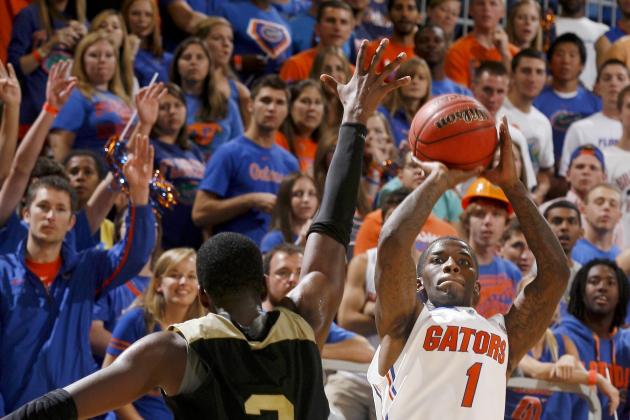 Phil Sears-US PRESSWIRE

Alabama State isn't exactly an SEC-caliber opponent, but Kenny Boynton got his season started off on the right foot against the Hornets.
Boynton's game-high 22 points moved him one step closer to becoming the all-time leading scorer in Gators history.
Although Boynton's Naismith candidacy will rest almost entirely on his scoring punch (he racked up a career-high 15.9 points per game last year), he is adding a new dimension to his game as a senior.
With longtime backcourt mate Erving Walker gone, Boynton is taking on a bigger share of the ball-handling duties this season, and the five assists he dished out in the opener suggest that the new role might be a pretty good fit.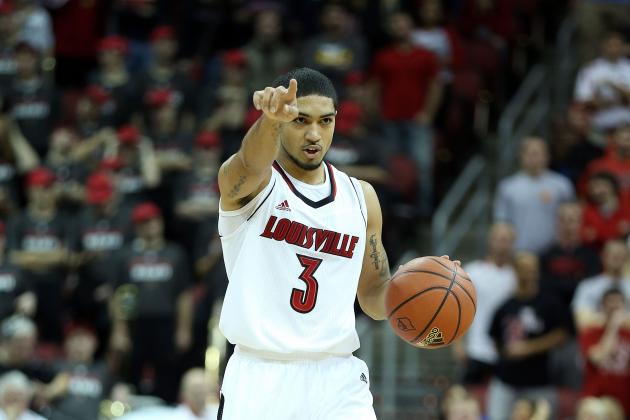 Andy Lyons/Getty Images

No. 2 Louisville tied for the national lead with three players on the Naismith list, and the front-runner among those standouts is senior leader Peyton Siva.
The 6'0" point guard carried the Cardinals offense on his back through much of the 2012 Final Four run, and his shot at the Naismith this year is inextricably linked to keeping his squad near the top of the rankings.
Siva averaged just 9.1 points per game in his own right, but often triggered Louisville's dangerous fast break with his defense (1.7 steals a night).
His most impressive numbers are likely to come in the assist column, as they did in his 10-point, 10-assist double-double in the Cardinals' season-opening win over Manhattan.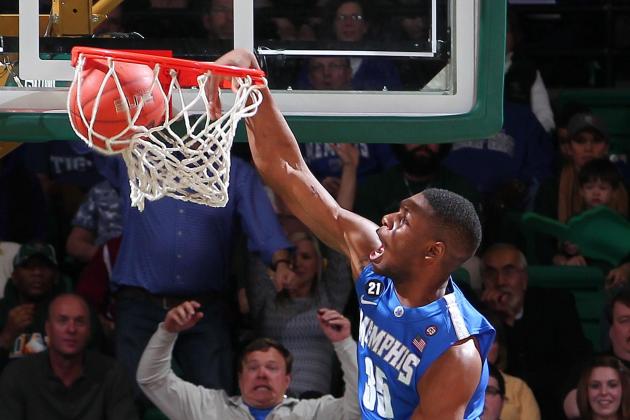 Marvin Gentry-US PRESSWIRE

With Will Barton off to the NBA, Memphis' impressive ensemble backcourt needs a new leader. Sophomore Adonis Thomas, an A-plus athlete much in Barton's mold, has a great shot to fill the Tigers' star-power void.
The 6'7", 240-pound Thomas had a quietly solid freshman year, highlighted by 8.8 points and 3.2 boards per game, but an ankle injury cost him a big chunk of the season.
Now healthy, and with veteran guards Chris Crawford and Joe Jackson back to set him up, Thomas is primed to explode in 2012-13.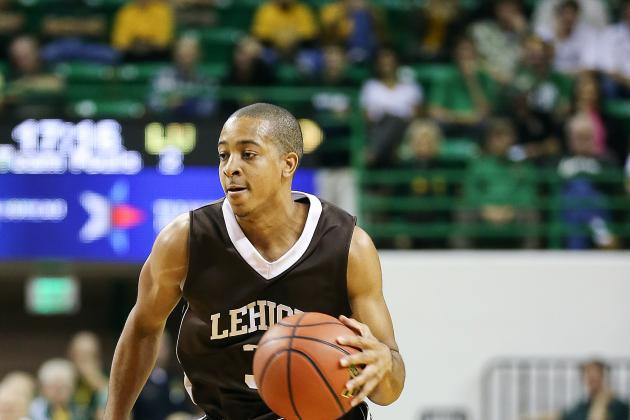 Kevin Jairaj-US PRESSWIRE

Lehigh got an early wake-up call to start the 2012-13 season, getting its doors blown off by No. 19 Baylor in Waco.
Short of upsetting the Bears, though, C.J. McCollum's bid to be the Patriot League's first Naismith Award winner could hardly have gotten off to a better start.
The 6'3" McCollum showed off all of his diverse skills in the loss, piling up 36 points, eight rebounds and three steals.
He doesn't have much room to improve on his junior-year performance (fifth in the country in scoring and steals), but now that March's upset of Duke has put him on the radar, he'll get a lot more credit for the eye-popping numbers he puts up.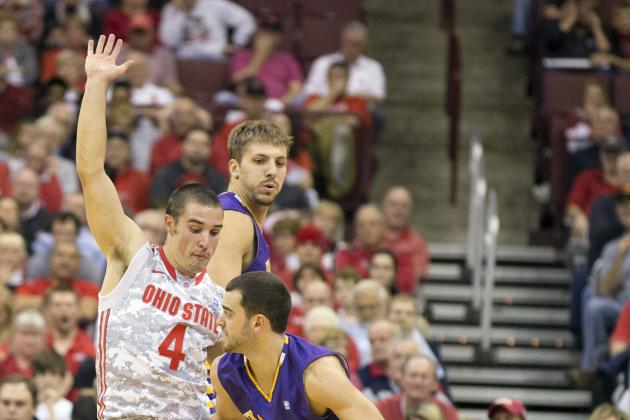 Greg Bartram-US PRESSWIRE

Anthony Davis' magnificent 2011-12 season was a case study in the value of a great defensive player, and there isn't a better defender in college hoops this year than Aaron Craft.
As a sophomore, the hard-nosed point guard averaged 2.5 steals a game while forcing every Buckeye opponent to account for him in its offensive game plan.
Just as important to Craft's Naismith hopes, Jared Sullinger's departure will open up opportunities for him to shine on his own team's offensive end.
He's already a fine passer at 4.6 assists per game, and if Sunday's season opener against Albany—a game-high 20 points to go with his seven assists—is any indication, he's finally learned to seize his own shooting opportunities.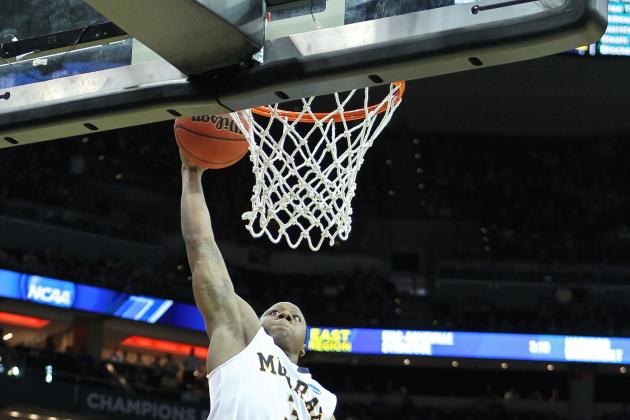 Andy Lyons/Getty Images

Murray State was last season's biggest surprise as a team, and no player meant more to the Racers than Isaiah Canaan.
One of two returning AP All-Americans in the country, second-teamer Canaan lit up scoreboards to the tune of 19 points per game as a junior.
The Racers took some serious hits from graduation, and Canaan will need to shoulder an even bigger scoring load with Donte Poole and Ivan Aska gone.
He's also one of Murray State's top defenders (1.4 steals a night), making him that much more vital to the Racers' hopes of pulling off a few nonconference upsets to stay on the national radar before their Ohio Valley debut.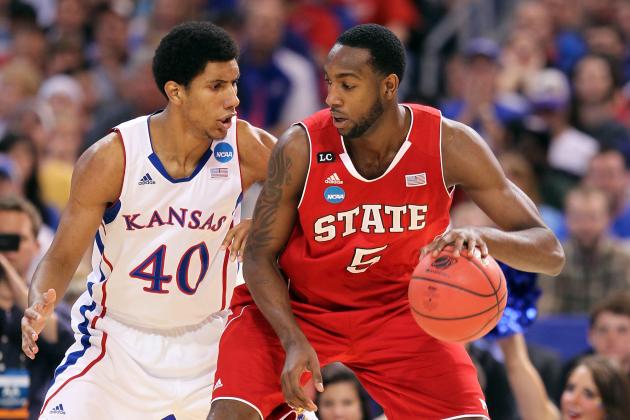 Andy Lyons/Getty Images

Multi-talented teammate Lorenzo Brown is probably more deserving of this spot, but C.J. Leslie has become the focal point of the ever-expanding hype surrounding No. 6 NC State.
Named preseason ACC Player of the Year by the league's coaches, the 6'9" Leslie is coming off a strong season in which he led the Wolfpack with 14.7 points per game.
Leslie is also a terrific rebounder who grabbed 7.3 boards a night while playing alongside the bruising Richard Howell.
A modest improvement in his stats (hardly out of reach for the junior) and an ACC title for the Wolfpack would make Leslie a household name by season's end.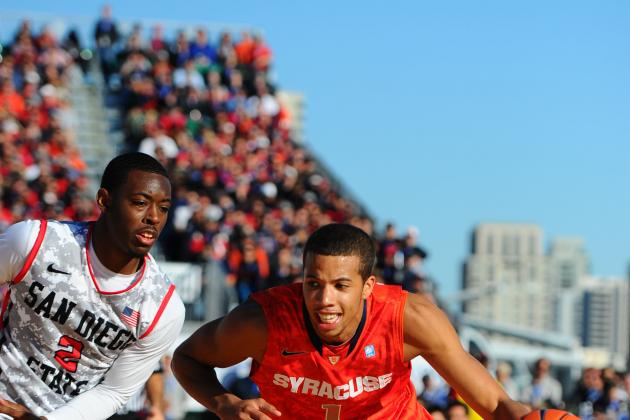 Christopher Hanewinckel-US PRESSWIRE

One game into his first real shot at playing time as a collegian, Michael Carter-Williams looks ready to live up to his McDonald's All-American hype.
The 6'6" sophomore torched a loaded San Diego State backcourt for 17 points, four rebounds, four assists and five steals to lead the eighth-ranked Orange to a season-opening win.
Carter-Williams didn't get on the court much last year, but he's obviously benefited from his apprenticeship under the heady Scoop Jardine.
Now the leader of a group of Syracuse up-and-comers who served as backups on last year's Elite Eight squad, he'll have both impressive stats and an impressive win-loss record to help his Naismith resume.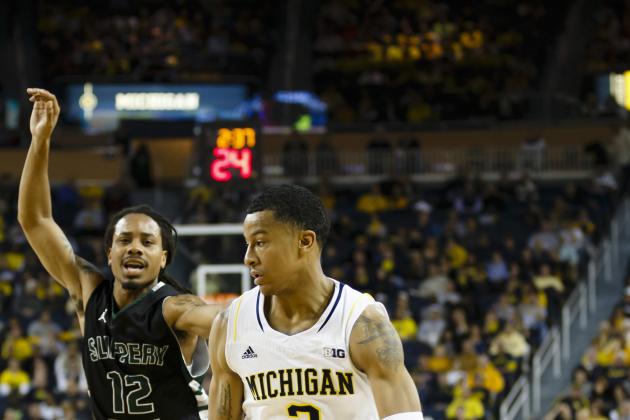 Rick Osentoski-US PRESSWIRE

Just a year removed from his breakout showing as a Michigan freshman, Trey Burke is being asked to take over as a veteran leader for a team with a very real shot at the Final Four.
Like most point guards, Burke will be judged on his team's performance at least as much as his own, but he's got some pretty impressive individual skills to help his cause.
The 6'0" point guard led last year's Wolverines with 14.8 points and 4.6 assists per game, and his passing numbers are almost sure to rise with the addition of touted freshmen Glenn Robinson III and Mitch McGary to the Michigan offense.
Combine that loaded lineup with offensive-minded coach John Beilein, and Burke's numbers could be headed for ridiculous heights in his sophomore campaign.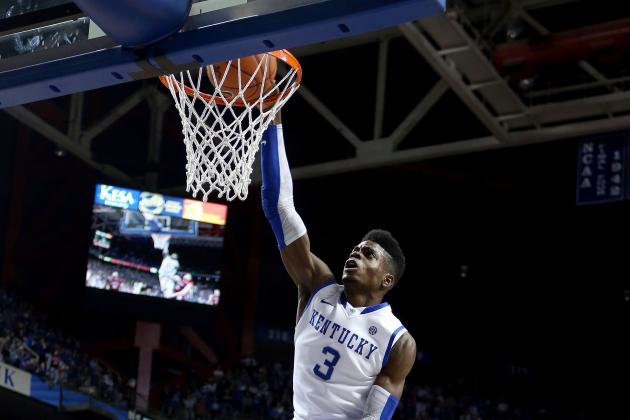 Andy Lyons/Getty Images

It takes some doing to be the most hyped freshman in a John Calipari recruiting class, but Nerlens Noel has the talent to hold up under that burden.
The 6'10" center certainly looked like a viable replacement for superstar Anthony Davis when he blocked three shots against Maryland in his first college game.
Noel may not even be the leading scorer on his own team—classmates Alex Poythress and Archie Goodwin will likely duel for that honor all season—but he's got a serious chance to take over Davis' job as the country's leading shot-blocker.
If he can put up a respectable scoring average and dominate the glass for a title contender, that should be enough to put him at the forefront of the Naismith discussion.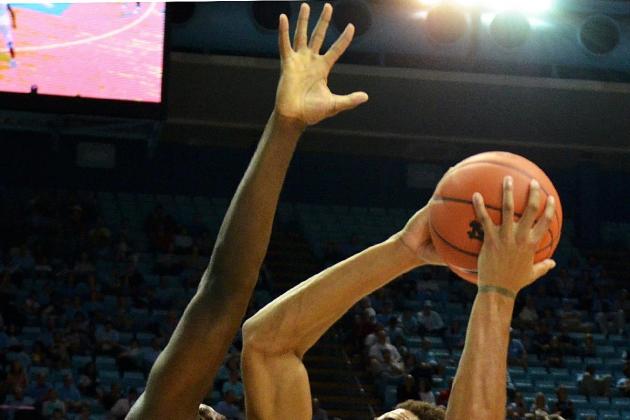 Rob Kinnan-US PRESSWIRE

Anthony Davis' toughest competition for last year's Naismith Award came from Kansas PF Thomas Robinson, a former sixth man who dominated all comers in his one season as a starter.
James Michael McAdoo, a sixth man himself for 2011-12's loaded North Carolina squad, looks poised to do an awfully good impression of Robinson this season.
The 6'9", 230-pound McAdoo is one of the country's most jaw-dropping athletes, and he's got an impressive shooting touch to boot.
He won't put up 26 points and 14 boards—as he did in the Tar Heels' opener against Gardner-Webb—every night, but he won't fall too far off that pace, either.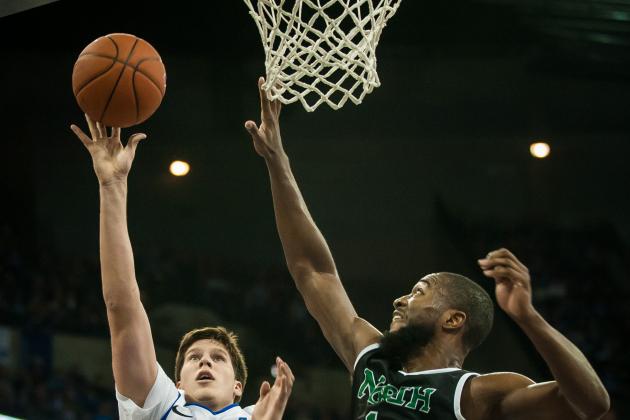 Eric Francis/Getty Images

Doug McDermott is the odds-on favorite to lead the country in scoring in 2012-13.
Having made the list of Naismith finalists when he "only" finished third in the nation last season (22.9 points per game), the first-team All-American has to like his chances in his junior year.
The 6'8" McDermott is also a terrific rebounder who averaged 8.2 boards a night.
He'll help his cause considerably if he can keep Creighton (currently ranked No. 13) relevant on the national scene by beating Wisconsin and Cal in nonconference action.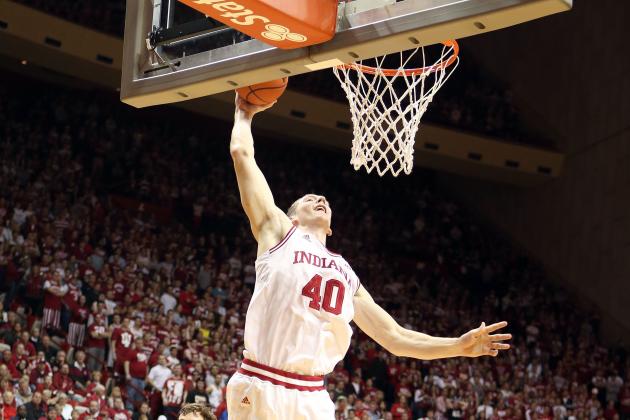 Andy Lyons/Getty Images

Cody Zeller is the best center in college basketball, and he's the leader of college basketball's best team, the top-ranked Indiana Hoosiers. If he plays up to his potential, it's hard to imagine anyone else taking home the Naismith Award this season.
The 7'0", 240-pound Zeller was already impressive as a freshman, averaging 15.6 points, 6.6 rebounds and 1.2 blocks per game.
Considering the huge jump in performance that many college basketball players make as sophomores, the sky is the limit for Zeller (and the Hoosiers) in 2012-13.