The Top 10 Freshmen Who Could Emerge Early in the College Basketball Season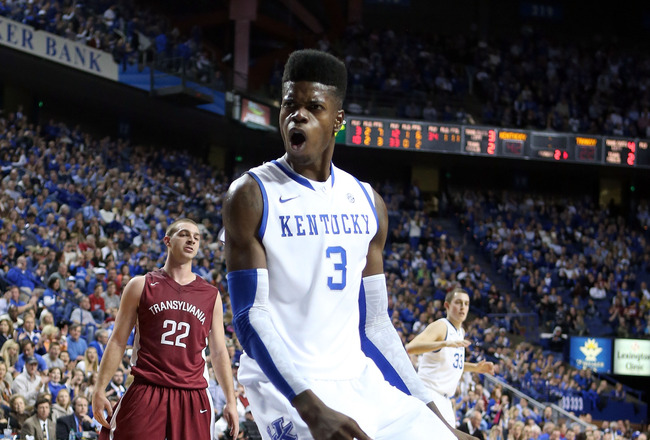 Andy Lyons/Getty Images
With the start of a new college basketball season, comes many questions, like will the Kentucky Wildcats repeat? Is North Carolina State really the team to beat in the ACC?
Although those are great questions, the one we will use for the purposes of this article is who are the top 10 freshman who could emerge early this season?
There are so many great incoming freshmen and redshirt freshmen entering the 2012-13 college basketball season. Although none of these players have played in anything more than a college exhibition game, when you see talent you can take a stab at how good a player will be.
One of the best freshmen entering the season will be Shabazz Muhammad, but he will not be included in this article, since he hasn't even been cleared to play yet and is battling an injury that could keep him out anyway.
With that said, read on to see the top 10 freshman who could emerge early in the college basketball season.
10. Alex Poythress, Kentucky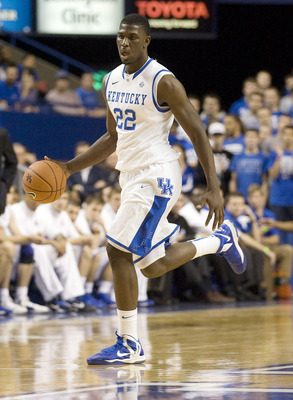 Mark Zerof-US PRESSWIRE
Alex Poythress may not be as highly rated coming into the season as Nerlens Noel or Archie Goodwin, but he would start for any team in the country.
Poythress will be a future lottery pick in the NBA draft and his size definitely helps him with that cause. He stands at 6'7'', and is one heck of an athlete. Poythress has a good enough shot to knock down threes, but he is very hard to guard when he actually drives to the basket.
His size also helps him to be a great rebounder.
What makes Poythress so special is the fact that he is kind of like Terrence Jones. Poythress can dribble the ball, has range on his shot and he can definitely drive to the basket. He will be a nightmare for defenders all season long.
In two exhibition games, Poythress averaged eight points per game and 4.5 rebounds per game. Poythress plays on a Kentucky team that has one of the most complete lineups in the nation. Sure, none of Kentucky's freshmen have proven anything, but their talent speaks pretty loudly.
9. Rodney Purvis, North Carolina State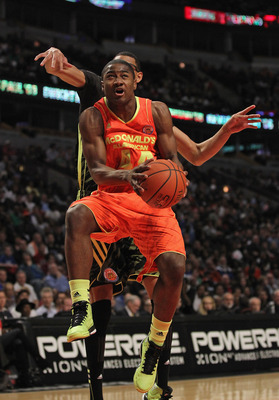 Jonathan Daniel/Getty Images
North Carolina State will be one of the best teams in the country, thanks to Lorenzo Brown and C.J. Leslie returning. However, Rodney Purvis will likely make an impact right away as a freshman.
As a guard, Purvis definitely can shoot, but he can also drive to the basket at will. Purvis has all of the makings to be an elite scorer, but he will be playing alongside Brown and Leslie, who will both average a lot of points for the Wolfpack.
Purvis put up 10 points in NC State's exhibition game against Belmont Abbey, but it was his very first game in college.
Purvis will do most of his damage on the season in transition play and when he is slashing his way to the basket.
8. Kyle Anderson, UCLA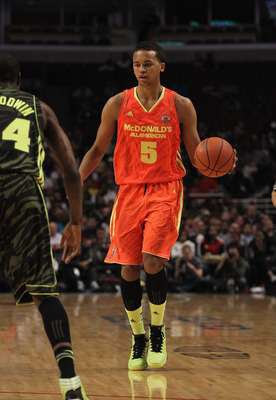 Jonathan Daniel/Getty Images
Luckily for Kyle Anderson, he is cleared to play this season. Mr. Muhammad couldn't be so lucky, at least not yet.
Anderson may be 6'9'', but he is an amazing passer and can drain shots left and right. Anderson may be new to the team, but he is going to have to step up his game right off the bat, as long as Shabazz Muhammad isn't playing.
Anderson is going to be a serious matchup problem for opposing teams because of his height and his ability to score from outside the perimeter and in the paint.
7. Brandon Ashley, Arizona
Jonathan Daniel/Getty Images
Brandon Ashley should be a consistent contributor on both sides of the ball. Ashley has great touch on his shot and can definitely score around the basket being 6'8'' and all. His size also helps him with his blocking abilities.
Ashley will be a big reason why the Wildcats get back on the map in the upcoming season. Going into the season, Arizona is ranked No. 12 in the AP Top 25.
Expect Ashley to be a starter when the year begins.
6. Yogi Ferrell, Indiana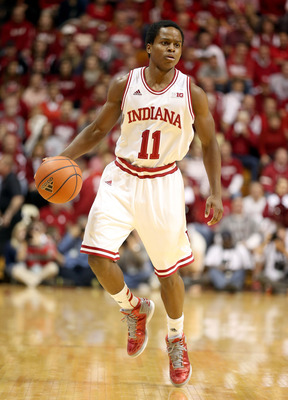 Andy Lyons/Getty Images
Yogi Ferrell will be joining an already amazing Indiana Hoosier team. In case if you have been out of it for quite some time now, the Hoosiers are back and they will be ranked No. 1 to start the season.
Ferrell will join Cody Zeller and company, which should be a historical year for the Hoosiers.
Ferrell is a true point guard that will dish out passes left and right to Christian Watford and any other Indiana player this year. Although Ferrell is on the shorter end of the stick (5'11'') he is not afraid to drive to the basket and can hit jumpers when he wants to.
5. Ben McLemore, Kansas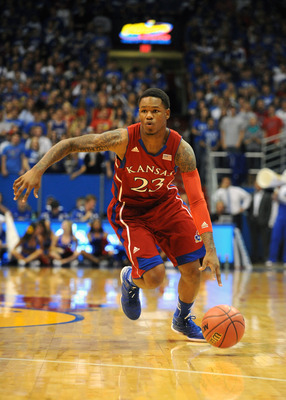 John Rieger-US PRESSWIRE
The Kansas Jayhawks may have lost Tyshawn Taylor and Thomas Robinson, but they will still have plenty of talent on their team in the upcoming season, like redshirt freshman Ben McLemore.
If McLemore's game is half as good as expected, Kansas should be in for a real treat this year. McLemore should be one of the highest scorers on the team, despite being a freshman because of his explosiveness on the offensive side of the ball.
4. Archie Goodwin, Kentucky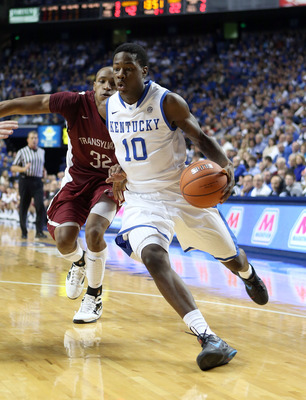 Andy Lyons/Getty Images
Archie Goodwin has the talent to be the leading scorer on Kentucky this year. Against Northwood, Goodwin was able to score 22 points.
Although the Wildcats will be playing much stiffer competition this season, Goodwin seemed the most comfortable in the offense and was able to score from everywhere on the court.
3. Marcus Smart, Oklahoma State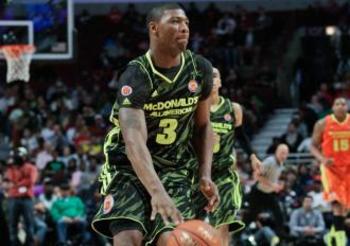 AP Photo
Marcus Smart has the talent to be the best defender and offensive player on Oklahoma State this year. Smart was ranked as the No. 10 recruit overall according to ESPN.
Smart is at his best when he is attacking the rim, but he can also set up the offense. It's impressive that a kid this young plays just as good defense as he does offense just because he wants to.
Most young players will try to showboat by scoring all of the time. Although Smart can take over a game like that, he can also do just as much damage on the defensive side of the ball, which he will show all season long.
2. Anthony Bennett, UNLV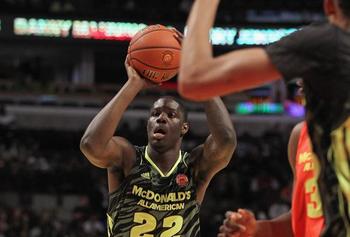 Jonathan Daniel/Getty Images
If Anthony Bennett would have chosen to go to a school like Florida, he may have not shined as much, but he didn't. He chose to go to UNLV.
The Mountain West Conference has actually been pretty good in the past couple of years and UNLV looks to get back on the national scale, but Bennett has the talent to easily be the best player in the conference.
At 6'8'', Bennett has plenty of post moves and knows how to play down low, but what makes him so special is the fact that he can knock down threes, which literally makes him one of the toughest players to guard.
1. Nerlens Noel, Kentucky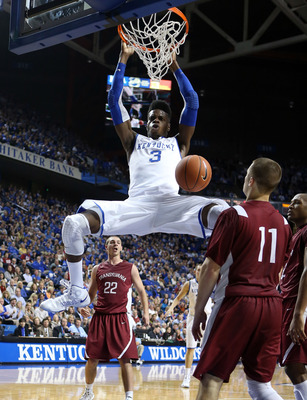 Andy Lyons/Getty Images
Did everyone see what Anthony Davis did in his freshman season with Kentucky last year? He only won the Naismith and a national championship. Well, some people don't want to compare Nerlens Noel to Davis just because Davis rocked college basketball last season, but they are very similar players.
He is a blocking machine that affects the game with his presence in the post alone. He rebounds at a very high rate. His offense is in the works, but he still is going to put up at least 10 points for the Wildcats this year. Are we talking about Davis or Noel here? That is exactly my point.
Talent and skill-wise these players seem almost identical, but we will see if Noel can handle all of the pressure that has been put on him. Luckily, he has a very good supporting cast to help him out.
Noel will make an impact on day one.
If you're a tweeter, feel free to follow me @TheTrevorLowry.
Keep Reading