The Top 25 Point Guards in College Basketball Entering the 2012-13 Season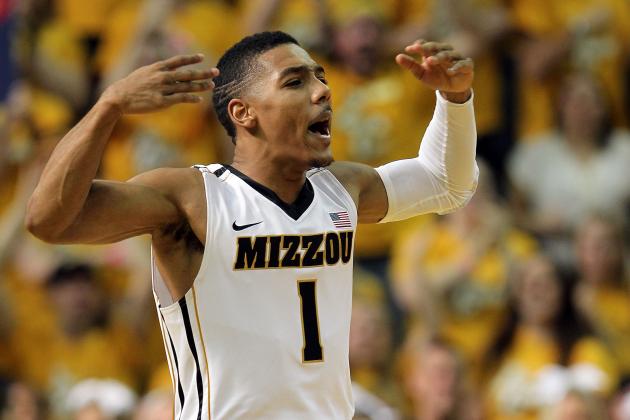 Jamie Squire/Getty Images

With the new college basketball season almost upon us, there isn't a position on the floor that has more talent and depth across the country than point guard. Whatever a fan's preference in floor leaders—the pass-first distributor, the ball hawking defender, the high-scoring penetrator—there's a top-flight college guard to fill the role in 2012-13.
One of the most impressive all-around stars in that group is Missouri's Phil Pressey. The Tigers are ranked No. 15 in the preseason despite losing four starters, and Pressey's penchant for creating chaos on defense—and controlling it on offense—is a huge reason why.
Herein, a closer look at Pressey and his place among the 25 best floor generals in the country this year.
Begin Slideshow

»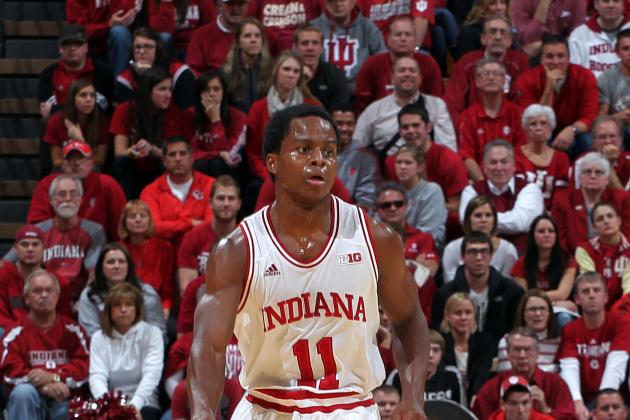 Brian Spurlock-US PRESSWIRE

Without having ever played a game at the college level, Indiana freshman Kevin "Yogi" Ferrell is being handed the keys to one of the nation's most stacked offenses, a group led by a potential Wooden Award winner, Cody Zeller.
In return, all Ferrell has to do is win a national championship in his first collegiate season.
A solid scorer in his own right, Ferrell is even stronger as a playmaker.
He'll be surrounded by veteran shot-makers as a Hoosier, so he's sure to rack up assists, but there are questions to be asked about how well a 6'0", 178-pound freshman will hold up in the physical Big Ten.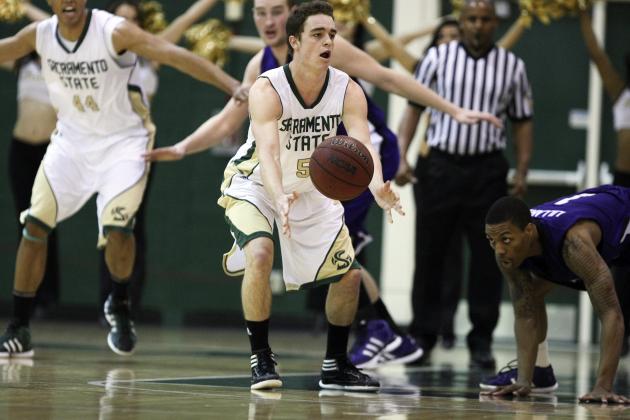 Kelley L Cox-US PRESSWIRE

Dylan Garrity is an awfully one-dimensional player, but what a dimension it is. The Sacramento State point guard placed seventh in the country by dishing out 6.9 assists per game as a freshman.
The Hornets return four starters from last year's balanced offense, so Garrity won't be hurting for targets as a sophomore. Now he just needs to improve on the lackluster 8.1 points per game he scored for himself in his college debut.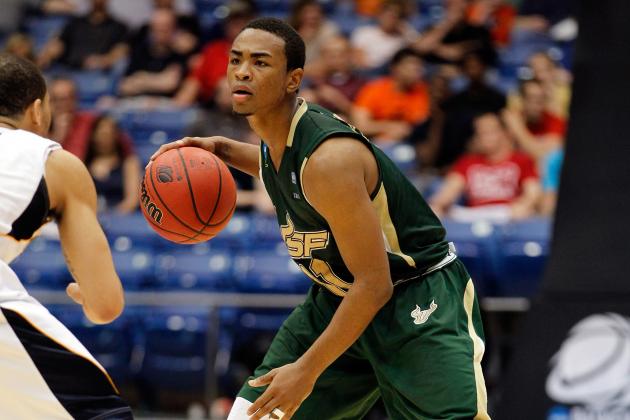 Gregory Shamus/Getty Images

The remarkable part about Anthony Collins' 2011-12 season is not that he averaged 5.2 assists per game, a strong but hardly earth-shattering performance.
The remarkable part is that he did it for a South Florida offense that ranked 328th in the nation in scoring.
At just 9.0 points per game, Collins was also within half a point of the team lead in that department. Not only did he keep the offense afloat virtually single-handed, but he carried a major load on the nation's seventh best scoring defense, averaging a team-high 1.6 steals a night.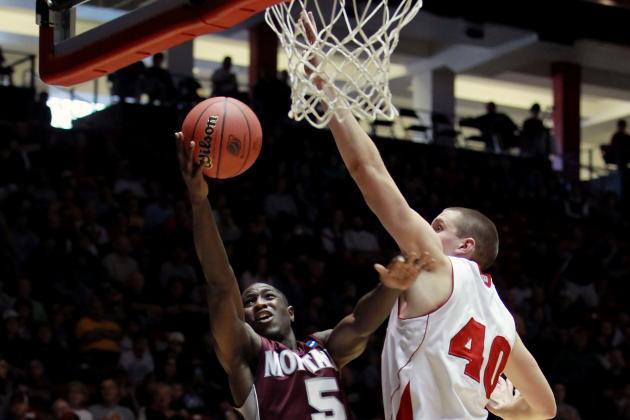 Ronald Martinez/Getty Images

He may not quite be ready to follow Damian Lillard to the NBA, but Will Cherry is in a great position to take up the mantle of the best player in the Big Sky Conference.
The Montana combo guard posted a career-high 15.8 points per game last season while still dishing out 3.3 assists a night.
The 6'1" Cherry does his best work on defense, where he's ranked among the nation's top ten in steals for the last two seasons. After averaging 2.6 thefts per game as a junior, he'll need to come up with quite an encore to finish out his Grizzlies career.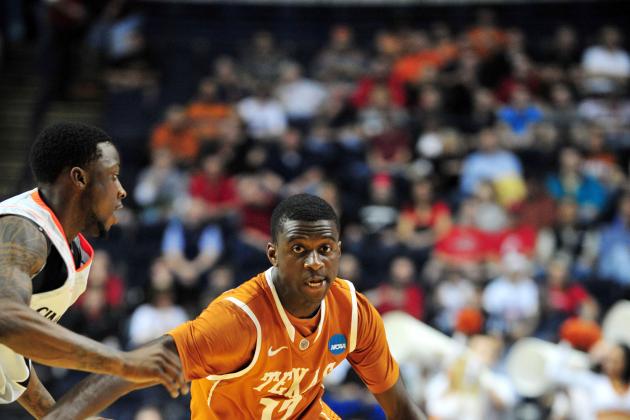 Don McPeak-US PRESSWIRE

Already impressive as a freshman, Myck Kabongo will really get a chance to shine now that he's not sharing the backcourt spotlight with J'Covan Brown.
As Texas' highly-touted frontcourt freshmen are learning, Kabongo is an outstanding distributor who averaged 5.2 assists a night last season.
With Brown gone, look for Kabongo's shot totals to rise, along with his 9.6 point-per-game scoring average. He's only going to get better as a defender, too, having already amassed 1.3 steals per contest last season.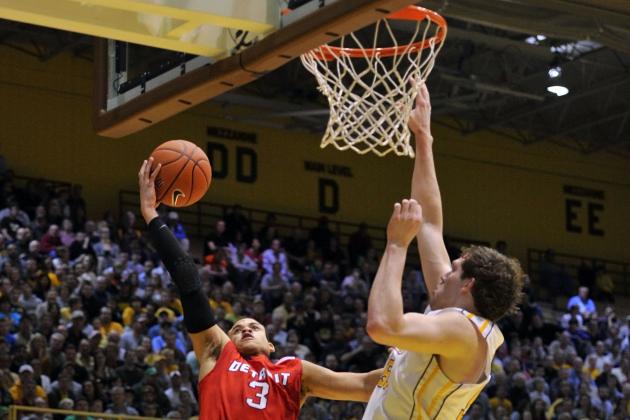 Mike DiNovo-US PRESSWIRE

Butler may have left the Horizon League, but that won't stop the Bulldogs' former conference from turning out potential bracket-busters on a regular basis.
One of this year's prime candidates is the Detroit Titans, led by likely NBA-bound point guard Ray McCallum.
McCallum led his squad to an NCAA Tournament bid last season with team highs of 15.4 points and 4.0 assists per game. His 6'3" frame makes him a force off the ball, as well, with averages of 4.5 rebounds and 1.6 steals a night.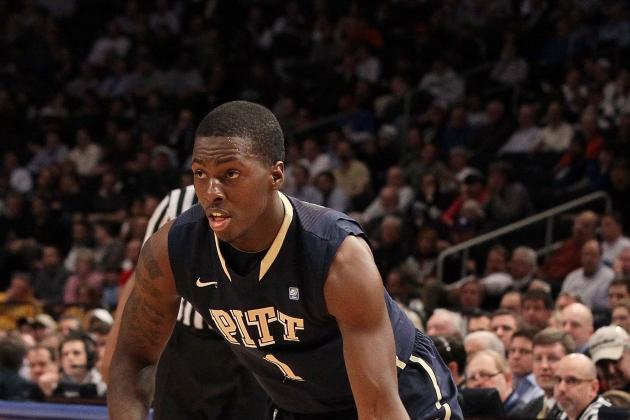 Jim McIsaac/Getty Images

Hobbled by groin and abdominal injuries for much of 2011-12, Tray Woodall was still one of the best players on Pittsburgh's roster.
Now that he's healthy, the Panthers senior could easily top even the impressive numbers he posted when he made it onto the floor last year.
Woodall dished out 6.1 assists a night while also serving as Pitt's second-leading scorer (11.7 points per game).
Even losing backcourt mate Ashton Gibbs isn't likely to slow him down this year, considering that he'll now have high-powered freshman center Steven Adams to feed.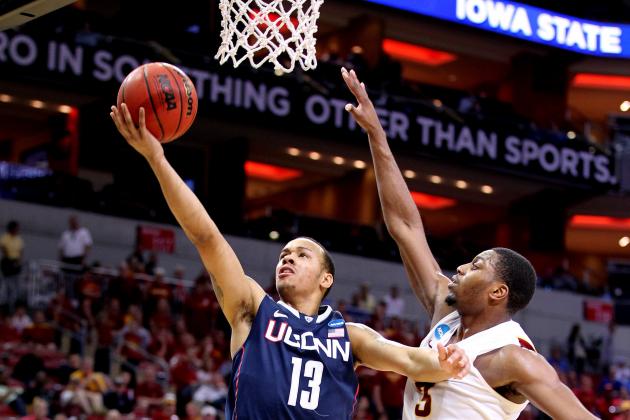 Andy Lyons/Getty Images

Through the most tumultuous offseason in memory in Storrs—a postseason ban for academic failings, Jim Calhoun's sudden retirement—Shabazz Napier has stood firm as the face of Huskies basketball.
With many of his teammates of a year ago lost to transfer or the NBA, he'll have to be a one-man gang to keep UConn competitive in its first season under new coach (and former point guard) Kevin Ollie.
The aggressive Napier is an imposing scorer (13 points per game last year) as well as a top-notch passer (5.8 assists a night).
He doesn't back down on defense, either, having racked up 1.6 steals per contest in each of his first two collegiate seasons.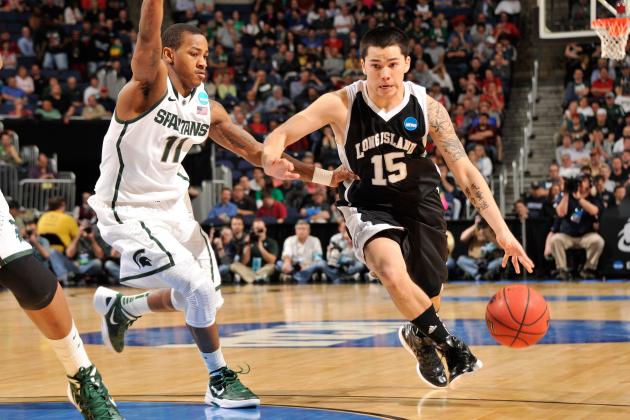 Jamie Sabau/Getty Images

LIU Brooklyn raced into last season's NCAA Tournament on the strength of an offense designed to put up points faster than the opponent can possibly match.
That strategy puts a lot of pressure on the point guard running the show, and sophomore Jason Brickman came through with flying colors.
Brickman placed fifth in the country with 7.3 assists a night while helping the Blackbirds rank third nationally in scoring. Brickman is no slouch as a shooter himself, having hit 52 three-pointers (tops among the team's returnees) at a .406 clip.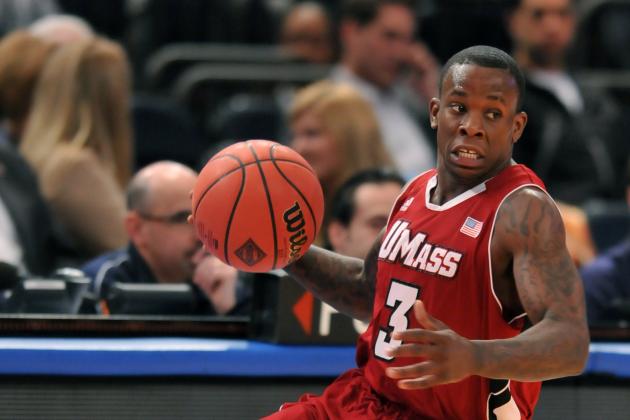 Jason Szenes/Getty Images

High-profile transfers have made plenty of headlines this offseason, but few can hope to make anything like the impact Chaz Williams did at UMass.
In his first season after arriving from Hofstra, Williams immediately became the best player on the Minuteman roster and turned a .500 team into a 25-12 NIT semifinalist.
The 5'9" Williams led UMass in scoring by a wide margin at 16.9 points per game, while also handing out 6.2 assists a night.
He helped the Minutemen turn up the pressure on defense, too, grabbing 2.2 steals per contest to lead a team that tied for seventh nationally in that category.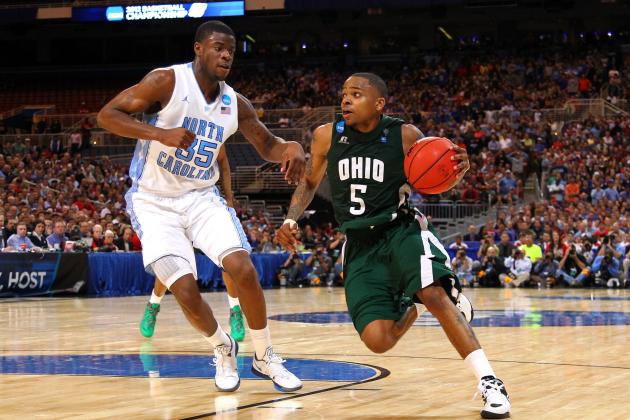 Dilip Vishwanat/Getty Images

After three seasons as one of the toughest defenders in the country, D.J. Cooper finally got some national recognition by leading the 13th-seeded Bobcats to the 2012 Sweet 16.
Of course, Cooper's 2.3 steals per game only tell part of the story of what he means to the Ohio program.
As a junior, he racked up 14.7 points and 5.7 assists a night while leading the Bobcats to a 29-8 finish. Expect an even bigger year in 2012-13, when he'll be one of five returning starters on a tournament-tested roster.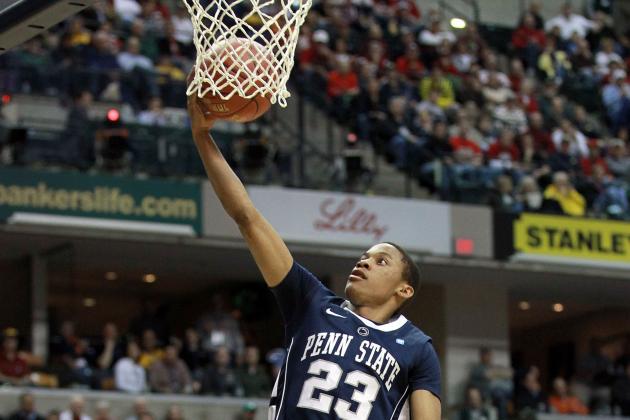 Andy Lyons/Getty Images

When a Big Ten team has a 6'1" guard for its leading rebounder, there are really only two possibilities: either that team will lose a lot of games, or it's 1952. Guess which one applies to Tim Frazier's Penn State squad?
The Nittany Lions aren't likely to improve on last year's 4-14 conference mark, but Frazier (who also led the team in scoring at 18.8 points per contest) is the real deal.
With just a slight improvement, he could finish in the nation's top 10 in both assists (6.2 per game last year) and steals (2.4 a night) in his final collegiate season.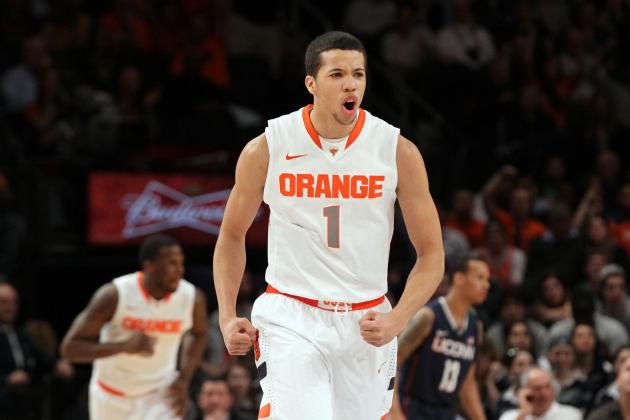 Jim McIsaac/Getty Images

Stuck behind Scoop Jardine as a freshman, Michael Carter-Williams saw more of the bench than the court last season.
Now that Jardine has graduated, though, the 6'6" Carter-Williams will get to show off the skills that made him a McDonald's All-American.
Even in just 10.3 minutes a night, Carter-Williams dished out 2.1 assists per game in his first season with the Orange.
He's also a serious threat when he calls his own number, one who will likely run neck-and-neck with freshman DaJuan Coleman for the team scoring lead this year.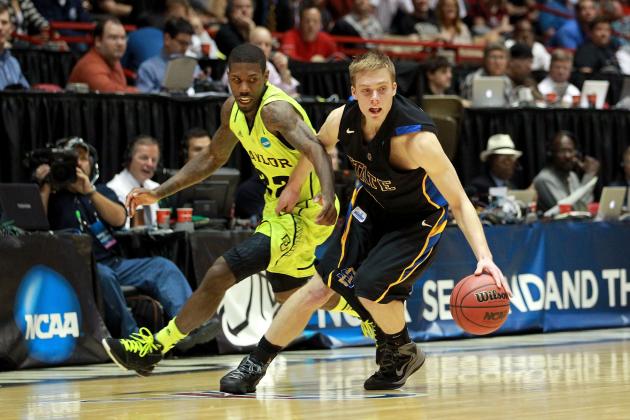 Ronald Martinez/Getty Images

After giving Baylor a run for its money in their first-ever NCAA Tournament appearance, the South Dakota State Jackrabbits have a great shot to return to March Madness behind senior star Nate Wolters.
The 6'4" Wolters led his team in points, rebounds, assists and steals while elevating an unknown Summit League program into the nation's top 20 in scoring.
Wolters has three other starters returning around him, a trio that combined for 149 three-pointers last year.
With that kind of talent in his corner, Wolters has a legitimate chance to top the dazzling offensive numbers (21.2 points and 5.9 assists per game) he posted in 2011-12.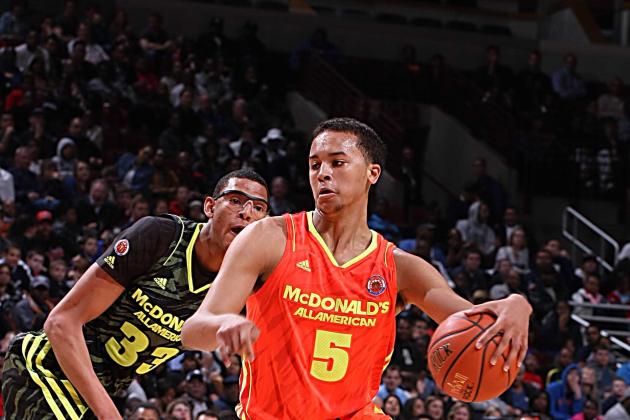 Brian Spurlock

He doesn't yet know if star recruiting classmate Shabazz Muhammad will be eligible to join him at UCLA, but at least Kyle Anderson can stop worrying about his own status.
Now that he's been cleared by the NCAA, Anderson—rated as high as the third-best recruit in the country—can concentrate on turning around a lackluster Bruins offense.
A small forward at the high school level, the 6'8" Anderson is such a pinpoint passer that Ben Howland is converting him to point guard.
Expect him to beat out North Carolina transfer Larry Drew II for the top spot on the depth chart and lead the UCLA offense back to the heights it enjoyed during the Final Four days of Darren Collison and Jordan Farmar.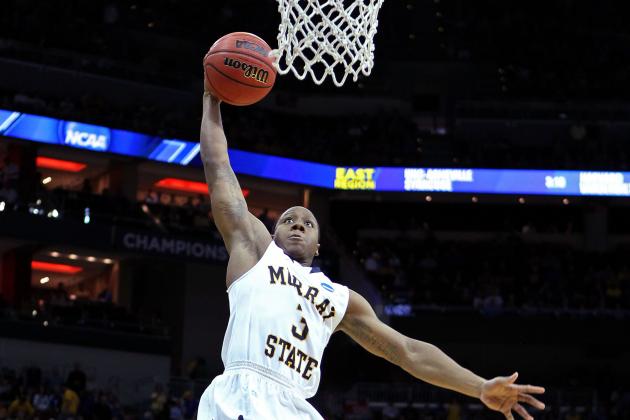 Andy Lyons/Getty Images

For all the accolades he gets, mostly for his scoring, Isaiah Canaan also led surprising Murray State in assists (3.6 per game) a season ago.
He'll need to continue piling up numbers all over the stat sheet if the Racers are to come anywhere close to 2011-12's 31 wins.
Canaan is a fine defender who grabbed 1.4 steals a night, but it's his jump shot that puts him in the All-America conversation. Canaan averaged 19 points per game, draining 45.6 percent of his three-point tries to account for much of that scoring.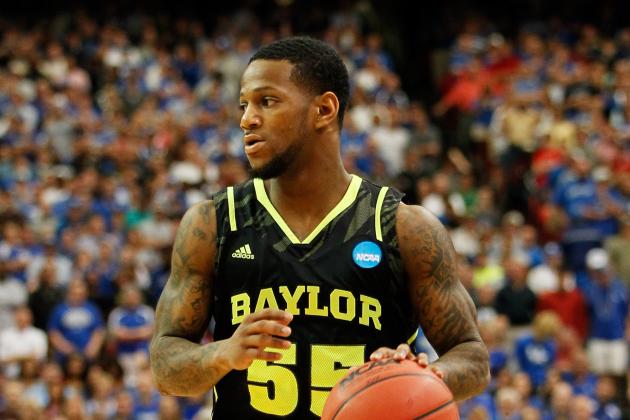 Kevin C. Cox/Getty Images

It says a lot about Pierre Jackson's offensive game that he was one of the Big 12's top perimeter defenders without much of anyone noticing.
Jackson's 1.8 steals per game are a major asset for the Bears, but his biggest contributions will again come on the other end of the floor in his senior season.
Jackson averaged 5.9 assists a night while also finding his own shots often enough to place second on the team in scoring (13.8 points per game, along with .408 three-point shooting).
It also doesn't hurt Baylor's chances that Jackson is one of the nation's most dangerous clutch shooters, having turned more than one near-defeat into a last-second Bears win in 2011-12.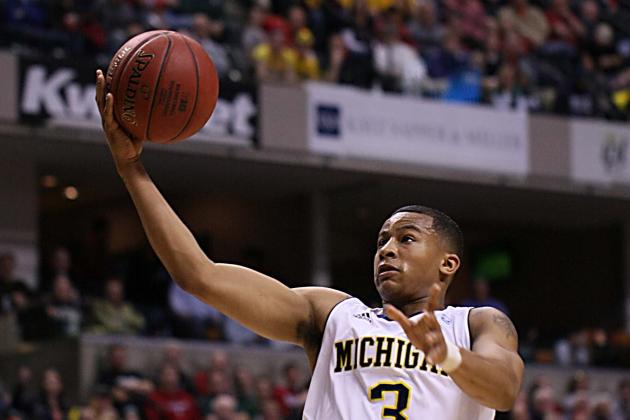 Brian Spurlock-US PRESSWIRE

Even with dazzling freshmen Mitch McGary and Glenn Robinson III joining the roster, no player will be more important to Michigan's Final Four hopes than Trey Burke.
Burke's own brilliant freshman season didn't end the way the Wolverines would've liked, but he still led the Maize and Blue to a 24-10 record and a share of the regular-season Big Ten title.
Michigan's leading scorer with 14.8 points per game, Burke also showed plenty of aptitude for setting up his teammates, to the tune of 4.8 assists a night.
He'll have quite a juggling act ahead of him this season as he tries to find enough shots for himself, McGary, Robinson and Tim Hardaway Jr., but the prize if he succeeds could be the raising of a second national championship banner in Ann Arbor.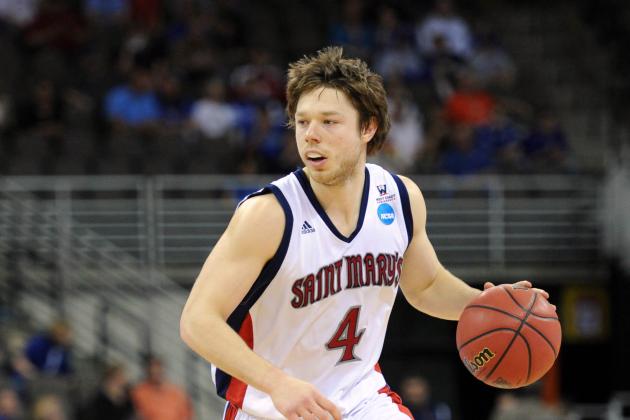 Peter G. Aiken-US PRESSWIRE

St. Mary's has recruited Australian players as successfully as any program in the country, and Matthew Dellavedova is making a strong case for being the most impressive player ever to come down that pipeline.
The 6'4" senior, who led his national team in assists at the London Olympics, has developed into an elite distributor as well as a terrific scoring threat.
Dellavedova led the Gaels with 15.6 points per game a year ago, hitting 35.5 percent of his three-point tries in the process. He's even more valuable for his ability to create shots for his teammates, having placed 11th in the country with 6.4 assists a night.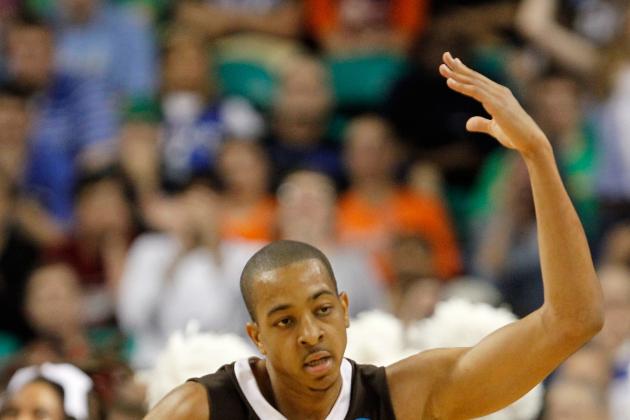 Streeter Lecka/Getty Images

After leading Lehigh to the biggest win in school history—a second-round March stunner over second-seeded Duke—C.J. McCollum is back to build on the Mountain Hawks' success.
Although he shares ball-handling duties with Mackey McKnight, McCollum is enough of a distributor (3.5 assists a night) to earn a place on this list.
The 6'3" McCollum is a devastating offensive weapon all around, having averaged 21.9 points and 6.5 boards per game last season. He's just as deadly on the other end of the floor, where he ranked fifth nationally with 2.6 steals per contest.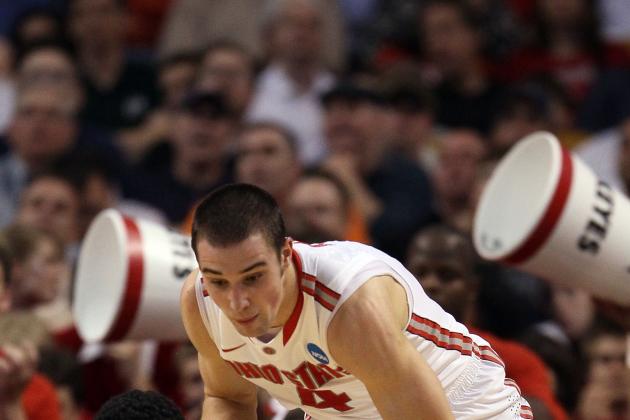 Elsa/Getty Images

Ohio State is just one of three Big Ten teams in the top five of the preseason rankings, but the Buckeyes have one key advantage over all of their competition.
Ohio State point guard Aaron Craft is the best defensive player in college basketball, a weapon so dominant that even his 2.5 steals per game undervalue his contributions.
Craft isn't a half-bad floor general, either, having delivered 4.6 assists a night for a team that claimed a share of the Big Ten title for the second time in his two seasons at the point.
He'll need to step up his own scoring with Jared Sullinger gone, but his career .368 three-point accuracy suggests that he's more than capable of topping last year's 8.8 points per contest.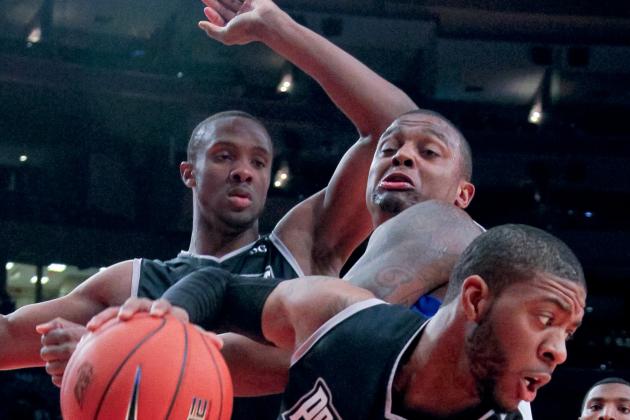 Jim O'Connor-US PRESSWIRE

The nation's returning leader in assists plays for a team that couldn't even finish at .500 a season ago.
Despite his Providence squad's shortcomings, though, Vincent Council is an extraordinary individual talent, and not just for the 7.5 assists he handed out on a nightly basis.
Council also led the Friars with 15.9 points per game, a figure that may well rise even higher now that Gerard Coleman has taken his 13.2 points a night to Gonzaga.
Council is a valuable contributor on defense as well, averaging 4.1 rebounds and a team-high 1.3 steals per game a season ago.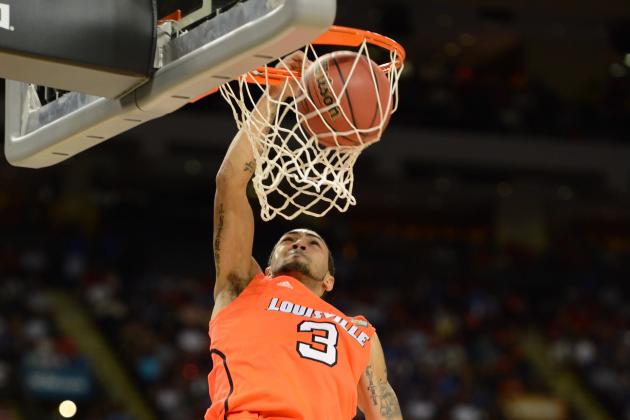 Bob Donnan-US PRESSWIRE

Peyton Siva played a major role in the smothering defense that carried Louisville on its surprise run to a Big East Tournament title and a Final Four berth.
Even bigger than his 1.7 steals per game, though, were the plays he made to keep the Cardinals' sputtering offense competitive.
There were times when he seemed to be the only useful offensive weapon on the floor, but Siva still managed to average 5.6 assists a game (along with 9.1 points per contest, often at the game's most critical moments).
Considering how far Siva led this team without a viable offense, it's no surprise that the Cardinals are among the favorites for a national title now that a healthy Wayne Blackshear is on hand to provide some half-court scoring punch.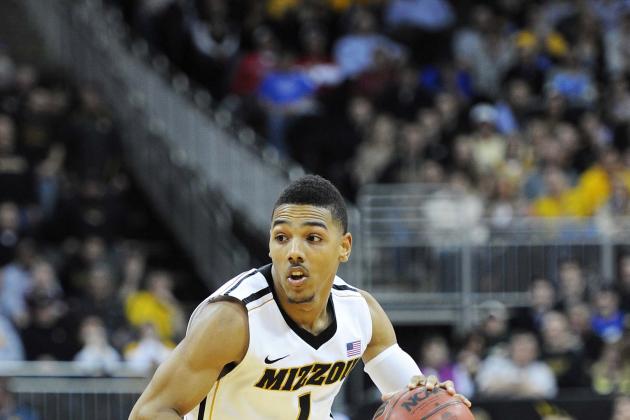 Peter G. Aiken-US PRESSWIRE

Phil Pressey had pretty much the dream job for a point guard in 2011-12, running a fast-paced attack with a never-ending supply of three-point shooters to feed, and he played a big part in converting all that talent into a 30-win season.
He'll have a tougher road ahead of him this year as he tries to form a coherent offense from a collection of promising transfers, injury returnees (Laurence Bowers) and a couple of holdovers.
His passing ability is certainly up to that kind of challenge, as he led the Big 12 with 6.4 assists a game last season. He'll also provide a welcome dose of continuity on defense after leading last year's high-pressure Tigers with 2.1 steals per contest.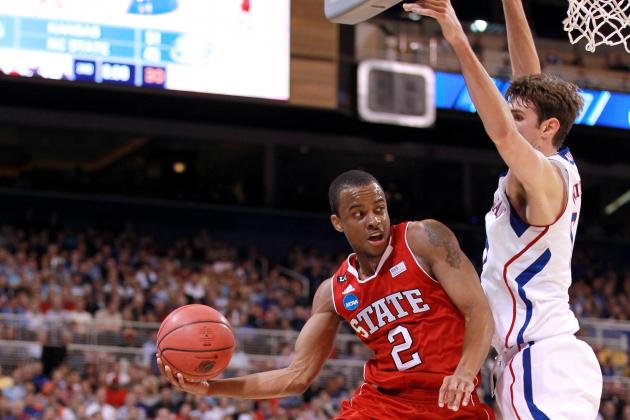 Andy Lyons/Getty Images

Other guards on this list can outplay him in any one area, but there isn't a point guard in the country who does so much for his team, at such a high level, as Lorenzo Brown.
The floor general of an N.C. State offense that featured five double-digit scorers, Brown placed 12th nationally in assists (6.3 per game) while scoring the second-most points (12.7 a night) on the Wolfpack roster.
The 6'5" Brown's contributions don't stop with putting points on the board, either, as he racked up the third-most rebounds (4.5 per contest) and the most steals (1.8 a game) among N.C. State players.
Add in his stellar performance in leading a No. 11 seed to the Sweet 16—and nearly to an upset of Kansas in a 60-57 defeat—and Brown has excelled in every area of point guard play after just two seasons of college ball.