College Basketball Preseason Power Rankings: The Top 10 Mid-Major Teams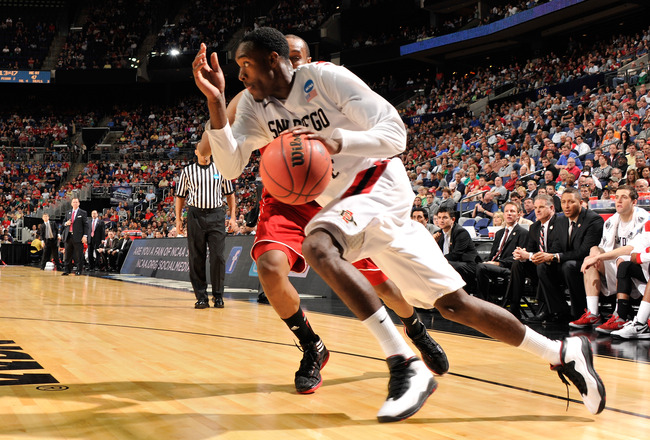 Jamie Sabau/Getty Images
Mid-major teams have emerged as serious power players in college basketball in the past few seasons.
Teams like Gonzaga, Butler and VCU are just the most publicized parts of a greater movement away from the idea that all the talent resides in the power six conferences.
Just take a look at the preseason rankings by both AP and USA Today.
There are five mid-majors in both top 25 rankings, and all of these teams have considerable room to move towards the top 10.
ESPN's Eamonn Brennan put it best when he said:
"Half of the Associated Press preseason All-America list came from schools outside the power six conferences. Lehigh (C.J. McCollum), Murray State (Isaiah Canaan) and Creighton (Doug McDermott) were all represented"
With this rise of mid-majors comes a greater need for media coverage that is normally kept only to the power six conferences.
Introducing: a new weekly power ranking of the top 10 mid-major programs in the nation!
To qualify, the teams cannot be a member of the power six conferences: the ACC, Big East, Big 10, Big 12, Pac-12 or the SEC.
Power Rankings will be released every Sunday morning and will take wins, losses and the general trending of teams into account.
Without further ado, here is the first set of rankings.
First Five Out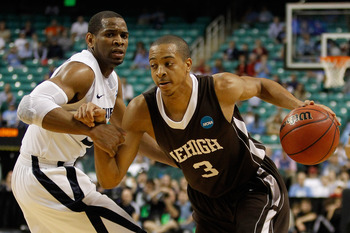 Streeter Lecka/Getty Images
These five teams just missed the top ten, but with solid first weeks, they could move up into the list.
St. Mary's
New Mexico
Davidson
Lehigh
Northern Iowa
10. St. Joseph's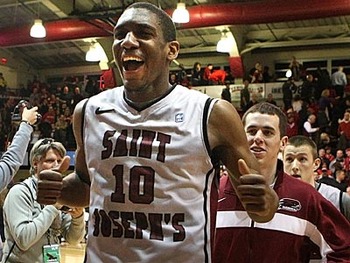 Photos courtesy of philly.com
Projected Starting Lineup:
PG: Carl Jones
SG: Langston Galloway
SF: Daryus Quarles
PF: Halil Kanacevic
PF: C.J. Aiken
Preview:
St. Joseph's went to the NIT last season, but they have March Madness aspirations this season.
The Hawks return every single player from last year's roster, and what used to be an up-and-coming team has finally reached its peak.
Lead by backcourt partners Carl Jones, a senior, and Langston Galloway, a junior, this St. Joseph's team is a dark horse candidate to win the Atlantic 10.
Jones is a phenomenal scorer. He averaged 16.8 points per game last season. He seems to come up big on the biggest stages. He scored 24 points in St. Joe's NIT game against Northern Iowa and in their A-10 game versus St. Bonaventure.
He is complemented well by Galloway, who averaged 15.8 points per game. Galloway is a prolific sharp shooter. He shot 47.4 percent from beyond the arc and netted 90 three-pointers.
St. Joe's will rely heavily on their experienced backcourt as they open their season against Yale and Notre Dame.
9. Saint Louis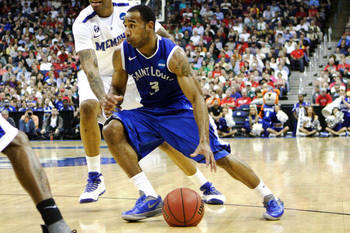 Photo courtesy of slubillikens.com
Projected Starting Lineup:
PG: Kwamain Mitchell
SG: Mike McCall
SF: Dwayne Evans
PF: Cody Ellis
C: Jordair Jett
Preview:
You have to feel bad for St. Louis coach Rick Majerus.
Majerus, who has fought severe health problems for some time now, will not be on the sideline this year for the Billikens.
Majerus' coaching genius has made St. Louis a highly successful mid-major out of the Atlantic 10.
The Billikens have finally arrived. After countless recruiting classes and transfers in and out, Majerus crafted a roster that is ready to compete this year.
Saint Louis showed this last season with multiple wins over Xavier, their first round win over Memphis in the tournament and the barn-burner match with Michigan State in the following round.
This season, the Billikens feature a balanced roster headed by senior point guard Kwamain Mitchell.
Saint Louis also brings in small forward recruit Jared Drew. Drew was rated as an 85 by ESPN and should see some action off the bench.
Overall, Saint Louis will benefit from competing in the highly competitive Atlantic 10.
The Billikens open their season with USC Upstate and Santa Clara.
8. Butler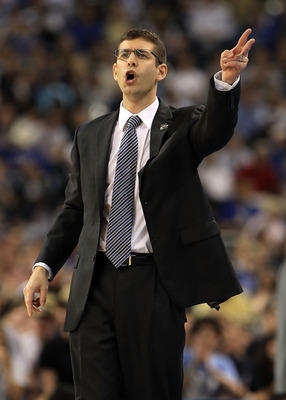 Streeter Lecka/Getty Images
Projected Starting Lineup:
PG: Jackson Aldridge
SG: Rotnei Clarke
SF: Roosevelt Jones
PF: Khyle Marshall
C: Andrew Smith
Preview:
Another team looking to make some noise in the Atlantic 10 is Butler.
The perennial Cinderella team had a rebuilding year last season.
Brad Stevens will look to improve on the 22-15 record that Butler posted last season.
He will mainly do this with an influx of talented incoming recruits.
Guards Kellen Dunham, DeVontae Morgan and Chris Harrison-Docks will look to make an immediate impact for the Bulldogs this season.
As for the veterans on this team, senior center Andrew Smith will look to improve upon his impressive junior season. He averaged 10.9 points and 5.2 rebounds per game.
With the dismissal of Chrishawn Hopkins, sophomore Jackson Aldridge might be called on to take on the added responsibility of starting. However, don't be surprised if one of Butler's talented youngsters makes a run at the starting five.
This competition is certainly not a problem for Brad Stevens. If anything, Butler will benefit greatly from having options in their starting five.
Butler has the toughest opening schedule to start the season. They begin in the Maui Invitational against Elon, and they could run into the likes of UNC, Texas or USC.
Butler then plays Xavier during the ESPN Marathon Tip-Off in a preview of what will likely become a great conference rivalry.
7. VCU
Jonathan Ferrey/Getty Images
Projected Starting Lineup:
PG: Darius Theus
SG: Troy Daniels
SF: Treveon Graham
PF: Juvonte Reddic
C: D.J. Haley
Preview:
VCU will look to take the Atlantic 10 by storm this season.
Shaka Smart has an experienced team that is poised for another great season this year.
VCU does lose their top scorer in Bradford Burgess. Burgess was responsible for 13.4 points per game.
But the value of Shaka Smart's system is that it promotes a balanced attack. He has a variety of cogs he can put into the machine.
Troy Daniels will likely look to fill this hole. Last season, Daniels averaged 10 points per game, and should benefit from the added shots he will likely take with the departure of Burgess.
VCU opens their season against Florida Gulf and Wichita State.
6. Murray State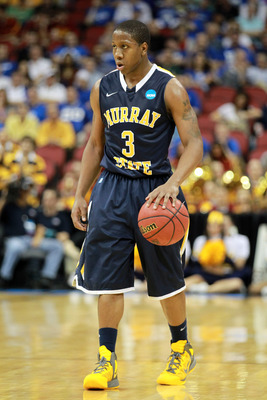 Andy Lyons/Getty Images
Projected Starting Lineup:
PG: Isaiah Canaan
SG: Dexter Fields
SF: Latreze Mushatt
PF: Edward Daniel
PF: Brandon Garrett
Preview:
The Murray State Racers captivated the nation last year with their long undefeated streak.
Led by preseason All-American candidate Isaiah Canaan, the Racers return with one of the most potent offenses in the nation.
Canaan averaged over 19 points per game, and he was one of the most dynamic scorers in the country. His 23-point performance against St. Mary's on national television was particularly noteworthy.
Last season, the Racers averaged 74.2 points per game on 47 percent shooting from the field.
One thing that Murray State will have to be wary of is the introduction of Belmont into the Ohio Valley Conference.
With a less than stellar non-conference schedule, Murray State will likely need win the conference to make it to March.
Murray State will kick off their season with games against Brescia and Auburn.
5. UNLV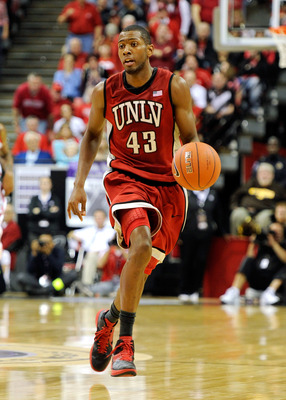 Ethan Miller/Getty Images
Projected Starting Lineup:
PG: Anthony Marshall
SG: Justin Hawkins
SF: Bryce Dejean-Jones
PF: Mike Moser
C: Khem Birch
Preview:
UNLV is coming off a very successful season in the Mountain West.
The Running Rebels led the conference in scoring with 76.3 points per game, product of a league-best 17.6 assists a game.
UNLV brings back the majority of the team that made it to the NCAA Tournament last season.
In particular, UNLV will look to get good production out of junior Mike Moser. Moser averaged a double-double last season with 14 points and 10.5 rebound per game.
Coach Dave Rice expects big things from Moser again this season.
"I would anticipate Mike would average a double-double again and there weren't that many people in the nation that did that. That's a tremendous accomplishment, especially when you consider he was just a sophomore," said Rice.
If Moser can build on his success as a sophomore, UNLV could have a special season in the Mountain West.
The Running Rebels open their season with Northern Arizona and Jacksonville State.
4. Gonzaga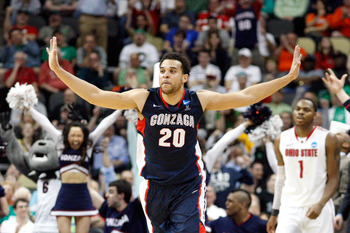 Jared Wickerham/Getty Images
Projected Starting Lineup:
PG: Kevin Pangos
SG; Gary Bell Jr.
SF: Guy Landry Edi
PF: Elias Harris
C: Sam Dower
Preview:
The Gonzaga Bulldogs have long been considered one of the top mid-major programs in the nation.
Gonzaga is hungry to reclaim the WCC from rival St. Mary's. More than that, these players want to bring the Bulldogs back to the second weekend of March Madness.
Kevin Pangos and Gary Bell Jr. formed a phenomenal freshman backcourt. They combined for 24 points per game and made a combined 130 three-pointers. The two will mature and should improve on their great freshmen seasons.
Mark Few only loses one starter, now-Laker Robert Sacre, and replaces him with the extremely talented Sam Dower. Dower, who provides instant offense, should have a breakout season provided he is not a liability on the defensive end.
The Zags added just one freshman this season, but Polish center Przemek Karnowski should provide solid minutes, and once he adapts to the American style of play, he could usurp Dower for the starting position.
Gonzaga opens their season against Southern Utah and then a NCAA Tournament rematch with West Virginia.
3. San Diego State
Jamie Sabau/Getty Images
Projected Starting Lineup:
PG: Xavier Thames
SG: Chase Tapley
SF: Jamaal Franklin
PF: J.J. O'Brien
PF: DeShawn Stephens
Preview:
The San Diego State Aztecs are a popular dark horse candidate to make a deep run in this season's NCAA Tournament.
After the success they had last season, in what was supposed to be a rebuilding year after the majority of their Elite Eight squad left, fans can expect more of the same this year.
Chase Tapley and Jamaal Franklin form a one-two punch that combined for 33.2 points per game and 45 percent shooting from beyond the arc.
Point guard Xavier Thames will look to lead this potent offense and control the tempo.
Transfers J.J. O'Brien and Dwayne Polee II, from Utah and St. John's respectively, will look to contribute immediately.
Polee in particular gives Steve Fisher some versatility. He can play big with J.J. O'Brien, or he could play Polee, who has an impressive post game but can also play on the perimeter.
The Aztecs open against Syracuse in the Battle of the Midway. This will surely be a statement game early on in the season, and a win will certainly rocket San Diego State towards the top 10.
2. Memphis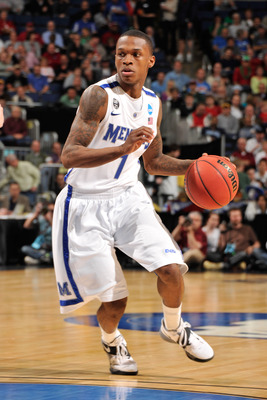 Jamie Sabau/Getty Images
Projected Starting Lineup:
PG: Joe Jackson
SG: Chris Crawford
SF: Adonis Thomas
PF: Tarik Black
C: Ferrakohn Hall
Preview:
Josh Pastner returns with a very strong Memphis team that will need to win this season to justify his position as the head coach of what many consider an elite basketball powerhouse.
Despite success in Conference USA, ESPN points out that Memphis has not won a NCAA Tournament game in four years.
This could be the season that Memphis turns that around.
Behind a dangerous backcourt that includes former All-American Joe Jackson and incredible perimeter defender Chris Crawford, Memphis is poised to have great success this season.
Another exciting thing to look for this season is highly touted recruit, Shaq Goodwin.
Goodwin could very well bust into the starting five this season, but only if he learns to adapt to the college game and takes the game more seriously.
Memphis opens the first week of their season with North Florida and Samford.
1. Creighton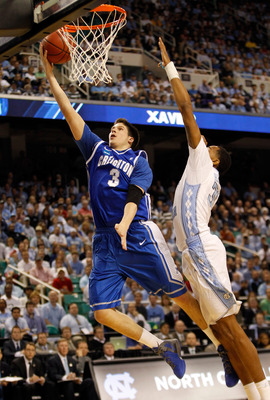 Streeter Lecka/Getty Images
Projected Starting Lineup:
PG: Austin Chatman
SG: Jahenns Manigat
SF: Grant Gibbs
PF: Doug McDermott
C: Greg Echenique
Preview:
Creighton checks in at number one on this list for one reason: Doug McDermott.
McDermott is one of the most exciting players in college basketball. Nobody plays the game like he does. McDermott is efficient in every aspect of the game.
Last season, McDermott averaged 22.9 points and 8.2 rebounds a game. Even more startling is the fact that he shot 60.5 percent from the field and 48.6 percent from beyond the arc.
McDermott can score from just about anywhere.
"Post-up, pick and pop, he's a tremendous 3-point shooter, but he can put it on the deck. He can drive. He's really ambidextrous. He scores as many with his left as his right. He's a guy that generates a lot of your attention," said Iowa coach Fran McCaffery.
McDermott leads a Bluejays squad that is nothing to squawk at either.
Look for point guard Austin Chatman to step into the starting role and have great success.
Creighton opens with a rather easy stretch against North Texas and UAB.
Keep Reading