2012-13 College Basketball Preview: Top Impact Conference-Changing Teams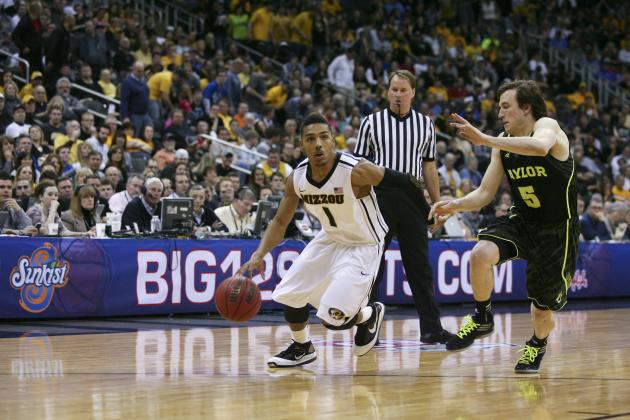 Ed Zurga/Getty Images

We started to see it last year. This year, the ripple effect will grow even wider. Next year, the effect is likely to grow wider still.
It's football-motivated conference realignment. However, it doesn't just affect large schools with strong FBS programs.
2011 saw the first mini-wave of changes. Nebraska subtracted two from its conference affiliation (Big 12 to Big 10). Colorado kept their 12 affiliation, but switched out the "Big" for a "Pac". BYU became an Independent in football, forcing them to leave the Mountain West Conference in all sports, and as a result find a home in the West Coast Conference for basketball.
While Nebraska struggled mightily in its new conference (4-14 Big 10, 12-18 overall), Colorado achieved some unexpected late-season success. The Buffaloes took Los Angeles by storm in March, winning the conference tournament and earning the automatic bid in the Pac-12's first year as an expanded league.
BYU, meanwhile, achieved modest success in its new league, going 26-9 overall (12-4 in the WCC) and earning an NCAA at-large bid.
It's safe to say both Colorado and BYU had noticeable impacts on their new leagues last season. Which teams should have a similar impact this season, in their new leagues?
Here's a look at some such teams.
Other Recent CBB Preview Pieces:
2012-13 CBB Preview: Teams Ready to Capitalize on Others' Departures
Begin Slideshow

»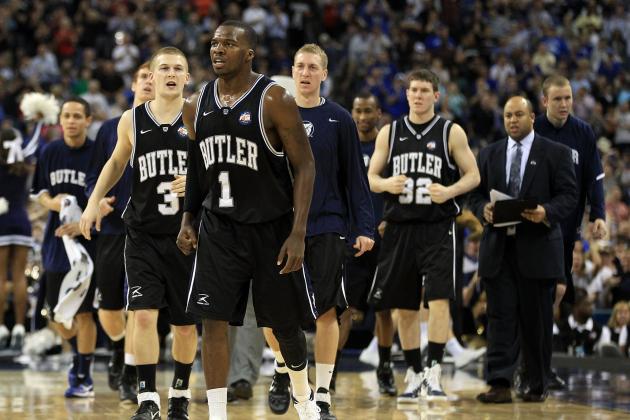 Streeter Lecka/Getty Images

2011-12: 22-15 overall, 11-7 conf. (Horizon)
Despite getting close on numerous occasions in recent years, the Atlantic 10 has been unable to claim a Final Four team in quite a while.
Enter the Butler Bulldogs, and their two appearances in this decade alone.
Butler leaves the Horizon League for the A-10, just one year removed from back-to-back NCAA Final appearances in 2010 and 2011. Despite a down season in 2011-12 (22-15 and no NCAA or NIT appearance), the Bulldogs have become one of the more respected programs in college basketball, and a team everyone in the A-10 knows can't be taken lightly.
Being from Indianapolis means Butler is not a perfect geographical fit for the A-10. However, having the likes of Xavier, Dayton and Saint Louis in fairly close proximity gives the Bulldogs an opportunity to develop some intense annual rivalries within their new league (granted Xavier has already become a bit of a rivalry in recent years).
From a league standpoint, adding a team from Indianapolis gives the league another respectable media market, while providing some insurance against upcoming departures by Temple and possibly others.
It will be interesting to see where Butler winds up in its inaugural season in the A-10. The league showed last year how deep it can be, with four teams earning NCAA Tournament bids and eight teams winning at least 20 games.
With Arkansas sharp-shooting transfer Rotnei Clarke joining the likes of Andrew Smith, Khyle Marshall and Roosevelt Jones, expect Butler to compete, but likely not flourish, while debuting in a more challenging league.
Impact for Butler program: B+
Impact for Atlantic 10: B
Matchups to Watch: vs. Temple (Jan. 26), vs. Saint Louis (Feb. 22)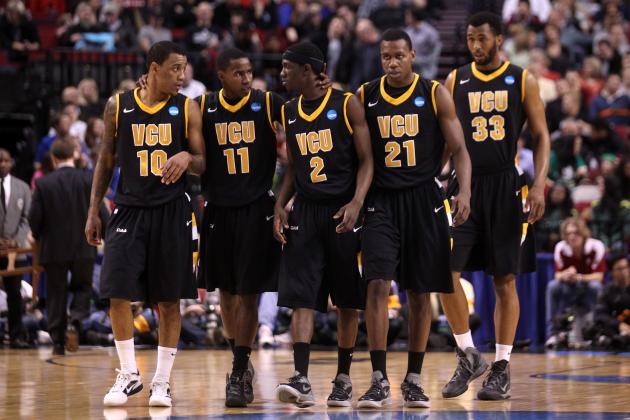 Jed Jacobsohn/Getty Images

2011-12: 29-7 overall, 15-3 conf. (CAA)
Butler won't be the only team with recent Final Four experience joining the Atlantic 10 this season.
VCU, who lost to Butler in the 2011 Final Four, rounds out the new-look 16-team league. VCU joined the A-10 just a couple weeks after their bracket-busting counterpart. After being one of the CAA's top teams for the past several years, the Rams make the well-deserved jump to arguably the best non-BCS conference in college basketball.
For the A-10, it's another quality pickup which will add plenty to the league's already deep pool of potential NCAA Tournament teams. Matchups between VCU and league domineers Temple and Xavier will certainly be worth watching as well.
With five NCAA Tournament wins in the past two years, there isn't much doubt that VCU can compete with anyone in the A-10. The bigger question will be: can they win enough to earn one of the league's multiple NCAA bids?
Given their accomplishments over the past two seasons, with dramatically different rosters, this isn't a program you would want to bet against at this point. Returning nearly everyone from last year's outstanding 29-win, CAA title-winning team, VCU should make an immediate splash in the A-10. Don't be surprised at all if VCU competes for an A-10 title right out of the gate.
Impact for VCU program: B
Impact for Atlantic 10: A
Matchups to watch: at Xavier (Feb. 23), at Temple (Mar. 10)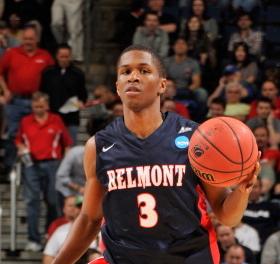 Jamie Sabau/Getty Images

2011-12: 27-8 overall, 16-2 conf. (Atlantic Sun)
Like Butler and VCU, Belmont heads to a new league with basketball aspirations as its primary motive.
Belmont makes the less-heralded move from the Atlantic Sun to the Ohio Valley Conference. Coach Rick Byrd's team was about as dominant as any mid-or-low major team in its conference the past several years. The Bruins won the A-Sun four of the past seven years and earned the league's NCAA automatic bid five times in the same span.
With so much recent dominance and success in its league, Belmont's move to a tougher league shouldn't be too much of a surprise. The question is, how much of a jump will it be for the program?
The first answer to that question lies in Murray, KY. Murray State has been the bellwether program in the OVC for quite some time, and last year's amazing 31-2 season should bring it, and the league, some additional attention prior to the first week in March.
The only downside for Belmont, and the league as a whole, is that they'll face Murray State only once during the regular season. Hopefully, they'll see each other a second time in the OVC title game.
Impact for Belmont program: C+
Impact for OVC: A
Matchup to watch: at Murray State (Feb. 7)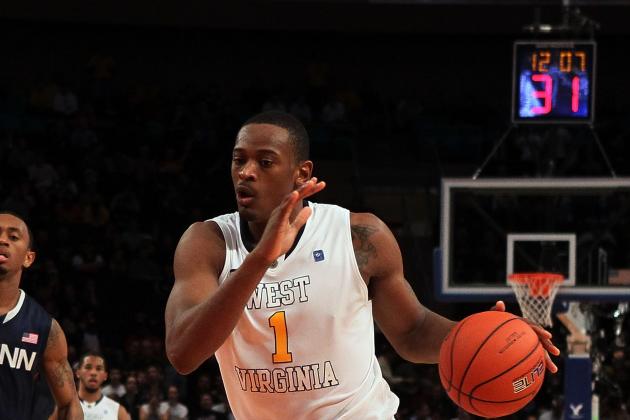 Jim McIsaac/Getty Images

2011-12: 19-14 overall, 9-9 conf. (Big East)
The last game West Virginia played as a Big East team could not have gone any worse.
In the second round (Round of 64) of last year's NCAA Tournament, WVU was blown out by Gonzaga, 77-54. It was an abrupt end to a season that seemed to hold a lot more promise.
Now, coach Bob Huggins and the Mountaineers take their game to the Big 12, where they aren't quite the ideal geographical fit. However, it's hard not to argue that WVU goes a long way toward fulfilling a rather large void created by the four teams who left the league the past two years.
Despite losing All Big-East forward Kevin Jones, along with their second-leading scorer Darryl "Truck" Bryant, WVU will still be a worthy foe in its first Big 12 season. From a competitive standpoint, the Big 12 won't offer quite the same brutal league schedule as the Big East, which WVU will look to take advantage of.
It will be interesting to see how the change of scenery, both in geography and home courts played on, affects the Mountaineers in their first Big 12 season. Beyond that, it will be worth noting whether Huggins and his program can expand their recruiting reach into states like Oklahoma and Texas.
Impact for WVU program: C
Impact for Big 12: B+
Matchups to watch: at Texas (Jan. 9), vs. Kansas (Jan. 28), at Baylor (Feb. 13)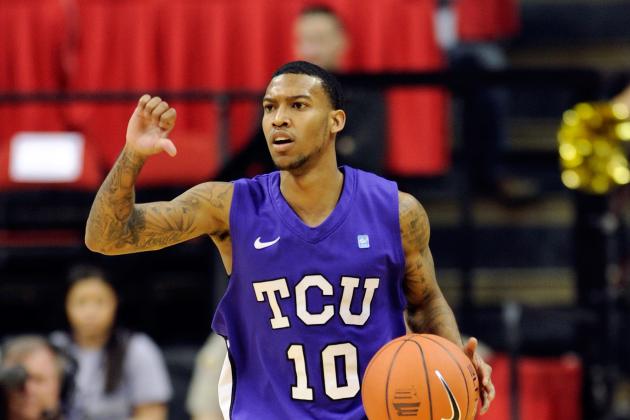 Ethan Miller/Getty Images

2011-12: 18-15 overall, 7-7 conf. (MWC)
While West Virginia should have an easier time transitioning to the Big 12, the league's other new entrant may not have such luck.
In a move certainly made because of the program's football success and future prospects, TCU joins the Big 12 a bit behind the curve in basketball. Just two years removed from winning only one game in the Mountain West, the Horned Frogs may find themselves in a similar spot in the conference standings in their new league this season.
Last year, however, did provide a reason for optimism in Fort Worth. TCU improved dramatically in its final year in the MWC, finishing 7-7 and earning a CBI Tournament spot. However, a .500 finish in the Big 12 this season, or next, is highly unlikely.
That said, the seeds for longer-term basketball success are there as a member of one of the top five conferences in the nation. The conference ascent should help TCU immensely in recruiting, and the in-league matchups against old SWC rivals (Texas, Texas Tech and Baylor) should generate plenty of buzz (i.e. ticket sales and revenue) with alumni and fans.
Impact for TCU program: A+
Impact for Big 12: D
Matchups to watch: vs. Kansas State (Jan. 16), at Texas (Feb. 2)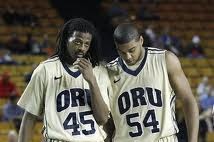 2011-12: 27-7 overall, 17-1 conf. (Summit League)
Of any of the mid-major teams to change conference this past year, Oral Roberts' move may be the most lateral of any.
ORU comes off a season in which it dominated the Summit League, losing just one regular-season game in league play. A stunning loss to Western Illinois in the conference tournament semifinals prevented the Eagles from a much-deserved trip to the Big Dance.
Coming off that kind of season, combined with a run of four straight regular-season titles from 2005-08, ORU seemed deserving of a move to a league like the WAC, which is in a perpetual search for new blood. However, it's off to a more geographical-friendly league in the Southland.
For ORU, the plus in the move is that the opportunity to win league titles, and make the NCAA Tournament, on a consistent basis is certainly there. With last year's regular-season champion, UT-Arlington, now in the WAC themselves, the Eagles have a great chance to come right in and take the league's top spot.
Impact for ORU program: C
Impact for Southland: A-
Matchup to watch: vs. Lamar (Jan. 24)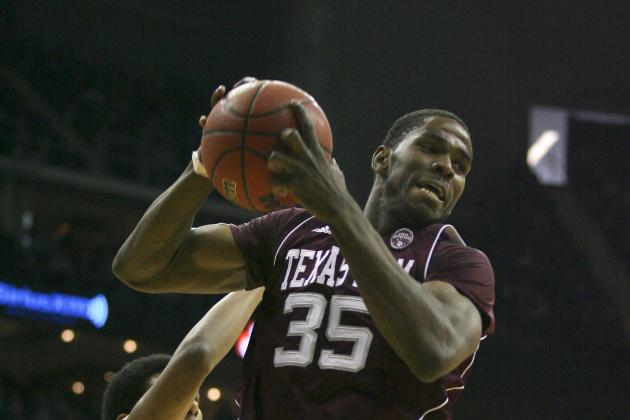 Ed Zurga/Getty Images

2011-12: 14-18 overall, 4-14 conf. (Big 12)
While the move to the SEC may have already paid dividends to the Texas A&M football program, any such benefit for the basketball program may take a bit longer to realize.
Or will it?
After an extremely disappointing ninth-place finish among 10 teams in the Big 12 a year ago, Texas A&M may find an opportunity for a bit of a bounce-back season against a slightly more forgiving SEC slate. While the teams at the top (Kentucky, Florida, Vanderbilt) are quite strong, the bottom half of the league is more manageable than the same portion of the Big 12.
Despite two games against defending national champion Kentucky, Texas A&M's schedule will be skewed a bit more to the teams which made up the former West division (Arkansas, Auburn, Ole Miss, etc). This should provide some opportunity for the Aggies to remain above water in the SEC standings, which would mean strong contention for an NCAA tourney bid.
Impact for Texas A&M: B-
Impact for SEC: B
Matchups to watch: vs. Florida (Jan. 17), vs. Kentucky (Feb. 2), at Vanderbilt (Feb. 16)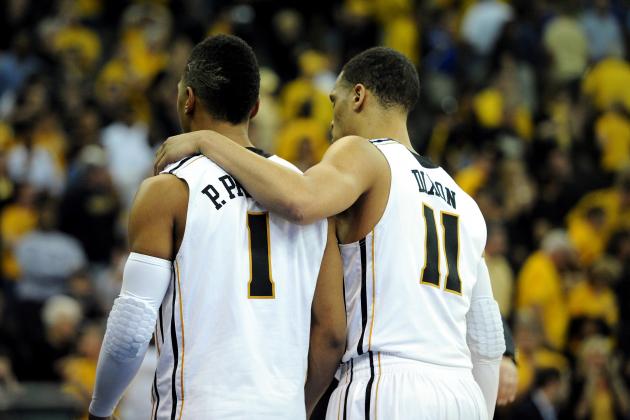 Eric Francis/Getty Images

2011-12: 30-5 overall, 12-4 conf. (Big 12)
The last time we saw Missouri, it was on the losing end of arguably the biggest Round of 64 upset in NCAA Tournament history.
Seven months later, we see a totally different Missouri team. And a totally different league.
After winning the Big 12 title in its final season there, Missouri makes the move to the SEC. It is a bit of a fresh start for Coach Frank Haith's team, as he lost his top three scorers from last year's Big 12 champs.
Despite any potential downswing for Mizzou in the upcoming season, which may not be much at all, its addition to the SEC is certainly a net positive for the league's basketball pedigree.
Phil (Flip) Pressey will certainly do his part to help ensure any transition woes are minimized. He will cause all kinds of problems on the defensive end for opposing SEC guards, and help create numerous scoring opportunities for his teammates on the other end.
Combined with the return of forward Lawrence Bowers and extreme sixth-man Michael Dixon, Missouri could very well find themselves challenging for the league runner-up spot, behind Kentucky.
Speaking of Kentucky, Missouri will get its first crack at them on February 23, in Lexington. That game comes right after the Tigers play Florida in the second of their two meetings this season.
It should be an exciting first SEC season in Columbia.
Impact for Missouri: B-
Impact for SEC: A
Matchups to watch: at Florida (Jan. 19), at Kentucky (Feb. 23)
Other Recent CBB Preview Pieces:
2012-13 CBB Preview: Teams Ready to Capitalize on Others' Departures