Ranking the Top Candidates for the Naismith Award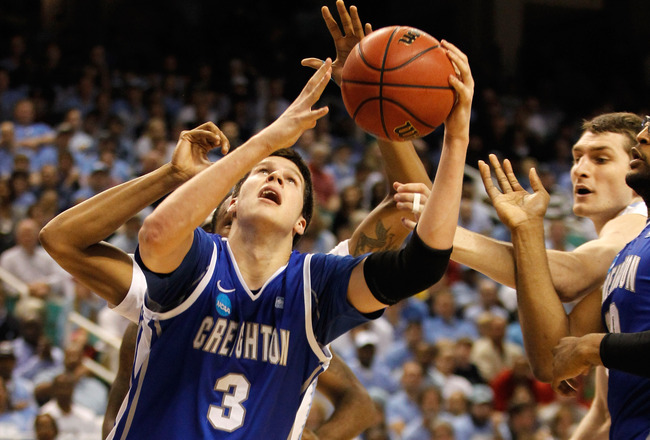 Streeter Lecka/Getty Images
The utter dominance of former Kentucky superstar Anthony Davis left little room for anyone to debate college basketball's player of the year in 2011-12.
Expect this season's chase for the Naismith Award to be a much more heated race.
Shabazz Muhammad and Nerlens Noel headline a crop of talented freshmen primed to shake up the college basketball landscape this season. Before any newbie can take home the hardware, however, he must outshine some of the game's more seasoned stars.
Upperclassmen such as Ohio State's Aaron Craft, Creighton's Doug McDermott and Florida's Kenny Boynton head into their 2012-13 campaigns with clear intentions of leading their respective squads deep into the NCAA tournament come March.
With another action-packed season of college basketball set to kick off, let's direct our focus toward the 10 candidates most likely to win the Naismith Award in 2012-13.
10. Isaiah Canaan, Murray State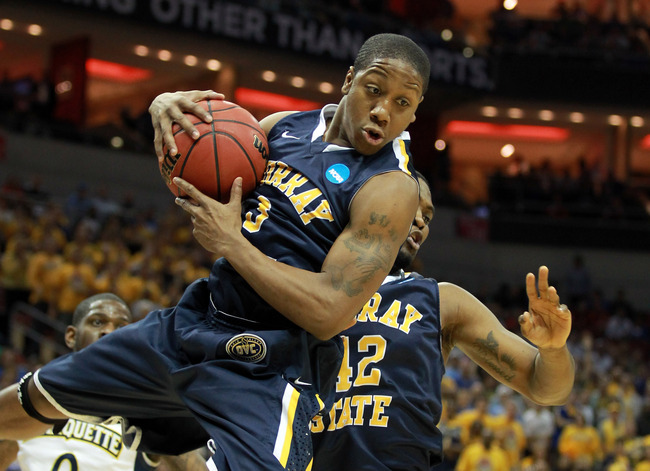 The Racers hope Canaan can lead them back to the Big Dance in 2012-13.
Andy Lyons/Getty Images
Associated Press voters didn't see Murray State fit to be ranked in their AP preseason Top 25 for the upcoming season, but senior point guard Isaiah Canaan won't let that be the case for long.
The 6'0", 190-pound speedster led the Racers to an Ohio Valley Conference-record 23 straight wins to kick off the 2011-12 season and ultimately a miraculous 31-2 record. Murray State made it a game shy of the Sweet 16 as a No. 6 seed and finished the year No. 12 in the AP poll.
But this isn't about where the Racers were, are or will be ranked as a team. We're here to discuss the impact Canaan's senior campaign will have on Naismith voters at season's end.
One thing we do know is that AP voters are extremely high on Canaan as an individual, despite his status as a mid-major athlete. He was a 2011-12 second-team All-America selection and recently earned 2012-13 preseason All-America honors as well.
The Racers will be without three of their top scorers from a season ago, but Canaan's experience running the offense will keep Murray State in the hunt for an NCAA tourney bid. If the senior can improve upon a brilliant junior season in which he averaged 19 points and 3.6 assists per game, consider Canaan a little-known dark horse for Player of the Year.
9. Kenny Boynton, Florida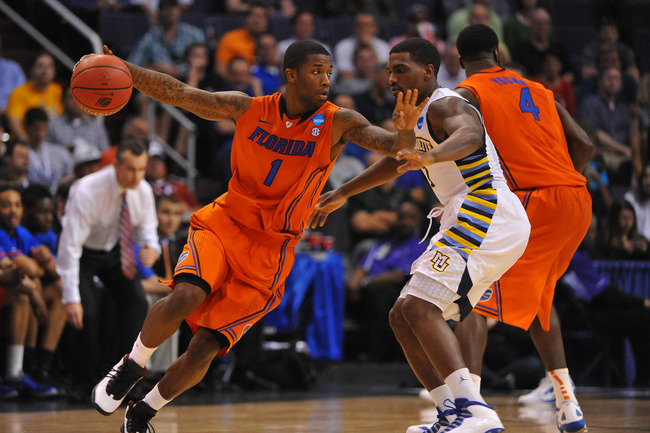 The Gators will rely on Boynton heavily in 2012-13 to keep pace in the SEC.
Christopher Hanewinckel-US PRESSWIRE
Another talented point guard on a team losing key scorers from a year ago, Kenny Boynton returns to Florida for his senior season ready to carry the Gators back into the Elite Eight in 2012-13.
The 6'2", 190-pounder improved his shot significantly throughout his junior year, scoring 15.9 points per game and raising his shooting percentage to .440 from the field—up from .385 as a sophomore.
It's a good thing, because Florida will need all the production it can get from Boynton. Bradley Beal and his 14.8 PPG set sail for the NBA, and guard Erving Walker, another key contributor, graduated.
Look for Boynton, who shot .407 from beyond the arc last season, to light up the stat sheets in 2012-13 and average as many as 17-18 points a night. Even so, he'll have to continue to improve his passing while cutting down on turnovers to be anything more than a long shot for the Naismith Award.
8. Mike Moser, UNLV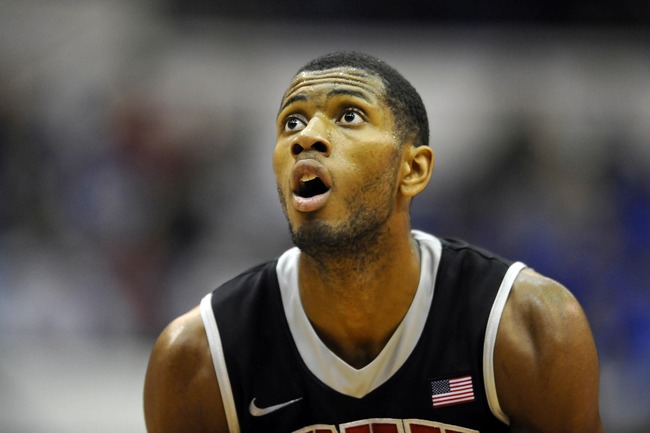 Moser averaged double figures in points and rebounds in 2011-12.
Ron Chenoy-US PRESSWIRE
UNLV forward Mike Moser accounted for 16 double-doubles in 35 games as a sophomore in 2011-12.
Moser's 14 points and 10.5 rebounds per game led the Rebels to a 26-9 overall record and a No. 6 seed in the NCAA tournament in March. The UCLA transfer got it done on both ends of the court, averaging 1.9 steals a game to complement his impressive rebound total.
The 6'8", 210-pound junior's main struggles will be with consistency. Moser struggled late in his sophomore season, but he's capable of putting up monstrous numbers on a nightly basis. Take his 16-point, 18-rebound performance in UNLV's 90-80 upset win over then-No. 1 North Carolina, for example.
With heralded star freshman Anthony Bennett joining Moser in the frontcourt this season, it's safe to say the Runnin' Rebels have their best chance at a Final Four appearance since former head coach Jerry Tarkanian was at the helm.
7. Aaron Craft, Ohio State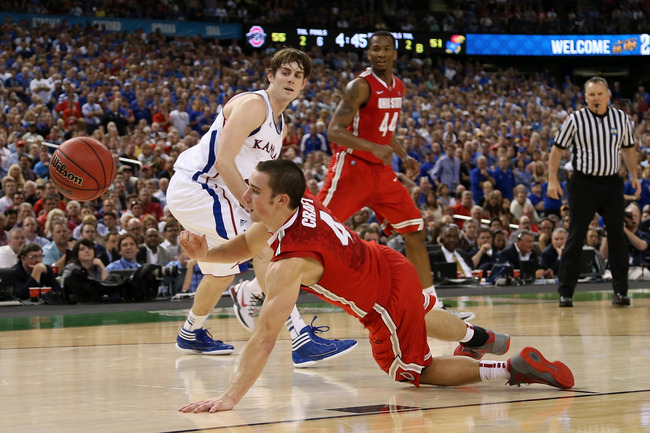 The Buckeyes hope to ride Craft's stellar play from the point guard position to get back to the Final Four.
Chris Graythen/Getty Images
Putting it lightly, Craft is an absolute menace on the hardwood.
The 6'2", 195-pound junior point guard was named the Big Ten's top defensive player in 2011-12. He utilized his cat-like reflexes and relentless hustle to rack up 2.5 steals per game as a sophomore.
He contributed on the glass as well, pulling down 3.2 rebounds a night.
The key to Craft's Player of the Year potential is whether or not he can help fellow junior Deshaun Thomas account for the offensive absence that two-time first-team All-America selection Jared Sullinger's departure creates.
Expect Craft to once again be among the Big Ten's assist leaders (4.6 APG last year), but boosting his low scoring totals (8.8 PPG) this season would greatly enhance his chances of becoming a Naismith Award finalist.
If not Craft, don't be surprised to see Thomas in the running. The power forward averaged 15.9 PPG last season and eclipsed the 20-point mark in six of the Buckeyes' final 13 games.
6. Shabazz Muhammad, UCLA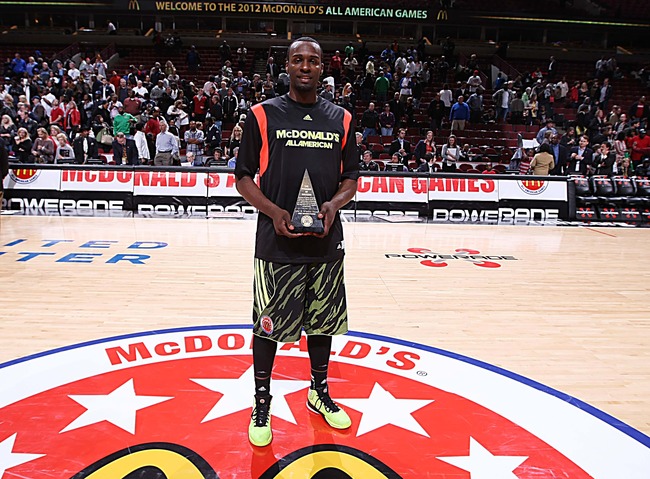 Muhammad's play at the McDonald's All-American Game earned him MVP honors.
Brian Spurlock
UCLA assembled a recruiting class for the ages in 2012, and Muhammad is the crown jewel of a group containing four players ranked inside the ESPN Top 100.
Bruins fans, however, may be waiting a while before that crown jewel makes an appearance on the court.
Already involved in a pending NCAA investigation regarding his amateur status, Muhammad strained his shoulder in practice and will miss the next two to four weeks, the school announced last Thursday (per ESPN.com).
Even with the possibility of both issues bogging down his freshman campaign, the 6'6", 225-pound athletic marvel is far too talented and versatile to stay out of the national spotlight for long. Muhammad can play multiple positions on the court and is by far the best pure scorer among freshmen.
5. Trey Burke, Michigan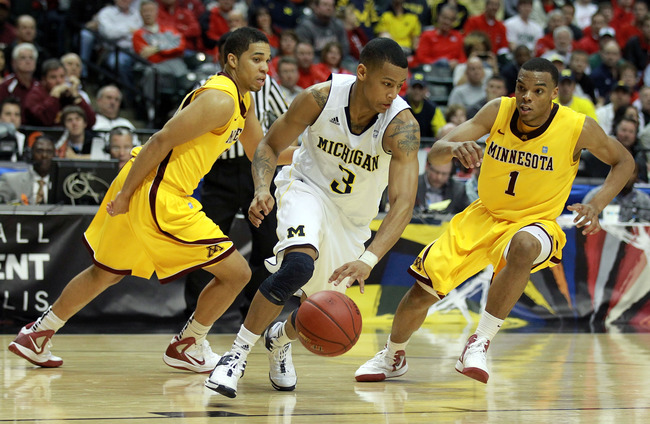 Andy Lyons/Getty Images
Michigan point guard Trey Burke opted for a return to Ann Arbor after flirting with the NBA this offseason, allowing every supporter of the Maize and Blue basketball program to breath an enormous sigh of relief.
The 2011-12 Big Ten Freshman of the Year emerged as one of the country's top point guards and led the Wolverines to a share of the Big Ten championship—their first since 1985-86. Burke set a Michigan freshman record for assists, and he averaged a team-leading 14.8 points while logging a whopping 36.1 minutes per game.
Now, the 6'0", 190-pound sophomore will run an offense loaded with talent.
In addition to the return of Tim Hardaway Jr. in the backcourt, Michigan's incoming recruiting class features 5-star prospect Glenn Robinson III (son of NBA star Glenn Robinson), 6'10" big man Mitch McGary and sharp-shooting forward Nik Stauskas.
Ultimately, John Beilein's roster is one powerful enough to reach a Final Four. As one of three Big Ten teams in the top five of the preseason Top 25, Michigan will have plenty of opportunities to unleash its star point guard for all of the country to see.
4. James Michael McAdoo, North Carolina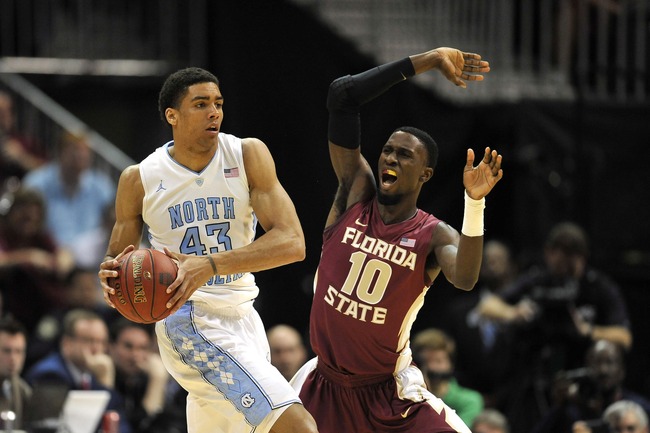 The Tar Heels need McAdoo to come up big this season.
Paul Abell-US PRESSWIRE
It's about to be the James Michael McAdoo show in Chapel Hill this season.
With Harrison Barnes, Tyler Zeller and John Henson now living the NBA life, the 6'9", 230-pound sophomore must come up big in 2012-13 in hopes of leading a youthful Tar Heels squad to another ACC title.
McAdoo, North Carolina's top recruit from its 2011 class and the No. 6 prospect in the 2011 ESPN Top 100, not only has the potential to do so; he's a candidate for Player of the Year.
Stuck behind UNC's trio of stars, McAdoo earned just 15.6 minutes a game in 2011-12 despite possessing enough pure talent to have made the jump to the NBA himself. With a breakout performance this season, consider him a potential top-10 pick in next year's draft.
He may end up going pro with a Naismith Award on his resume.
3. Nerlens Noel, Kentucky
Can Noel keep the Naismith Award in Lexington?
Mark Zerof-US PRESSWIRE
Needless to say, Nerlens Noel has some enormous shoes to fill.
That's OK; Kentucky's newest big man has some pretty big feet. The 6'10", 228-pound center joins the defending national champs as the No. 1 recruit in the 2012 class (according to ESPN and Scout.com).
It's almost unfair to combine Noel's size and length with such an uncanny level of defensive instincts. He's an absolute nightmare for defenses to deal with and will likely average four blocks a game this season.
Anthony Davis became just the second freshman to win the Naismith award, with Kevin Durant (Texas in 2007) being the first to do so. If Noel can develop into a solid scoring presence, we may have a third come April.
2. Doug McDermott, Creighton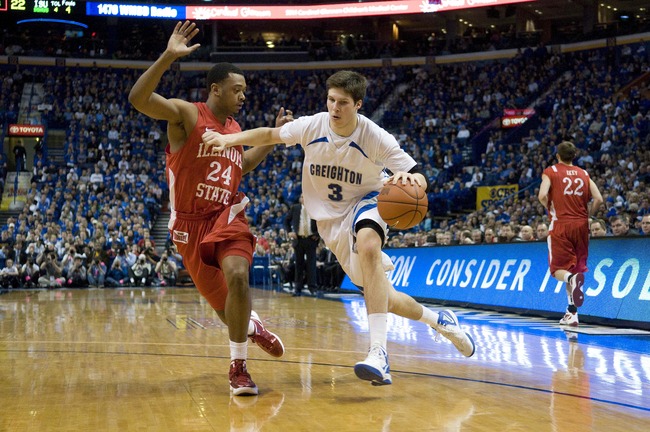 McDermott has a legitimate shot at becoming college basketball's Player of the Year in 2012-13.
Jeff Curry-US PRESSWIRE
Arguably the top power forward in the country, Doug McDermott is an absolute scoring machine.
And if you think the 6'8" sharpshooter's status as a star for a mid-major school won't allow him a shot at the sport's most prestigious award, think again.
McDermott led the Creighton Bluejays to a 29-6 overall record in 2011-12 and earned first-team AP All-American honors in the process. After averaging 22.9 PPG and 8.2 RPG, he found himself on the short list of four Naismith Award finalists as well.
Don't be fooled into believing he's simply killing it inside the paint either. The 225-pound junior was masterful from beyond the arc, sinking nearly half (.486 percent) of the 111 three-pointers he attempted.
The versatile forward is back for more in 2012-13, and he's a preseason favorite to become a Naismith finalist for a second straight season.
1. Cody Zeller, Indiana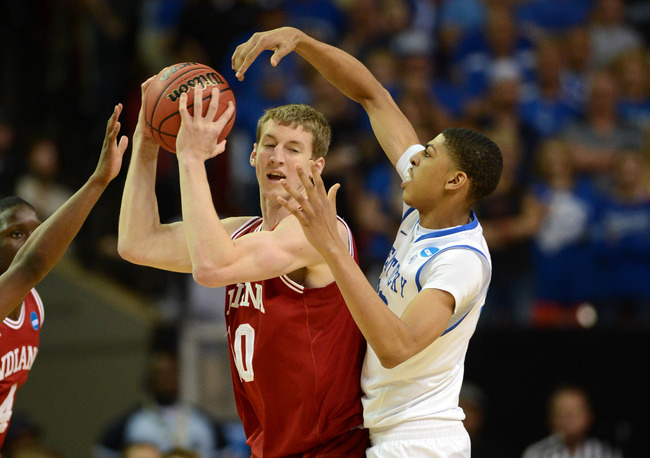 Zeller's presence in the Hoosiers' frontcourt makes them as talented a squad as any.
Richard Mackson-US PRESSWIRE
It'd be rather difficult to make a case against Indiana's Cody Zeller being the favorite to be named this season's Player of the Year.
The 7'0", 240-pound center is the best player on what is shaping up to be one of the top teams in the country. He's coming off a freshman campaign in which he averaged 15.6 points, 6.6 rebounds and 1.2 blocks per game.
Head coach Tom Crean has done a spectacular job putting Indiana back on the map, but he couldn't have done it without the emergence of Zeller in the frontcourt. With senior Christian Watford returning and highly touted freshman point guard Yogi Ferrell jumping on board, voters believe Indiana is the top team in the country.
The best team in the nation? I'm not ready to go that far. But Zeller is certainly the best player in the nation—no doubting that.
Keep Reading