CBB Prediction: Top 15 Freshmen Who Will Lead Their Teams to March Madness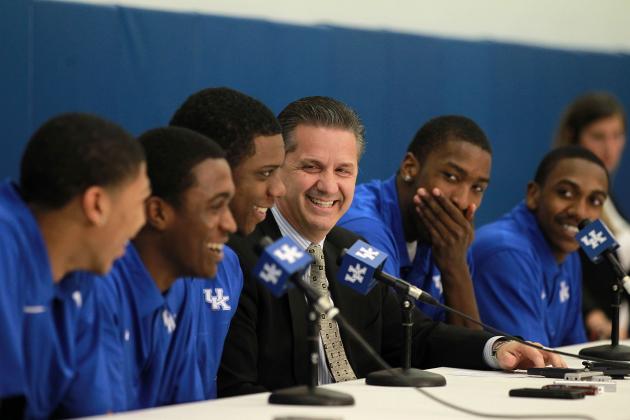 Andy Lyons/Getty Images
Fresh off a National Championship win in March, Kentucky coach John Calipari knows the value of freshman talent
College basketball will feature many more talented freshmen during the 2012-13 season. Fifteen players from ESPN's Top 100 will help their teams be consistent enough all season to make serious noise during March Madness.
These days, the top college assets are spending only a short time at their universities before making the leap to the NBA. Last season, John Calipari and the Kentucky Wildcats were the most dominant force and were almost entirely led by freshmen now gone to the pros.
Coaches are looking for instant impact when they recruit. The following freshmen will all be major reasons why their teams are in the tournament hunt come March.
Note: UCLA recruits Shabazz Muhammad (No. 2), Kyle Anderson (No. 5), and Tony Parker (No. 26) are intentionally left off this list. The three are currently being investigated by the NCAA, as illegal recruitment procedures are believed to have been used.
Begin Slideshow

»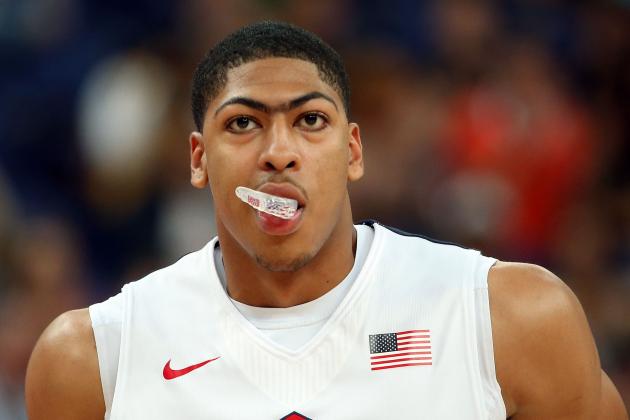 Christian Petersen/Getty Images
Kentucky will miss Anthony Davis and his unibrow, but Nerlens Noel is the new man in town
Coach Calipari has done it again. ESPN No. 1 recruit Nerlens Noel stands a lanky 6'10" and is already being described by scouts as "an absolutely incredible shot blocker with uncanny defensive instincts."
Noel should quickly fill the massive void left by Anthony Davis. Only a freshman, he will surely fill out and develop his offensive skill set once focused on a collegiate training program. The results from a full season's practice and experience will be scary, and Noel will most likely head to the NBA after just one year.
However, this season holds significant promise for the Wildcats. Nerlens Noel will be joined by two other top-15 recruits in No. 13 Alex Poythress and No. 15 Archie Goodwin. Watch for Goodwin to score at will, especially when considering the help from the size and athleticism of his teammates.
Kentucky lost its entire starting lineup (three freshmen and two sophomores) to the NBA after their most recent NCAA Championship win.
As quickly as Davis and Michael Kidd-Gilchrist left KU after just one season, new talent supplants them. The fresh faces in town will have Calipari's squad in contention once more, even if only together for one season.
Arizona basketball will be relevant again in 2012. In fact, the Wildcats can do some serious damage this year in the PAC-12 and later in the NCAA tournament.
This season, Coach Sean Miller and Arizona recruiting got it right. Currently ranked by ESPN as the third most touted recruiting program in 2012, immediate success is on the horizon.
Center Kaleb Tarczewski has the size necessary to dominate at the collegiate level. At 7'0" and 240 pounds, Tarczewski will be banging around with the NCAA's best in the paint. His offensive skills are a bit undeveloped, but most times he will just be too big to slow down.
Additionally, three California natives will join Kaleb on the floor and pose many problems to opposing defenses. Forwards Grant Jerrett and Brandon Ashley will nicely complement Tarczewski's size with even more length.
Lastly, guard Gabe York will add electric scoring ability and free up space for his bigs to operate in the paint.
The trio of big men is going to out-rebound nearly every opponent and will be so difficult to strategize for.
Arizona is in on Kentucky's dominant-freshmen plan. During 2012-13, the Wildcats will punish opponents and will most certainly be a team to watch down the stretch.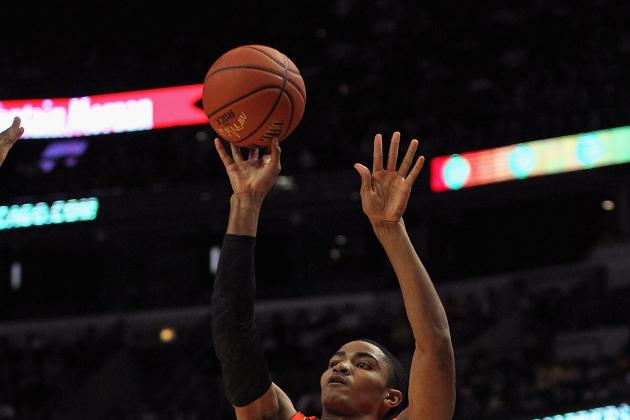 Jonathan Daniel/Getty Images
Michigan State freshman Gary Harris will have to score the rock at an alarming rate to keep the Spartans at pace with the Big Ten's best
Michigan State is always a contender as long as Coach Tom Izzo is around.
This season, the Spartans have recruited 2012 Indiana Mr. Basketball winner Gary Harris to help the Spartans remain a factor in the Big Ten.
In order to keep up with the likes of Michigan, Ohio State and preseason No. 1 Indiana, Harris is going to have to play out of his shoes.
The 6'4" shooting guard will be one of the focal points of the MSU offense, especially since the Spartans lost forward Draymond Green to the 2012 NBA draft. Coached by Izzo, Harris will immediately be in position to get the most out of Michigan State's system and lead his team against the NCAA's toughest opponents.
Much like sophomore Michigan guard Trey Burke's (2011 Mr. Basketball, Ohio) freshman contribution to the Wolverines (Mr. Basketball, Ohio), how Gary Harris plays will determine the level of success the Spartans can achieve.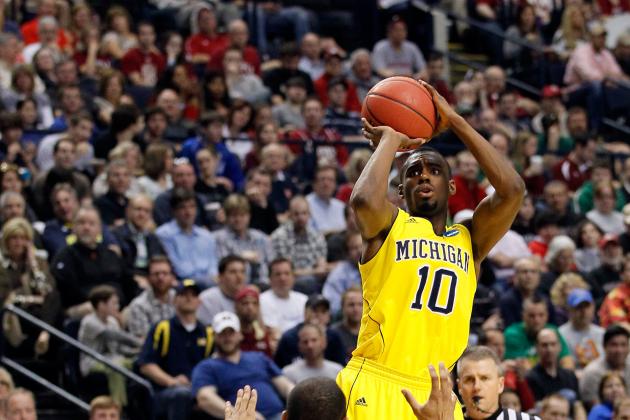 Kevin C. Cox/Getty Images
Tim Hardaway Jr. and Trey Burke have some more help this year
The Wolverines won a share of the Big Ten title during 2011-12. This year Coach John Beilein has scored two young talents that can instantly thrust Michigan into the Elite Eight or even Final Four conversation.
Small Forward Glenn Robinson Jr. headlines the incoming class. Basketball is in his blood, and at 6'6" and 200 pounds, Robinson already has the makings of a body of a true NBA small forward. His freakish athleticism will need to be corralled and focused a bit.
Luckily for Robinson, he'll be surrounded by junior shooting guard Tim Hardaway Jr. and sophomore guard Trey Burke. Together, the two will orchestrate an explosive Michigan offense that figures to carry the squad deep into the NCAA postseason.
Oh, and let's not forget ESPN No. 27 recruit Mitch McGary, whose big body will improve the Wolverines' rebounding and defensive presence in the paint. McGary can run the floor and is strong inside, which will allow his more athletic wingmen to have a field day on the fast break.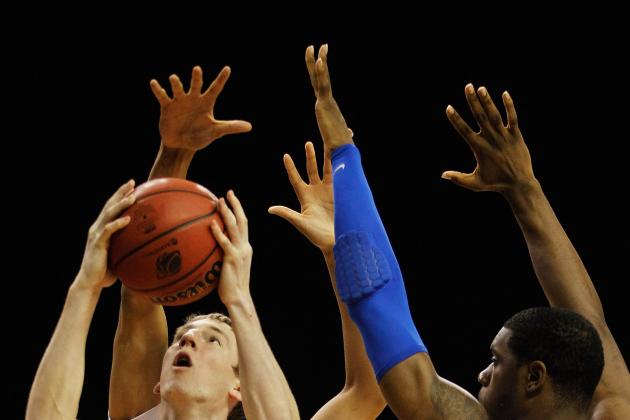 Streeter Lecka/Getty Images
Will Cody Zeller and the Hoosiers freshmen propel themselves deep in the tournament
The residents of Bloomington, Ind., have long awaited a season with such high expectations. Returners Cody Zeller and Christian Watford lead a balanced Hoosier team that already has a marquis victory together against Kentucky last season.
Now add in to the mix stud freshman point guard Yogi Ferrell from Greenfield, Ind. Ranked No. 24 in the ESPN Top 100, Ferrell will be the last piece to Indiana's puzzle.
The young point guard will be most focused on getting scoring opportunities for the aforementioned Zeller and Watford. He will do so by penetrating into the paint; however, according to ESPN scouts, Ferrell has a stellar mid-range game to complement his driving ability.
Freshman leadership is at a premium these days. Indiana needs a poised leader who can run the offense and be a nag on defense. Yogi Ferrell just may be the answer.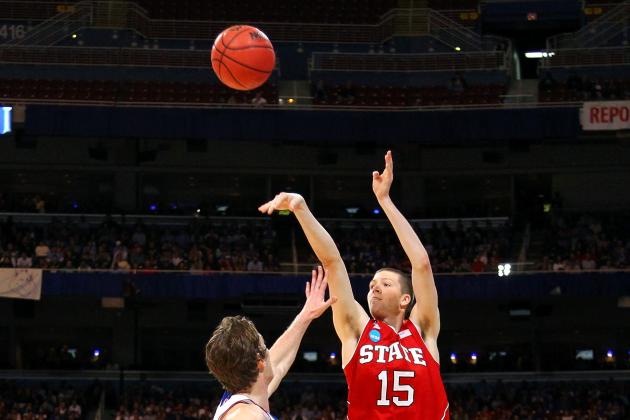 Dilip Vishwanat/Getty Images
New NC State freshmen add some serious teeth to the Wolfpack attack
NC State has a few new faces worth mention.
New point guard Rodney Purvis (ESPN No. 20) will do his best to lead fellow newcomers T.J. Warren and Tyler Lewis to a successful freshman season. The trio (two guards, Warren is a small forward) will be scary from downtown and pose the continuous threat of running teams out of the building.
Although the starting lineup will feature freshmen as the top talent, the Wolfpack have little to worry about. In fact, I predict that these three will spend more than just one season together and will experience greater success one or two years down the road.
Either way, the Wolfpack will be a bit more formidable this upcoming season and are most certainly capable of winning tournament games.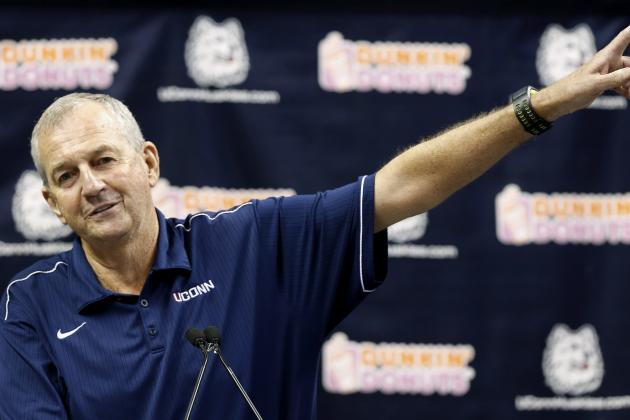 Winslow Townson/Getty Images
John Calhoun may not be the man around UConn anymore, but Omar Calhoun is now on the scene
One Calhoun exits, another enters.
The UConn Huskies don't seem ready to turn the page away from freshly retired coach John Calhoun's excellent career. To ease the pain of separation, Connecticut will turn to freshman shooting guard Omar Calhoun.
Calhoun the elder left behind a legacy worth mention; he remains one of a select few (think Coach K, John Wooden, Bob Knight) to win three NCAA Championships as a coach.
Without him, UConn will need to revamp its program entirely. In order to rebuild and stay relevant, star power and leadership is necessary.
Both factors are what the Huskies hope for from Omar Calhoun. It may not be a perfect transition this season from coach to coach, but Omar and his big scoring ability will be the biggest reason the Huskies have a chance to make noise in March.