College Basketball Recruiting: Julius Randle Dominates Elite 24 Game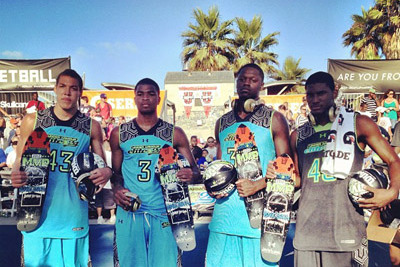 slamonline.com
Julius Randle demonstrated again this weekend at the Under Armour Elite 24 at Venice Beach, Calif., why he occupies one of the top spots on every high school recruiting list.
Leading all scorers with 27 points, the super-freak power forward (pictured second from right) from Prestonwood Christian (Plano, Texas) captured one of the four all-star game MVP awards.
The other three MVPs were Aaron Gordon from San Jose (Calif.) Archbishop Mitty (far left), Aaron Harrison from Richmond (Texas) Travis (second from left) and Justise Winslow from Houston (Texas) St. John's (far right).
Randle's combination of size and skills made him almost impossible to stop. He sets up down low or faces up outside. Either way, he is lethal.
Begin Slideshow

»
As you can see in this clip, Randle's athleticism and agility are amazing, especially for a player his size.
At 6'9" and 240 pounds, he already has the physique to battle at the highest level of college hoops. Nobody is pushing this young gun around.
As for where Randle will end up, every high major program (such as Baylor, Duke, Kansas, Kentucky, North Carolina, Texas and a long list of others) are in hot pursuit of this prodigy power forward.