College Basketball Programs Set to Return to Glory in 2012-13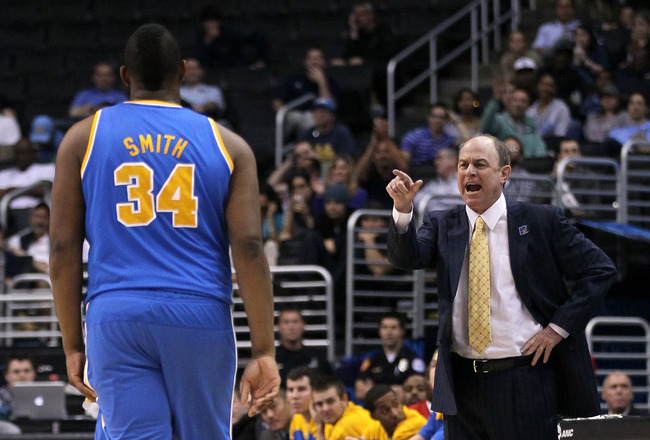 Stephen Dunn/Getty Images
If the rise and fall of college basketball's elite has taught us anything, it's that no one is invincible. From the mightiest in the land to yet another run of the mill team with a high profile name, even the greatest of programs can fall victim to the unforgiving nature of NCAA ball.
Fortunately, no great fighter will stay down forever. No matter how hard these storied collegiate programs have been knocked down, they will rise.
As for when, the following universities will return to glory sooner rather than later. In fact, their rise above their previous demise is going to occur as soon as the 2012-13 season.
So who will they be? Which teams with storied history will rewrite the record books after falling so far? The following slides will answer just that.
Arizona Wildcats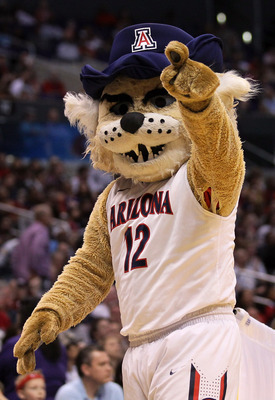 Stephen Dunn/Getty Images
Key Players
Solomon Hill, Nick Johnson
Key Additions
Brandon Ashley (No. 3 PF), Grant Jerrett (No. 2 PF), Kaleb Tarczewski (No. 3 C), Gabe York (No. 12 SG)
Key Losses
Kyle Fogg, Jesse Perry, Josiah Turner
The Arizona Wildcats have had quite the stellar recruiting classes over the past two years. In turn, they've replaced every one of the players they lost this past offseason.
In fact, they've gotten so much better than they were in 2011 that it would be a fair estimate to say they're a favorite to win the Pac-12. With Soloman Hill and Nick Johnson returning, as well as the arrival of Kaleb Tarczewski, Grant Jerrett, Brandon Ashley, it's hard to debate such a claim.
Solomon Hill is coming off of a season in which he averaged 13.0 points, 7.7 rebounds and 2.6 assists on 39.4 percent shooting from beyond the arc. Nick Johnson, meanwhile, was the fourth ranked shooting guard in the nation according to ESPN 100.
He should spend time as the Wildcats' sharpshooter in 2012-13.
As for the recruits, Kaleb Tarczewski, Grant Jerrett and Brandon Ashley were all ranked within the Top 16 of the ESPN 100, with Tarczewski and Jerrett each cracking the Top 10. Gabe York ranked 65th overall and was the 12th ranked shooting guard.
With a stellar roster and head coach Sean Miller at the helm, there should be no doubt about how well this team could play. The question is, will they maximize their limitless potential?
2012 Win-Loss Record
23-12, 12-6 Pac-12
Indiana Hoosiers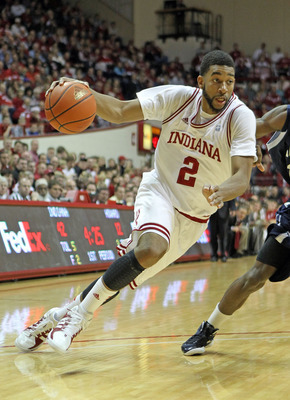 Andy Lyons/Getty Images
Key Players Returning
Victor Aladipo, Jordan Hulls, Matt Roth, Will Sheehey, Christian Watford, Cody Zeller
Key Additions
Kevin Ferrell (No. 3 PG), Jeremy Hollowell (No. 10 SF), Hanner Mosquera-Perea (No. 15 PF)
Key Losses
Verdell Jones III
One would have reason to believe that the Indiana Hoosiers have already returned to glory. With a Sweet Sixteen exit and an 11-7 record in the Big Ten is far from satisfying for such a storied program.
With the Hoosiers' seven leading scorers all returning, including stars Cody Zeller and Christian Watford, this team is built for maintained success. With sharpshooters Jordan Hulls and Matt Roth also returning, there is no reason this team can't build upon what they have already established.
As for their key recruits, in-state point guard Kevin 'Yogi' Ferrell and Jeremy Hollowell are the most likely frosh to see early playing time.
Ferrell was ranked third amongst point guards according to ESPN 100 and second according to Rivals. While Jordan Hulls, who makes a case for consideration as the best three-point shooter in the nation, should begin the season in the starting spot, don't be shocked to see Ferrell emerge as competition.
After all, head coach Tom Crean loves a competitor and Yogi Ferrell is just that.
As for Jeremy Hollowell, the guard-forward who chose Indiana over in-conference rival Ohio State could start at the 2. While some might label him as a 3, he has the athletic ability and frame that's more fit for an NBA shooting guard.
In a Tom Crean system, that opens the door for him to play the same role at Indiana. With senior Christian Watford working on the perimeter beside him, he should find an early comfort zone as the slasher he is.
With the rare maintenance of a full team, as well as the addition of key recruits, Indiana should be in the Top 5 throughout the duration of the season. Come the NCAA Tournament, the Hoosiers should also be a favorite to become a top seed.
This is shaping up to be a year to remember for Indiana.
2012 Win-Loss Record
27-9, 11-7 Big Ten
Memphis Tigers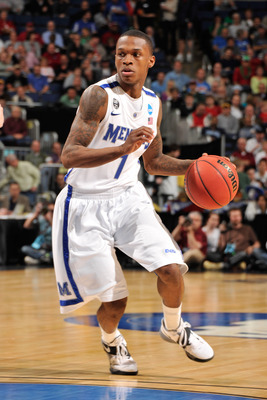 Jamie Sabau/Getty Images
Key Players Returning
Antonio Barton, Tarik Black, Chris Crawford, Joe Jackson, Adonis Thomas
Key Additions
Shaq Goodwin (No. 6 PF), Damien Wilson (No. 31 SF)
Key Losses
Will Barton, Charles Carmouche, Wesley Witherspoon
The Memphis Tigers may not be of the John Calipari breed in which potential NBA superstars flow in and out, but they've certainly compiled a legitimately dangerous roster. Even after losing leaders Will Barton and Wesley Witherspoon, it's hard to say this team has done anything but improved.
Adonis Thomas entered the NCAA with high expectations during the 2011-12 season, but failed to live up to the hype. This time around, Thomas has a full year under his belt and a solid supporting cast, with big man Tarik Black and guard Joe Jackson producing at an adequate level.
Memphis will also see sharpshooter Antonio Barton and defensive menace Chris Crawford return to the perimeter.
As for the players the Memphis Tigers have added, Shaq Goodwin was the sixth ranked power forward according to ESPN 100 and 10th according to Rivals. This comes as a result of Goodwin's ability to finish in traffic and also step back for an open J.
Damien Wilson, meanwhile, is an Oak Hill Academy product. That speaks for itself, as the school has produced Carmelo Anthony, Rajon Rondo and Josh Smith, to list a few notable alumni. While Wilson is not expected to be of that caliber, the slasher should be able to replace Wesley Witherspoon and improve upon the previous' deficiencies.
This versatility will add to an undersized but overly productive rotation. As a result, the Memphis Tigers will reclaim the Conference USA crown and make noise at the national level.
2012 Win-Loss Record
26-9, 13-3 Conference USA
Michigan Wolverines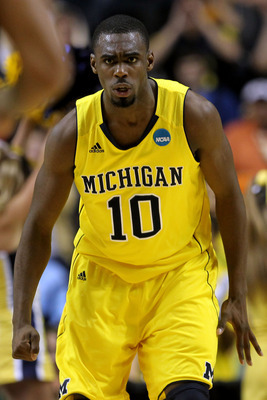 Jamie Squire/Getty Images
Key Players Returning
Trey Burke, Tim Hardaway Jr., Jordan Morgan
Key Additions
Mitch McGary (No. 5 PF), Glenn Robinson (No. 5 SF), Nik Stauskas (No. 21 SF)
Key Losses
Stu Douglass, Evan Smotrycz
The Michigan Wolverines made a major leap in 2011-12, combining sharpshooting with defensive intensity to arrive at a 24-10 record and a split of the Big Ten regular season title. Unfortunately, the year ended with a loss to Ohio in the Round of 64 of the NCAA Tournament.
Not exactly the ending that Wolverines fans were hoping for.
During the 2012-13 season, freshman Trey Burke emerged with averages of 14.8 points, 4.6 assists and 3.5 rebounds per game. He instantly became one of the more promising young players in the nation and inspired Wolverine Nation to label him as the future star of this program.
Alongside Burke will be Tim Hardaway, Jr., who averaged 14.6 points per game on his own. Between the two, the Wolverines have the veteran leadership necessary to make noise in the NCAA Tournament.
While Burke may not be a freshman anymore, the Wolverines have three significantly first-year players coming in.
While they pale in comparison to the Fab Five, Glenn Robinson, Mitch McGary and Nik Stauskas are all ranked on the ESPN 100. Robinson and McGary are both ranked as Top 5 players at their respective forward positions, which certainly inspires hope to a team whose greatest hole was at those very slots.
Trey Burke, Tim Hardaway, Jr. and Glenn Robinson should make for a stellar perimeter. Mitch McGary, meanwhile, should fare quite well with Jordan Morgan as the Wolverines make their push towards the Top 10 in the nation.
2012 Win-Loss Record
24-10, 13-5 Big Ten
North Carolina State Wolfpack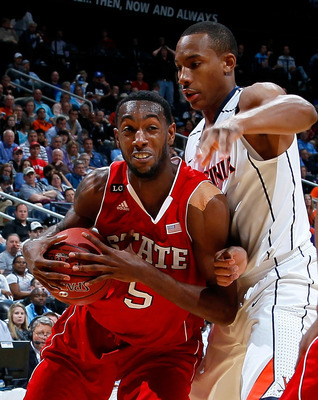 Kevin C. Cox/Getty Images
Key Players Returning
Lorenzo Brown, Richard Howell, C.J. Leslie, Scott Wood
Key Recruits
Tyler Lewis (No. 5 PG), Rodney Purvis (No. 5 SG), T.J. Warren (No. 8 SF)
Key Losses
N/A
The North Carolina State Wolfpack made noise during the 2011-12 season when they found their way into the Sweet Sixteen of the NCAA Tournament. This was no easy feat, as the Wolfpack took down San Diego State and Georgetown before falling 63-60 to eventual runner-up Kansas.
In 2013, the Wolfpack return four of their five leading scorers. Amongst them are March Madness standout C.J. Leslie and standout point guard Lorenzo Brown.
Leslie, who averaged 14.7 points and 7.3 rebounds per game, came up with 18 huge points in N.C. State's near upset in the Sweet Sixteen. This came as no surprise, as Leslie led the team in scoring for the year.
Expect more of the same in 2013 as C.J. Leslie becomes one of the true stars of the ACC.
As for Brown, the 6'5" point guard posted season averages of 12.7 points, 6.3 assists, 4.5 rebounds and 1.8 steals per game. He emerged as one of the better guards in the nation, with sharpshooter Scott Wood draining threes alongside him.
And the rich are only getting richer.
N.C. State has incoming freshmen Tyler Lewis, Rodney Purvis and Ty Warren, who all ranked in the Top 10 at their position. The star of the crop, of course, would be none other than shooting guard Rodney Purvis.
Purvis would replace the only starter who graduated a year ago, 2-guard C.J. Williams. He's an exceptional slasher with elite athleticism and consistent brilliance when finishing around the basket.
As long as Rodney Purvis is cleared to play, North Carolina State could be a legitimate Top 5 team in nation. Double-double ability from Richard Howell, who averaged 10.8 points and 9.2 rebounds, should do nothing but add to that status.
2012 Win-Loss Record
24-13, 9-7 ACC
Oklahoma State Cowboys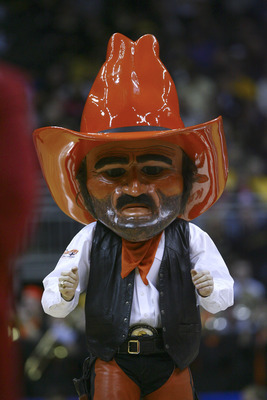 Ed Zurga/Getty Images
Key Players Returning
Markel Brown, Michael Cobbins, Philip Jurick, Le'Bryan Nash, Brian Williams
Key Recruits
Marcus Smart (No. 1 SG)
Key Losses
Keiton Page
If you don't know Marcus Smart, you better get familiar. This kid wasn't ranked as the No. 1 shooting guard in the nation by ESPN 100 and No. 3 by Rivals for no reason, folks, he can flat out ball.
At 6'4" and 220 pounds, Smart is a well-built slasher who utilizes his strength as well as any incoming freshman we've seen. Not only is he overwhelming with his physical abilities, however, but he knows how to get his man in the air or beat him off of the dribble.
One way or another, Smart can create points in a variety of ways. Much like teammate Le'Bryan Nash.
While Nash's shooting percentages were lackluster in 2012, he possesses nothing less than star potential. Such was on display when the scoring forward dropped in 27 points and led the Oklahoma State Cowboys to an upset of the second ranked team in the nation, Missouri.
Between the two of these scorers, Oklahoma State should be one of the most exciting teams in the nation. With defensive weapons such as Michael Cobbins and Philip Jurick, as well as playmaker Markel Brown, Oklahoma State will turn heads.
As long as Le'Bryan Nash and Marcus Smart maximize their potential, they'll also find themselves amongst the nation's elite as a collective unit.
2012 Win-Loss Record
15-18, 7-11 Big 12
UCLA Bruins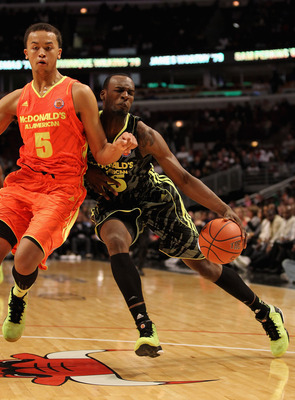 Jonathan Daniel/Getty Images
Key Players
Tyler Lamb, Joshua Smith, David Wear, Travis Wear
Key Additions
Jordan Adams (No. 9 SF), Kyle Anderson (No. 2 SF), Shabazz Muhammad (No. 1 SF), Tony Parker (No. 7 C)
Key Losses
Jerime Anderson, Lazeric Jones
Why They'll Improve
Lazeric Jones was, arguably, the best player on the 2011-12 UCLA Bruins. His averages of 13.5 points and 1.8 steals per game led the team. His 4.1 assists and 3.5 rebounds ranked second and sixth, respectively.
Jerime Anderson, meanwhile, led the team in assists with 4.2 per game and tied Jones for the team lead with 1.8 steals. The fact of the matter is, neither of those players make a significant dent in a now stellar rotation.
Shabazz Muhammad and Kyle Anderson are five star recruits. Tony Parker and Tony Adams are four stars. Returning key players Tyler Lamb, Joshua Smith and the Wear brothers, David and Travis, round out a star-studded lineup.
They also make for one of the best on-paper teams in the nation.
Shabazz Muhammad is an early favorite to contend for National Player of the Year. Kyle Anderson, meanwhile, was labeled as the best player in the nation by Oklahoma City superstar Kevin Durant. Tony Parker is an impenetrable force at center, while Jordan Adams could be a star in his own right at small forward.
If the paper lineups can produce as we expect them to, UCLA should have no problem competing for a National Championship.
2012 Win-Loss Record
19-14, 11-7 Pac-12
UNLV Rebels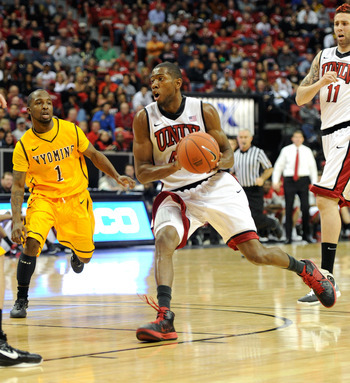 Ethan Miller/Getty Images
Key Returning Players
Justin Hawkins, Anthony Marshall, Mike Moser
Key Recruits
Anthony Bennett (No. 1 PF), Savon Goodman (No. 28 SF), Katin Reinhardt (No. 8 SG)
Key Losses
Oscar Bellfield, Brice Massamba, Chace Stanback
Had UNLV simply held onto three of their top five from a year ago, this team would be a threat to crack the Top 15 in the nation. With one of the best recruiting classes of 2012, however, the Rebels have become an unofficial favorite for a top seed in the 2013 NCAA Tournament.
Power forward Mike Moser is one of the best players you may have never heard of. In 2011-12, Moser averaged 14.0 points, 10.5 rebounds, 2.3 assists, 1.9 steals and 1.0 blocks per game.
In 2012-13, expect more of the same.
Moser has already proven that he can lead UNLV to a respectable record. The issue a year ago, however, was the inconsistency around him as players such as Chace Stanback would go from a 20 point outing to a six point head scratcher with no warning.
With highly-touted freshmen Anthony Bennett, Savon Goodman and Katin Reinhardt, consistency can't be promised. What can be stated, however, is that the talent in Las Vegas is much greater than a year ago.
Take that however you'd like to, but in the Mountain West Conference, that alone could be enough for a conference title. If not, falling back on Mike Moser's ability to play in the clutch is from from discomforting.
UNLV is back amongst the big boys.
2012 Win-Loss Record
26-9, 9-5 Mountain West Conference
Keep Reading