College Basketball: Each Top 25 Team Compared to an NBA Team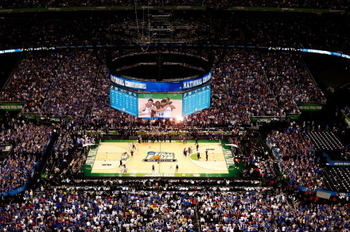 Chris Graythen/Getty Images
We're still a good four months away from the college basketball season getting underway, and like many other fans, I've started to look at the rosters of the teams I follow and other teams in their conferences.
And, I have to say, I'm getting a little excited...even if you want to call it early excitement.
But, this article is not about the excitement, but simply to have a little fun comparing college basketball teams to NBA teams.
For this article, I will go with ESPN Andy Katz's early preseason predictions, so teams that aren't in his top 25, won't be used for this article. If you don't agree with his rankings, take it up with him.
And, just to be clear, in no way am I saying that a top-25 team is comparable to an NBA team in terms of how they will perform as a team.
The main premise of the article is finding a few things that are comparable between teams.
Keep Reading