College Basketball: The Ugly Truth About Every Top 25 Team Entering 2012-13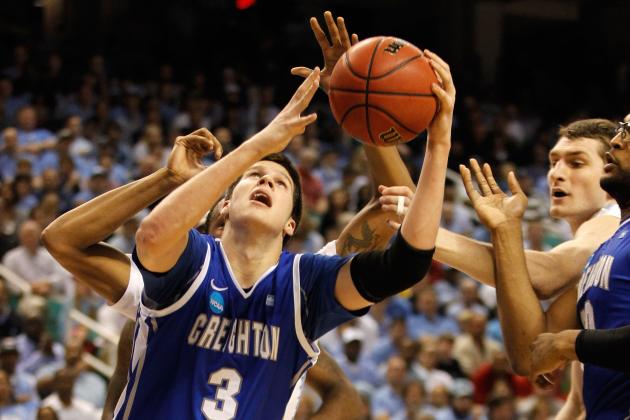 Streeter Lecka/Getty Images

Considering all the optimism surrounding college basketball's most promising teams this offseason, it's time to balance it with a healthy dose of skepticism. Even the most impressive rosters have their weaknesses, and even the projected Top 25 for the 2012-13 campaign will have their share of concerns heading into the year.
One team that's sure to have plenty of preseason buzz is the Creighton Blue Jays, led by returning super-scorer Doug McDermott. Of course, unless Creighton can do something about a defense that ranked 244th in the country in points allowed, all that offense is going to go to waste yet again.
Herein, a closer look at the Blue Jays and the rest of ESPN's preseason Top 25, with an eye to the biggest hole in each team's hopes for national contention.
Begin Slideshow

»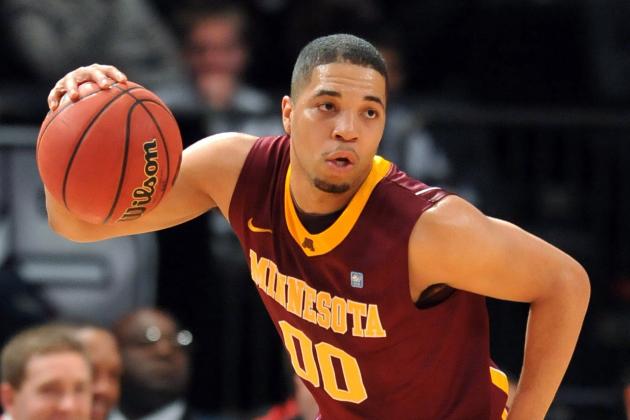 Jason Szenes/Getty Images

The Gopher backcourt could be a disaster
Minnesota's place in the preseason rankings arises entirely from the return of hyper-athletic forwards Rodney Williams and Trevor Mbakwe. Guard play, on the other hand, is a huge issue for this team.
Having a senior point guard returning for his second year as a starter means a lot less when, like Gopher Julian Welch, he only managed 2.9 assists per game the first time around.
Welch also led all Gopher guards with just 9.5 points a night, so unless somebody steps up from a group also led by Austin and Andre Hollins (no relation), the 2012 NIT champs could get a chance to defend their title.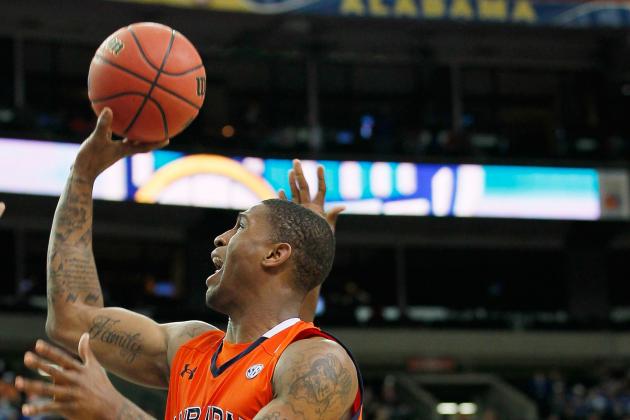 Kevin C. Cox/Getty Images

Frank Haith's chemistry experiment could blow up in his face
With a raft of seniors leaving Mizzou, coach Frank Haith will be fielding one of the most Frankensteinian lineups in college hoops next year.
To returning starter Phil Pressey at PG and returning sixth man Michael Dixon, Haith adds Laurence Bowers (a 2010-11 starter back from a knee injury), four transfers and four freshmen.
Of all the problems this mishmash presents in working out a rotation, perhaps the biggest is that two of the transfers—Earnest Ross from Auburn, pictured, and Keion Bell from Pepperdine—were primary scorers at their former programs.
If egos and shooting opportunities start to become an issue, the Tigers will be far less than the sum of their promising parts.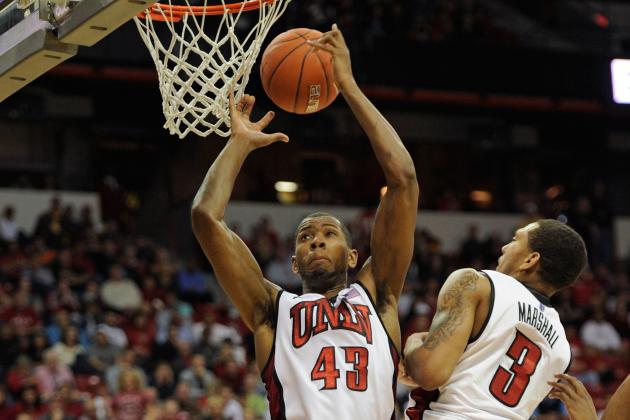 Ethan Miller/Getty Images

The Rebels have three impact newcomers…at the same position as their best returning player
UCLA transfer Mike Moser was a revelation in 2011-12, briefly holding the top spot in the nation as a rebounder and finishing with 14.1 points and 10.6 boards a night.
There will be plenty more talent in the frontcourt with him next year, if coach Dave Rice can find a place to play everyone.
Stud freshman Anthony Bennett and Big East transfers Khem Birch (Pitt) and Roscoe Smith (UConn) are all joining UNLV next season, but all of them are also best suited to playing the power forward spot.
Birch can probably slide over to center, but finding enough low-post touches for that quartet—or even enough minutes to keep their considerable rebounding talents on the floor together—will be a juggling act that has no guarantee of succeeding.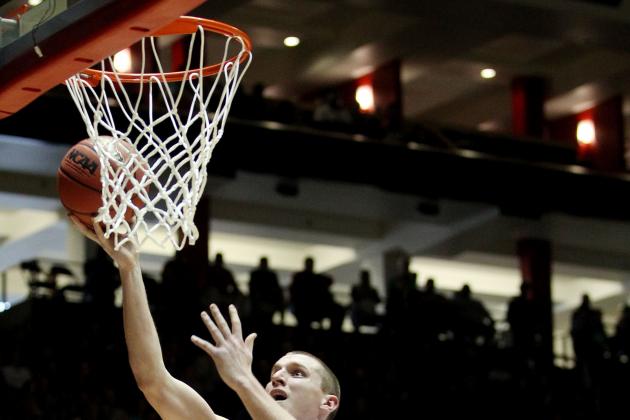 Christian Petersen/Getty Images

Eventually, even the Badgers have to score some points
After they posted the best scoring defense in the country in 2011-12, the Badgers' ability to lock down opposing offenses is not up for debate.
Wisconsin's own offense, on the other hand, was already a weakness and won't find the going any easier next year.
Losing Jordan Taylor's scoring is bad enough, but Wisconsin has no one who can adequately replace Taylor's floor leadership or his team-high 4.1 assists per game.
Even with plenty of experienced starters led by senior center Jared Berggren, the Badgers' scoring average could easily go down from a figure that already ranked 263rd in the nation last season.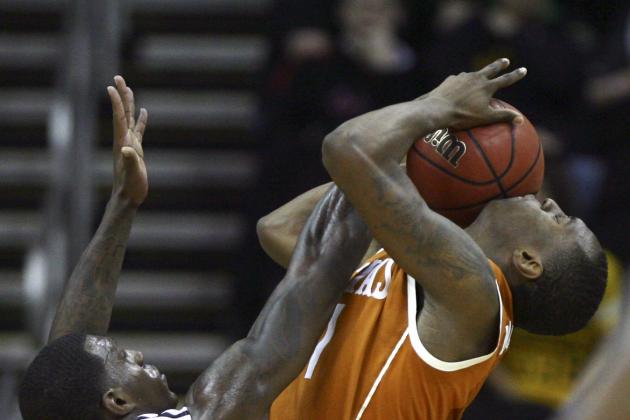 Ed Zurga/Getty Images

J'Covan Brown is gone, and he took the Longhorns' perimeter game with him
As a team, Texas shot a disappointing .328 from three-point range in 2011-12. Remove super-scorer J'Covan Brown (off to the NBA) and his .369 accuracy from the equation, and the picture gets even grimmer for Texas' returnees.
Coach Rick Barnes' much-ballyhooed recruiting class has loads of size, but no help for the jump-shooting question.
Expect opponents to pack the paint with a lot of zone defenses against the Longhorns unless Myck Kabongo and/or Sheldon McClellan can step up and establish themselves as bona-fide three-point threats.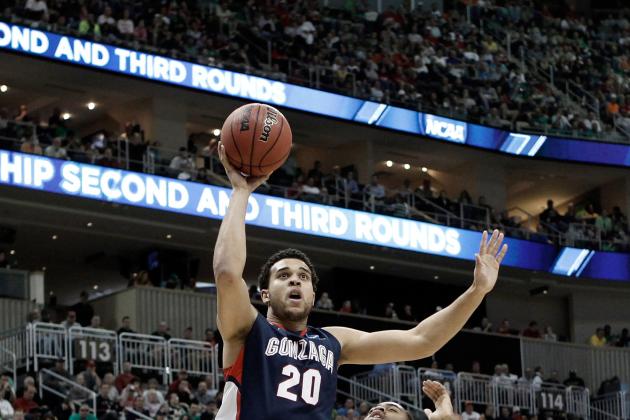 Jared Wickerham/Getty Images

"Balanced offense" is just another way to say "no star power"
Robert Sacre is gone, but the rest of Gonzaga's rotation returns pretty much intact after last season's 26-7 finish. Of course, even that impressive season only earned the Zags a No. 7 seed and a Round of 32 exit in March.
It's hard to see 2012-13 ending any better for a team with plenty of good players but no one equipped to take over a game.
Elias Harris has looked on the verge of a breakout season for his entire college career, but until he (or someone else) takes that jump, Gonzaga will continue being big Bulldogs in a small kennel in the West Coast Conference.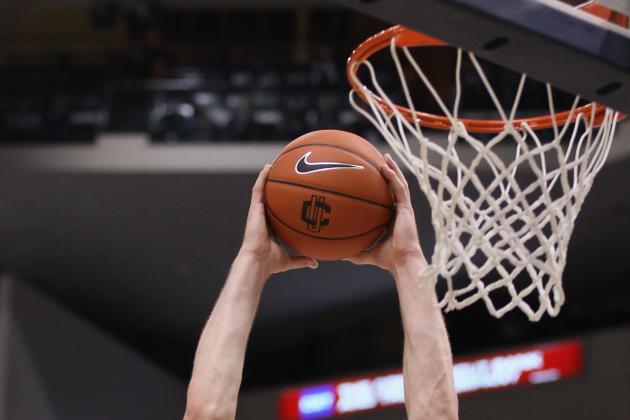 Elsa/Getty Images

Talent does not equal consistency
Even with injury-plagued Tim Abromaitis having been denied a final year of eligibility, Notre Dame boasts an impressive roster for 2012-13.
Jack Cooley is a rock in the low post at 6'9", point guard Jerian Grant was brilliant in his first season of college ball and top recruit Cameron Biedscheid will add even more scoring punch on the wing.
The problem is that Notre Dame's performance in finishing 22-12 last year was hardly a reflection of the impressive individual players on the roster.
For all the team's great performances—a season-defining win over unbeaten Syracuse, a nine-game Big East winning streak—there were dismal flops (losses to the likes of Rutgers and St. John's) to counteract them, and the Irish have done nothing to prove that next year's similar roster can avoid a similar pattern.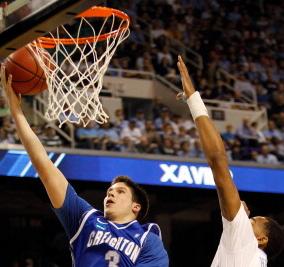 Streeter Lecka/Getty Images

Even the best offense in the country needs to compete on the other end of the floor
Thanks primarily to first-team All-American Doug McDermott, Creighton finished 2011-12 with the best shooting percentage (.509), seventh-best scoring average (80 points per game) and second-most assists in Division I.
And all that firepower—most of which returns for next season—won't do them a bit of good if they can't stop the other guys more often.
Creighton surrendered 69.7 points per game, tying for 244th in the nation in that category.
The Blue Jays have some individual defenders with promise, especially 6'9" Gregory Echenique, but until they put in a better effort when their opponents have the ball, Creighton won't be more than a minor threat to the power-conference Goliaths.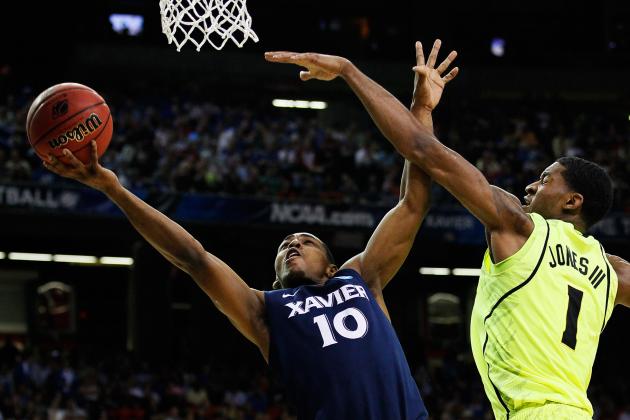 Kevin C. Cox/Getty Images

Point guard is the most important position in college hoops, and the Wildcats don't have one
Arizona coach Sean Miller brought in a jaw-dropping recruiting class led by seven-footer Kaleb Tarczewski.
With some solid returning players to complement them—notably blue-collar senior forward Solomon Hill and sweet-shooting Nick Johnson in the backcourt—the Wildcats have almost all their bases covered.
However, the one they missed is a doozy, as Josiah Turner's transfer leaves them without a legitimate point guard to run the offense.
Xavier transfer Mark Lyons is the projected solution, but Lyons is an accomplished shooting guard who has shown minimal distribution skills to date (2.2 turnovers against just 2.8 assists per game last season).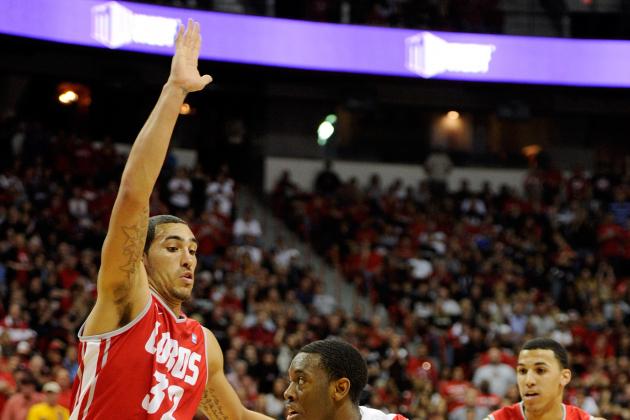 Ethan Miller/Getty Images

The Aztecs are very, very small
Most of the star power returns from a team that finished 26-8 in spite of getting upset in its NCAA tournament opener against NC State.
However, one asset that none of Jamaal Franklin, Chase Tapley or Xavier Thames brings to the table is also a tough one to miss: height.
The graduation of seniors Garrett Green and Tim Shelton costs coach Steve Fisher's team over nine rebounds per game, not to mention its one viable center in the 6'11" Green.
It's entirely possible that 6'8" Deshawn Stephens will be the tallest Aztec to see significant playing time, and that problem is compounded by playing in the same conference with the hulking front line of UNLV.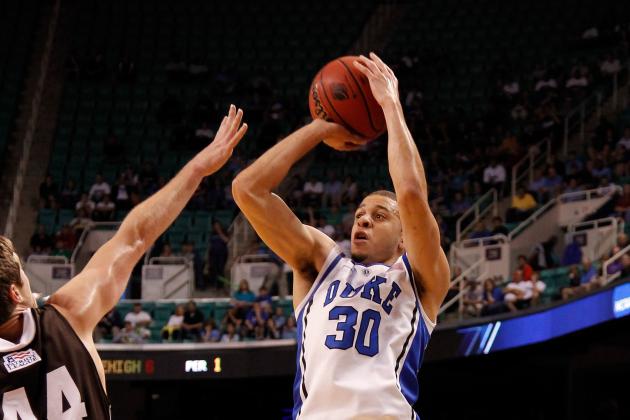 Mike Ehrmann/Getty Images

Just like last year, Duke will live and die with the three-pointer
When Duke got stunned in the second round by Lehigh last March, the biggest reason was that the Blue Devils' long-range shots weren't falling. With Ryan Kelly out with a foot injury, Duke shot just 6-for-26 from deep in the five-point defeat.
Kelly will be back for 2012-13, but Duke's bigger problem remains: When they aren't hitting the trey, they aren't scoring.
Mason Plumlee has yet to develop into a big-time back-to-the-basket option—and slender freshman Amile Jefferson won't be one next year—so all it takes to knock the Blue Devils out on any given night is for a few of their shooters to go cold.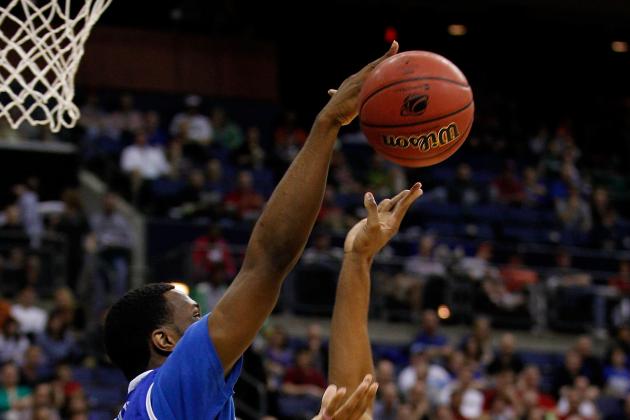 Rob Carr/Getty Images

Two years of wasted potential do not make for a good track record
In both of the last two seasons, Memphis has boasted a young, athletic roster with enormous talent. They've been bounced from the NCAA tournament in their opening game each year, having earned only a No. 12 and a No. 8 seed.
Now, star guard Will Barton is off to the NBA, and the rest of the still-talented squad is hoping to put things together without him.
Even with a healthy Adonis Thomas and talented freshman William "Shaq" Goodwin adding even more physicality, there's no apparent sign that this team has turned the corner from "potential" to "reality" yet.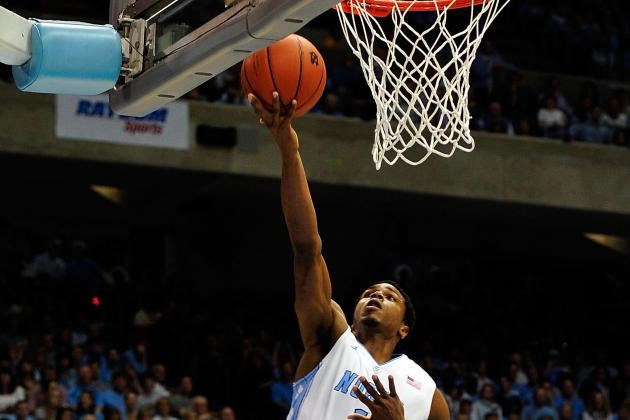 Grant Halverson/Getty Images

Two key guards are coming off torn ACLs
The mass exodus of four potential lottery picks means that uncertainty is the order of the day in Chapel Hill.
Nowhere are the question marks more worrisome than at shooting guard, where last year's initial starter (Dexter Strickland) and one of 2010-11's more promising reserves (Leslie McDonald) will both be seeing their first action following ACL surgery.
Reggie Bullock will be a respectable replacement should either player get hurt again, but "respectable" isn't exactly up to Tar Heel standards.
With so many new players stepping into bigger roles (notably James Michael McAdoo up front and freshman Marcus Paige at the point), the two rising seniors should provide much-needed leadership—if they can stay on the court, and if they're back to their old form.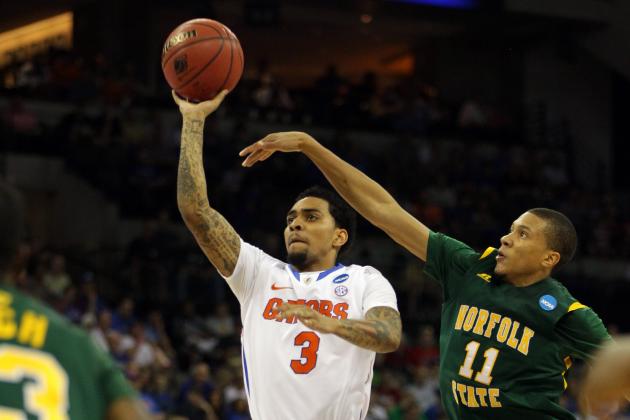 Doug Pensinger/Getty Images

Replacing Bradley Beal is a job that's beyond any of the Gators' available candidates
Florida's success a year ago relied on three star guards (with some not-insignificant help from Patric Young down low).
Two of those three backcourt standouts are gone, and while freshman Braxton Ogbueze should be a solid successor to Erving Walker at the point, replacing Bradley Beal's contributions won't be nearly so simple.
The 6'3" Beal finished second on the team in scoring (14.8 points a game) and first in rebounding (6.7 boards a night) in his lone collegiate season, and none of the contenders for his starting spot have anything like his athleticism.
Rutgers transfer Mike Rosario was effective off the bench last season, but it's hard to see the volume-shooting swingman being nearly as productive as Beal was while having to share the ball with rising senior Kenny Boynton.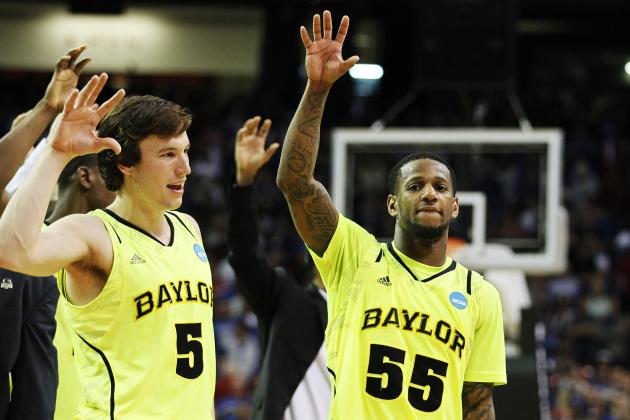 Kevin C. Cox/Getty Images

The backcourt role players have to be leaders now, ready or not
When the 2011-12 season began, Pierre Jackson was an instant-offense sub off the Baylor bench, and Brady Heslip was a sophomore with no game experience slotted into the starting SG job almost by default.
A year later, those are the veterans Baylor will be counting on to smooth the arrival of a phenomenal recruiting class.
Heslip in particular will need to diversify his game, having been almost exclusively a catch-and-shoot threat in last year's towering lineup.
Jackson, though, will be facing even more pressure as he looks to duplicate last season's clutch heroics despite playing with the big target on his back instead of on Perry Jones III's.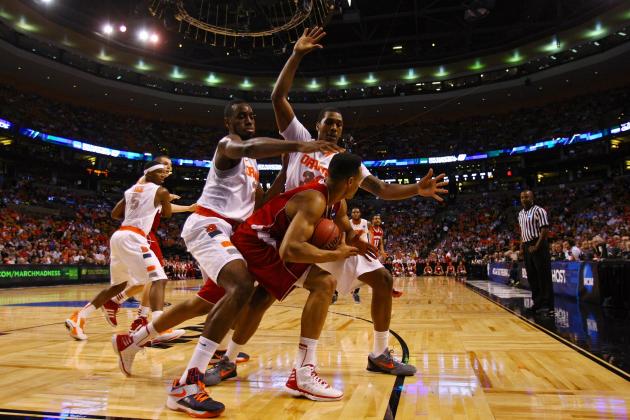 Elsa/Getty Images

Without Fab Melo, the defense is going to be merely good, not championship-caliber
Syracuse is losing much of its offense from 2011-12, from Scoop Jardine to Dion Waiters, but there's enough talent waiting for its turn (Michael Carter-Williams, Rakeem Christmas) that those departures shouldn't change the Orange's fortunes too badly.
The bigger concern is down low, where somebody will have to attempt to fill in for shot-blocking demon Fab Melo.
During Melo's intermittent suspensions, last year's team went from superlative to mortal, and now Jim Boeheim faces a full season without the defensive star.
Stud freshman DaJuan Coleman is the likeliest replacement, but he's a downgrade on length (6'9" to Melo's 7'0") and lacks Melo's polished defensive instincts.
Christian Petersen/Getty Images

Replacing Draymond Green means starting from scratch
Filling the hole left by departing All-American Green means more than finding ways to replace his prodigious numbers (16.2 points, 10.6 rebounds, 1.5 steals and 3.8 assists per game).
Everything the Spartans did last year, on either end of the floor, ran through Green, and every opponent had to build its game plan around him.
The 2012-13 Spartans will have talent—especially in the backcourt, where prize freshman Gary Harris joins Keith Appling—but no one who will command the same level of awe, or flash the same remarkable versatility, that Green did.
Appling will be under vastly more pressure to run the offense than he was a year ago, and Tom Izzo's usual collection of blue-collar forwards will have to find a way to produce points in addition to rebounds.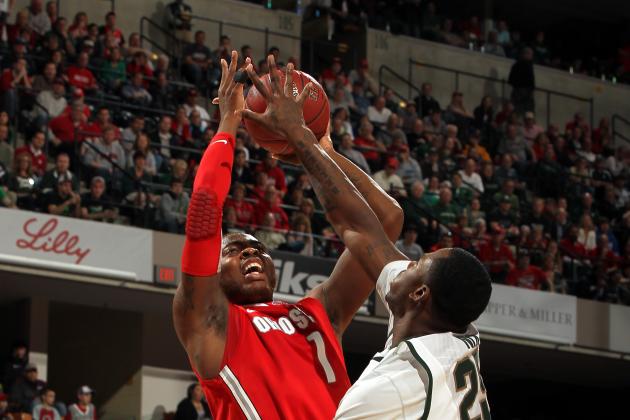 Jonathan Daniel/Getty Images

Deshaun Thomas needs more scoring help than the Buckeyes can count on giving him
Jared Sullinger is the highest-profile departure from Ohio State, but not the only one who matters. The Buckeyes are also losing three-point marksman William Buford, leaving them dangerously short of reliable scorers.
With a dismal one-man recruiting class offering no help, Thad Matta must hope that Lenzelle Smith Jr. (who contributed just 6.8 points a game last year) can become the No. 2 scorer behind the sensational Deshaun Thomas.
Otherwise, the double-teams Thomas is sure to face will wreak havoc with the Ohio State offense.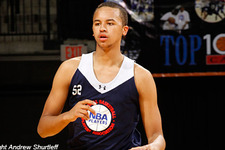 Image of Kyle Anderson from Rivals.com
The Bruins are counting on a converted high school SF to become a star freshman PG
UCLA's place in these rankings is overwhelmingly a function of a recruiting class ranked No. 1 in the nation by ESPNU.
Two of the three key pieces in that puzzle—Shabazz Muhammad and Tony Parker—are safe bets to thrive in their first college seasons, but classmate Kyle Anderson faces a much tougher test.
The 6'7" Anderson played small forward at New Jersey's St. Anthony High, but is projected (based especially on his sensational passing skills) to start at point guard for the Bruins.
That conversion would be a tall order for any freshman, and Anderson's injured hand (which may need surgery) makes it even more daunting.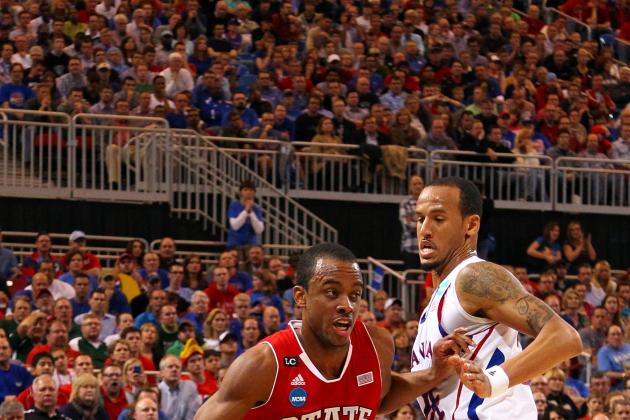 Dilip Vishwanat/Getty Images

Lorenzo Brown's knee problems could wreck everything
The biggest factor in NC State's surprise Sweet 16 run last season was the play of point guard Lorenzo Brown. In a breakout sophomore season, Brown averaged 12.7 points, 6.3 assists and 1.8 steals a night for the Wolfpack.
Now, though, persistent knee issues have Brown slated for exploratory surgery, and even if he doesn't need a more serious follow-up procedure, a point guard with a bum knee is hardly cause for optimism.
Coach Mark Gottfried has a lot of talent back and even more coming in a great recruiting class, but without Brown to orchestrate the offense, the Wolfpack's ACC title hopes would crumble in no time.

Image of Nick Stauskas from scout.com
The bench is a disaster waiting to happen, especially in the post
The addition of two elite freshmen, Glenn Robinson III and Mitch McGary, makes Michigan's already-potent starting five a superlative unit. Unfortunately, five is nearly all the reliable players coach John Beilein will have at his disposal.
A third well-regarded recruit, swingman Nick Stauskas, will provide a solid option as a sixth man, but the cupboard is largely bare after him.
With Evan Smotrycz having transferred, there will be no established post players (and no safety net) behind presumptive starters Jordan Morgan and McGary.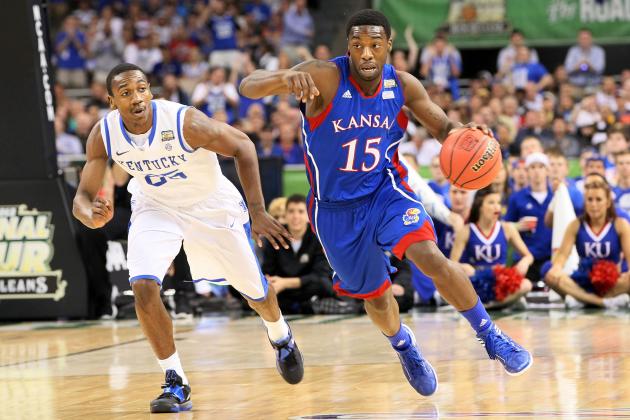 Jeff Gross/Getty Images

Elijah Johnson is no Tyshawn Taylor
Even with Thomas Robinson gone, the combination of rising senior Jeff Withey and prized recruit Perry Ellis will keep Kansas competitive (at worst) in the post. Replacing the Jayhawks' other departing star, though, is a much trickier prospect.
Tyshawn Taylor was a very good four-year starter at point guard who exploded as a scorer in his final season.
Rising senior Elijah Johnson doesn't have that kind of experience—he just became a starter alongside Taylor last year—or that kind of scoring punch, but he's all Bill Self has on hand to anchor a middling backcourt for 2012-13.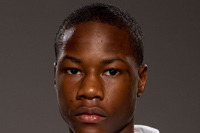 Image of Archie Goodwin from Rivals.com
Archie Goodwin is terrific, but one guard isn't enough
For all the (deserved) hoopla over Kentucky's magnificent recruiting class—the best in the nation according to scout.com—there's a major omission in John Calipari's haul.
Unlike last year, when he already had one outstanding guard in place and needed only to add Marquis Teague to fill out a backcourt, Calipari has brought in just one guard to a team with no established perimeter presence.
This is nothing against Archie Goodwin, who's a safe bet to be Kentucky's best offensive weapon, but he's a shooting guard in search of a point guard.
With no options among the recruits, Calipari must cobble together the rest of the backcourt from unimpressive returnees such as 5'11" walk-on Sam Malone and former 1-star recruit Jarrod Polson.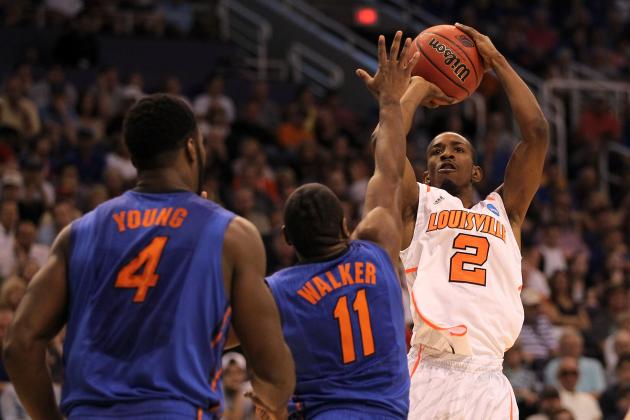 Jamie Squire/Getty Images

The Cardinals still can't shoot
As many things as Louisville did well last season, scoring in the half-court wasn't one of them.
The Cardinals ranked an appalling 225th in the country in field-goal percentage (.425), and now their two best jump shooters—Chris Smith and Kyle Kuric—have graduated.
A healthy Wayne Blackshear should provide some help, but the other likely new starter will be Russ Smith, he of the .356 shooting percentage in 2011-12.
Louisville's devastating defense will create plenty of fast breaks, but when opponents can slow the game down, expect the Cardinals' offense to stall frequently.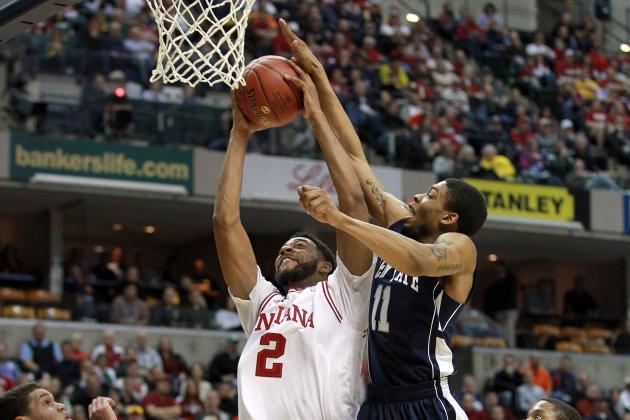 Andy Lyons/Getty Images

The Hoosiers are only going to get one chance, and everyone's gunning for them
Indiana is the preseason No. 1 for good reason: The Hoosiers have post scorers, jump shooters, defense, and even (in freshman Kevin "Yogi" Ferrell) a high-powered point guard.
However, the perfect storm that created this roster will blow itself out in short order if IU doesn't take advantage.
Once the 2012-13 season is done, Christian Watford will be lost to graduation and Cody Zeller will more than likely jump to the NBA.
That means the Hoosiers have exactly one shot, and no program will be facing more pressure to win now—or more opponents looking to put in their best effort against the nation's top team.