College Basketball: Predicting One Breakout Star for Each Top 25 Team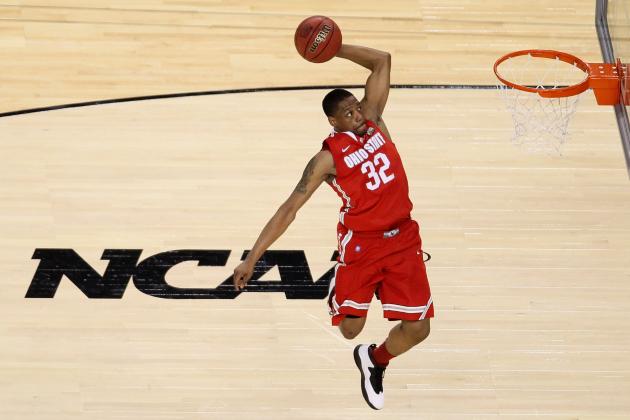 Ronald Martinez/Getty Images

Every year, we see NCAA basketball players come out and impress teammates, coaches and fans. These are players that are primed for an increase in playing time and production. Not all of these athletes will take advantage of this opportunity, but they all are poised to do so.
Last season, the most notable "breakout star" was Thomas Robinson at Kansas. Some might have foreseen he would be a valuable part of the Kansas roster, but no one expected him to lead the Jayhawks to the national championship game.
Freshmen can break out as well. We all know guys like Anthony Davis and Austin Rivers, guys that received national attention from day one. But Moe Harkless, a player that wasn't as highly touted coming out of high school, burst onto the scene and is now a potential first round draft pick.
Let's get started.
Rankings are from ESPN's revised top 25.
Begin Slideshow

»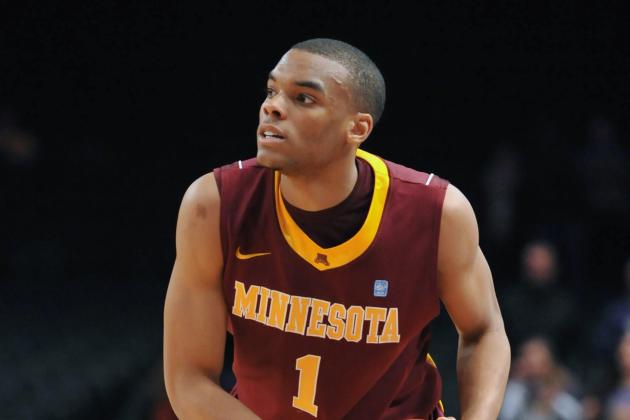 Jason Szenes/Getty Images

Minnesota returns Trevor Mbakwe and Rodney Williams. When Mbakwe was injured last season, Williams stepped up and performed.
This season, both will be at full strength, but look for Andre Hollins take on a larger role. In Minnesota's last nine games of their 2011-12 campaign, Hollins averaged 16.8 points per game, four rebounds and 2.9 assists.
All three of those statistics are well above his season averages of 7.8/1.7/1.7 on the year. That improvement should be clear next season.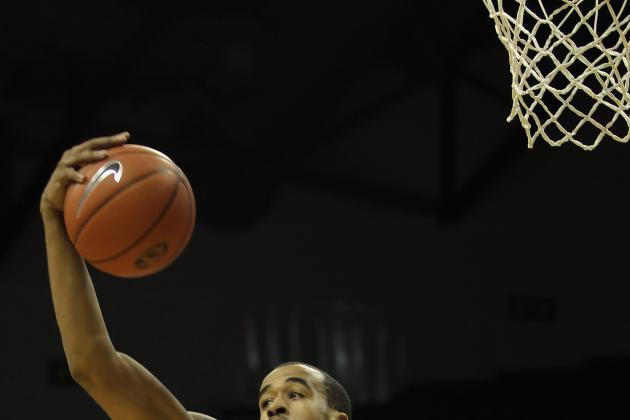 Jamie Squire/Getty Images

Missouri lost almost every major contributor from their 30-5, 2011-12 season.
Laurence Bowers would have been a part of that movement, but an ACL injury kept him out for the year.
He'll return with a vengeance in 2012-13, and there will be plenty of opportunities for him to step up and lead the Tigers. Two years ago, Bowers averaged 11.6 points and 6.1 rebounds per game.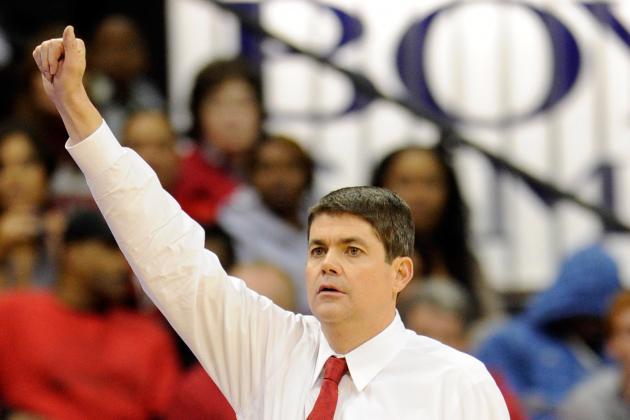 Ethan Miller/Getty Images
UNLV head coach Dave Rice.
UNLV's exciting offseason has been well documented. Head coach Dave Rice has landed big name recruits and transfers, while keeping Mike Moser in school.
Moser will be a stud, but past that, contributions for a talented UNLV team will come from all over.
Katin Reinhardt, a four-star shooting guard in the 2012 class, has a great shot at becoming a key piece in Rice's rotation. He may be the best shooter on the team, which certainly helps his case.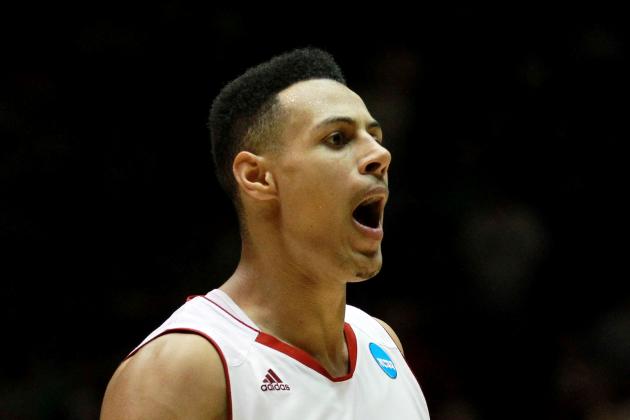 Ronald Martinez/Getty Images

You could make the case that Ryan Evans broke out last season, increasing his minutes threefold from his sophomore season.
However, Evans was overshadowed by Jordan Taylor on an efficient Wisconsin team. Taylor shot over 11 times per game, and no one stands to gain more shots than Evans.
The Badgers will go as far as Evans will take them next season. He has the tools to blossom into an elite player in 2012-13.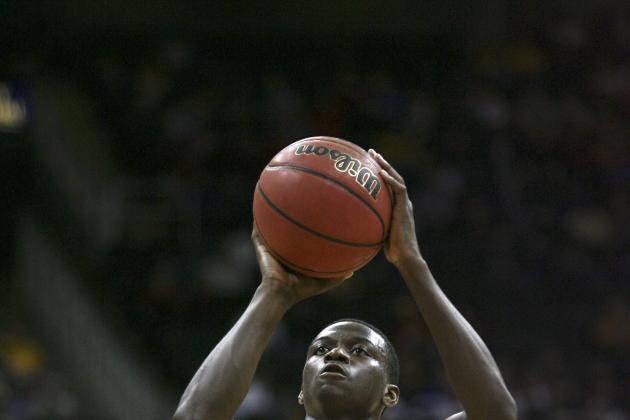 Ed Zurga/Getty Images

Myck Kabongo has upside. His 9.6 points per game last season don't reflect just how talented he is, and with a great recruiting class around him, he should be set to have a huge year.
Kabongo will also contribute with his stellar passing skills. He averaged 5.2 assists per game last season. He'll have more opportunities to control the ball with J'Covan Brown heading to the NBA.
Texas will be a team to watch in the Big 12 next season, and Kabongo is a big reason why.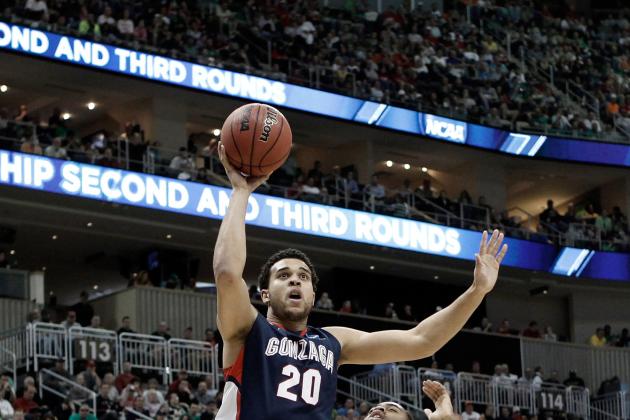 Jared Wickerham/Getty Images

For three seasons, Elias Harris has averaged over 12 points and six rebounds per game.
That probably won't change his senior season, but I expect more. Harris will no longer have Robert Sacre beside him down low, so he'll have a great chance to step up. His rebounding greatly improved last season (six to 8.5), but his offense hasn't matched his superb 14.9 point per game freshman season.
I wouldn't be surprised to see Harris have a career year, averaging over 15 points and 10 rebounds per game.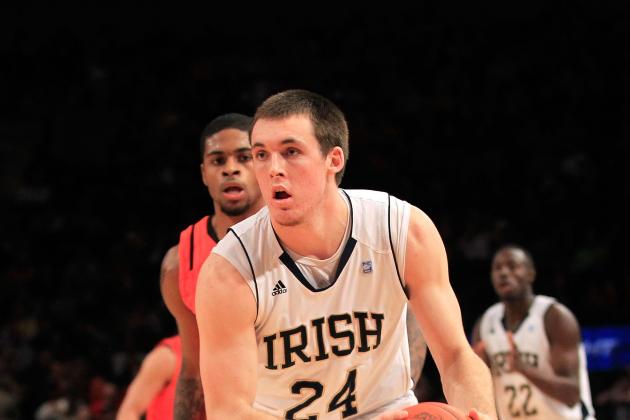 Chris Trotman/Getty Images

Notre Dame was a pleasant surprise in the Big East last season, going 22-12 without Tim Abromaitis.
Abromaitis will not be returning to South Bend for his sixth season, but the Irish return all other starters from the team that earned a No. 7 seed in the 2012 NCAA tournament.
Connaughton was inconsistent in his freshman year for Notre Dame. He has range out to the three-point line, but it wasn't always showcased. With added confidence from a year of experience, Connaughton can step into a larger role next year.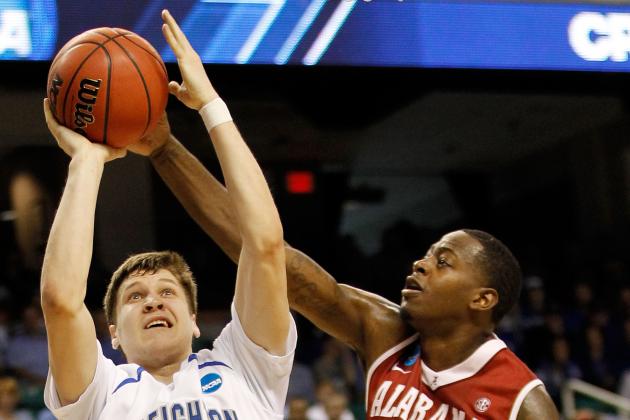 Streeter Lecka/Getty Images

There really isn't much room for a "breakout star" behind Doug McDermott at Creighton.
The second-most "indispensable" player from the Creighton roster has to be Grant Gibbs. His all-around game helps the team on both sides of the ball. Last season, Gibbs averaged seven points, five assists and 4.5 rebounds per game.
Gibbs should once again lead the Bluejays in assists per game, especially with the removal of Antoine Young.
Star? Maybe not. But Gibbs is capable of stepping up into a "number two" role for Creighton.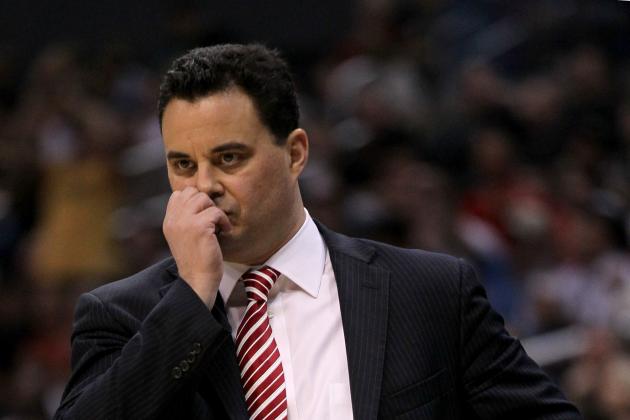 Stephen Dunn/Getty Images

Who to pick?
The Arizona recruiting class is one of the best in 2012, and each recruit has a chance to come in and become a star.
I give the nod to Kaleb Tarczewski. He'll be able to play immediately for head coach Sean Miller, whereas recruits like Grant Jerrett and Gabe York will battle for playing time against veterans like Solomon Hill and Mark Lyons.
All in all, it will be an interesting year in the desert. Miller has a vast array of lineup possibilities, but Tarczewski should find his way into the starting five early on.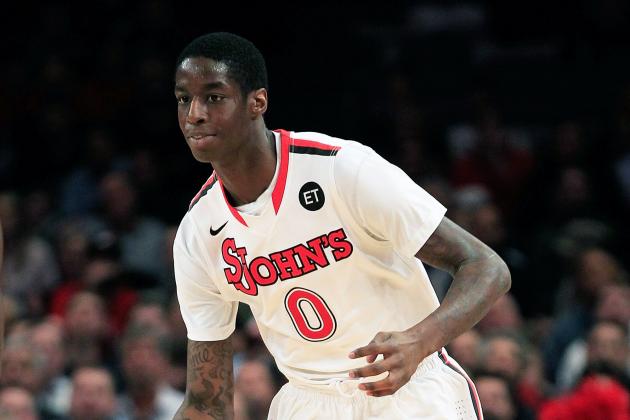 Chris Trotman/Getty Images

Jamaal Franklin fit the bill as a "breakout star" last season for San Diego State. And while he'll still dominate most statistical categories for the Aztecs, incoming transfer Dwayne Polee has a chance to be an impact player next year.
Polee transferred from St. John's for family reasons. He averaged 6.4 points per game in just 15 minutes of action. With San Diego State, Polee's athleticism should garner more minutes.
With more minutes, he may be able to stand out, even with Franklin on the team.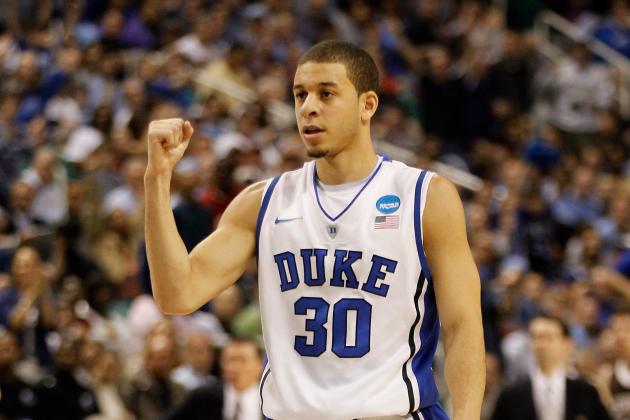 Streeter Lecka/Getty Images

Seth Curry hasn't reached his full potential at Duke. He averaged 20.2 points per game at Liberty his freshman season, and hasn't come close since.
But in his senior season, he'll have a great chance at being the leading scorer for head coach Mike Krzyzewski. Last season, it was Austin Rivers that took a majority of the Blue Devils' shots. The year before, Curry played behind seniors Kyle Singler and Nolan Smith.
He's capable of 20 points per game. He'll be the go-to scorer for Duke next year, and I have the feeling he'll step up to the challenge.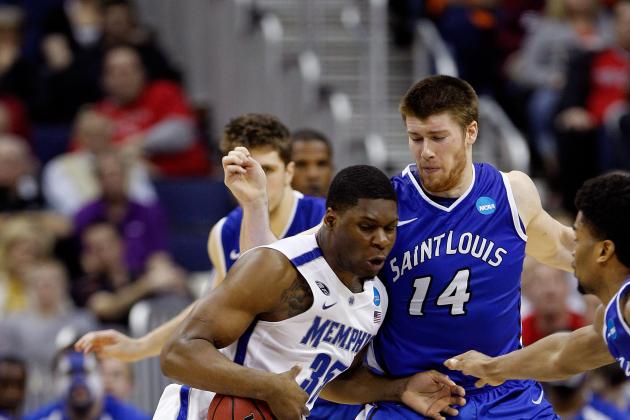 Rob Carr/Getty Images

Call it a hunch. I expect Adonis Thomas to break out next season.
He only played 23 minutes per game last season, but he averaged 8.8 points per game and scored effectively from all over the court. He shot 48.6 percent from the field, 40.5 percent from three and 70.8 percent from the line.
Don't sleep on the Tigers next season. Someone needs to replace Will Barton as the top dog in Memphis, and Thomas has all the tools to do so. Injury derailed his freshman season, but he was a top-10 recruit for a reason.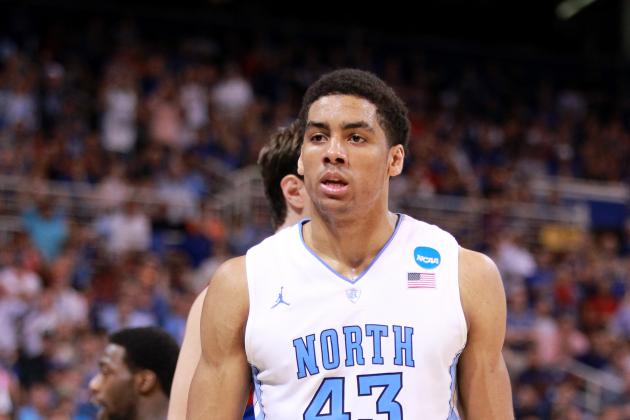 Andy Lyons/Getty Images

Everyone in Chapel Hill is expecting a breakout year from James Michael McAdoo, and for good reason.
McAdoo showed spurts of his incredible strength and athleticism towards the end of last year, highlighted in his 14 point, eight rebound performance in the ACC tournament against Maryland.
With players like John Henson and Tyler Zeller gone, the North Carolina frontcourt won't be as physically imposing in 2012-13 compared to last season. However, McAdoo has the talent to step up and fill the void left by Henson and Zeller.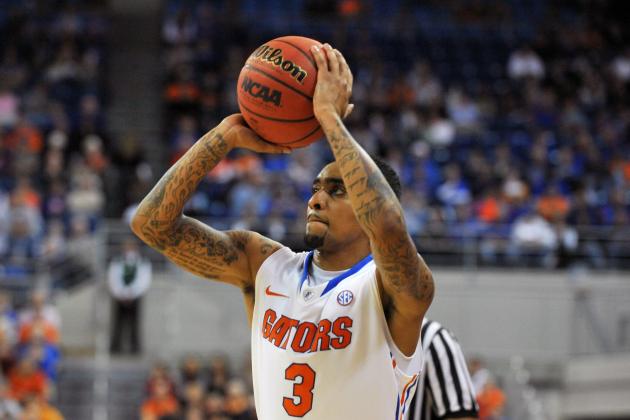 Al Messerschmidt/Getty Images

Bradley Beal and Erving Walker are gone. A hole needs to be filled in Florida's backcourt, and Mike Rosario has the talent to fill it.
During his two years at Rutgers, Rosario averaged over 16 points per game. In his first year in Florida, he didn't average that many minutes.
You can chalk that up to a wealth of talented Gator guards. With Beal and Walker removed from the equation, Rosario has a chance to step up and become a big time contributor.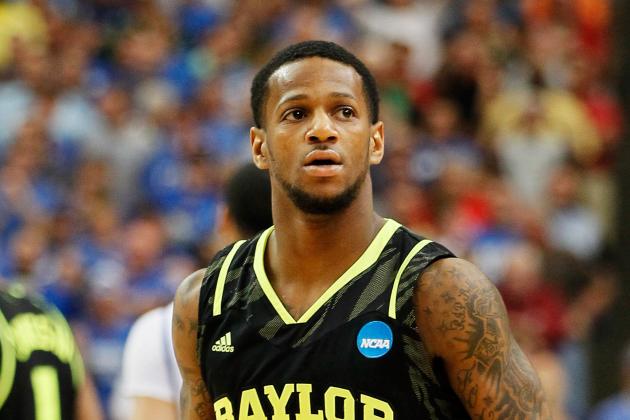 Kevin C. Cox/Getty Images

Chances are, you'll think of Perry Jones III, Quincy Miller or Quincy Acy when you think of the Baylor Bears. Not Pierre Jackson.
But Jackson led the Bears in scoring last season, averaging 13.8 points per game. He'll be the undisputed leader of the Bears next season as well, with the aforementioned three heading to the NBA.
With another great incoming recruiting class, Scott Drew will lean heavily on his talented point guard to lead an otherwise inexperienced team. Brady Heslip will join Jackson in welcoming these top recruits, and Baylor will once again have a team to be reckoned with in the Big 12.
Gregory Shamus/Getty Images

Not many teams have the luxury of having a McDonald's All-American play just 10 minutes per game because of an inane amount of depth.
Jim Boeheim and Syracuse had that problem last season, and that should only help them in 2012-13. Michael Carter-Williams is that McDonald's All-American, and he'll benefit from playing in a limited capacity for one of the best teams in the nation last year.
Carter-Williams should be able to step right in and contribute with the departure of guards Scoop Jardine and Dion Waiters.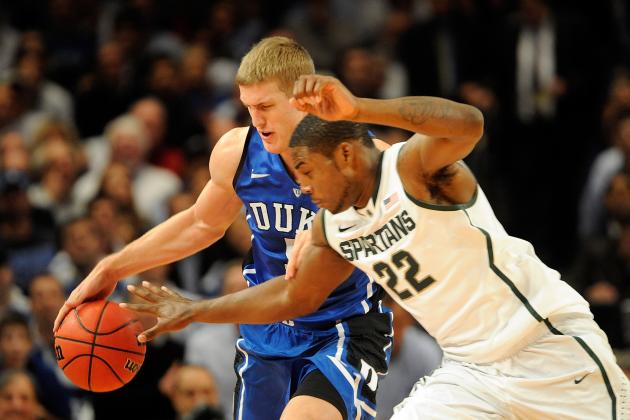 Patrick McDermott/Getty Images

Chances are, Keith Appling will be the leader for Michigan State next season. However, sophomore Branden Dawson should see increased productivity after tearing his ACL last March.
Dawson finished the season averaging 8.4 points and 4.5 rebounds per game. He's got the frame to battle bigs down low, and he's athletic enough to finish with authority above the rim.
He may be more of a sleeper pick for the Spartans, as they'll have other returning players like Appling and Derrick Nix to join a strong incoming recruiting class for Tom Izzo.
Jonathan Daniel/Getty Images

Lenzelle Smith, Jr. exploded against Indiana on Jan. 15, going for 28 points on 10-of-12 shooting from the field.
He probably won't be dropping 28 every night next season, but that game showcased his ability to do just that. Against Syracuse in the Sweet 16, Smith scored 18 points. He's a talented scorer, and he is clearly ready for the big stage.
With Jared Sullinger and William Buford out of Columbus, there will be plenty of scoring opportunities for Smith and LaQuinton Ross to step in and score.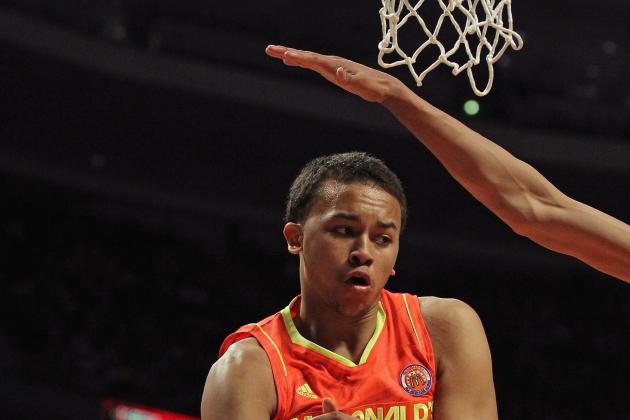 Jonathan Daniel/Getty Images

Shabazz Muhammad may receive all the press for attending UCLA, but it was Kyle Anderson's skills that attracted him to Westwood.
Anderson distributes like a guard, and his court vision is well above average. His size allows him to see over defenses and his passing ability is elite.
Muhammad will probably be the most talked about player for Ben Howland next season, but make no mistake, there will be two star Bruins next year.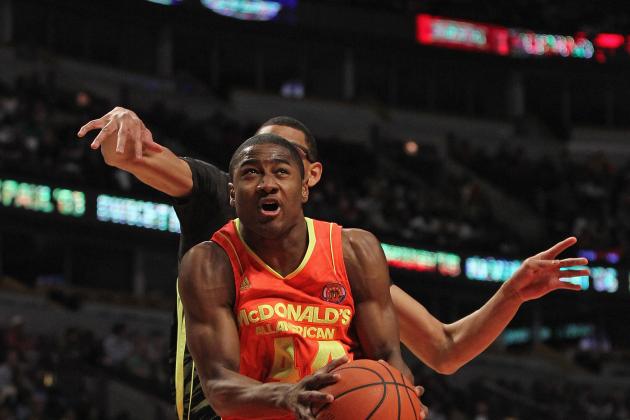 Jonathan Daniel/Getty Images

Two players dominated the Jordan Brand Classic: Shabazz Muhammad and Rodney Purvis.
Purvis actually outscored Muhammad, 22 to 20, but his team lost to the West All-Americans. One thing is clear: Purvis is a scorer.
Where he'll fit into the NC State rotation is still up in the air. He'll be fighting seasoned players like C.J. Leslie and Lorenzo Brown for playing time, but his talent is undeniable.
Mark Gottfried will have his hands full trying to create an optimized rotation with such a loaded roster.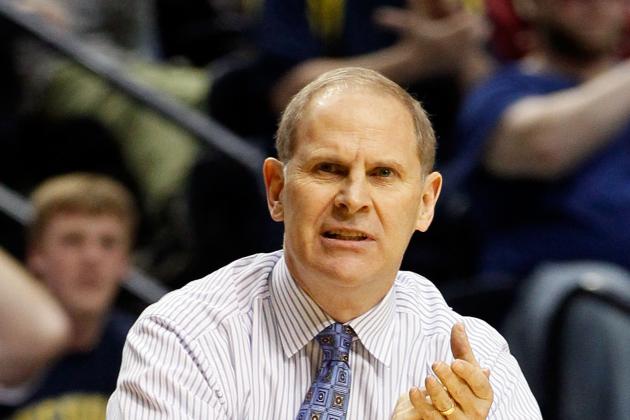 Kevin C. Cox/Getty Images

The Michigan Wolverines will enter the season as a Top 10 team. When was the last time you could say that?
Head coach John Beilein has put together one of the best programs in the country. Trey Burke is a surefire star. A top recruiting class will join Burke and a roster that lost only three seniors from a 24-10 season.
Mitch McGary has the chance to contribute immediately as a big man on a roster that needs size. With touches, he could turn out to be the best freshman in the Big Ten.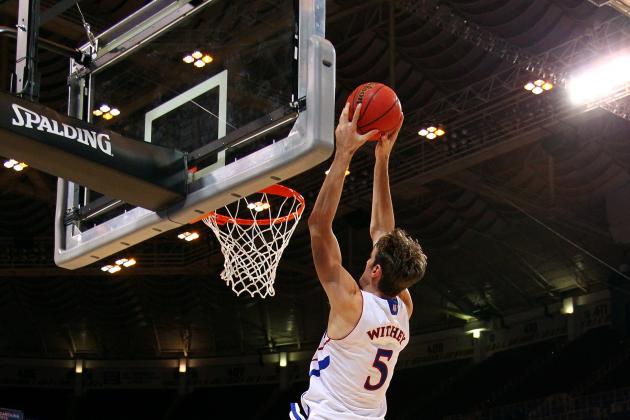 Dilip Vishwanat/Getty Images

Jeff Withey had the highest block rate in the country last season. He averaged 3.6 blocks in just 24.8 minutes per game. Offensively, he's still raw.
But in a leadership position for Kansas next season, Withey could blossom into a star. He was efficient from all over—shooting 53.6 percent from the floor and 79.5 percent from the line.
As always, you can never count out the Jayhawks in the Big 12. Withey will be arguably the most dominant defensive presence in the country next season.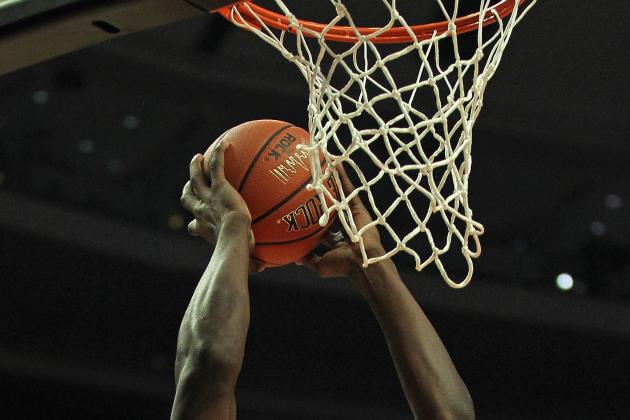 Jonathan Daniel/Getty Images

It goes without saying that there are shoes to be filled for the Kentucky Wildcats. The defending national champions bring in another great recruiting class, headlined by Nerlens Noel.
Alex Poythress, however, will be the hottest commodity in Lexington next year. He is the only true "small forward" on the roster (sorry, Jon Hood fans), and he stands to see a majority of his minutes at that position.
But he won't be a star because of minutes alone. He has an all-around game and is great at attacking the basket. He'll thrive in John Calipari's dribble-drive motion offense.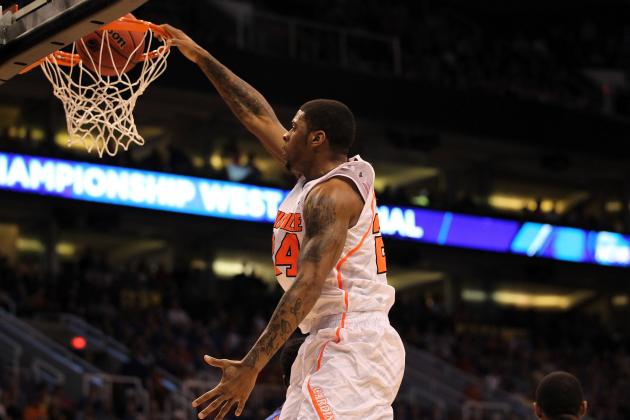 Jamie Squire/Getty Images

Chane Behanan was one of the most efficient players for Rick Pitino in Louisville last season. He shot 51 percent from the field and averaged 9.5 points per game.
He only played 26 minutes per game for Pitino, and should see extended minutes next year.
One area Behanan must improve is shooting from the outside. He is a prolific slasher, great leaper and is strong on the glass, but his three-point and free throw shooting leave much to be desired.
If Behanan can develop a jumper, Louisville will be a tough team to beat.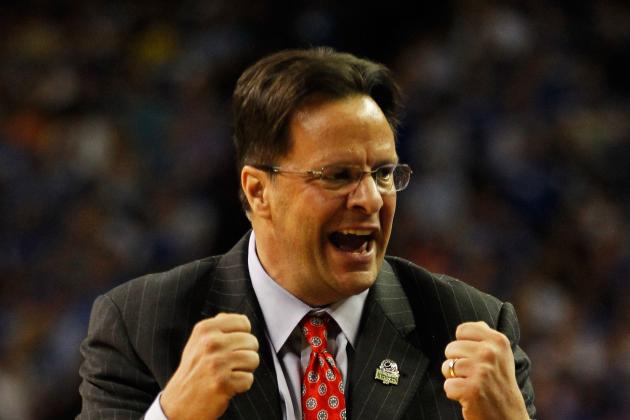 Streeter Lecka/Getty Images

Cody Zeller broke out last season. Everyone expected him to be good, but he was great. He played the largest part in the Indiana renaissance, and he's a bona-fide star in college basketball today.
Yogi Ferrell, the highest ranked recruit for Tom Crean's incoming class, may struggle at first to find minutes behind Jordan Hulls, but in the end, Crean won't be able to deny Ferrell's athletic ability as a point guard.
Ferrell will get his minutes, and he will shine.
Being the top team in this countdown proves the Hoosiers have depth and talent across the board. With a deep recruiting class, Crean and the Hoosiers are clearly one of the best teams in the country.