Which College Hoops' Programs Does David Stern Think Are NBA Vocational Schools?
June 15, 2012
Andy Lyons/Getty Images
NBA Commisioner David Stern makes some exceptional statements that grab people's attention.
CBS Sports' Ian Eagle spoke with the commish recently to talk about a number of topics, including the "one and done" issue.
Stern said:
"We understand that players who are anxious to get to the league use the college as a training ground -- really, sort of a vocational school. I'm not sure that it's a better training ground than our NBA Development League or a better training ground than Brandon Jennings found in the Euro League. But that's the player's choice -- and the school's choice, I might add. The school can choose to become a vocational tool for the players, and some do."
A number of questions come to mind:
Do you think that Stern actually is opposed to players coming straight from high school to the pro's?
Does he believe that the NBDL is a legitimate option for players to go to (instead of college) in preparation for a possible NBA career?
Would he encourage other players to go the "Brandon Jennings route?"
The statement that is most interesting is the one he makes saying that schools can "become a vocational tool for players, and some do."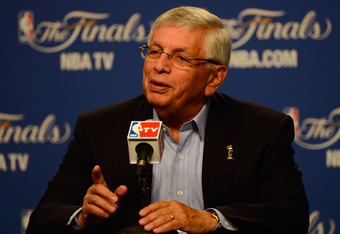 Ronald Martinez/Getty Images
Wikipedia's definition of a vocational school is worthy of note. It says:
"A vocational school (or trade school or career school), providing vocational education, is a school in which students are taught the skills needed to perform a particular job. Traditionally, vocational schools have not existed to further education in the sense of liberal arts, but rather to teach only job-specific skills, and as such have been better considered to be institutions devoted to training, not education."
I don't know how intentional Stern's choice of words was in using the term "vocational school", but it certainly seems to fit with how some college hoops' programs currently function.
Kentucky's head basketball coach John Calipari has the recent track record that supports the notion of utilizing college basketball as a vocational school.
A year ago, Coach Cal said:
"My (best) option is to recruit the best players we have, the best students we can recruit, and then coach 'em and get 'em to believe in themselves, get 'em to reach their dreams," Calipari said. "If that is done after a year, then I'll deal with it."
Kentucky has sent seven underclassmen into the NBA in Calipari's first two seasons. This year, five more seem to be on their way.
USA Today's Steve Weiberg reported that "Twenty-one other schools have had players drafted after one season since current eligibility rules went into effect in 2006. But none do it at the rate of Calipari's Kentucky teams."
Two years ago, Rick Barnes, the head basketball coach at the University of Texas, raised a lot of eyebrows when he said:
"We would love to win a national championship, but we're not obsessed with it because we're obsessed with these guys trying to live their NBA dream. What's happened to Kevin Durant, LaMarcus Aldridge, T.J. Ford -- I'd give up a national title for all of our guys to be able to live their dream."
Texas has produced a nation-leading eight first-round picks over the last six years (dating back to the 2006 NBA Draft).
Three players (Kevin Durant, Tristan Thompson and Corey Joseph) have left after playing only a single season for the Longhorns.
Eleven Texas players have left school early for the draft in the last 10 years.
Does all of this put UT in David Stern's "vocational school" category?
In spite of a couple sub-par seasons in Westwood, there were 15 UCLA Bruins on NBA rosters at the start of this past season, and 11 of them spent at least a year playing for Ben Howland.
A few years back, Howland was cranking out "One-and-doners."...Do the names Kevin Love, Russell Westbrook or Jrue Holiday ring a bell? They all laced 'em up at Pauley Pavillion.
There is a good chance that, if UCLA has an exceptional season in 2012-13, we will see another mass exodus from at least some of their first year players - Shabazz Muhammad, Kyle Anderson, Tony Parker and Jordan Adams.
There was a time when Duke seemed to stand above the fray. They were a school that recruited and retained student-athletes.
Up until the spring of 1999, Coach K had never lost an underclassmen to the NBA Draft.
Since then, the Blue Devils have "lost" 12 players who have left early, including four one-and-done players: Cory Maggette in 1999, Luol Deng in 2004, Kyrie Irving in 2011 and Austin Rivers this spring.
One could say that the shift in Durham is totally in how these players "use" the university as a vocational school. That may be true.
But at some point, even Coach K knows that if he is recruiting a Top Ten player, that young gun is thinking about playing one year at Cameron, and then moving on to the Association.