UNC Basketball: How Much Will Academic Fraud Investigation Affect Tar Heels?
May 16, 2012

Andy Lyons/Getty Images
The prestigious—and once considered honorable—University of North Carolina at Chapel Hill has been under ongoing investigations since 2010. Such investigations have been performed by UNC, the NCAA and now the SBI. The Tar Heels' football program has already been wounded, and the latest findings have the basketball program treading water.
But before we get to the latest, allow me to break down how North Carolina got to this point. It all started with this: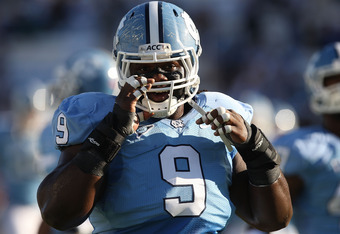 Streeter Lecka/Getty Images
The irony here, is that the tweet was actually a direct quote from Rick Ross' "Sweet Life." He could have been tweeting that from Chapel Hill. Of course he was actually in Miami, but of all the clues Austin gave through Twitter, it was lyrics that got him busted.
The ensuing investigation of possible improper benefits revealed an academic scandal involving tutor Jennifer Wiley. Between improper benefits and "impermissible academic assistance" from Wiley, 14 football players missed at least one game—seven missed them all.
What looked to be a promising 2010 season—with title implications—was flushed down the drain in a matter of months.
And that was just the beginning.
It was discovered that Wiley wrote footnotes and a bibliography on a paper for linebacker Michael McAdoo. After the ruling by UNC's Honor Court, he was made permanently ineligible by the NCAA.
A year later, the story took an unexpected turn.
McAdoo filed a suit in July, 2011 to challenge the NCAA's decision. Because the Superior Court cases are public, members of the Pack Pride message board posted the paper and pointed to plagiarism the honor court "failed to notice." The News & Observer later ran McAdoo's paper through scanmyessay.com, finding 39 percent of the material was plagiarized.
I guess there is nothing like being busted by your rivals.
So, what does that have to do with the current scandal? Well, that's where things continue to get more interesting.
The paper McAdoo "wrote" was for a class "taught" by Julius Nyang'oro—then, the head of the Department of African and Afro-American Studies. In September of 2011, Nyang'oro would step down as chairman and assume a role as a teacher, taking a laughable $12,000 hit on his $171,000 salary.
As we would later find out, Nyang'oro did about as much teaching as Mcadoo did writing.
On May 5, 2012, the News & Observer's Dan Kane reported new findings on UNC's bout of academic fraud. An internal investigation found that 52 courses in the Department of African and Afro-American Studies between 2007 and 2011 had no instruction—43 of those were supposed to be taught by one Julius Nyang'oro.
Here are some key excerpts from UNC's internal investigation report, courtesy of News & Observer:
...the instructor provided an assignment and evidently graded the resultant paper, but engaged in limited or no classroom or other instructional contact with students.

... grade rolls (for those courses) were submitted to the Office of the Registrar with faculty signatures that appear to be forged. The faculty members whose names appear on those grade rolls stated that they did not teach the courses in question and that the signatures on the submitted documents are not in their handwriting.

No instance was found of a student receiving a grade who had not submitted written work. No evidence indicated that student-athletes received more favorable treatment than students who were not athletes.
That final statement is good news for the football and basketball programs—for now. Through the report, it was learned that the two programs accounted for roughly 40 percent of the students enrolled in those courses. Football players made up 246 enrollments, while the basketball players' enrollments came in at 23.
A few days later, Roy Williams made a statement defending the players through an athletic department spokesman. "The players were eligible to be enrolled in those classes, as were non-student-athletes, and they did the work that was assigned to them," Williams said.
I'm sure the university put a tight leash on Coach Williams. As passionate and outspoken as he is about his players, it was probably the right choice to go through the spokesman. The man would strap on a helmet and go to war for his kids—and the last thing they need is him dropping a verbal grenade on a group of drooling reporters.
So far, so "good" on the athletics front.
The University of North Carolina submitted their report, but NCAA spokesperson Stacey Osburn stated they would not comment on the internal investigation or the possibility of the NCAA performing their own investigation. I would be very surprised if they didn't, though.
Nyang'oro has since retired, allowing him to receive what is likely a hefty pension—at least for now. As it turns out, the NCAA isn't the only organization to fear.
On Tuesday, the News & Observer reported that Orange-Chatham District Attorney Jim Woodall requested the State Bureau of Investigation conduct their own investigation. This appears to be sparked by Julius Nyang'oro being paid to teach summer school classes that he didn't actually teach.
I told them I'd like them to look in to any academic or computer fraud that may have taken place, any forgery that may have taken place, any conspiracy that may have taken place to commit any of those crimes or conceal any of those crimes. Of course, they can look beyond that. ...This would be very extensive. They could go in a lot of different directions.
That brings us to today, where—once again—Chapel Hill is engulfed in a dark cloud of academic shame. This seems to be an ongoing barrage of scandals with no sure end in sight.
Another intriguing little nugget in this whole case is that Chancellor Holden Thorpe was Nyang'oro's supervisor in 2007 and 2008. At the time, Thorpe was the dean of the College of Arts and Sciences at UNC. The implications here could rock the already weakened foundation of the university's academic and athletic integrity.
And to think, the last two years of prodding all stemmed from a tweet by Marvin Austin.
The football program was already stripped of their 2008 and 2009 wins, along with 15 scholarships over the next three years. They are also banned from the 2012 postseason, including the ACC Championship.
Any findings against the basketball program in this latest case could have damaging effects on the past and future. The 2009 championship would likely be vacated, along with wins from any year(s) the fraud took place. Like the football program, they could also lose scholarships and be banned from postseason play.
On top of that, the impressive list of verbal recruits Roy Williams has built up for future years could dwindle as the young prospects realize they wont be able to participate in the tournaments. The prospects considering UNC for 2013, such as Troy Williams, could also drop their names from the list.
The wheel just keeps on turning. It may only be a matter of time before it completely falls off. For now, the basketball program is safe, but who knows what lies behind the next curtain.