College Basketball: Ranking the Top 50 Players for the 2012-13 Season
April 19, 2012

Kevin C. Cox/Getty Images
With C.J. Leslie's announcement to return to North Carolina State for his junior season, every potential 2012 NBA draft selection has now determined his own destination for next season, creating a clearer image about the potential stars of the 2013 college basketball season.
Narrowing down the list predicting the top 50 players for next season in college hoops was no walk in the park, but it did create quite a bit of anxiety for mid-November.
A few notes about the list
Louisville leads the way with three list members
The Big Ten carries the most selections with nine
Eight players come from the Non-Power Six conferences
Five incoming freshman occupy spots on the list
The List
1. Cody Zeller, C, Indiana—A smart, crafty big man who can score at will and clog up the paint.
2. Peyton Siva, G, Louisville—Experienced true PG who is as clutch as anyone in the country.
3. Deshaun Thomas, F, Ohio State—Matchup nightmare ready to breakout with inside-outside game.
4. Doug McDermott, F, Creighton—Old-school style player poised to improve his defense and continue his scoring rampage.
5. Trey Burke, G, Michigan—Savvy PG who can drive through the lane and find his teammates at will.
6. Nerlens Noel, C, Kentucky—Shot-blocking machine looking to replicate Anthony Davis' 2012 season.
7. C.J. Leslie, F, NC State—High-flying, athletic power forward with unmatched strength and intangibles.
8. Isaiah Canaan, G, Murray State—Quick, elusive ball handler who knows how to win games.
9. Jack Cooley, C, Notre Dame—Luke Harangody replica who brings toughness to the low post.
10. Rodney McGruder, G, Kansas State—Scoring guard with incredible leaping ability and perimeter game.
11. James Michael McAdoo, F, UNC—Thomas Robinson-esque breakout potential added to terrific rebounding skills.
12. Shabazz Muhammad, F, UCLA—Can score from literally anywhere in the half court and has nice court vision as well.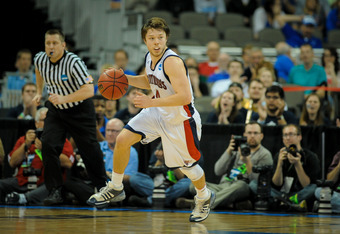 Eric Francis/Getty Images
13. Aaron Craft, G, Ohio State—Elite distributor to go along with excellent on-ball defending.
14. Pierre Jackson, G, Baylor—Undersized leader has a knack for putting up huge scoring totals.
15. Mike Moser, F, UNLV—Double-double machine with an expanding post-move repertoire.
16. Phil Pressey, G, Missouri—Long-ball threat who knows how to find his teammates along the three-point stripe.
17. Gorgui Dieng, C, Louisville—Tremendous shot blocker with a wingspan well over 7'0" coming off of a Final Four run.
18. Matthew Dellavedova, G, Saint Mary's—Four-year starter from Australia who knows how to produce victories by passing and defense.
19. Elias Harris, F, Gonzaga—Stretch-four should make up for the loss of Robert Sacre with leadership and previously hidden talent.
20. Trevor Mbakwe, F, Minnesota—Sixth-year senior missed all of last season due to injury, but is ready to bounce back with low-post scoring and rebounding.
21. Otto Porter, F, Georgetown—Next in line at "Big Man University," impressive mid-range game and timing on his rebounds.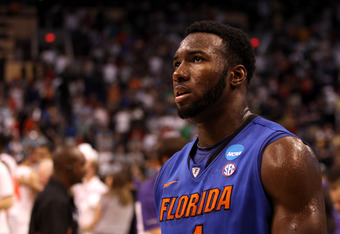 Christian Petersen/Getty Images
22. Jeff Withey, C, Kansas—Could lead the nation in blocked shots, but needs to bulk up and go up stronger in the paint.
23. Patric Young, C, Florida—Has the physical frame of Dwight Howard but needs to improve offensively to add to his tremendous work on the glass.
24. Kyle Anderson, G, UCLA—A 6'9'' point guard with supreme driving ability and tremendous court vision.
25. Jamaal Franklin, F, San Diego State—Harrison Barnes-like skill set with more aggressiveness.
26. Quincy Miller, F, Baylor—Has NBA first-round potential with outstanding athleticism, but needs to be more assertive on the boards.
27. Michael Snaer, G, Florida State—Possesses incredible leadership qualities and is a very streaky shooter, but clutch nonetheless.
28. Christian Watford, F, Indiana—Mid-range specialist with unique rebounding capabilities.
29. Shabazz Napier, G, Connecticut—Despite being piled in the UCONN mess, has a scorer's mentality, but needs to develop some PG skills.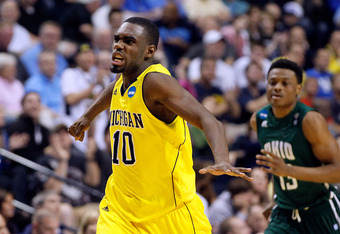 Kevin C. Cox/Getty Images
30. Adonis Thomas, F, Memphis—Plagued by injury troubles last season, top-tier high-school recruit with little experience but enormous upside.
31. Khalif Wyatt, G, Temple—Lone bright spot on a depleted roster brings veteran leadership and explosiveness through the lane.
32. Myck Kabongo, G, Texas—Rick Barnes' new star pace-setter has maturity beyond his years and is a rare true point guard.
33. Kenny Boynton, G, Florida—Lights out three-baller struggles with shot selection but can get hot fast. Also needs to prove he's not one-dimensional.
34.Tim Hardaway, F, Michigan—A do-it-all playmaker with a unique combination of guard skills and size who needs to work on his rebounding.
35. Brandon Paul, G, Illinois—Widely known for his 43-point performance against OSU last season, a pure scorer with a giant motor and blazing speed.
36. Wayne Blackshear, F, Louisville—Back after battling the injury bug for the past two years, a high-flying playmaker with serious range and unlimited upside.
37. Sean Kilpatrick, G, Cincinnati—Underrated crafty ball-handler who always make his teammates better, but also inputs 15 points on a regular basis.
38. Terrell Stoglin, G, Maryland—Pure scorer who led the ACC in scoring last season. Needs to become more unselfish and controlled in the half-court offense.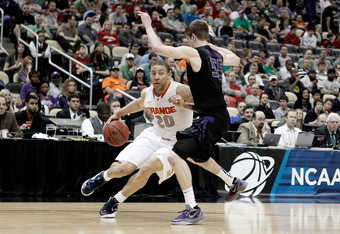 Jared Wickerham/Getty Images
39. Andre Roberson, C, Colorado—Under-the-radar center has a chiseled frame and is good for a double-double almost every outing.
40. Kentavious Caldwell-Pope, F, Georgia—Future lottery pick with out-of-this-world athleticism.
41. Brandon Triche, F, Syracuse—Consistent outside shooter who has been battle-tested in the rugged Big East.
42. Kaleb Tarczewski, C, Arizona—Thin seven-footer with sweet post moves and in-depth knowledge of the game.
43. LeBryan Nash, F, Oklahoma State—A multi-year project who didn't come anywhere close to showcasing the talent he possesses during his freshman campaign.
44. Trae Golden, G, Tennessee—Coach Cuonzo Martin deserves an A-plus for developing this project into a nifty distributing star.
45. Allen Crabbe, G, California—He finds his habitat beyond the arc, but still needs to show other dimensions to his production.
46. Jared Berggren, C, Wisconsin—Tough, interior presence who can size up with anyone.
47. Tray Woodall, G, Pittsburgh—Key piece to Jamie Dixon's return to prominence in Pittsburgh.
48. Isaiah Austin, C, Baylor—Freakish seven-footer who runs the floor extraordinarily well for his size.
49. D'Angelo Harrison, G, St. Johns—Raw scoring talent who needs to polish and fine-tune smaller aspects of his game before the Johnnies start dancing again.
50. Rodney Williams, F, Minnesota—Phenom dunker who could breakout into stardom teaming with Trevor Mbakwe.