Bruce Weber: Former Illinois Head Coach Heading to Kansas State
March 31, 2012

Jonathan Daniel/Getty Images
With the departure of well-known head coach Frank Martin to South Carolina, the Kansas State Wildcats have hired former Illinois men's basketball head coach Bruce Weber to the same position, according to CBS Sports.
Weber was 210-101 during his time with Illinois, but he was let go after yet another terrible finish to a mediocre season for the Fighting Illini.
The unenviable task of replacing Martin must start immediately with recruiting. The perception of Weber's hiring is not great, so Kansas State needs to get out and start doing damage control ASAP.
UPDATE: Saturday, March 31, 4:10 p.m. ET by Donald Wood
With the press conference to introduce Bruce Weber as the new Kansas State head coach over, the full details of the former Illinois coach's contract were revealed.
Wichita Eagle and The Kansas City Star Wildcats insider Kellis Robinett is reporting on Twitter:
Bruce Weber's contract is for five years with a starting salary of $1.5 million. Will increase $100,000 per year through 2017.

— Kellis Robinett (@KellisRobinett) March 31, 2012
That is more or less the same contract Frank Martin agreed to when he signed an extension in 2010.

— Kellis Robinett (@KellisRobinett) March 31, 2012
Fans and students alike are not happy about this hire, but it is structured in a way that makes it fiscally responsible for everyone involved. Terms of execution if needed were not revealed.
UPDATE: Saturday, March 31, 12:30 p.m. ET by Donald Wood
While the initial reports have Bruce Weber as the new head coach of Kansas State, new reports have former NBA player and New Mexico Lobos head coach Steve Alford as a possibility.
Kansas City sports insider Greg Hall is reporting on Twitter:
I know everyone is talking Bruce Weber to KSU but I just got a call that said a limo was dispatched to pick up Steve Alford for 3 pm presser

— greghall24 (@greghall24) March 31, 2012
The team will be having a press conference at 4 p.m. ET, so the drama that will unfold until then should just be enough to make this presser worth watching.
--------End of Update--------
What It Means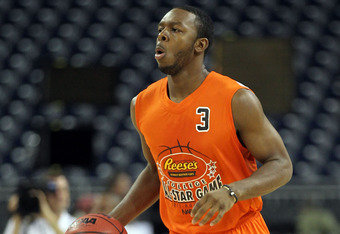 Andy Lyons/Getty Images
While the hiring of a well-known name is usually the smart move for a program losing a coach as great as Frank Martin, Weber is known for the wrong reasons.
Former Kansas State star Jacob Pullen voiced his feelings on the hiring via Twitter, which may be the sentiment of many of the K-State fans:
I support kstate for life no matter what but I'm not a Bruce Webber fan and I think Kstate can do a lot better

— Jacob Pullen (@Jpullz0) March 31, 2012
Bruce Webber didn't think I was good enough to play at Illinois and I don't think he is good enough to coach at Kansas State

— Jacob Pullen (@Jpullz0) March 31, 2012
This is just my thoughts like I said I will support my school regardless and losing a staff as good as we had is tough to replace

— Jacob Pullen (@Jpullz0) March 31, 2012
Pullen has as good of a pulse on what's going on in the Wildcats community as anyone. If he says this is a bad hire, there will be many other people keeping a close eye on the coach as well.
What's Next?
Kansas State has to move forward through all of this controversy over Weber's hiring and let him do his job. If the coach can continue to bring the Wildcats success annually, then keeping him will be no problem.
The problem will arise when Weber doesn't match up to the standards Martin set when he went to four NCAA tournaments in five seasons.
Weber has one of the hardest jobs to do going forward, but nothing shows a person's true colors like adversity. Let's see if Weber is silver and purple inside.
Check back for more on the NCAA Basketball as it comes, and check out Bleacher Report's College Basketball Page to get your fill of college basketball.