College Basketball: Picking All-Mid-Major 1st, 2nd and 3rd Teams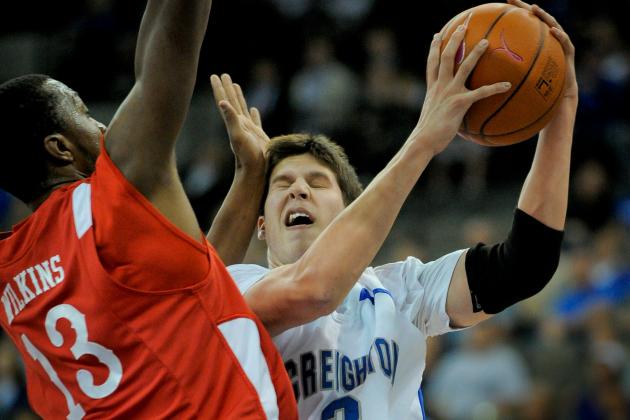 Eric Francis/Getty Images

With the bulk of the season behind us, a lot of focus will be on postseason awards and All-America selections.
On top of those honors are All-Conference teams. Today's assignment is not one conference, but a wide array of conferences. We are selecting the All-Mid-Major teams and in a year like this, that was no easy task.
The criteria for a mid-major for the purposes of this article is any player from the top eight power conferences (Big Ten, Big 12, Big East, SEC, ACC, Mountain West, Pac-12 and Atlantic 10) is excluded, as well as players from more traditionally successful teams like Gonzaga and BYU.
There were just way too many players to choose from to mention everyone who deserved to be noted. Also, there is no way anyone will agree 100 percent, so it is greatly encouraged that you share your opinions on omissions or rankings you disagree with.
Here are the 2012 All-Mid-Major teams.
Begin Slideshow

»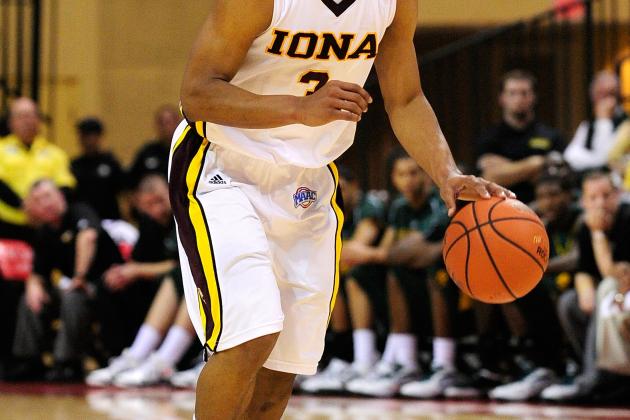 Sam Greenwood/Getty Images
Machado is likely an All-American.
As arguably the best point guard in college basketball, Scott Machado probably has bigger things on his mind. All-Mid-Major is nothing to sneeze at, though.
Machado is a classic point in that he controls the tempo of the game, runs the offense and gets his teammates involved.
He can also score when needed and defend. He is averaging a double-double with 13.1 points and 10.1 assists per game. He also grabs 5.0 rebounds a night and 1.6 steals.
Machado is a blazer who can get into the lane at will and find open teammates. He is also incredibly efficient, shooting 40 percent on threes, 80 percent from the foul line and has a 3.0-to-1 assist-to-turnover ratio.
He should be an All-American and is possibly the best mid-major player in 2012.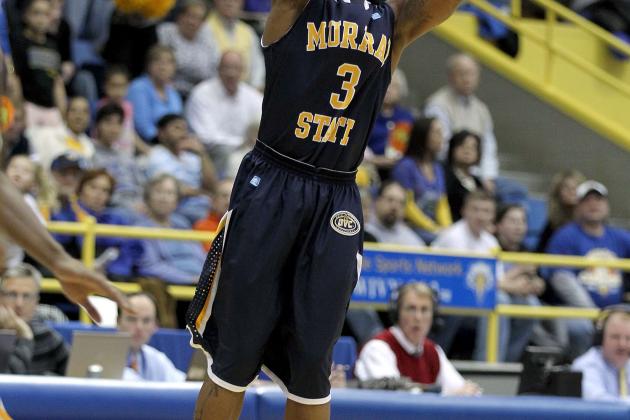 Andy Lyons/Getty Images
Canaan is a deadly weapon from outside.
Isaiah Canaan lives up to his namesake as a serious weapon from long range.
He is pouring in an incredibly efficient 19.4 points per game on 48.7 percent shooting from the field and 48.4 shooting on threes. He is adding 3.8 assists, 3.2 rebounds and 1.4 steals per game.
Canaan can shoot with incredibly deep range and can put the ball on the floor and score in the lane as well.
In Murray State's only loss, to Tennessee State, Canaan did all he could, dropping 31 points on 10-of-13 shooting and dishing out six assists. In the rematch he scored 24 points, shooting 5-of-7 on threes.
In the Racers' biggest game in the late season, he led Murray State to a 65-51 win over Saint Mary's, leading the way with 23 points.
Canaan is the key player on what has been the best mid-major team this season. He is one of the best guards in college basketball.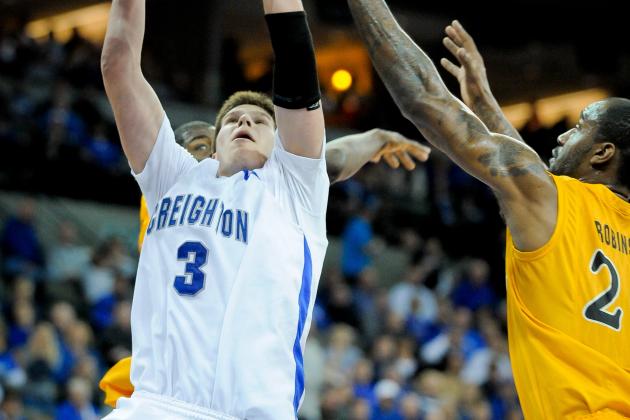 Eric Francis/Getty Images
McDermott can carry Creighton any night.
Doug McDermott is another mid-major player with All-America aspirations.
He is an unbelievable offensive force, scoring 23.1 points per game, shooting 60.7 percent from the field and 47.9 percent on threes. He is grabbing an impressive 8.1 rebounds per game.
McDermott isn't an explosive athlete who plays above the rim, but he shoots lights out and is tough around the basket.
He has an incredible knowledge of the game and that helps him overcome his somewhat plodding style. He knows where to be at all times and how to play the game.
In a statement game against Long Beach State, McDermott led an 81-79 comeback win by scoring 36 points on 14-of-20 shooting. He can be absolutely unstoppable on any given night.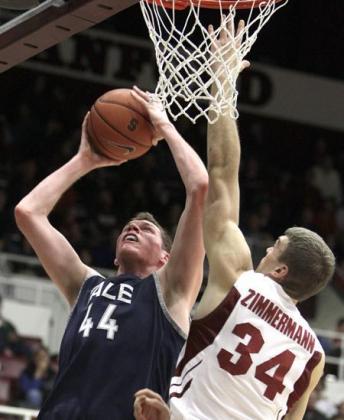 Mangano is a force for the Bulldogs.
Greg Mangano is dominant in the Ivy, as he is as close as it gets to a one-man team.
He does it all, scoring 18.5 points, grabbing 9.7 rebounds and blocking 2.4 shots per game. He is effective on the block, making 53.9 percent of his two-point field goals. At 6'10" he can even step out and hit a three.
Against Florida, Yale's toughest opponent, Mangano put up 26 points, 15 rebounds and two blocked shots.
To show how much he does by himself, Yale has lost two games to Harvard by a combined 131-86, shooting 34.5 percent. He scored 39 points with 15 rebounds and seven blocks on 53.6 percent from the field.
Mangano doesn't get much attention but he is a truly great college player.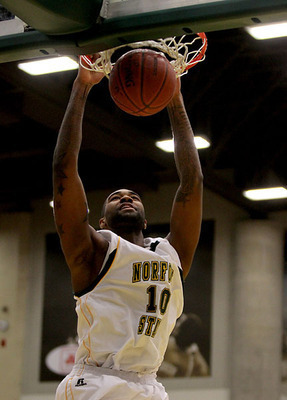 O'Quinn is a wrecking machine inside.
Kyle O'Quinn is another little-known player from a small school, but he is an absolute monster.
He stands 6'10" and 240 pounds and he uses it to dominate in the paint. He is averaging 16.0 points, 10.6 rebounds and 2.9 blocks per game. He is very efficient, making 58.4 percent of his shots and shooting 70.5 percent from the line.
Defensively, O'Quinn terrorizes opponents, altering and blocking everything around the basket.
O'Quinn is the reigning MEAC Defensive Player of the Year and he is hoping to bully Norfolk State to its first-ever NCAA Tournament appearance.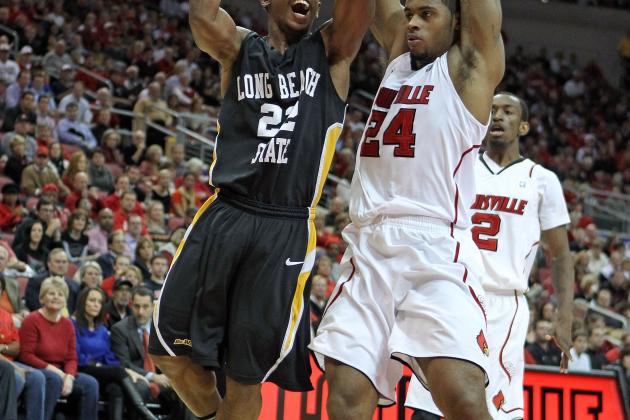 Andy Lyons/Getty Images
Ware tortures opponents on both end of the floor.
If you want a point guard that can score in bunches, distribute and pester opponents on defense, Casper Ware is the guy.
He is scoring 17.2 points and dishing out 3.1 assists per game. He isn't a high-percentage shooter, but he can get on a roll at any moment.
Ware is dangerous off the bounce and can score at the rim and get to the foul line, where he shoots 80 percent.
His true value may be his dogged effort on defense. He averages 1.4 steals per game and he makes life difficult for opposing point guards.
The 49ers played the toughest non-conference schedule in the nation, and Ware is a senior who is prepared to lead his team on a run in the NCAA Tournament.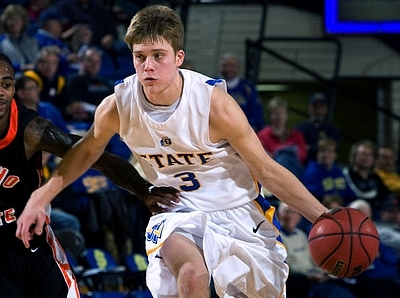 Wolters is a versatile offensive player.
Nate Wolters of South Dakota State is one of the best players that most people haven't heard of.
He may only play in the Summit League, but it is a more competitive conference than you think.
Wolters is putting up an incredible statistical line of 21.2 points, 6.1 assists and 5.0 rebounds per game. He is a savvy point guard that makes his teammates better and can get to the basket and finish.
His outside touch has been missing for much of this season, but he has found ways to compensate, shooting 51.4 from inside the arc.
Wolters isn't the greatest on-ball defender, but he can make things happen on that end of the floor and averages 1.6 steals per game.
He is a big, sturdy and consistent point guard that has a chance to earn the Jackrabbits an automatic NCAA Tournament invite. It would be a shame if a national audience didn't get to see him play on the big stage.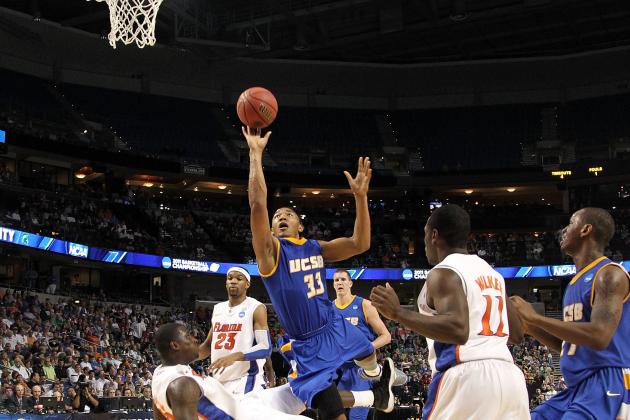 Mike Ehrmann/Getty Images
Johnson is a big-time player at a small school.
Orlando Johnson is a classic case of a big fish in a small pond. The Gauchos are not a prominent program, but Johnson is one of the best offensive swing men in the country.
He is a pure scorer, averaging 19.8 points per game, shooting 45 percent from the field and 40 percent on threes. He has a big, strong frame which makes him dangerous around the rim.
His ability to penetrate and get into the lane is even more dangerous with his ability to dish to teammates.
Johnson is a high-energy player who averages 6.0 rebounds and over a steal per game.
Last year Johnson led his team into the NCAA Tournament with a win over Long Beach State in the Big West Championship game. He scored 23 points and followed that up with 21 in a first-round loss to Florida.
Long Beach State is dominating the Big West this year and Johnson may be the only thing that can impede their quest for a conference championship.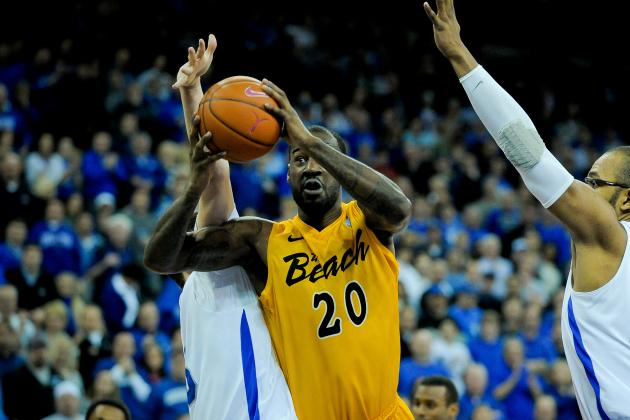 Eric Francis/Getty Images
Robinson can bang inside with anyone.
As good as Casper Ware is, he can't get it done alone. T.J. Robinson is a great sidekick.
Robinson isn't the biggest or strongest post player, but he plays hard and with a ton of heart.
He is 6'8" and weighs just 205 pounds, but he has managed to average a double-double three consecutive seasons.
This year he is averaging 12.3 points and 10.3 rebounds. In six games against ranked opponents, Robinson put up 13.7 points and 9.2 rebounds per game.
That includes 19 points and seven boards against Thomas Robinson, 12 and 12 against John Henson and 20 and eight against Doug McDermott.
Robinson is another senior itching to get the 49ers into the tournament. His grit and toughness will help lead the way.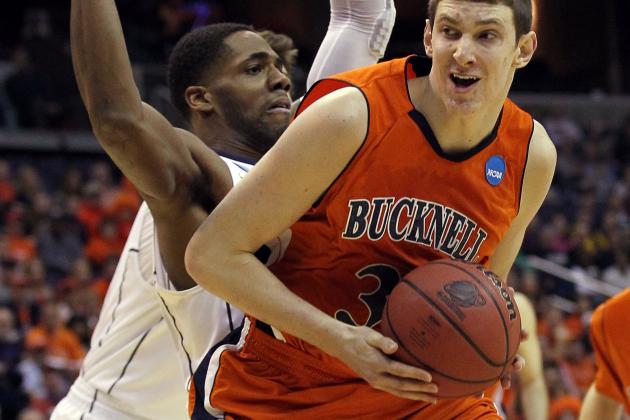 Nick Laham/Getty Images
Muscala dominates the Patriot League.
Mike Muscala is a post player with a thinner frame but he has great athleticism and just knows how to score.
He is averaging 16.3 points per game with a very diverse offensive game. He can score with both hands inside, he has a nice mid-range game and he can even step out and hit a three.
Muscala is also a solid rebounder, grabbing 8.9 per game and he can defend inside, blocking 1.6 shots per game.
He has the type of game that can hold up against a higher-seeded opponent in tournament play and he helped lead Bucknell to the dance last year.
He has the Bison in first place in the Patriot League and poised to make a return trip.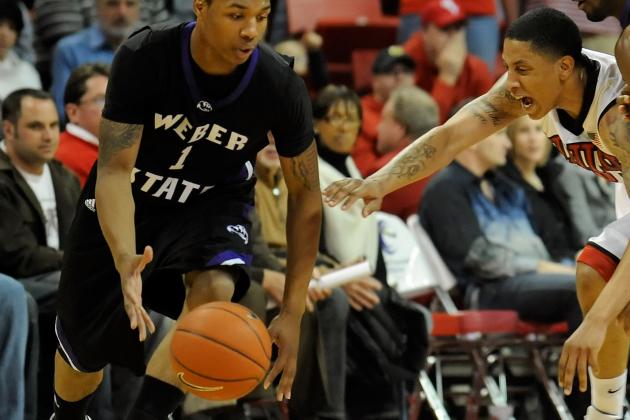 Ethan Miller/Getty Images
Lillard is one of the top scorers in the nation.
Damian Lillard wasn't a well-known figure in college basketball, but he was recently projected as a lottery pick by ESPN's Chad Ford.
Lillard is the second-leading scorer in the nation at 24.5 points per game. He is a volume scorer who is surprisingly efficient.
He is shooting 47.1 percent from the field, 43.6 percent on threes and 88.3 percent on free throws. Lillard also grabs 5.0 rebounds and dishes 3.9 assists per game.
As dangerous as he is as a shooter, he is equally lethal off the dribble. Lillard is a great athlete and one of the quickest guards in the country. Hopefully his scoring can lift Weber State into the tournament.
With Lillard on the floor, the Wildcats are a threat to whoever is on the other side.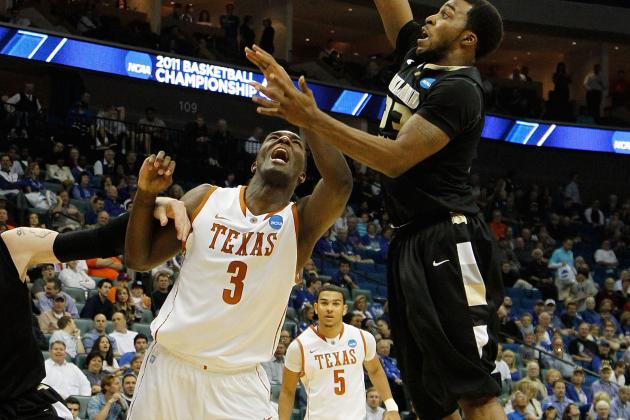 Tom Pennington/Getty Images
Hamilton is a dominant scorer and defender.
Reggie Hamilton is the reason why Damian Lillard is on second in the nation in scoring.
Hamilton is averaging 25.5 points per game along with 5.1 assists, 3.8 rebounds and 2.0 steals per game.
He does his damage with three-point shooting, great scoring instincts around the basket and an uncanny knack for getting to the line. He is shooting 40.7 percent on threes and 88.2 percent on free throws.
There is no player in college basketball lifting his team the way Hamilton is right now.
After a loss on February 1, Oakland sat at 6-6 in the Summit League. In six games since, Oakland is 5-1 and sitting in third place in the conference.
In that stretch, Hamilton has been incredible, averaging 32.8 points, 5.5 assists and 5.3 rebounds per game. He is shooting an astounding 53.4 percent from three-point range.
Hamilton lit up Texas in a four-point loss in the first round of the 2011 NCAA Tournament. He knows how to rise to the occasion and the Summit League should be on notice.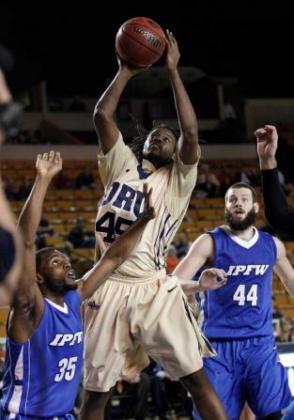 Morrison is filling it up for a surprising Oral Roberts team.
Dominique Morrison isn't the type of complete player that Wolters or Hamilton are in the Summit, but he is a tremendous offensive force.
Morrison has a great blend of size and athleticism that allow him to excel on the offensive end. He is scoring 20.3 points per game for an Oral Roberts team that is leading the conference.
He is very effective, shooting 51.1 percent inside the arc, a blistering 45.1 percent on threes and 83.2 percent from the line.
Morrison gets to the line a lot with his aggressive style and also averages 4.4 rebounds per game.
Morrison should be in the middle of a tight race for Summit League Player of the Year, and he could be in line for an NCAA Tournament appearance.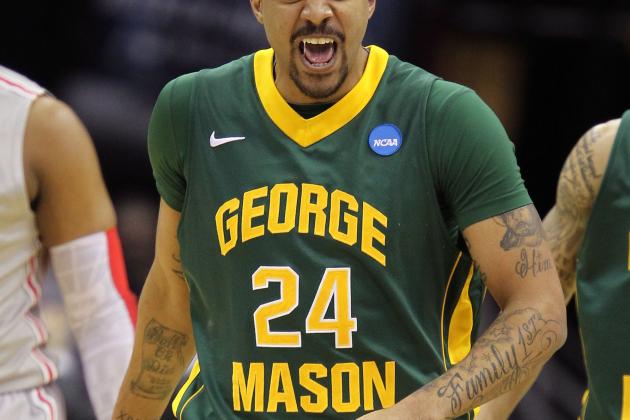 Andy Lyons/Getty Images
Pearson is the leader of a dangerous George Mason team.
Ryan Pearson is probably the best player in the Colonial, which is arguably the most dangerous mid-major conference in college basketball.
Pearson is a strong presence down low who is also effective from the outside. He is a very creative offensive player who always finds ways to get the ball in the basket.
He is averaging 17.8 points and 8.5 rebounds per game, is shooting 50.5 percent from the field and 35.9 percent from the arc.
Pearson is the type of player who can carry a team for several games at a time; he plays his best in the biggest games.
George Mason is always a threat and Pearson is its best player. He is very versatile and he has a lot of toughness and leadership.
The Patriots have a battle on their hands to win the Colonial, but Pearson has navigated these waters before and is prepared to do it again.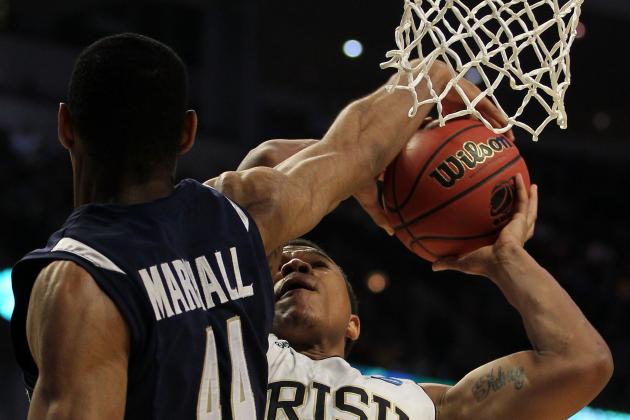 Jamie Squire/Getty Images
Marshall leads the Zips with his dominating interior defense.
Zeke Marshall plays just 25 minutes per game but his contributions are immense.
Marshall scores a very efficient 10.2 points per game. He shoots 52.8 percent from the field and gets to the free-throw line a ton, where he shoots over 70 percent.
He also grabs 5.2 rebounds per game. Marshall's biggest contribution comes on the defensive end, where he blocks 2.8 shots per game.
Marshall is the reigning MAC Tournament MVP after blocking nine shots in the win over Kent State.
In the first round of the 2010 NCAA Tournament he blocked four more shots against Notre Dame. He shot just 2-of-13 from the field in the loss and is looking to redeem himself.
Marshall is a 7'0" center who anchors the Zips' defense. He has them sitting in first place, as the favorites to win the conference.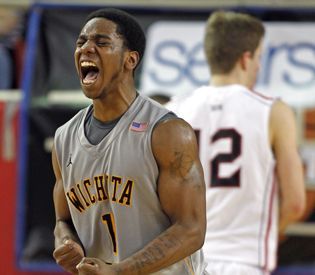 Ragland has been huge in the biggest games.
Anyone who has read and commented on my articles is well aware that I love hearing from the readers. I thoroughly enjoy hearing alternatives to what I've written.
In the spirit of that, I have decided to always run one slide with a list of some players who didn't quite make the cut, but easily could have.
| | | | | |
| --- | --- | --- | --- | --- |
| Zack Rosen, G | Pennsylvania | 18.5 PPG | 5.6 APG | .405 3PT% |
| Matthew Dellavedova, G | Saint Mary's | 15.4 PPG | 6.5 APG | 3.3 RPG |
| Joe Ragland, G | Wichita State | 13.2 PPG | 3.4 APG | .477 3PT% |
| O.D. Anosike, F | Siena | 15.1 PPG | 12.9 RPG | 1.1 BLK |
| Rob Jones, F | Saint Mary's | 14.8 PPG | 10.7 RPG | 1.6 STL |
This extra group is just to show a few more players who were worthy of being mentioned. With hundreds of schools and players to consider, this is far from a definitive list. There are sure to be many disagreements, and now is your chance to have your voice heard.
I look forward to discussing opinions with anyone who cares to share one.