With College Basketball, Forget the Polls, Las Vegas Knows Best
December 12, 2011
Jamie Squire/Getty Images
Every Monday during college basketball season, the Associated Press and USA Today release a list of which colleges are a part of the 25 best basketball schools in America.
These two lists, known as the AP Poll and the Coaches' Poll (NCAA coaches vote in the USA Today Poll) have had great influence over the NCAA Tournament in terms of which teams get in, which games were quality wins and where teams are seeded. A late-season ranking in the Top 4 would almost assuredly guarantee a team one of the top four seeds in the tournament brackets.
But, what if I told you there was a better way to determine which team was better than the other or how competitive a team would be against another team that has nothing to do with the rankings. I am, of course, referring to the kind folks in Las Vegas casinos.
Since the days of Christians being thrown to the lions, there have been oddsmakers ready to establish and accept the wager of the day. Today, gambling is big business and a slip-up in oddsmaking can cost a casino millions. Oddsmakers have become incredibly accurate in their foretelling of the result of nearly any competition and therefore have become to go-to source on what constitutes an upset.
It takes the Vegas odds makers a good month or so to get a good feel of each team, but once they do, it's scary how good they are. With the season about 10 games in for most teams, let's take a look at this past weekend's games to get a glimpse.
UNLV at No. 14 Wisconsin
UNLV made its presence known this year with a big win over top-ranked North Carolina but then slipped into the No. 18 spot in the polls. It followed that loss up two games later with a loss to one of those pesky Missouri Valley Conference teams, the Wichita State Shockers, dropping the Running Rebels from the rankings.
Wisconsin has only suffered two losses, both close games to North Carolina and Marquette.
So that begs the question: Which team is better?
One of the very useful aspects of the Vegas line is that it not only gives you an established favorite, but it tells you how much better a team is supposed to be in points. According to the line, Wisconsin was supposed to be nine-and-a-half points better than UNLV at the tipoff.
Wisconsin won the game 62-51. Pretty good, but that's just one game.
No. 2 Ohio State at No. 13 Kansas
Vegas opened this game with Ohio State being a three-point favorite. This was with the information that Ohio State star Jared Sullinger would be playing and Kansas' Tyshawn Taylor having knee problems that would hobble him throughout the game.
Once it was announced that Sullinger would not be playing, the line moved all the way to the Kansas side, making the Jayhawks a one-and-a-half point favorite at tipoff.
Ohio State is an awesome team with Sullinger but is not totally dependent on him. Kansas has suffered losses to Duke and Kentucky, but has a good win against Georgetown. There's not a whole lot to go on to make Kansas the favorite, even with the three courtesy points a team gets for playing at home.
Well, Vegas didn't get the number perfect, mostly because they stood to lose too much money by making a major line swing (allowing people to bet both sides and hope to get the score in the middle of the two bets.) Kansas pulled it out with an 11-point victory.
This isn't profound as far as logic goes in which team should win when a star player is hurt, but both teams had star players hurt. The average person on the street sees that the second-ranked team is playing the 13th-ranked team and doesn't know how valuable losing a player is to a team's chances. But Vegas knows.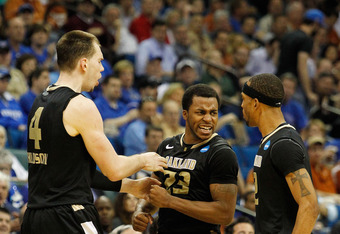 Tom Pennington/Getty Images
Butler at Ball State
Most games played are between unranked teams. Vegas proves its worth by figuring out the mess for us and telling us which team is better.
Butler, coming off of back-to-back trips to the national final and playing the role as America's sweethearts, is having a tough season. They had already lost to Evansville, Louisville, Indiana, Valparaiso and Xavier. While that's a pretty tough schedule, that Evansville loss is a bad one.
Ball State is playing good basketball, but hasn't made the tournament since 2000, while Butler has qualified 12 of the last 14 years. What did Vegas tell us about these two teams?
Ball State was listed as a three-point favorite at tipoff. While the general public remembers Butler as the darlings of the tournament the last two years, and would assume Butler should have better talent than Ball State, Vegas is in it for the money.
Ball State won 58-55.
No. 20 Michigan at Oakland
Sometimes a team is ranked because the pollsters don't really know how good or bad a team is and uses its record as the means to rank. The Oakland Golden Grizzlies are a subpar team.
That's really all you need to know about them. Michigan, being the so-called 20th-best team in the nation, should have had no problem quickly and convincingly dispatching Oakland. But Vegas knew better, making Michigan only a six-and-a-half point favorite.
After being tied at the half, Michigan shot 70 percent in the second half to finally pull away by 10 to win it 90-80. Vegas wasn't dead on the nose, but it gave you great insight about the makeup of the Michigan Wolverines, or rather lack thereof.
I could go on and on, but the general point is that the polls only tell you which teams people think are supposed to be better, while Vegas tells you what their money thinks. I believe in following the money.
What's interesting is it's still early and Vegas is very hot right now if you take a look at the recent lines.
So this March when you're filling out your tournament pools, consider doing what I do: Throw the rankings in the trash and see what Vegas thinks. You might just finally win one.