Northern Kentucky Basketball: Norse Remain Undefeated in Win over Urbana
December 12, 2011
Just three days after the announcement that Northern Kentucky University would be joining the Atlantic Sun Conference and changing their status to Division I, the NKU men's basketball team continued their undefeated streak with an 85-61 win over Urbana University.
The Norse, who are now 8-0, met Urbana for the second time this season with a similar score.
Sophomore guard Chad Jackson, who had 22 points, was once again the leading scorer against Urbana. Jackson also posted four rebounds, three steals and two assists.
"He's Mr. Consistent," head coach Dave Bezold said in a video interview on the NKU website.
Senior guard Jon Van Hoose put 18 points on the board. He was particularly effective from three-point range, going 5 for 11.
Van Hoose attributes his success to the opportunities given to him by his teammates. He's quick to point out being set up for shots by guards Jackson, Ethan Faulkner and Paul Byrd.
"None of us can do it on our own," Van Hoose said.
"They don't have a lot of big guys, so we were able to penetrate and get some open shots."
Urbana Senior forward Dyrell Dolson came the closest to matching Van Hoose's aggression with 17 points and six rebounds.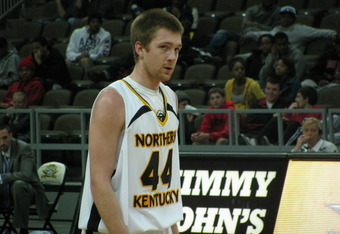 At halftime, the Norse held a 43-19 lead. However, the Blue Knights elevated their game in the second half and were able to match NKU with 42 points after intermission.
"Defensively, we took a big step backward," Bezold said in the same video interview.
"Giving up that many points in a half, you're not going to win games like that," Jackson said.
The Blue Knights were able to get more rebounds, particularly on offense. Van Hoose said lack of focus was also an issue in the second half. 
"We won't have a chance to compete if we don't step it up," Van Hoose said.
Next, the Norse will host Salem International University at 5 p.m. on Sunday.