College Basketball: Indiana, Michigan State and the 7 Most Underrated Teams
Nick Laham/Getty Images
Each year, we see teams get thrown under the rug because they lack the pizzazz of some teams or they are overshadowed by their counterparts.
This year is no different.
With arguably the best display of talent college basketball has seen in years, most media outlets will gravitate towards the prestigious programs. Duke, North Carolina, Kentucky, Syracuse and Ohio State have been receiving the most attention this year, and for good reason.
This article will shed some light on teams not getting the publicity that they deserve, for whatever reason. Although it is early in the season, these teams have played well but have been flying under the radar.
Here are the seven most underrated teams in college basketball to date.
7. Minnesota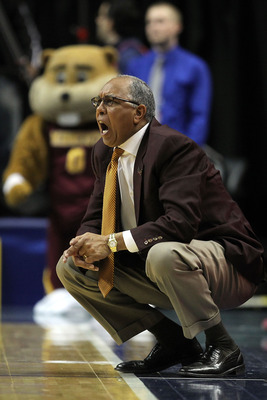 Andy Lyons/Getty Images
It should come as no surprise that Tubby Smith has another solid basketball team. As of this writing, the Golden Gophers are sitting pretty at 10-1, with wins against Virginia Tech and USC.
Losing star Trevor Mbakwe to injury hurts this program, but they still have size inside with Ralph Sampson III.
Their conference schedule will be a struggle, but with a few key upsets, Minnesota would deserve to be in the top 25.
6. Virginia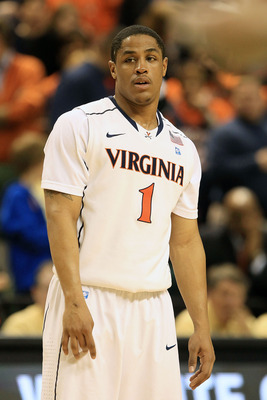 Streeter Lecka/Getty Images
Currently, Virginia has the second best record in the ACC.
Although they haven't played many tough opponents, they beat their best opponent thus far (Michigan). Their play is far from spectacular, but the Cavaliers wins speak for themselves.
A game at Oregon on December 18th will give Virginia another shot at proving they deserve more hype.
5. Indiana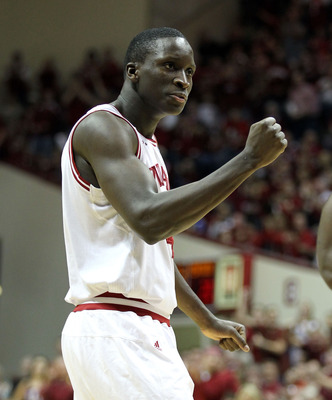 Andy Lyons/Getty Images
Indiana is on everyone's radar now with a quality win against top ranked Kentucky that I still don't like thinking about. They currently are ranked 21st in B/R's top 25, and with more wins, they should continue to rise.
Tom Crean is an excellent coach and will have Indiana competing in every game they play. Assembly Hall will be rocking all year long, and a New Year's Eve duel with Ohio State will be a great game to watch.
Having the second best three-point shooting percentage (45.8 percent) in all of college basketball helps as well.
4. Michigan State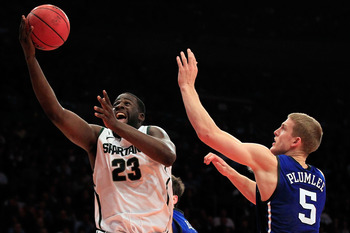 Chris Trotman/Getty Images
Two losses to the two best schools in the ACC threw Michigan State out of the top 25, but they should be back soon. The Spartans have won their last eight games, with one solid road win at Gonzaga.
Draymond Green has been playing under Tom Izzo for what seems like forever, and his play reflects the program very well. He has been consistent (although not consistently healthy), and Izzo is one of the best coaches in the nation.
So far this year, Michigan State has taken a backseat to rival Michigan and other conference foes. Don't be surprised if they are near the top of the Big Ten at the end of the year.
3. Georgetown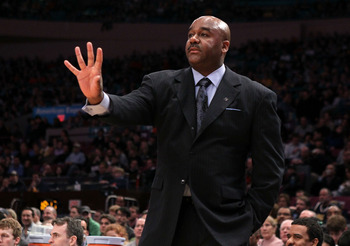 Jim McIsaac/Getty Images
With wins over Memphis and Alabama, Georgetown has impressed me so far this year. After their unpleasant offseason in China, the Hoyas are showing that they belong in the top tier of the Big East.
Hollis Thompson has been simply outstanding for the Hoyas, averaging nearly 15 points per game and shooting above 52 percent from the field.
Georgetown didn't take their non-conference schedule lightly like other Big East programs, and that should prepare them for a rugged conference stretch.
2. Murray State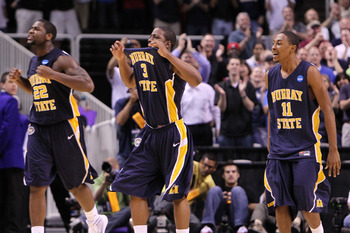 Jed Jacobsohn/Getty Images
Like Indiana, Murray State is on everyone's radar now after an impressive win against an underperforming Memphis squad. They are currently one of nine Division I teams that are unbeaten.
The Racers should no doubt be in the top 25. They shoot extremely well from beyond the arc (43.3 percent) and at the free-throw line (78.6 percent), with experience to boot. This team made it to the NCAA tournament last year and surprised Vanderbilt in the first round, and later nearly beat the tournament runner-up in the second round.
There is no question Murray State will be dancing in March, and they deserve a top-25 rank.
1. Marquette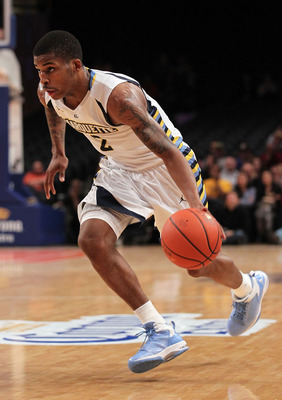 Nick Laham/Getty Images
Marquette is my favorite team to watch. They pass the ball well, shoot well and keep the tempo up at all times. With the 12th best scoring offense in the nation, coupled with the 4th most assists per game, Marquette has the makings to be a great team.
While they will suffer some losses from off shooting nights or from simply being outperformed, the Golden Eagles have what it takes to be the top team in the Big East.
Their win at Wisconsin proves they can play with any team, no matter the tempo. Marquette is underrated and should be in the top 10.
Teams like Syracuse, Louisville and Connecticut have stolen the spotlight, but don't be surprised to see Marquette steal some wins from their higher-ranked opponents.
Keep Reading