Florida vs. Syracuse: TV Schedule, Live Stream, Radio, Game Time and More
December 2, 2011
Patrick McDermott/Getty Images
The headlines coming out of Syracuse these days have little to do with the No. 3 ranked Orange, who are off to a red-hot 7-0 start.
Longtime assistant head coach Bernie Fine is accused of molesting at least three minors, and the New York Daily News reports that a fourth victim is to come forward in the coming days.
It's an incredible, heavy distraction hanging over the Carrier Dome rafters like a JumboTron.
But the game goes on, and now the players have to stay focused, especially with No. 9 Florida (5-1) coming to town.
The Gators have outrebounded their opponents in every game this season, and they come to Syracuse with only a loss to No. 2 Ohio State.
Here's everything you need to know about this early season Top 10 affair:
Where: Carrier Dome, Syracuse, New York
When: Friday, December 2nd, 7:00 p.m., EST
Watch: ESPN
Live Stream: ESPN3.com
Listen: WTKW-FM 99.5, Syracuse, and WRUF-FM 103.7, in Gainesville
What's at Stake?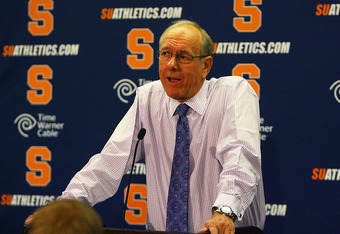 Nate Shron/Getty Images
This game will have a huge impact for both teams' out-of-conference resumes.
If Florida can pull a minor upset, they'll own their signature win for the year and head into SEC play with a boatload of momentum, knowing they can beat one of the best teams in the country.
It should also vault them into the No. 5 to No. 7 range in the polls. A loss wouldn't hurt too much in the polls, and it would still be a big help for their strength of schedule down the line.
Syracuse is firmly cemented at No. 3 if they win, but would drop out of the top 5 with a loss. But a victory would be a signature non-conference win, which can be crucially important for seeding down the line.
These two teams may be battling for a 1-seed come March, and this game could very well determine who gets it.
What They're Saying:
The Syracuse players are trying to turn this horrific situation into a positive, according to star guard Scoop Jardine:
We don't know what's going on. For us, it's like a motivation thing, where we just want to go out and play basketball and be hungry and continue with our season. It's all about us; it's all about our season.
Florida Player to Watch:
Patric Young may only be a sophomore, but the 6-9, 245-pound center is already proving to be incredibly hard to keep off the glass.
He's averaging 7.7 rebounds a game for a team that ranks sixth overall in the category.
His wide frame makes him look like a Al Horford clone..which is great news for the Gators.
Syracuse must box him out on every possession, or the Orange are going to be one and done on most offensive possessions. 
Syracuse Player to Watch:
James Southerland may only play 16 minutes a game off the bench, but in every game he's provided a huge spark on a tired defense.
The junior averages 10.6 points and 3.6 rebounds, with a blistering 62-percent shooting percentage.
The Gators can't let him come into a game hot and get the crowd going. A hot-shooting Southerland equals a big lead for the 'Cuse that will be hard to erase.
Prediction:
Syracuse has won its first seven games by an average margin of 26.1 points. They'll have the home crowd on their side, the emotions of the Fine scandal, and a jet-lagged Florida team.
As long as they can limit Young on the boards, the second-chance opportunities for the Gators will be eliminated, and they'll be forces to rely on a shaky defense to stop a red-hot Syracuse team who's been ripping the net at a 49-percent clip from the field.
Jardine goes for 20 as the 'Cuse squeak one out.
Prediction: No. 3 Syracuse 84, Florida 78