Alabama Basketball: Grading the Tide Through 8 Games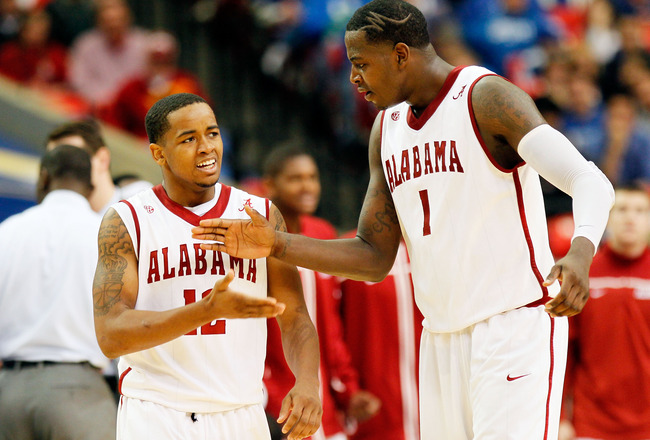 Kevin C. Cox/Getty Images
Through eight games, Alabama is now 7-1.
Yes, their 24-game home winning streak was snapped by Georgetown, but this is the kind of start this team needed.
Last year at this time, Alabama was 4-4 and coming off a 19-point drubbing at the hands of Purdue, a team the Tide dismantled in Puerto Rico.
Next for Alabama is a trip to Dayton to take on the Flyers. But let's take a moment to grade the Alabama starters and bench before the Tide head to Ohio.
JaMychal Green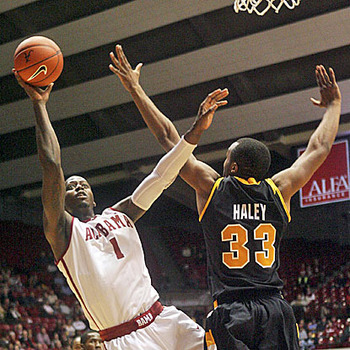 Green has averaged 15.5 points and eight rebounds per game.
He is probably Alabama's best overall player, with his best game thus far coming against VCU with a 21 and 14 night.
His worst performance came in Puerto Rico against Maryland, where he was saddled with early foul touble.
Green is a smooth operator on the post. He can play with his back to the basket or face up a defender and hit the jumper.
The biggest issue facing Green at this point is his potential for early foul trouble, which can be an issue, especially in a defensively aggressive system like Anthony Grant's.
GRADE: B+
Tony Mitchell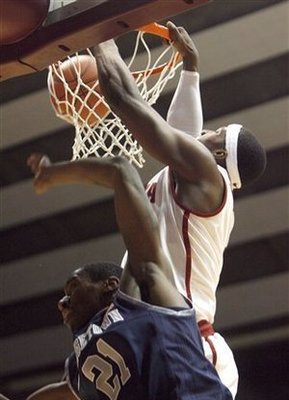 Tony Mitchell, without a doubt, has been Alabama's MVP up to this point. He has been able to score from any area on the court and has picked up the scoring load when JaMychal Green finds himself in foul trouble.
Mitchell has that uncanny ability to electrify the crowd with a thunderous put-back jam or any other movies in high-flying arsenal. The fact that he has developed a much-improved perimeter game is only going to cause more problems for opponents.
His biggest negative to me is his inability to take over at times when Alabama goes through its inevitable offensive droughts in a game.
GRADE: A
Trevor Releford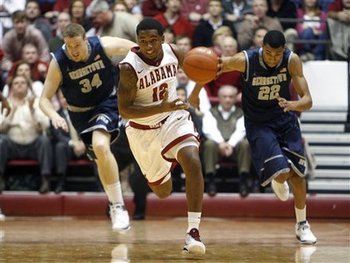 When Trevor Releford is on the floor, you can be confident that Alabama has an excellent floor general guiding the team.
He has been averaging 11.3 points and 2.9 assists per game.
Trevor's best performance came against Purdue, when he poured in 20 points along with five assists.
For a point guard, you'd like to see a higher assist-per-game average, when even last year he only averaged 3.4 per game.
As a defensive cog, Trevor is a workhorse and can force teams to take much longer than they'd like to set their offense.
Along with Mitchell, I'd love to see him be more aggressive at getting in the lane to create when Alabama is suffering some offensive woes.
His outside game isn't quite there yet, but he is very dependable when it comes to free throws.
GRADE: B
Levi Randolph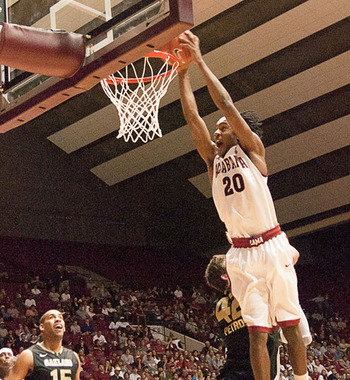 Personally, I was a bit surprised when the season started and one of the two freshmen starters for Alabama wasn't Trevor Lacey.
Levi Randolph got the nod and so far this season has been a solid defender on the court for Alabama. He's also averaging over five rebounds per game, which is good for a guard.
Offensively, the young guard has yet to really find any sort of flow for the Crimson Tide. He often times seems hesitant even when presented with what looks like open looks on the floor.
With Alabama's success relying heavily on their defensive effort, Randolph, along with his teammates, is reluctant to force the issue at times and take bad shots.
That is mostly a good thing, but sometimes forcing the issue is what's needed.
Randolph is smart with the ball in his hands, but he's going to have find that scoring touch for Alabama to be successful down the road.
GRADE: C+
Rodney Cooper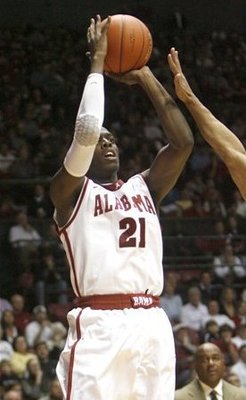 Rodney Cooper is the other starting freshmen for Anthony Grant's squad.
At 6'6", this guard has some length and, along with Randolph, has rebounded pretty well.
The same defensive praise that every other starter receives can go to Cooper too, but again, he too is struggling to find his scoring niche. His finest effort came against Alabama A&M, when he contributed 15 points and shot 75 percent from behind the arc.
Cooper and Randolph are the two weak scoring parts when it comes to the Tide offense, and that is to be somewhat expect for two freshmen.
It may seem like I am harping on offense, but Alabama definitely needs some, as they are going to meet teams that match up with the Tide defensive efforts much like Georgetown did.
GRADE: C+
The Bench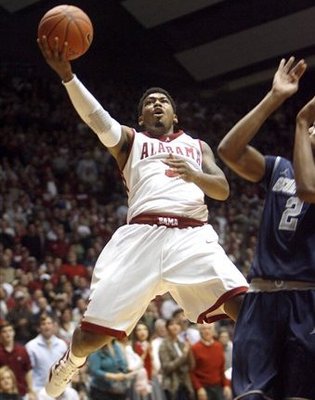 The one positive that runs throughout grading Alabama through eight games is defense, and that compliment can go to the Tide's bench as well.
No matter what substitutions Alabama makes, you never really see a defensive drop-off on the floor. The smallest exception might be some quickness when Carl Engstrom comes in, but his length at 7'0" helps to make up for that.
Scoring-wise, Alabama is only getting a meager 16.7 points per game from their subs, with freshmen Trevor Lacey leading the way with 6.8 points. In fact, Lacy was the offensive spark that lead Alabama to come from behind and make it a game against Georgetown. I think Lacey will make a strong push to eventually be in the starting five, especially if Randolph and Cooper don't pick it up offensively.
Lacey can score, but he's also a capable point guard, despite the fact that Alabama often uses Ben Eblen for that role.
Nick Jacobs has provided a big body down low, but he is raw and fits well at his current time contribution.
The one player I would like to see more of his Charles Hankerson Jr. He played really well against Alabama A&M in the Tide's attempt to make up for Tony Mitchell's injury. Just looking at Hankerson, you can tell he did some work in the offseason.
Through eight games, Alabama's bench is deeper than a year ago, strong on the defensive and rebounding end, but like much of the Tide team, lacks when it comes to scoring.
GRADE: C+
Keep Reading

Alabama Crimson Tide Basketball: Like this team?