Minnesota Gophers Trevor Mbakwe Suffers Knee Injury in Loss to Dayton
November 28, 2011
Andy Lyons/Getty Images
The Minnesota Gophers started tonight on a high note as slight favorites to win the Old Spice Classic Tournament Championship against Dayton. 
The night however ended badly as the Gophers not only lost to Dayton 86-70 but they may have lost Trevor Mbakwe for the season.
Mbakwe was injured at the 17 minute mark in the second half as he attempted to go up for an offensive rebound.  He immediately went to the floor and appeared to be in a considerable amount of pain.
Minnesota Coach Tubby Smith said "it didn't look good" for Mbakwe after the game but didn't give any specifics except to say that Trevor would undergo a magnetic resonance imaging exam on Monday.
Mbakwe, a preseason first team All-Big Ten player, tweeted from the locker room: "Lord please get me through this."
Despite playing just 21 minutes tonight, Mbakwe scored nine points and grabbed four rebounds.  Mbakwe was named to the all-tournament team.
The Gophers can ill afford to lose Mbakwe as he is the heart and soul of the Gophers squad.  Mbakwe averaged a double-double last year and he is as fierce any interior post player in the Big Ten. 
After Mbakwe left the game, Minnesota never got any closer than double digits against Dayton.
Ralph Sampson III started but saw limited action as he was nursing a badly sprained ankle.  Sampson played only 10 minutes in the first half.
Minnesota could not generate any consistent offense in the second half without a credible lost post presence in the half court offensive set.
Gophers fans shouldn't completely discount this loss to the injury suffered by Mbakwe. 
Dayton beat Minnesota because they exploited the inability of Minnesota's guards to handle pressure or stop them from scoring easy transition baskets.
Dayton ended the first half with a 25-5 run over Minnesota to lead going into halftime 37-28.  Minnesota committed 21 turnovers because of the pressure applied by Dayton.
Minnesota will have to quickly regroup as Virginia Tech comes to Williams Arena on Wednesday as part of the Big Ten/ACC Challenge game.
Andre Ingram, a Minneapolis native, will likely get the start if Mbakwe is unable to play.  Ingram has seen limited action this season averaging less than ten minutes, two points and a rebound a game.
Gopher fans should not expect Maurice Walker to be pressed into action if Mbakwe is unable to play the rest of the season. 
The 6'10, 289 pound Walker suffered a knee injury last season and if healthy would have likely started at center this season.  Coach Smith has previously said that it might be better if Walker takes a medical redshirt this season.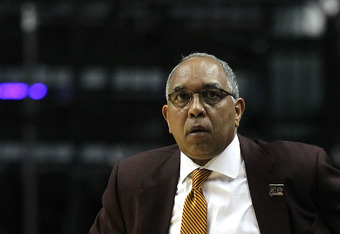 Andy Lyons/Getty Images
After the game tonight, Coach Smith gave no indication that he had changed his mind.
"There is no telling how far Mo is away because he hasn't done anything from a basketball standpoint since December," Smith said, "And he's not even running right now."
Coach Smith will also likely give redshirt freshman Elliot Eliason more playing time.   Eliason, at this point in his career, is a nice player off the bench but he clearly struggles to match up with quicker and more athletic post players.
The first couple of weeks of December have just become much more interesting for Minnesota.