Maui Tournament Shows That Duke's Inconsistency Is Their Strength
November 24, 2011
It must be hard for an opposing coach to scout Duke because throughout the Maui Tournament they have proven that on any given night any player can step up.
The first two games Austin Rivers and Seth Curry were the leading scorers then in the finals, Ryan Kelly and Mason Plumlee went toe to toe with the Kansas' front line and came away victorious.
"I thought the key guy to the game was Mason," Krzyzewski said. "You know, Mason really played like such a man with physicality and size. When you're playing with a guy that's playing that hard and that demonstrative, it gives you confidence."
Last night, Mason played with poise and never backed down from any challenge Kansas threw his way. Thomas Robinson had a great game with 16 points and 15 rebounds.
However in the waning minutes of the game Mason and Kelly stepped up their defense and neutralized the 6'9" forward.
"I'm happy for Ryan," Coach Krzyzewski said. "I really think Ryan's going to be one of the best players when he finishes up. He's going to be a pro ... Ryan, I think was deserving for three straight days in what he did, but he wouldn't be MVP if Mason didn't play well tonight."
Kelly has been the most consistent Blue Devil throughout the tournament and received the most valuable player award.Kelly Joins Kyle Singler, who won this award as a freshman back in 2008, on the list of Duke players to win top honors in Maui.
Austin Rivers had a solid game overall but was benched in the last six minutes of the game after picking up his fourth foul.
"Just defensively we needed it. Austin had four, and he got banged up on his shoulder a little bit," said Coach K. "It wasn't that we were ... he didn't do anything wrong. It was just that team out on the court was so good defensively that you didn't want to mess up with it. He's fine with it. He'll win a lot of games for us, and he has. That's why he made All-Tournament team. He's played well here."Rivers did return in the last few minutes for possibly his ball handling skills to protect the ball.
Kelly joined Rivers on the All-Tournament team along with Jason Clark (Georgetown), Tim Hardaway (Michigan) and Thomas Robinson (Kansas).
Sadly there was no award for star of the game. But Duke fans are well indebted to back up point guard, Tyler Thornton who made a crucial three-pointer to allow Duke to edge Kansas take the lead for good then another to win the game for the Maui Tournament championship.
Duke Basketball Report captured Thornton's heroics very well:
In the end, though, Duke maintained its stranglehold on the Maui Classic title, thanks in no small part to the unlikeliest hero, Tyler Thornton. For a guy who was brought to Duke at least partly as an insurance policy for Kyrie Irving, the kid has been wonderful. We'd expect anyone who wears a Duke uniform to have great stories to tell, but the ones Thornton gets to tell now go alongside stories by guys like Christian Laettner, Sean Dockery, Fred Lind and Robbie West. Pretty good company for an "insurance policy" to keep.
Thornton should continue to play major minutes as he has proven throughout the tournament that he is the best on ball defender. Against Tennessee in the opening rounds, he limited Trae Golden,averaging a double-double at the time, to just 13 points and two assists.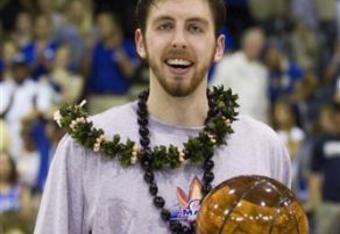 "Those two shots to beat Kansas was just the icing on the cake for the sophomore guard. It's a dream shot," Duke coach Mike Krzyzewski said. "People will say it's a lucky shot, but I'll say I'm lucky to have him on my team."Seth Curry only scored eight points in this game, but made that crucial assist to Thornton with mere seconds on the clock for an off-balance three. The referees could have called a foul or travel as curry may have taken an extra step with Kansas' guards all over him but that should not spoil a great game.
Andre Dawkins only scored six points, but hit a critical three to keep Duke in the game.
This Duke team is now 7-0 on the season without any real go-to guy. Anyone can star for them and that makes them dangerous. One night Mason Plumlee can score five points and grab six rebounds in a win and the next night he scores 17 points and grab 12 rebounds and Duke still wins.
Curry and Rivers get in foul trouble, Tyler Thornton and Dawkins step up.
Meanwhile, Kelly brings it night in and night out, but only averages 14.6 points, 4.6 rebounds and 1.3 assists. This could be taken as a sign that Duke is playing well as a team.
Unlike Ohio State, their next opponent, that relies on Jared Sullinger, heavily.