Northern Kentucky Men's Basketball Hosts John L. Griffin/Lions Club Classic
November 20, 2011
The Northern Kentucky University Men's Basketball team hosted the 30th annual John L. Griffin/Lions Club Classic at the Bank of Kentucky Center this weekend. This year's event was a classic, featuring six teams competing in round-robin play amongst predetermined opponents.
Friday night saw the Norse taking on the Dragons of Lane College. The Norse put pressure on the Dragons from the start and didn't let up. Freshman forward Jalen Billups helped the Norse dominate inside the paint, going eight for 12 on field goal attempts and getting two of the team's four blocks.
"They were a smaller group," Billups said in a post-game interview. "Coach just told us to pound it inside."
Senior guard Jon Van Hoose was the leading scorer with 19 total points, including five three-pointers. Lane's guard, Anthony Bell, wasn't far behind, with 17 points. The Norse went on a 40-3 run on their way to a 100-57 victory. Lane started out only 1-for-23 from the field.
Freshman guard Paul Byrd made a three-point shot to give NKU their last basket of the game and send them to 100-plus points for the first time in back-to-back games to open a season.
"As a freshman, it was pretty awesome," Byrd said. "I didn't even realize we had 97 until I hit the shot and everyone went crazy." 
The Norse also dominated in rebounds, with guard Chad Jackson getting eight.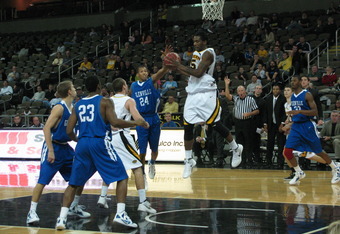 "We get used to going for the ball," Billups said.
In the second game, on Saturday, NKU took on the Pioneers of Glenville State College. It was a closer contest this time. Early on, the Pioneers were dominant in both offense and defense. With back-to-back three-pointers by Hanif Malloy and Kevin Gray, GSC took a 12-7 lead. Gray was the leading scorer, from either team, with 20 points for the game. 
"They were physically just beating us to spots," head coach Dave Bezold said in a post-game interview. "To our guys' credit, they fought through it."
The Norse were indeed able to fight through it. With less than a minute left in the half, senior guard Tony Rack got fouled, making both shots to widen the gap 33-25.
The Norse picked up their energy and aggression in the second half, scoring a higher three-point percentage and by getting to the free-throw line.
Senior center DeAndre Nealy was the leading scorer for the Norse, with 19 points. Nealy also had three blocks and tied Rack and Jackson with six rebounds. Nealy was the event's most outstanding player.
"It feels great," Nealy said.
Nealy, a transfer from Kent State University, said he's loving being a Norse so far and thinks the team worked well together tonight.
"My team worked with me on the post," Nealy said.
The Norse are now 3-0 and will travel to Urbana, Ohio, on Monday to take on the Urbana University Blue Knights at 7 p.m.