Bernie Fine Scandal: Twitter Reacts to Shocking Syracuse Allegations
November 18, 2011
Jim McIsaac/Getty Images
The allegations hitting Syracuse's longtime assistant coach Bernie Fine are no doubt unsettling. As reactions come flooding in, one thing is certain: This is no Penn State. 
I am of course talking about how this story is being received. There is no measure for how awful these crimes are if they are indeed proven to be true. But it is impossible to separate this scandal from the one that still has glowing embers from the past couple weeks in Penn State. 
Now for the differences. These are key as we wade through the tweets that are coming in from those with very strong opinions about the matter. 
First off, and most importantly, we have an investigation here that took place years ago and nothing was found. There is also the fact that the new investigation is in its very early stages and no charges have been filed. 
Lastly, we have a staunch backing from Jim Boeheim clearly showing that he is 100 percent confident that Fine will be cleared. Still, we can't help but dig deeper through a story that, if true, would be just as sickening as the one destroying State College right now. 
This tweet seems to be the sentiment that is going around. Whereas in Penn State the thought that something dark was going on for years, this is coming as an absolute surprise to everyone involved.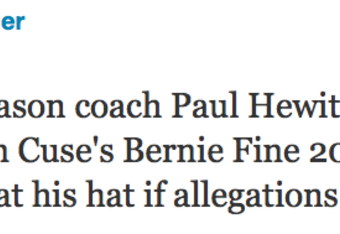 Dan Levy drops some truth in this tweet. While the media has been using extreme caution in their tone, there is no doubt that they will pounce on all involved the second these allegations are found to have any weight.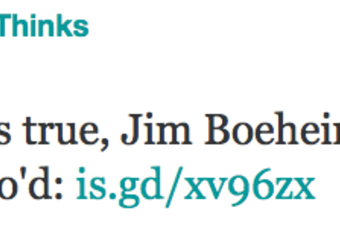 There is nothing good that can come from the Penn State scandal. If there is anything that can be gained, however, it may be the victims will find the strength to tell their tale as this tweet asserts.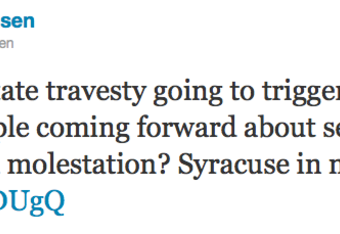 Prior to writing the New York Times piece that was cited here, Pete Thamel tweeted this.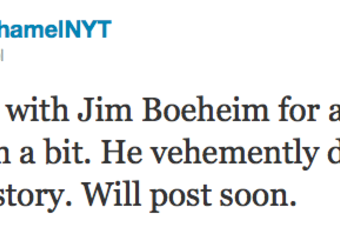 The word vehement is important here. Boeheim is sticking his neck out and wouldn't do so unless he was completely absolved of knowing anything and if he knew without a shred of doubt that Fine was innocent. 
No such certainty ever came in regards to Sandusky in the days following the news that broke in Penn State. 
Finally, there is this tweet from Steve Krakauer a senior digital producer at CNN.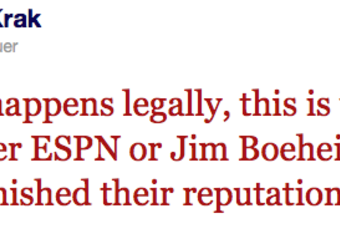 It is, again, far too early in the investigation to know if ESPN did the proper vetting, or if Boeheim had no idea who his longtime coach and friend really was. At the end of it all, one of these entities is going to look very foolish.